Recently, you and your volleyball Wilson have been considering another island vacation. You haven't felt that spark since your four-year honeymoon on the uninhabited Monuriki. But he's kind of missing the point -- you clearly said you'd prefer a vacation in the States this time, rather than a violent plane crash/Cast Away 2.0. Well, in his defense, Wilsons don't think with their brains, they think with their synthetic leather paneling.
He just needs a little convincing. The great thing about staying on an island in the States is that you can climb legit mountains. You can pitch a tent and watch the sun set under the Golden Gate Bridge, or clamber around an extinct volcanoes, or feast on produce and ice cream from hippies' farms, or sing "Wild Horses" to the beasts themselves, or -- is Wilson blank-facing again? Travel around the world for your island vacay, if you simply must, but this country's more than big enough for you to get your island fix.
Recommended Video
Please Don't Hang Up: The Best Things to See, Eat, and Do in Milwaukee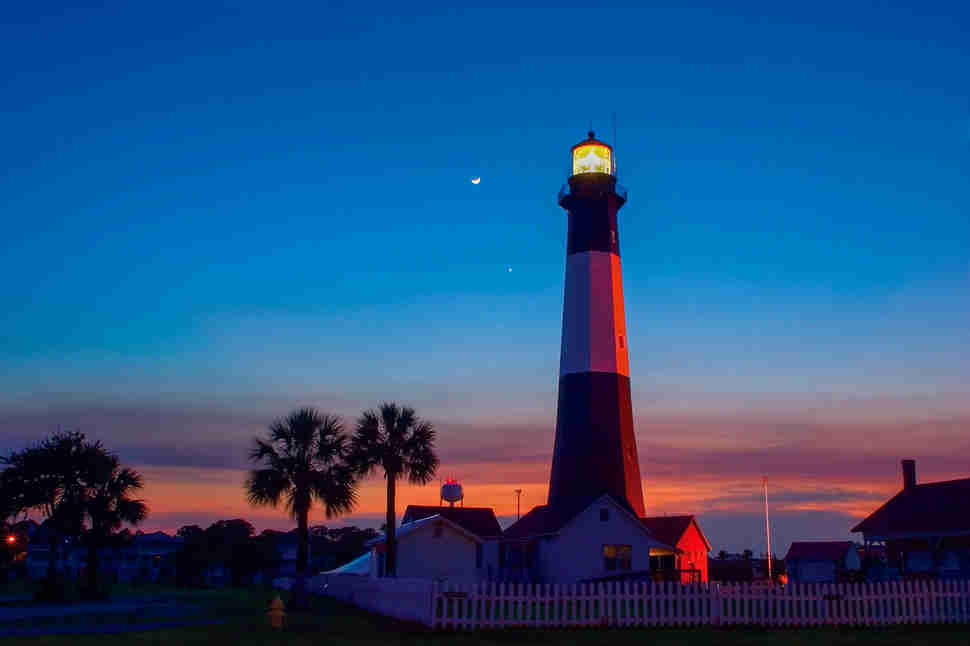 Tybee Island, Georgia
Sweet Southern charm and sandy beaches
Dying to dip your toes in the water and your ass in the sand? The last place you'd probably think to visit is the easternmost point of Georgia, but just an 18-mile drive from historic downtown Savannah you'll find a barrier island with wide, sandy beaches and that small-town-with-a-hint-of-carnival-nostalgia vibe.
The usual roster of Atlantic island joys are here: Grab an ice cream or an old fashioned malt and head to the pier at sundown, keeping watch for sea turtles and their nests May through October. What truly sets Tybee Island apart, though, its its long, funky history. Head to the diviest bar, grab a beer and, chances are a local will talk your ear off about the town and nearby Fort Pulaski, a Civil War monument still open for self-guided tours. In the 1500s, pirates hid here; since 2005, the island hosts an annual Pirate Fest (October) with a parade, a market, live music and booze. Tybee also hosts its own wild Mardi Gras, an Irish Heritage Celebration (in March), and a Sand Art Festival. As if that weren't enough: The first-ever Days Inn is here, too. -- Allison Ramirez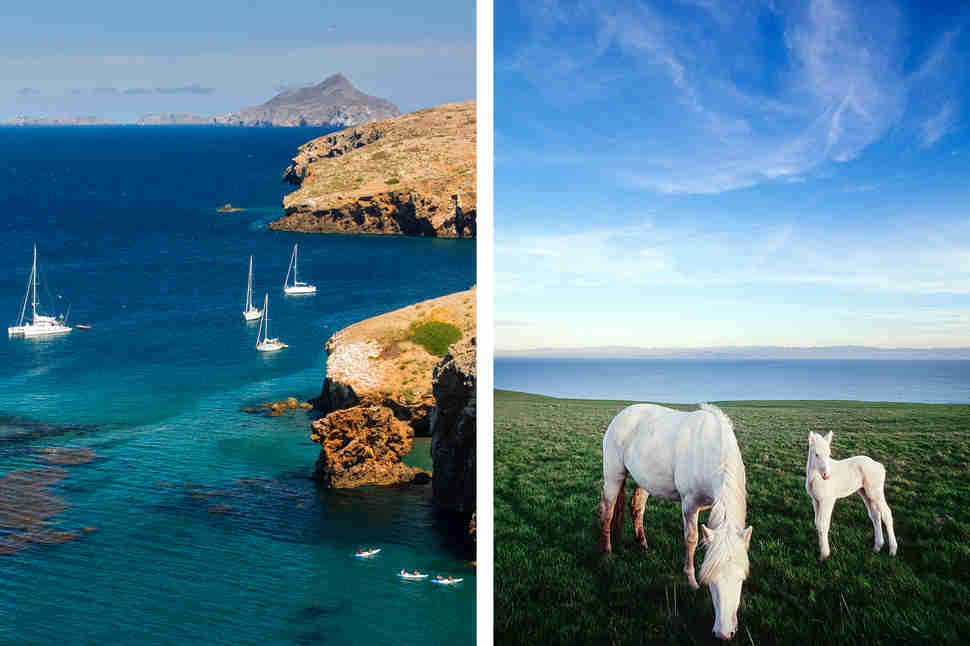 Channel Islands, California
Under the sea, one of the most diverse ecosystems in the world
This your escape hatch from the gridlock of Southern California. Due west of LA are the Channel Islands, an eight-island archipelago that juts from the water like the spine of a dinosaur emerging from the Pacific. Native Americans lived here for some 10,000 years among a wealth of marine life that has earned it a rep as "the Galapagos of the North." Today you'll find the islands are home to scientists who study the endemic plants and wildlife, like the Island Fox, one of the smallest fox species on the planet and at least as cute as that makes them sound.
To get there, board a ferry in Ventura then sit back and enjoy the hour-long journey to Santa Cruz Island, the most user-friendly of the bunch. Once there, be on the lookout for bald eagle chicks or scrub jays, a small blue bird found nowhere else on Earth. There are day hikes and established campgrounds at Scorpion Canyon, but the real exploring comes under water. With scuba gear (or a snorkel), dive into the kelp forests that surround the nearby shores. These brown algae strands grow nearly five inches per day and sprout up like beanstalks, protecting the fish and marine mammals below the surface. Kayakers should head into the Painted Cave, an enormous opening that plunges deep into the side of the island. When the darkness swallows you whole, the madness of the 101 will seem like a distant memory. -- Ryan MacDonald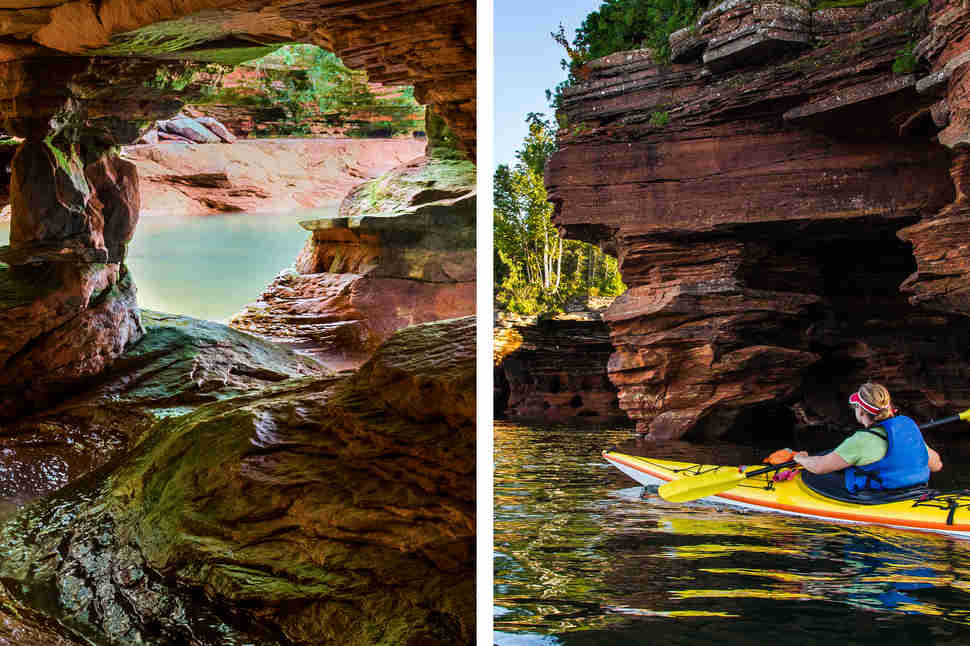 Apostle Islands, Wisconsin
Time for you to see some black bears, don't you think?
Bears! You'll find them on Stockton Island especially, but likely on any of the nearly two dozen islands on Lake Superior that constitute the Apostle Islands. You can take a cruise around the whole lot of 'em, or charter a boat yourself if you are so bold. And while ordinarily islands are strictly summertime recommendations, if you have occasion to visit the Apostle Islands in the winter you can scope intricate frozen waterfalls within the sea caves in a number of spots. And you can scuba dive from these islands, too -- remember those shipwrecks from Isle Royale? Combo catamaran tours of the caves or the wrecks (from above, one presumes) along with some rather romantic lighthouses are in the neighborhood of $40. -- Kastalia Medrano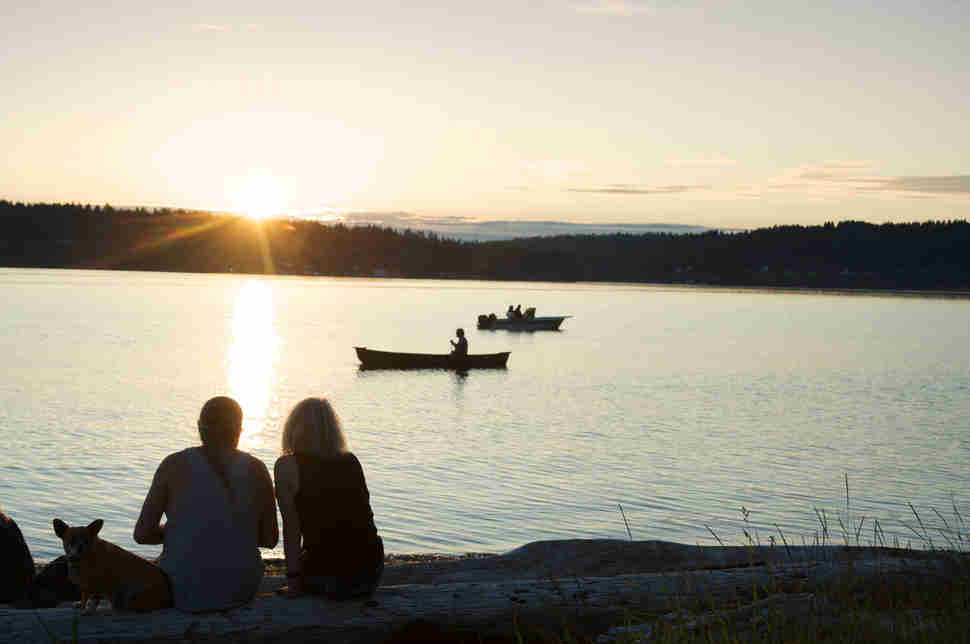 Vashon Island, Washington
In between Seattle and Tacoma, a rural island maintains its low-key profile
For decades, free-spirited liberals have left "the mainland" for this fertile farmland in search of a slower pace of life. And lucky for the rest of us, they created a foodie heaven in the middle of Puget Sound. With a 20-minute ferry ride from downtown Seattle (there are no bridges to cross the water), Vashon Island feels miles away from the capitalistic grind.
Here, family farms sell produce off roadside stands by the honor system and shop owners greet customers by name. Freshly roasted java and tea at Vashon Island Coffee Roasterie is worth a lengthy pit stop. Grab a seat on the wrap-around porch, and watch the afternoon go by. Ice cream at Glass Bottle Creamery uses local eggs and creams from animals on the island and their sister business, Vashon Island Baking Company, slings savory croissants and pies baked pies fresh daily. Come summer, Misty Isle Farms (a sprawling 500+ acre estate) hosts the annual Sheepdog Classic where herding dogs show off their skills at wrangling sheep. Snag a teepee at AYH Ranch, a western-themed campground, and roam across the 90 acres of forestland. Before heading back to the Emerald City, cruise along the Vashon highway. On a bright, sunny day, it'll feel like you're in the tropics, not the Pacific Northwest. -- Ryan MacDonald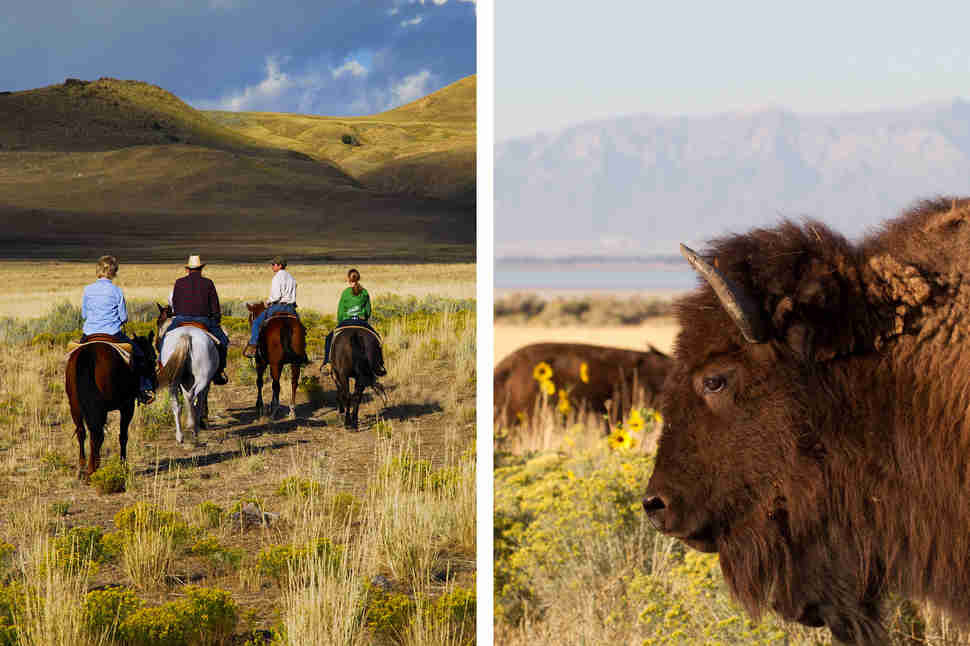 Antelope Island, Utah
The American West, condensed into island form
Probably you have heard of Antelope Canyon, a hair under the Utah border in Arizona, the imminently photogenic slot canyon that's taken over everyone's mood boards the past few years. But you're much less likely to have heard of Antelope Island, the largest of a collection of 10 islands in Utah's famous Great Salt Lake. (So great. So salty.) There are no permanent human residents, but most species iconic of the West are here except maybe, like, wolves: bison, bighorn sheep, coyotes, bobcats, and ya, also pronghorn antelope. The rocks you're hiking on? Some are older than those on the floor of the Grand Canyon. If you visit in May, you can catch the Cowboy Legends Music & Poetry Festival. And if you visit in 12 of 12 months a year, you're a short hop to the rest of the absurd outdoor wonders in and around Salt Lake City. -- Kastalia Medrano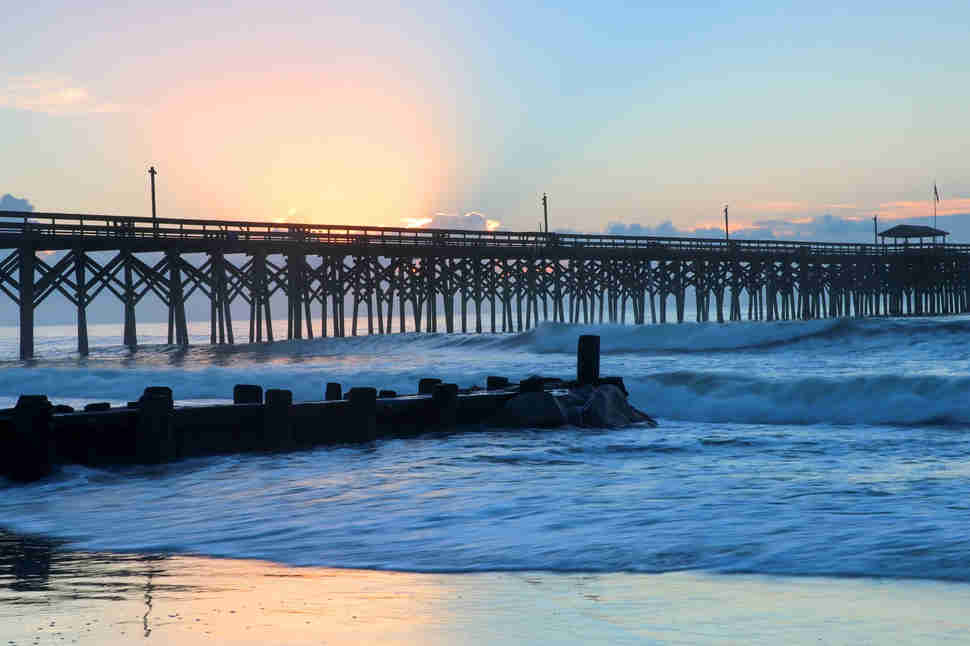 Pawleys Island, South Carolina
A Lowcountry hideaway for sparse crowds and hammock naps
After three generations of family vacations here, I guess I'm a little biased when I call Pawleys special. Like much of the Carolina Lowcountry, it's a place you go for the atmosphere: stately oaks draped in Spanish moss; old historic homes and graveyards; a warm, frothy Atlantic that yields decent rollers for body-surfing and shells for the picking. The "arrogantly shabby" Pawleys Island isn't as crowded or hoity-toity as Hilton Head, but not as isolated as, say, Daufuskie. You're spitting distance from incredible seafood joints at Murrells Inlet like Hot Fish Club, and even closer to impressive fine dining at Frank's and Caffe Piccolo. And there's always pizza, beer, and a band at the gloriously funky PIT.
A stroll amongst the sculptures, fountains, and zoo at Brookgreen Gardens is a morning well-spent, as is a boat tour on the Waccamaw River to see the area's old rice plantations. Beyond all that, Pawleys attracts a lot of repeat customers because being there just feels good. It smells good: like the sea oats on the dunes, the marsh at low-tide, the damp woodiness of a porch after a storm. Grab an affordable offseason rate in September and you'll spend the rest of the year jonesing for another whiff. -- Keller Powell
Kauai, Hawaii
Hawaii's oldest island is a natural marvel, even by Hawaii's ridiculous standards
The magic of Kauai is best experienced on your feet. Trudging through acres of jungle, volcano, white and black sand beaches, or snorkeling through a vibrant array of technicolor fish, you might feel caught in a pre-historic time warp. Kauai is the oldest of the Hawaiian Islands -- along with Niihau, which you can't really visit anyway -- having first formed some 5 million years ago. With the island just a reasonably priced flight away, it's like having easy access to Jurassic Park without needing to flash your passport.
In the North Shore, you can traipse through Hanalei, snorkel at Tunnels Beach or hike Kalalau (currently closed, due to floods). Venturing south, there's PoiPu Beach Park, Mahaulepu Beach (my personal favorite) and Waimea Canyon -- the latter of which is America's tropical Grand Canyon, a fantastic gash in the earth that resulted when an ancient quake nearly ripped the island in half. You'll have to rent a car to get from point A to B, but Kauai isn't very big -- at only 560 square miles, it's smaller than the city borders of Houston -- and the terrain never gets tiring when you're gazing at sheer-faced huge-ass cliffs and radiant landscapes littered with 80 different species of birds. Did I mention that you'll be starting and ending your days with leisurely visits to coffee plantations? Just make sure not to take any of the island's rocks when you leave. That's a surefire way to invite Kauaian spiritual vengeance into your home, and nobody likes a curse. -- Sam Blum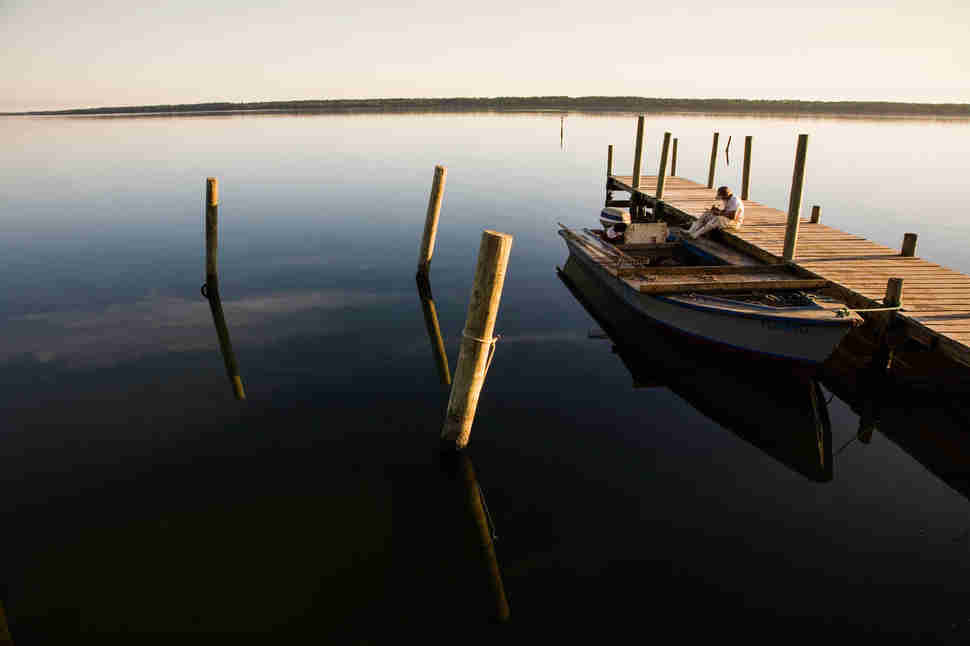 Saint George Island, Florida
The simple life of Old Florida in rare, pristine form
I'm the rare local who will actually direct you to the boomerang-shaped barrier island in Apalachicola Bay, because around here, people mostly prefer that you not crowd onto Saint George Island's untarnished beaches. This is an Old Florida town sans chain stores or resorts (just two independent inns serve the island). Let the spring breakers blow past on their way to Panama City or Destin; you, the savvy explorer, are heading for Florida's so-called Forgotten Coast, on the knobby elbow of Florida's panhandle.
Much of the "Big Bend" coastline between the Apalachicola and St. Marks Rivers is protected and undeveloped, preserving the unique character of the fishing villages -- and the beaches -- along US Highway 98. The emerald Gulf waters greet a wide and uncrowded beach of quartz sand so pristine, it audibly squeaks when you walk on it. Watch for coquinas, mini rainbow-colored bivalves that emerge with the surf and disappear into the sand as the waves recede. Opt for a fishing charter to catch your own seafood fix, or make a beeline for the grouper sandwiches (and rum runners) at the oceanfront Blue Parrot Café. A quick drive across the bay is the unexpectedly charming town of Apalachicola ("Apalach," as the locals call it), the hub of Florida's oystering industry, where some say the world's best are harvested. Its tiny but impressive roster of seafood restaurants and Southern-accented boutiques are worth leaving the beach. -- Paul Jebara
Angel Island, California
A State Park packed with history and amazing Bay Area views
Having been home to Coast Miwoks, a supply stop for Spanish explorers, a cattle ranch, a US immigration station, an internment camp, a quarantine zone, a military base that saw soldiers off to WWI and WWII, a Nike missile base, and now a state park; Angel Island has seen a lot in its short ~10,000 years as an island, since the last Ice Age waned. Located in the San Francisco Bay, less than a mile from Tiburon and about three miles from San Francisco, this state park with dozens of campsites and multiple beaches is easily accessible by public transit (or kayak or private boat).
Every city should be so lucky to have an island like this; yet very few none are. Once you ferry over, grab a map and fuel up at the cafe/bar before exploring some of the island's 12 miles of trails and roads that are great for bicycling and hiking (the only cars are driven by park employees). Then amble around historic, forgotten buildings -- my favorites are the abandoned hospital, and a now-silent parade grounds home to rusty military equipment and boarded-up barracks. At night the lucky few who've scored campsite reservations (six months in advance, in the few moments they're available) have the run of the island, its wildlife, incredible views, and buildings with haunted pasts. You can pitch a tent, watch the sunset behind Golden Gate Bridge, and in the morning wake for for a stroll alongside deer, hawks, and raccoons, with fog-cloaked San Francisco, Sausalito, and Alcatraz in the distance. -- Johnnie Chamberlain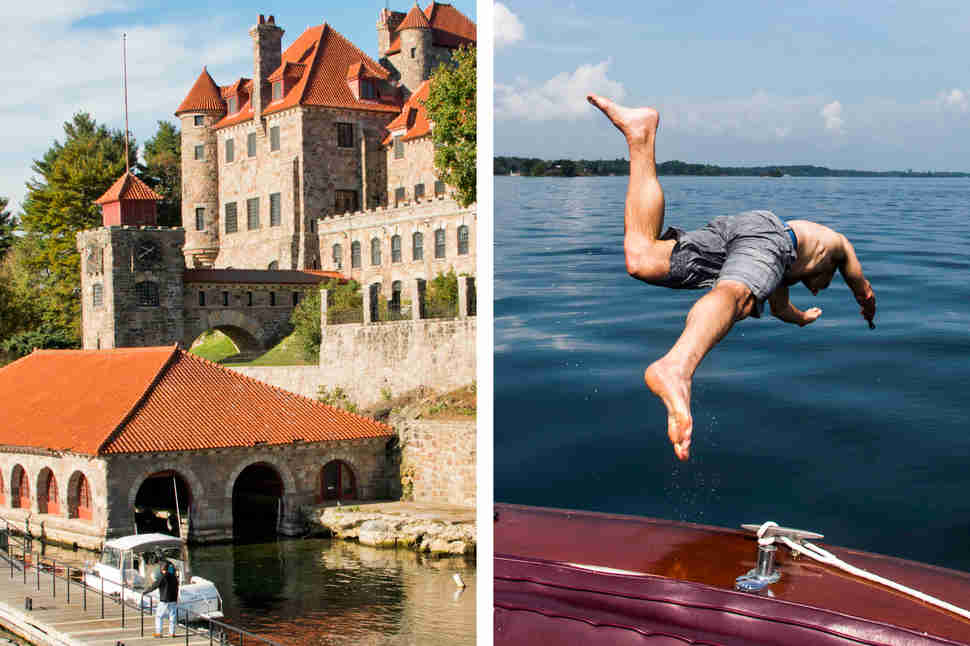 Thousand Islands, New York
Because why settle for one when you can go to 1,000?
Yes, salad dressing enthusiasts, Thousand Islands is indeed the home of Thousand Island dressing. The archipelago is made up of count 'em 1,846 islands that dot the St. Lawrence River as it criss-crosses between New York and Canada. The meandering watery border proved ideal, back in the day, for bootleggers smuggling hooch into the country during Prohibition. These days you'll find more fishermen and kayakers than pirates; pack your passport, though, in case you run afoul with any border officials as you make your way down the river.
Start at Alex Bay -- it's a tourist trap town, but it's the best place to grab kayaks or hop a guided boat tour down the river. Ogle the lighthouses, Fort Henry, Kingston Penitentiary, the stately homes on Millionaires Row, and Boldt Castle —the 120-room, 5-building Gilded Age castle commissioned by George Boldt, the proprietor of the Waldorf Astoria. Many of the islands are privately owned, but there are Airbnbs to be found, or you can reserve one of the two cabins on Gordon Island or Friendly Island, or camp out on Wellesley Island, which has a state park and its own lake.  -- Melissa Locker
Isle Royale National Park, Michigan
Diving, hiking, and wolves. Not necessarily in that order
No cars on this island, but Isle Royale -- Michigan's only national park -- is otherwise brimming with foxes, beavers, and mink. And bats, if that's your thing. The island is open pretty much just in the summertime, so plan your visit for sometime between late June and Labor Day. If you're into hiking hiking, the Greenstone Ridge Trail is 40 miles end to end. There are also great fishing charters to be taken here, but you probably expected fishing and hiking were popular here. What you probably didn't expect? Scuba diving -- yes, there are shipwrecks in Lake Superior, and the National Park Service has signed off on guided dives to check out those shipwrecks. -- Kastalia Medrano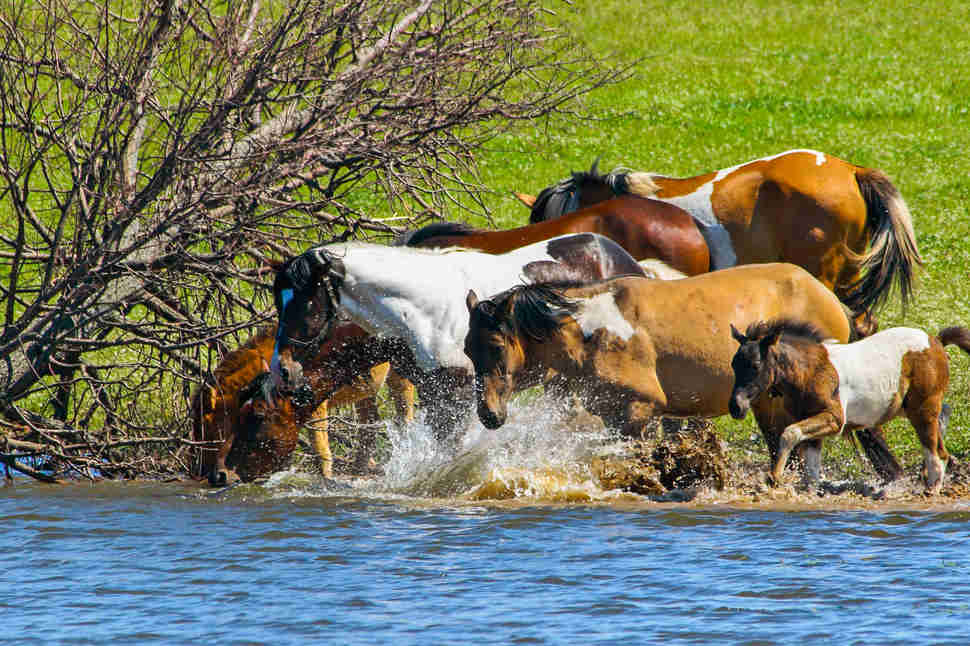 Wild Horse Island, Montana
Search for wild horses and geocaching treasures in the same day
Surprise! Wild Horse Island does not refer to the famously wild horse-filled Assateague Island off the coast of Maryland and Virginia. There are only five or six wild horses on Wild Horse Island, the largest rock in Montana's enormous Flathead Lake, but that kinda just makes it more special if and when you do see them while off on a hike. You'll also be amongst bighorn sheep, mule deer, bald eagles, and various other Big Sky-type species. Hike to the top of the island's caldera, an excellent spot to bring a picnic -- the highest point on the island is more than 3,700 feet above sea level, a height higher than the highest natural height in 22 of our American states. It is my opinion that a lake is no kind of lake at all if you can't swim in it, and so of course you can swim in Flathead Lake, where the rocks underfoot are smooth and shine in different colors. Pack another picnic and rent a boat and spend the day on the water. Into geocaching? Ya, you can do that here. -- Kastalia Medrano
Wizard Island, Oregon
Hike on a volcanic cinder cone in the middle of the country's deepest lake
Wizard Island is a bit of an outlier in the land of islands. There are no white-sand beaches. Unless you thought ahead, tiki drinks are in short supply. But you don't really need any of that, considering the island's unique location in southern Oregon's Crater Lake, the deepest lake in the US and one of the most spectacular pieces of natural splendor in the entire country. It's basically a gigantic hole in the ground filled with impossibly crystal-clear waters framed by a rim of dense forest. Wizard Island -- which got its name for resembling Merlin's headgear -- sits just about 800 feet out of the middle of the water, capping off a tremendous drowned volcano whose base reaches another 1,000 feet into the water. The island is accessible only by tour boats (which are, for once, worth it in this National Park), but once you're there, you've got access to one of the most breathtaking hikes in a state that's basically synonymous with them. The views from the summit, a moderate hike from the shore, seem like they emerged from Ansel Adams' dreams. Feel free to cool off by diving into the water from the shore. The chances of you hitting the bottom are exponentially lower, given the depth here. Just don't miss your boat back. -- Andy Kryza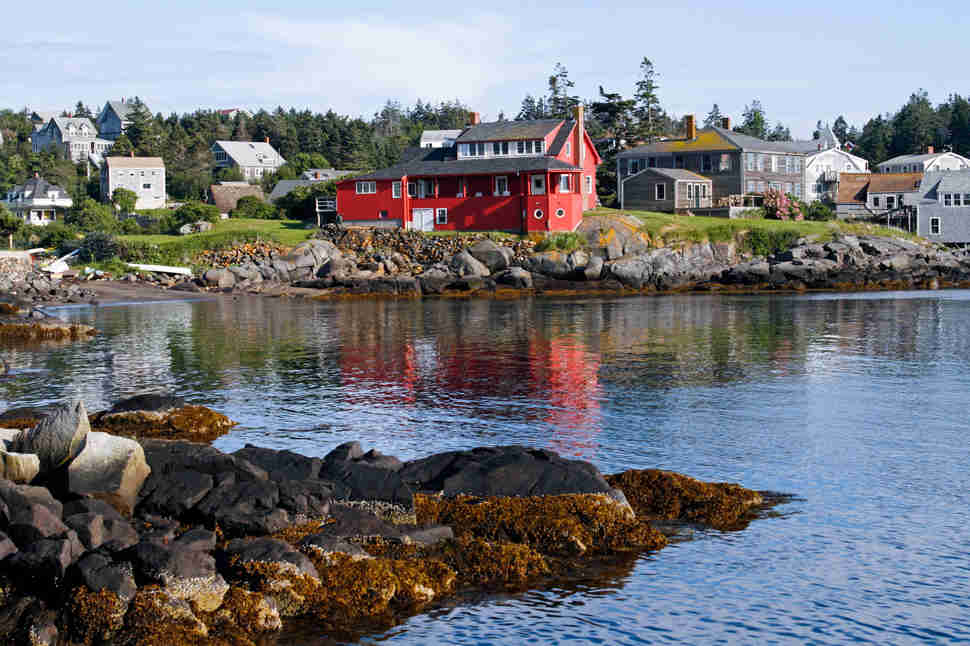 Monhegan Island, Maine
A remote escape lies 10 miles offshore
If you're looking to really "get away from it all" (you know… the news, the office, your roommate) follow these three steps: Get to Portland, Maine, drive up the coast 60 miles to New Harbor, and hop on a boat. After an hour or so cruising through the frigid Atlantic waters, you'll land on Monhegan Island. It barely covers a square mile of ocean. It's home to a year-round population of less than 50 artists, fishermen, and hardy residents who hunker down during Maine's harsh winters. Those numbers swell in the summer, when the island butterflys from a North of the Wall-esque rock into the golden beaut that inspired artists like Edward Hopper and Andrew Wyeth.
For daytrippers, The Hardy Boat offers a five-hour layover, which is just enough time to hoof it over some of the island's 12 miles of trails. Grab a sandwich at The Barnacle, the island's lone deli, and picnic on Lobster Cove, overlooking the bones of a long-ago shipwreck. Cool off with a pint (or two) of Lobster Cove American Pale Ale on the deck of the Monhegan Brewing Company. For an overnight stay, it's a simple choice between only two hotels -- the Island Inn or the Monhegan House. If you want to avoid reality a little bit longer, rent one of the summer cottages that dot the island and play Robinson Crusoe, albeit with a lot more beer. -- Melissa Locker
Revillagigedo Island, Alaska
Black bears, brown bears, salmon runs, salmon-colored homes on stilts
A lot of you out there who are not from Alaska might not realize just how far Southeast the state actually extends. But follow its border on a map all the way down to what you possibly assumed was British Columbia and you'll find the port town of Ketchikan, billed as the "salmon capital of the world." Salmon runs begin in late May or June, and by July/August are going absolutely gangbusters. Salmon runs mean bears. Like, bears standing mid-creek snatching salmon with their teeth looking savage as shit, but also looking kind of cute and silly with their lil' ears all wet an' stuff. You can take airplane tours to various bear-filled spots around the island, or perhaps you'd like to try some ziplining over the salmon streams, which is to say hopefully over some bears. If you didn't know, you're in the world's largest temperate rainforest. Shop for sculptures, jewelry, and other Native Alaskan wares downtown, and take a stroll down Creek Street to check out the colorful houses propped up on stilts. -- Kastalia Medrano
Cumberland Island, Georgia
Wild horses and undeveloped beach on a pristine nature retreat
If your next vacation calls for photographing wild horses on the beach and hiking beneath 300-year-old live oaks draped with Spanish moss, point your GPS towards Cumberland Island. Georgia's largest and southernmost barrier island, one the largest undeveloped barrier islands on the Atlantic coast, has no cars or paved roads, and is only accessible via boat. This raw terrain is most famous for its 18 miles of pristine, uninhabited beachfront, in addition to 50 miles of hiking trails with a few historic sites and cultural ruins dotted here and there (John F. Kennedy Jr. was married on the island's historic First African Baptist Church in 1996, for one.)
With much of the island federally protected wilderness, the National Park Service limits visitation to 300 people at a time, which means you're likely to see more alligators, armadillos, dolphins, and wild turkeys than humans. Birding, shelling, and fishing are popular activities; rent bikes or kayaks to explore the island's rolling sand dunes and quiet salt marshes. There are no stores and only one commercial structure on the island, the gorgeous (if pricey) Greyfield Inn, which was built by the Carnegie family in 1890. Most visitors to the island, however, choose to camp beneath the stars in complete and glorious solitude. Which is the whole reason you're here, right? -- Jay Gentile
Sign up here for our daily Thrillist email and subscribe here for our YouTube channel to get your fix of the best in food/drink/fun.