Nearly 67 million Americans traveled abroad last year. That's pretty impressive as far as numbers go, but we're not exactly donning our North Face fleeces and fanny packs and heading off into exotic uncharted lands. Quite the opposite: More than half of those intrepid travelers stayed put in North America, with the vast majority just plopping down on a beach in Mexico with a lukewarm Corona.
Don't get us wrong, Mexico is one of the most beautiful countries on Earth (and it's gloriously, gloriously cheap). But life is short, so if you're searching for the next slice of paradise to put on your travel list, look a little further than Cancun. Here are 12 drop-dead gorgeous islands that Americans continuously overlook. Some of them won't even require you to stray too far from home.
Recommended Video
Drink Medieval Beer at the Jopenkerk Brewery in Haarlem
Martinique, Caribbean
A rugged French Caribbean island that still flies under the radar
Martinique -- St. Lucia's overlooked sister island -- is a captivating combination of deep rainforest, rocky cliffside terrain, white sand beaches, and the calmest, clearest waters you'll ever see. The unexpectedly large island is best explored by car. Anse Noire is a charming black sand beach, while its white sand sister, Anse Dufour, is popular with the locals and studded with palm trees.
Set aside an entire day to hike Presqu'ile de la Caravelle, where you'll trek atop rugged cliffs along the water's edge. The majority of the longer loop is unswimmable due to the wild currents, but stick it out and you'll soon reach the swimming spot known as au trou cochon -- which literally translates to "pig hole" -- where the water is transparent and the beach is scattered with locals sipping rosé and nibbling on fancy cheeses.
There are some swanky "must-go-to" restaurants (it is French Caribbean, after all), but don't overlook the streetside carts and eateries. Seriously, the best meal I had was from the side of the highway. Order the island specialty: grilled poisson (fish) with rice and ratatouille.  
Getting there: Fly direct from New York to Martinique in under five hours with Norwegian Air.
Koh Rong Samloem, Cambodia
Your chance to play Tom Hanks in Cast Away
Take a two-hour boat ride from the South Cambodian beach town of Sihanoukville and you'll arrive at Koh Rong Samloem (aka nirvana). This is a road-free, underdeveloped, barren stretch of bliss. Transportation is entirely by foot, and there are no day-trippers allowed: The only way to secure a visit is to stay overnight -- or many nights, depending on how reluctant you are to return to the real world.
Cell service and Wi-Fi? That's a big fat nope. Your only obligation is to explore the hidden bays, coves, and unlimited snorkeling spots. Take a deep-sea fishing trip at sunset with the island locals and catch your very own dinner (which they'll cook up for you upon your return). If you're really lucky, you'll get some freshly caught and sliced sashimi for the trip back to shore.
Getting there: Asiana Airlines flies from New York City to Phnom Penh (via Seoul), where you can then catch a 2.5-hour local flight to Sihanoukville International Airport.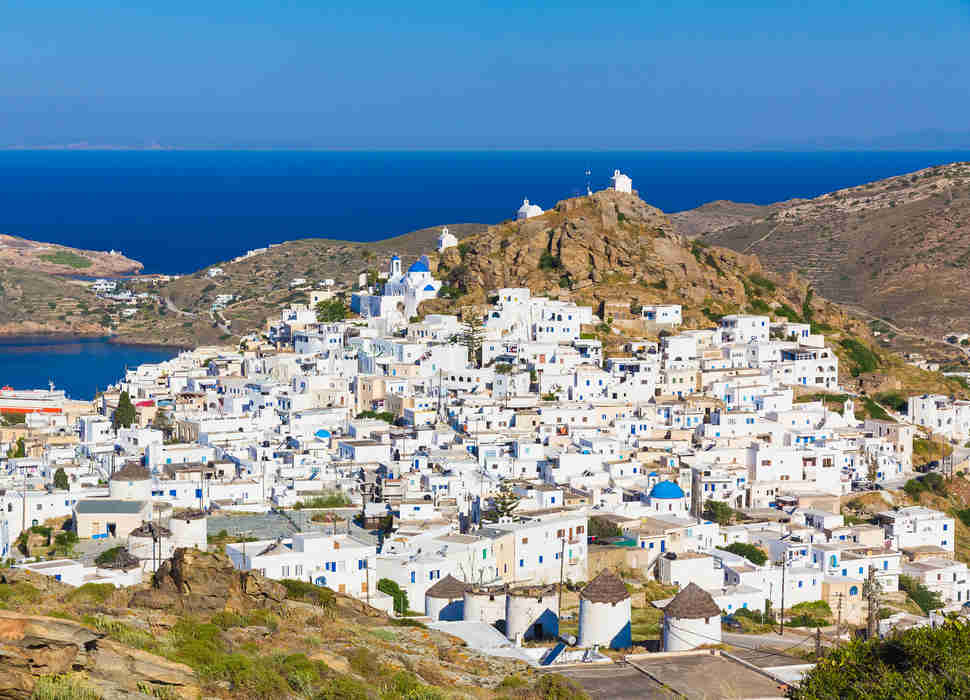 Ios, Greece
The only thing better than the scenery is the food.
This hilly island of white blue-roofed houses is one of the better-known islands of the Cyclades -- a group of around 220 islands in Greece. Hiking is a must -- I'd recommend Pyrgos Mountain, a not-so-beginner-friendly trail that'll reward you with the island's best views from its highest peak. 
Be sure to consume as much Greek food as humanly possible. Gyros are an island fast-food favorite, but you can't go home without trying moussaka: a dish of spiced and baked eggplant, minced meat, and vegetables that all Greek grandmothers have in their repertoire. If you can get your hands on a homemade recipe, all the better.
Getting there: Fly to major European cities (like Zurich, London, and Rome) and hop on a connecting flight to Athens. Ferries from Athens to Ios are six hours and cost about 30 euros. Take note if you're going May through July, packs of Australian teens travel to the Greek islands (particularly Ios) after their graduation for a spring break-style holiday.
Gili Trawangan, Indonesia
The ideal retreat for yogis and health nuts
If you're considering Bali as your next destination, move your finger a little more east on the map and you'll find Gili Trawangan. It's just a 1.5-hour fast-boat ride from Padang Bai, Bali. Starting in the late 1980s, Gili T (that's what the locals call it) enticed the budget-backpacker crowd with its raw beauty, freely available drugs, and lack of police presence. Now it's evolved into a "healthy holiday" destination, where you'll find a large chunk of yogis who travel to Indonesia to immerse themselves in the ancient practice.
By day, you'll spot these yogis with their colorful mats hanging out at Gili Yoga, an open-air studio and place to stay. By night, they crowd around the the Yoga Place, a wholesome café with a home-grown vegetable garden and the best vegan bean chili I've ever had.
Oh, and no vehicles allowed. So enjoy a stroll, rent a bike, or ride around in your own horse-drawn carriage. 
Getting there: Multiple airlines fly to Bali from New York City.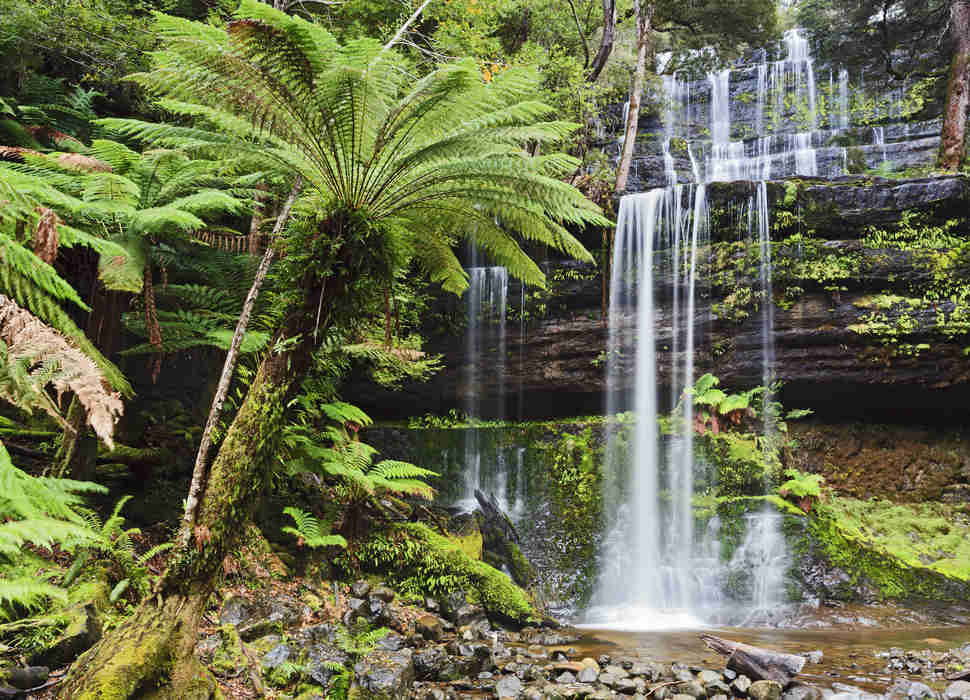 Tasmania, Australia
The very best Australia has to offer -- in a single island
Tasmania is one of Australia's most underrated treasures, and it's criminal that more Americans aren't taking advantage. This island has everything: deserted beaches, rainforests, mountains, lakes, wine valleys, national parks, picturesque farmland, and delicious food.
Definitely take a hike in one of the national parks while you're there. Freycinet National Park sits along the east coast and gives you the best of both worlds: deep, lush rainforest and sapphire-blue water. I'd recommend the Hazards Beach Circuit, a five-hour trek where you're likely to spot a few kangaroos along the way. Not present: other snap-happy tourists.
Don't hesitate to build up an appetite -- some of the freshest Australian produce comes from Tasmania. So buy some fruit from the side of the road (it's only $2.50 a bag!), stop at an oyster farm (I recommend Barilla Bay Oyster Farm), and eat freshly caught seafood that would only be better had you caught it yourself.
Getting there: Etihad Airways flies to Hobart (Tasmania's capital city) from New York City via Abu Dhabi and Melbourne.
Barbados, Caribbean
The quintessential Caribbean getaway -- sans the hordes of tourists
This Caribbean island is best known for being Rihanna's home country. Without its abundance of plantains to feast on, its postcard beaches, and its appeal to celebrities like Jay Z, where would pop music be today? Still, not many Americans think to journey here, so if you're looking for paradise without the busses of tourists, this is just the ticket.
The western coast of the island -- north of Bridgetown, the capital -- is famous for its glassy-clear water. Spend an entire day exploring beaches like Paynes Bay, where you can paddleboard with more turtles than you can count, and Sandy Lane Beach, where you can peep Rihanna's beachfront condo. Then head to Mullins Bay to feast on fresh fish at the waterfront eatery, laze around on beach pontoons, and chat with the local fishermen. 
Getting there: Visit from July-November, when the tourists leave and the resort prices can drop by as much as 50%. JetBlue flies direct to Bridgetown in under five hours, with flights as low as $200.
Beachcomber Island, Fiji
Paradise by day, party island by night
Beachcomber Island is just one of Fiji's 300 islands. It's also tiny -- you can walk around it in all of 20 minutes. So why this island, you ask? It's smack bang in the middle of a protected marine sanctuary in the South Pacific, making it one of the most beautiful coral reefs for snorkeling.
Owned entirely by the no-frills Beachcomber Island Resort, the majority of your fellow guests will be British 20-somethings staying up until sunrise at the island bar, because in their minds, what else would you do on an island paradise? Shared dormitories start at $19 a night and thatched beachfront bures for four are around $250.
Come daytime, the island is your oyster: Kayak, paddleboard, and explore the underwater world of one of the smallest inhabited islands in the area.
Getting there: Delta flies direct from LAX to Nadi, the country's main transportation hub, where you can then catch a 45-minute boat to Beachcomber Island Resort. The driest time to head to Fiji is between July and September, but that's also peak season. I'd suggest between October and April, when the tourists are gone and the temperatures rest in the 80s. The tropical storms may put on a show, but that's all part of the fun!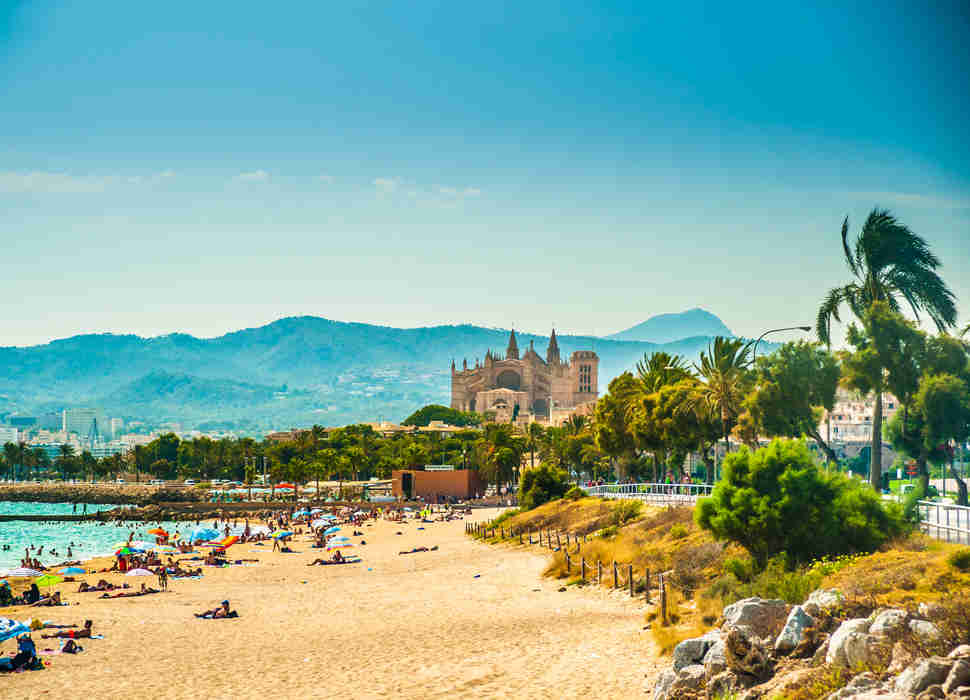 Mallorca, Spain
Ancient architecture, nightlife, and the beauty of the Mediterranean
Mallorca (also spelled Majorca) is the largest of Spain's Balearic Islands famous for its aqua-blue water and secret coves. It's a hugely popular destination for European tourists, who flock to the capital city of Palma de Mallorca for its ancient Gothic architecture and laid-back vibe. The famous Santa Maria cathedral, built in the 13th century, overlooks the Bay of Palma and is especially Instagram-worthy at night. Be sure to eat your fill of the Mallorcan tapas -- small plates of meatballs, salted cod balls, braised lamb in red sauce, and my favorite, cauliflower with raisins and pine nuts. 
One of the island's best secrets is the quaint coastal village of Deià, known only by locals and the foreign writers and musicians who regularly visit. The enchanting town sits on a hill in the shadow of the Teix mountain, and besides the incredible architecture, the biggest draw is the cemetery at the very top. This eerie spot has one of the most beautiful views over the Mediterranean, day or night. 
Getting there: Delta flies direct from New York to Barcelona where you can catch a connecting 45-minute flight to Palma.
Harbour Island, the Bahamas
A pink sand beach where privacy is the ultimate luxury
Most people think private jets, exorbitantly priced houses, and sunset boat parties when they think of the Bahamas. Harbour Island, thankfully, is the exact opposite. The beach is colored pale pink from the composition of broken coral, rocks, and red and pink shells of tiny marine creatures, and more often than not, you'll have it all to yourself. You'll find beautiful villas and privately owned holiday homes (OK, yes, it still has the expensive houses -- apparently Ludacris was staying there during my visit) but otherwise, very few footprints.
Bed-and-breakfasts are abundant on the harbour side of the island, close to the restaurants. Be sure to order the Bahamian specialty, conch chowder, for a delicious meal of cooked conch in a red or cream sauce. 
Getting there: Cheap flights to North Eleuthera (via Nassau) can be found with United Airlines, and then it's just a 20-minute boat ride to Harbour Island.
Korčula, Croatia
A Game of Thrones backdrop on a Mediterranean island
Croatia decorates the Adriatic Sea with over a thousand islands that all look like they've come straight off a postcard, but Korčula is especially recognizable for its medieval walls and towers that enclose the harbor. Most visitors stay in Korčula town, but the 20-minute ferry ride to Badija is a must-do. An hour and a half is all you need to walk around this gorgeous unpopulated islet, surrounded by water that's five shades of blue with hardly another human in sight.
When you're back in town (and hungry!), pick up a palačinke from a streetside cart -- it's essentially a thin crepe. Choose from a bunch of fillings like cheese, mushrooms, and homemade sausage. Many tourists skip the carts and head straight to the restaurants, but you'd be remiss to pass up the traditional Croatian street food. 
Getting there: Ferries run on a season schedule between all Croatian islands, so it's fairly easy to get around once you land in Zagreb or Rijeka Airport. 
Hideaway Island, Vanuatu
Even more beautiful underwater than above
This teeny-tiny islet in the ocean nation of Vanuatu is leased to the Hideaway Island Resort (hence the name). A five-minute boat ride from nearby Port Vila, Hideaway Island is one of the best spots to dive and experience the extraordinary colors of the coral reef. Because it's an official marine sanctuary, human activity in the surrounding waters is limited (including scientific research and commercial fishing) -- leaving an untouched marine world to explore. 
One thing you absolutely must do: Post a letter in the underwater post office. This is the only underwater post office in the South Pacific, and one of a handful in the world, so it attracts plenty of day-trippers from surrounding islands. The office is identified by a floating flag and can be easily accessed at its 3-meter-deep location. 
Getting there: Fiji Airways has a daily flight from LAX to Port Vila via Fiji. One-bedroom villas at the Hideaway Island Resort cost between $235-$260 a night (with breakfast included).
Isla Holbox, Mexico
A Mexican secret that won't be a secret much longer
OK, so Mexico is actually on this list. But Isla Holbox (pronounced "hol-bosh") is one of those rare vacation spots in Mexico that has managed to remain low-key -- it is now, what Tulum was 10 years ago. Located between the Caribbean Sea and the Gulf of Mexico, the island's most common attraction (besides the wild pink flamingos) is swimming with whale sharks, which can be done between June and September.
If you're visiting outside of those months, there isn't all that much to do except relax and eat some 50-cent tacos that'll ruin Tex-Mex for you for the foreseeable future. The best taco spot on the island is an under-the-radar, permanently parked truck with a tented patio called TacoQueto. Order the tacos al pastor (spit-grilled pork tacos) and BYOB from the bodega next door for a dinner that's inexpensive and damn delicious.
Getting there: Catch a bus from the Cancun bus station (or Playa del Carmen) to the Chiquila ferry port, then hop on a 30-minute ferry to the island.
Sign up here for our daily Thrillist email, and get your fix of the best in food/drink/fun.