While out-of-town visitors drive much of the Juneau economy, locals drive the tastes and textures of the Juneau food and drink scene. At 30,000 people, Juneau is both a tight-knit community and, by Alaska standards, the big city. Nestled in the heart of the Tongass National Forest, Juneauites' access to fresh seafood, foraged sea and forest vegetables, and wild game is unparalleled. This is a town of great, and opinionated, cooks.
The result is an all-star cast of eateries and drinkeries walking the line between tastes that will both express "Alaska" to the 1.2 million visitors that annually cruise through the Inside Passage, while at the same time creatively conversing with the critical palates of locals.
You'll find many menus emphasizing foraged local ingredients gathered from the forests and meadows around town. Oh, and seafood. All the restaurants listed below feature wild seafood, and if the fish is available locally, it's local. Still, don't be afraid to ask. For health reasons, most fish and crab has been flash frozen at sea and is of the highest quality. Don't get caught up in worrying if something is "fresh," although if you do see a "fresh king salmon" special, get it.
During the summer, Juneau's food truck game is also strong, with everything from Pucker Wilson's delicious fresh ground burgers to oysters with kelp pickles on weekends at The Port. You'll find Juneau's food truck zone in the gravel lot between Franklin Street and the cruise ship dock, or on the front lawn of the Juneau Arts and Culture Center (the JACC, pronounced "jack"). Other favorite trucks include Deckhand Dave's Fish Tacos and Alaskan Crepe Escape.
If you're thirsty after dinner, Juneau's bar scene is small but mighty, with great options for cocktails, local beer, live music, and dancing. Don't worry if you're only here for a night -- almost all of the nightlife options are located within a two-block radius.
Everything You Absolutely Have to Taste in the Food Capital of the Arctic
They don't call Juneau the food capital of the arctic for nothing -- the place dishes up incredibly fresh seafood and so much more.
This tiny bistro's location near the Juneau airport keeps it out of the main flow of Juneau's visitor traffic, which is probably for the best since their few tables are always full. Zerelda's owner Abby LaForce was long Juneau's best caterer, and her bistro features delicious, generous plates that mix together Asian-fusion and southern comfort styles with Alaskan ingredients. Reserve ahead for dinner.
Bright and bustling, The Rookery serves the best cup of coffee in town. A popular spot for brunch and lunch, The Rookery's menu is a mixture of sandwiches, salads, and interesting egg dishes. Their fried chicken is some of the best in town and anything that incorporates it is a winner.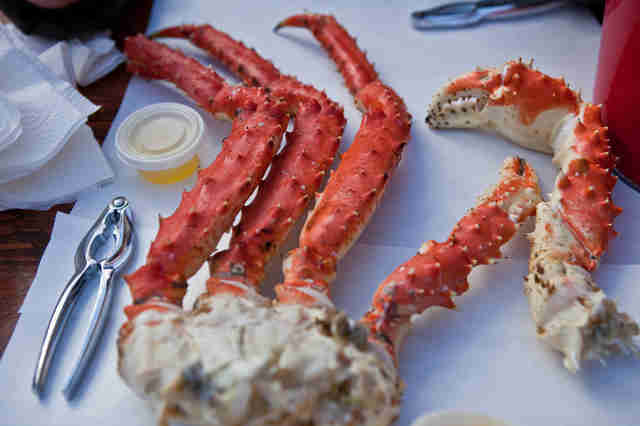 Tracy serves the best king crab at the best price in town. While shack is a bit of a misnomer at this point, the vibe is the same -- no frills, but the highest quality Alaskan crab you can find in Juneau, if not the state. Her crab bisque and crab cakes are a favorite with locals.
Out of the way and located behind a dive bar, this fry joint serves the best halibut chips in town -- miraculously light and fluffy. Zero ambience (unless you like dive bars), but worth the trip.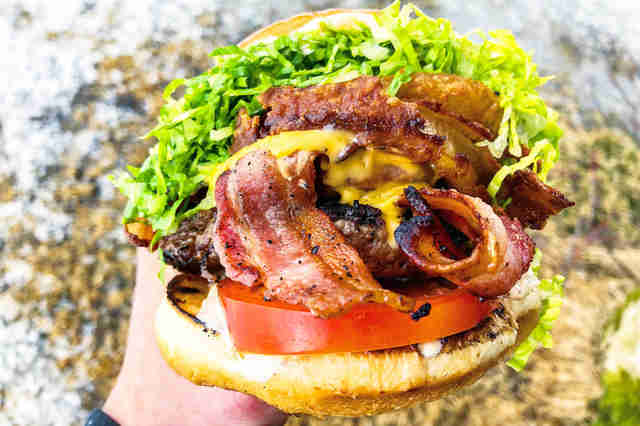 Pucker Wilson's owner Chad Edwards dedication to his meat is impressive. This food truck not only has the best logo, but their fresh ground burgers and hand-cut fries are near perfection.
Excellent Italian in a playful space: In Bocca al Lupo
Tucked back off the street behind the yellow and purple façade of the previous occupant's wacky decorating style, In Bocca al Lupo will surprise you when you walk through the door. Chef Beau Schooler, a 2016 semifinalist for the James Beard Rising Star of the Year award, turns out perfect Neapolitan-style pizzas, classic pastas, and surprising and delicious antipasti, verdura, and seafood specials all from a woodfired oven. The feel is simple and beautiful rustic Italian food with a wry sense of humor… and often Waylon Jennings playing in the open kitchen.
Best for seafood, steak, and dates: Salt
Chef Lionel Uddipa has developed a reputation as a forager-chef who creatively uses local ingredients in keeping with his French training and often nodding to his Filipino heritage. Uddipa took home the crown from the 2017 Great American Seafood Cook-off in New Orleans, and Salt's regular seafood specials showcase his talents. With a cozy ambience and one of the best wine lists in town, Salt is a favorite date night spot. If you're craving red meat, their charcoal-finished ribeye is the best steak you'll find in Southeast Alaska.
Best dessert with quirky local flavors: Coppa Ice Cream
On a sunny summer day, visit Coppa's ice cream cart in the downtown food truck zone, and then enjoy an ice cream stroll along the cruise ship docks. Coppa's owner Marc Wheeler pushes the envelope with his creations, often with a focus on local ingredients -- from candy cap mushrooms to birch syrup to spruce tips. Try everything, yes, even the caramel and smoked salmon ice cream. Escape the masses at Coppa's small café tucked away in one of Juneau's downtown residential neighborhoods. An affogato at Coppa -- a scoop of Coppa's housemade ice cream with a shot of espresso poured over -- is one of the best things you can put in your mouth in Juneau.
Heritage Coffee, Juneau's local coffee mogul, has cafes and drive-through coffee shacks in every part of town. The cafes on Front Street and Mendenhall Mall Road also serve an assortment of wraps and sandwiches.
Opened in 2017 in an old theater and bank, DCBC pours their small batch beers in a beautiful rustic tasting room. Their constantly rotating list is ambitious and you'll want to start with a tasting round.
Distilleries have seen a boom in Alaska in the last couple of years, and Amalga is making the best gin in the state, full of locally foraged botanicals. Sip it in their stylish tasting room by choosing from a rotating list of house-designed cocktails. Check out the perennial favorite, the Sea Donkey, a gin take on the classic Moscow Mule.
The Holy Grail for beer nerds: Alaskan Brewing
The grand dam of Alaska's beer scene, Alaskan Brewing is the 19th largest craft brewery in the United States. Their iconic beers are an Alaskan staple and locals are fiercely loyal to this company which still bases its production in Juneau. You can visit their small tasting room at their brewery, about 5 ½ miles from downtown Juneau. "Rough Draft" is the name given to their limited release beers -- look for these beers on tap around town and count yourself lucky if you get a taste of their Raspberry Wheat.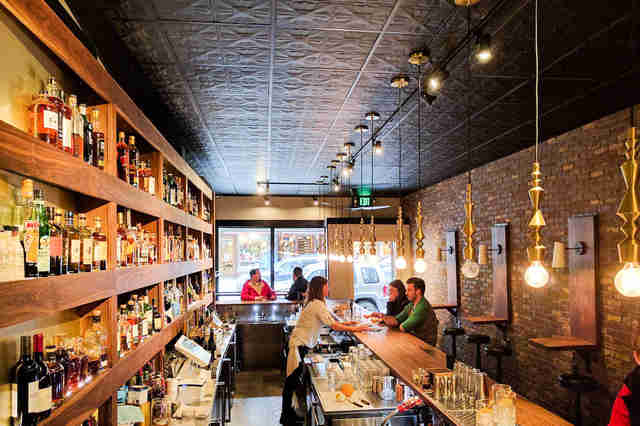 This beautifully appointed craft cocktail bar would fit in anywhere in the country. Locally owned, their cocktail list features a number of specialty drinks using local ingredients, from rhubarb to tart wild blueberries. And with the best whiskey selection in town, you'll find this long and narrow space packed with discerning palates.
This 100-plus-year-old bar features a dark carved wood, velveted wallpaper, and plenty of nooks and crannies to tuck in to. The stage at "the Kan" is plastered in posters from decades of shows and is your best bet for catching live music. Shows typically start at 10pm and go until bar close, and can include anything from a smoking hot bluegrass band to raging punk. Alaska has a strong tradition of bluegrass and if you're lucky enough to see a live band playing, you'll be treated to Alaska's version of partner dancing, a loose mix of swing and two-step. The long-running Thursday open mic is often fun and always eclectic. No cover.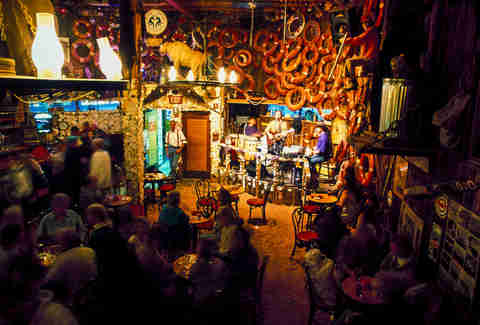 This classic kitschy Alaskan bar is full of taxidermied animals and decades of initials carved into every wood surface available. During the summer, the floor is covered in wood shavings and you'll probably have to wait in a line to enter since the Red Dog is a standard stop for most cruise ship passengers. Goofy photo opportunities abound.
A long, heavy bar to sidle up to, pool tables, garage doors that open to let in the rare summer sun, and a dance floor in the back give the Imperial a dedicated crowd. With a DJ on weekend nights, the dance floor packs from 11pm on.
Sign up here for our daily Thrillist email and subscribe here for our YouTube channel to get your fix of the best in food/drink/fun.