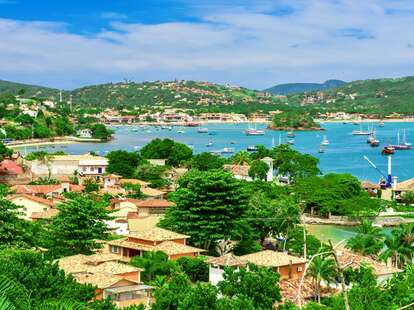 Catarina Belova/Shutterstock
Catarina Belova/Shutterstock
Beautiful Latin American Destinations That Outshine Europe
All the beauty, half the price, and none of the jet lag.
Europe often seems to captivate our attention: the beaches of the French Riviera, the ski chalets of the Swiss Alps, the promenades of Paris, the blue-domed churches of the Greek islands. Even if you're sweating in a crowd, taking a back-lit shot in front of the Colosseum or Trevi Fountain, this is proof you made it to Italy this year. People go to Europe to see, yes. But undoubtedly, they also go to be seen.
The Americas, by contrast, are where you go when you want to disappear. Hell, just ask Butch Cassidy and the Sundance Kid. When they wanted to lay low, those guys took their South American getaway all the way to Bolivia. But throughout the Americas, legit tourism destinations are springing up in areas both rustic and urbane. Increasingly, you'll find towns and regions not only to escape to, but to rave about (or maybe keep secret so you're not dealing with the swarms of tourists you were initially trying to get away from).
To help turn your eyes southward, we're lumping everything below Florida and the Rio Grande into the oversized umbrella of "Latin America" (have fun finding the former British colony and the French island on this list). Flights are cheap(ish), exchange rates are great, and—best of all—when you fly north/south, no jet lag. Get to it.
Quito, Ecuador
For years the only reason people came to Ecuador was for the turtle-laden Galápagos Islands, while the capital city—with all the food, beer, and history of a Bavarian mountain town, but wildly cheaper—remained under the radar. Not for much longer. Perched 9,000 feet up in the dramatic Andean foothills, on the side of the Pichincha Volcano, this city of 1.6 million retains the easy-going vibe of a quaint village. The old city is one of the best preserved historic districts in South America, a UNESCO World Heritage Site replete with public plazas, 40 churches, and 16 convents—one of which is the San Francisco Monastery, which houses the oldest brewery in the whole damn hemisphere, founded in 1566. Other local breweries like Bandido and Páramo offer up suds on par with the best stuff you'll get in the US or Europe.
The beer is a welcome complement to Quito's dynamic culinary scene, too often overshadowed by the Peruvian capital to the south, but just as enticing. The fresh ceviche is on par with Lima's and new spots like Urko and Zazu are updating Ecuador's Spanish-influenced cuisine. Quito is slowly creeping up on lists of the world's best food cities, and now is the time to go before the swarms of tourists descend. —Matt Meltzer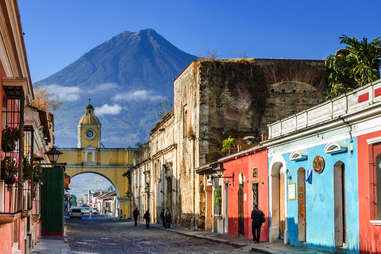 Antigua, Guatemala
Antigua has a magic air that has to be experienced to be understood. Nestled at the feet of three volcanoes and an hour from Guatemala's international airport is this old colonial capital and center of the Mayan kingdom turned backpacker idyll. The technicolored buildings and cobblestone streets attract wanderers looking for respite from the world. The nightlife and outdoors draw hedonists who just want to flat-out party rowdy. It's the jump-off point for Lake Atitlán, Mayan ruins at Tikal or Copán, and hot springs hiking trips. It's romance, it's action, it's maybe your new home if you let it seduce you. And it will try.
To catch the right vibe, nurse an ice-cold Gallo while crammed in the back of a tuk-tuk. You'll zip by centuries-old facades while the Volcán de Agua rumbles in the distance -- if caught at the right moment, there might be actual lava sparks flying through the night sky. The natural beauty (and, frankly, the prices) holds some tourists long enough to start NGOs or for-real learn Spanish. Look for these expats in one of the city's most iconic bars, Cafe No Se, a cavernous temple to agave spirits started by a gringo from New York. Hostels are dirt cheap, even when they come with a rooftop view of the volcanoes and the glittering city below. —Jackie Bryant
Paraty, Brazil
Paraty, an enchanting bayside town on the Costa Verde between Rio and Sao Paulo, is the kind of place that keeps Kefalonia & Co. up at night. Pristine golden beaches? Check. Glittering, snorkel-ready sea? Check. Soul-warming sun, radiant locals, and catch-of-the-day cuisine—yeah, it's like a jaunt to the Aegean Sea, minus the jet lag.
Paraty also looks the part, right down to the paint job. Sure, Hellenic blue goes well with whitewash, but there's a whole rainbow the Greeks are missing out on. In Paraty, the storybook colonial houses rock decorative wall patterns, latticed windows, and wise-old wooden doors painted in shades so bold and balanced that Instagram filters can take the afternoon off. The cobbled streets are blissfully undisturbed by motor vehicles—or anything beyond the occasional clip-clop of a horse and cart—and packed with history from the town's gold-rush glory days and murky slave-trade past. For a day trip, head into the Mata Atlântica (Atlantic Rainforest) for a dip in Pedra Branca's idyllic pools, or a slide down one of the natural toboggan waterfalls.
Paraty also throws a thrillingly filthy mud festival and hedonistic street parades during Carnival. This patch of Brazil is also famous for its cachaça distilleries (which you can visit for tastings) to such an extent that the caipirinha-constituent spirit was once known simply as "paraty." So, party on. —Jonathan Melmoth
Guanajuato, Mexico
If you know anything about Mexico's colonial cities, you'll recognize Guanajuato as the state where San Miguel de Allende resides, the much buzzed about resort town named the No. 1 destination in the world by a certain other publication. And hey, we're not arguing: The city is a vibrant melting pot of locals and expats from 60-plus nationalities, with photo-worthy colonial architecture, luxury hotels, impressive gastronomy, and a year-round temperate climate.
But the entire state deserves its fair share of the spotlight. Just outside San Miguel is the town of Dolores Hidalgo, where Mexico's independence movement began in 1810, which is worth a day trip to see how Talavera pottery is made (and to bring some home with you). Continue to Guanajuato for a soak in the region's natural hot springs, many of which are found hidden in caves. And Guanajuato is one of the only destinations where you can sample local Mexican wine, which yes, is a thing. Wineries like Cuna de Tierra and La Santísima Trinidad will give you a taste of the good stuff. —Meagan Drillinger
Buenos Aires, Argentina
You've no doubt heard Buenos Aires called "The Paris of South America." Not because everyone chain smokes and doesn't pick up after their dogs, but because no city in South America boasts such international diversity. A port city and destination for immigrants, Buenos Aires has European influences in everything from the food to the architecture to the time people sit down for dinner. The side streets are lined with sidewalk cafes, while Avenida 9 de Julio, the widest avenue in the world, recalls the boulevards of Paris. There are over a hundred parks and public green spaces here, many designed by famous Frenchie Charles Thays.
Porteños (a term for locals meaning "port people") have been known to brag their city is a little better than the rest of South America, but spend a few days and tuck into a few steak dinners and you'll be hard-pressed to disagree. Argentina has some of the best beef in the world, and washed down with a bottle of fine local wine will rarely set you back more than $20. BA is teeming with pizzerias, their pies closely related to Sicilian with big, doughy squares topped with a thin layer of tomato sauce and cheese. If you're craving afternoon tea like you might find in England, Argentines do that too with their daily merienda, which is served, naturally, with small sandwiches. And much like the Spanish, Argentines tend to eat dinner around 10 pm and party until sunrise. —Matt Meltzer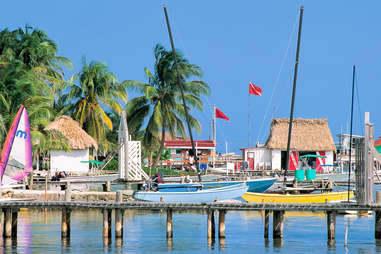 Ambergris Caye, Belize
Who knew that Belize was such a party animal? While the rest of the tourists in Central America are trekking volcanoes and scouring jungles for a glimpse of spider monkeys, Belize's largest island, Ambergris Caye (pronounced Ahm-BER-gris kē) is having all the actual fun. It's like having Ibiza just two and a half hours south of Texas, with nightly party slayage and a medley of diving spots thanks to its herculean barrier reef, the second biggest in the world. Folks here drink and dance the night away in open-air, beachfront Caribbean clubs, the vibe is easygoing, and everybody speaks English. Locals live by the go-slow, catch-and-kill-time (ask a denizen what that means) lifestyle, and would happily Cha Cha Slide with tourists any night.
If dancing's your thing, Jaguar's Temple Nightclub, in the town of San Pedro (rumored birthplace of Madonna's "La Isla Bonita") is definitely the spot. Or, pop into someone's house party. For diving, a Great Blue Hole diving tour will only set you back around $200. Stay at the slightly remote outpost of Las Terrazas to cure any hangover. Here, Belizean culture meets five-star service, and overwater swings and hammocks await. Better get going—parties kick off at 11. —Michelle Rae Uy
Torres del Paine National Park, Chile
To say there's nowhere quite like this Patagonian national park would be unfair. In fact, there's nowhere anything like it, except possibly Mordor. So make like a hobbit and set out on foot. The 60-mile 'W' trail winds its way through virgin forests and around milky blue lakes, crossing wood-plank bridges over roaring rivers on the way. There's blockbuster entertainment, too, from the thunderous crack of ice breaking off the Grey Glacier, to the spectacular panoramas that unfold from the crests of countless hills. The showstopper is the hike up to the three needles of the Torres themselves—you'll be gasping for breath in more ways than one.
There are cozy refugio lodges to stop at each night, or you can camp out under the southern stars (plan on at least five days for the whole trail, plus extra if you stop to make friends with guanacos along the way). The weather might well throw an occasional strop, but it's worth it to saunter through four seasons in one day. And another word of warning: It takes a whole lot of effort to get here, but it thwarts the day-trippers, so you get more of it to yourself. If there's one place that's worth a bit of logistical hassle, this is it. —Jonathan Melmoth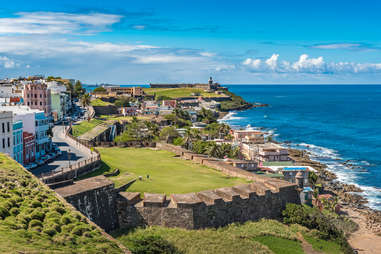 San Juan, Puerto Rico
If you don't want to feel guilty about sleeping through most of the daylight hours during your beach vacation, head to San Juan. The nightlife here tops pretty much any other reason to visit the Caribbean's unofficial gay capital. Start at Condado, the island's gayborhood, where you can laze in the sand and dip into the turquoise waters at Condado Beach.
With a drag scene on the rise (Drag Race fans have probably picked up on the high ratio of fierce Puerto Rican queens), San Juan boasts drag queens and kings quirkier and crazier than the watered-down bachelorette party performances you'd catch stateside. Roll into the faux-preppy-themed Polo Norte Gay Lounge sometime past 1 am for a legendary drag revue that combines comedy, music, and your rum-shot-inspired heckling. For a totally unique night, check out a free De Show party on the first Thursday of every month to let this artsy, drag king troupe completely change what you thought you knew about drag. —Melissa Kravitz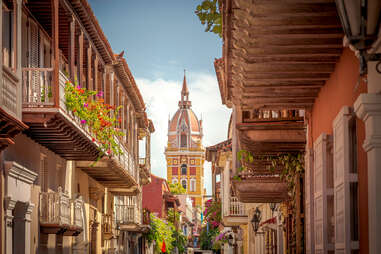 Cartagena, Colombia
For folks living in Florida—or anywhere in the southeast—Cartagena is an easier trip to make than most of the eastern seaboard. This might be why, on the weekends, you'll find the beaches packed with families from nearby Bogotá frolicking next to Americans who've learned, as the tourism slogan says, the only risk is wanting to stay.
Of course, anywhere referred to as "The Hamptons of Bogotá" is guaranteed to be filled with plenty of pristine, white, powdery beaches. The best ones are at Islas Rosario, just off the coast, or in Barú, a tropical Caribbean paradise that's light on tourists. Inside the city, Bocagrande offers the most entertaining people-watching. If you're into watching the ocean instead, hit up Castillogrande.
After a day of playing in the Caribbean Sea, have a sunset drink at Café del Mar. You'll find it on the wall of the Castillo San Felipe de Barajas, a 17th-century colonial fortress that stands over the old city, a walled enclave full of colorful colonial buildings, churches, and delicious hole-in-the-wall eateries. Then, you eat. La Vitrola is the famous, big-name destination restaurant and is worth hitting for its impressively long menu. Quebracho is where to go if you want an epic steak dinner so cheap, you'll blab about it every time you go out for steaks back home. —Matt Meltzer
Buzios, Brazil
Until the 1960s, Buzios was just another Brazilian fishing village, albeit one perched on an eye-wateringly beautiful peninsula jutting out into the ocean. Then, Brigitte Bardot popped by and fell in love with it. As the world fell in love with her, Buzios began to attract A-list attention.
Today, the narrow streets are lined with boutiques, pousada guesthouses, and modern seafood restaurants. From the waterfront promenade, you can see luxury yachts bob in the bay while you breathe in the salty air. Blink and you'd swear you were in Saint-Tropez. Still, the town moves to an unmistakably Brazilian rhythm, especially on weekends when the samba set arrive from Rio to fill the bars and clubs on Rua das Pedras.
To explore the peninsula, charter a private boat if you're feeling flush, or hop aboard a schooner like the rest of us. Ogle at the hillside celeb-shacks, stoke up a barbecue on one of the 17 (that's not a typo) beaches, and snorkel about, lazy and shallow as a manatee. The really energetic might grab a board and catch a wave at Geriba Beach, but there's no shame in kicking back with another caipirinha instead. —Jonathan Melmoth
Arequipa, Peru
Built from white volcanic rock and blessed with over 300 days of sunshine a year, Peru's second city has the gleaming look of an Andalusian pueblo blanco with a distinctly Andean flair. The entire historic center is a UNESCO World Heritage site, with the baroque basilica, pastel-painted Santa Catalina monastery, and the buzzing Plaza de Armas at its heart. The unmistakable, perfectly-conical backdrop for all this is El Misti, one of three volcanoes surrounding the city. (They only occasionally misbehave.)
Meals here include invented-in-Arequipa specialties such as rocoto relleno (spicy stuffed pepper) and chupe de camarones (prawn chowder), all washed down with a local beer or ice-cold Inca Kola. And then there's the chicken—boy, do they know what they're doing with a bird. Each of the dozens of family-run pollerias sticks fiercely to its sacred seasoning—there's only one way to find out your favorite.
For a trip out of the city, head to the Colca Canyon. At 10,730 feet, it's nearly twice as deep as the Grand Canyon. Condor-spot and drink in the view at the top, or ask a guide to show you down to the bottom. Just remember you've got to come back up, and apologize to your knees in advance. —Jonathan Melmoth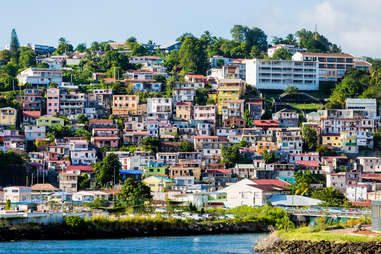 Martinique, Caribbean
Unlike most of the spots on this list, you won't hear any Spanish in Martinique; this mountainous stunner is still under French control. The island is a blend of natural beauty with sultry Caribbean sex appeal and the French appreciation for the finer things—but with infinitely better beaches. While many of its Caribbean neighbors opt for sprawling all-inclusives, Martinique swings more subdued with artsy boutique hotels and a still-unvarnished, understated vibe.
Authenticity reigns supreme here, which translates to snacking on shellfish underneath shady beach palapas, or dancing to Biguine music into the wee hours of the morning while you throw back glasses of potent 'Ti Punch. Or, skip the punch and go straight for the rum. For hotels, consider La Suite Villa, perched on a cliff with gorgeous views overlooking Fort-de-France. The hotel is like a high-end funhouse that plays with indoor-outdoor spaces, plus modern art, gourmet cuisine, and in-suite jacuzzis worth splurging for. —Meagan Drillinger
Puebla, Mexico
Puebla's former claim to fame used to be that it was the only place in Mexico where Cinco de Mayo actually meant something. (Imperative sidebar: Cinco de Mayo is NOT Mexican Independence Day. It refers to the Battle of Puebla, which was fought against the French in 1862. No one in the rest of the country truly cares about Cinco de Mayo.) But in the past few years, Puebla has garnered a new reputation as a destination for culture vultures looking to swoop off the beaten path and see the "real" Mexico.
Like Mexico City and Oaxaca, Puebla is a dream for foodies seeking rustic street eats. It's one of a handful of cities where you can taste Lebanese influences in the cuisine, especially in dishes like tacos árabes (pork tacos in a pita). For finer dining, hit up Augurio, just a few blocks from the cathedral, and sip from the extensive tequila and mezcal menu before tucking into suckling pig in pipian verde sauce or chicharron-crusted prawns. A day trip to the neighboring town of Cholula is a must to see its striking pre-Hispanic pyramid. Another option is Atlixco, a town at the foot of a volcano with an infamously delicious mercado, where you can savor barbacoa, tortillas, morales, and fresh cheeses. —Meagan Drillinger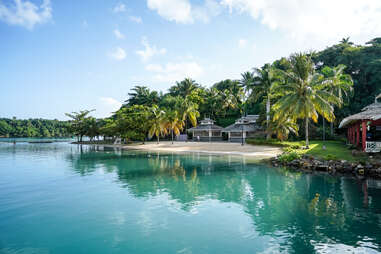 Port Antonio, Jamaica
Far from the resorts of Montego Bay and Negril sits Port Antonio, on Jamaica's stunning northeast coast. Once it was the lap of luxury for celebrities craving an exotic Caribbean getaway back in the '40s and '50s when Errol Flynn put it on the map, and it gained further attention in the '80s when Hollywood kept swinging through to film its gorgeous beaches. (You might recognize the Blue Lagoon from that one Brooke Shields movie.) Sadly, the beach resort where they filmed Cocktail is closed for good, but you can take an overpriced boat ride captained by a local to see its remains.
The catch is getting there: Errol Flynn Marina is too small to host the giant cruise ships that can, quite frankly, ruin otherwise great places. If you start your journey in Kingston, you can take a $4 "bus" (liberal use of this word—it's a crowded van) the two hours to Portie. You can also hire a driver for about $100, or take your life into your own hands and rent a car. Once you arrive, expect the locals to be excited and intrigued that you chose their quiet corner of paradise. —Kylie Maxcy