Well, it's baseball season again. Which means that ESPN can take a break from talking nonstop about the Golden State Warriors (we get it, they're good), and instead talk nonstop about the Yankees and Red Sox. It also means that you're going to have to explain to people why it is you still like baseball, without going into the nuances of throwing a four-seam fastball as your payoff pitch.
A good way to start is by showing them the splendor of North America's 30 Major League Baseball parks, where each home field is unique unto itself (more true now that they tore down Riverfront, Three Rivers, and the Vet). But which stadium is the absolute best place to watch a game? Which offers the best overall experience: the stadium, the food, and the on-field product?
To figure that out, we looked at a number of metrics, including Stadium Journey's overall experience rankings, each team's home winning percentage since 2009, the percentage of seats in each park that were filled last season, and the stadium food rankings from the good folks at Bleacher Report. And what did we come up with, other than that Globe Life in Arlington is still terrible? Well, this season's update to every Major League Baseball park in America, ranked worst to first.
30. Globe Life Park in Arlington
Texas Rangers
Arlington, TX
Despite losing consecutive championships in 2010-11and teetering on the brink of being the Buffalo Bills of baseball, the Rangers have posted a pretty decent .569 winning percentage at home since; although that still wasn't good enough to fill more than 63% of the seats in 2015. A dead-last ranking in food doesn't help their case, either. Who knows, maybe they shouldn't have closed that Friday's in right field?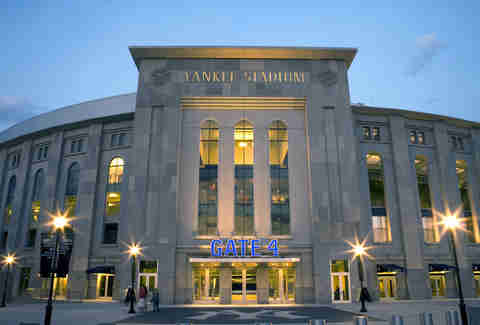 29. Yankee Stadium
New York Yankees
Bronx, NY
Perhaps no ballpark better represents its city than the new-ish Yankee Stadium. Big, impressive, and talked about in the national media ad nauseum. Once you get there, though, you realize it's way too big, overpriced, and, well, not that much fun. While the Yanks have an impressive home winning percentage in their new park (.610), a lackluster 2015 dropped them to almost dead-last in our rankings. Unimpressive food options and a cavernous feel also make this place a... sorryboutthis... Bronx Bomb.
28. Rogers Centre (SkyDome)
Toronto Blue Jays
Toronto, ON
Back in the early '90s, when the concept of a retractable roof was almost as crazy as a phone you could carry in your pocket, this was the coolest stadium in baseball. Now, rappers have retractable roof houses and the Blue Jays just pulled themselves back to relevance last year. Hopefully 2015's playoff run will help the Jays fill more than 70% of seats this year, the main reason why they're up one spot to 28.
27. Citi Field
New York Mets
Queens, NY
Yes, it's an upgrade from Shea, sure. But just replacing something that's worn out doesn't make it great on its own. Which is definitely the case with Citi, where even a center field Shake Shack and an NL pennant haven't done much to help the Mets' attendance, which thanks to the playoff push just broke 74% of capacity.
26. Marlins Park
Miami Marlins
Miami, FL
When the biggest-selling feature in your stadium is a bar with naked dancers, it doesn't speak much to your product on the field. And since getting their half-billion-dollar, high-tech palace, the Marlins haven't managed a winning season. They draw most of their alleged 21,000 fans per game (some Miami math if we've ever seen it) thanks to the swimming-pool-and-body-painted Clevelander bar in left field.
25. Tropicana Field
Tampa Bay Rays
St. Petersburg, FL
The oft-maligned giant orange-juice squeezer in downtown St. Pete (one of our best 25 cities to spend the weekend) might not be the best place to watch a baseball game, but the food offerings are a lot stronger than you'd think; in fact, the Cuban sandwiches taste better than the ones you get in Miami. It also doesn't hurt that the Rays have been dominant at home until the last couple of year, chalking up a .566 home winning percentage since '09.
But let's be honest, it's still Tampa and that means fans would rather be out making meth and dating their high school teachers than going to Rays' games, and the numbers back it up; only 52% of seats get filled.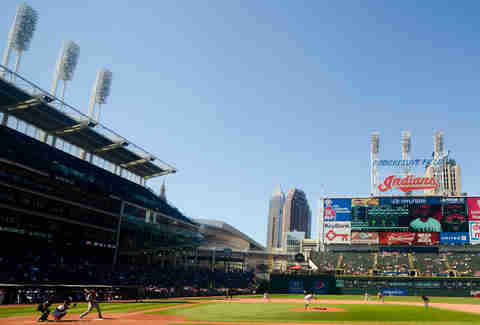 24. Progressive Field
Cleveland Indians
Cleveland, OH
"Progressive" really should refer to the "progress" they're not making in replacing possibly the worst stadium in the history of live sports. The 11th oldest park in baseball no longer has the cool, new vibe it did when it opened in 1994, and, much like its team, the park is in desperate need of some upgrades. Not surprising, then, that even with $4 Strohs, the Indians rank last in attendance.
23. Petco Park
San Diego Padres
San Diego, CA
If you're not into five-for-$5 fish tacos, the food at Petco leaves a lot to be desired (although, the craft beer selection is pretty tight). As does the team on the field. While the Pads might have had the best outfield in baseball, they've spent the last decade being fairly irrelevant. And San Diegans took notice, opting to enjoy their city's perfect weather elsewhere and filling only 73% of the stadium's seats.
22. Chase Field
Arizona Diamondbacks
Phoenix, AZ
If you've ever been to a shopping mall food court and thought, "You know what would be cool? If there was a Major League Baseball game going on in the background," Chase Field is your dream come true. This cavernous, usually-indoor park has all the charm of a dentist's office, and housing a team that doesn't win half its games doesn't help.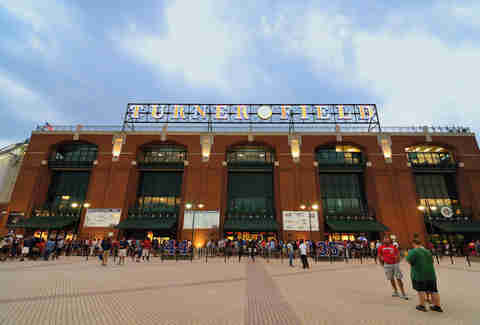 21. Turner Field
Atlanta Braves
Atlanta, GA
As great as Atlanta is at strip clubs, they are equally as terrible at breeding home-grown, loyal sports fans. To prove it, ask your average Atlantan to name four players on the Hawks. That sports apathy is a big reason why this converted Olympic stadium that houses one of the most successful franchises of the past 30 years can only fill 49% of its seats. The stadium itself, which may be torn down when the Braves move to Cobb County in 2017, is a nice place to watch a game on a warm summer's night. Especially if you enjoy having an entire row to yourself.
20. Nationals Park
Washington Nationals
Washington, DC
When the population of your town changes every two-to-four years, it's hard to build a loyal following. The Nats have actually been a contender for the past five seasons and still only fill 3/4 of the seats. And while the ballpark is still nice and new, it doesn't have many signature features and the food options are pretty much limited to chili-covered sausages.
19. US Cellular Field
Chicago White Sox
Chicago, IL
When talking about long-suffering Chicago baseball fans, people conveniently forget that the White Sox actually won a world series in 2005. Their mediocrity as of late though hasn't helped their cause, and the former "New Comiskey" currently only fills about half its seats on a regular basis.
18. Great American Ball Park
Cincinnati Reds
Cincinnati, OH
When it comes to great chili debates, none is more polarizing than Cincinnati's Skyline, whose beef-on-spaghetti shtick doesn't play well with everyone. Especially the guys at BR, who ranked the Great American Ball Park fifth-worst for food. And despite the Reds' decent home record and respectable attendance figures, this park on the Ohio River still only ranked 13th overall. Though it is one of the cornerstone's of America's 10th-best skyline.
17. O.co Coliseum
Oakland Athletics
Oakland, CA
Nothing says "classic baseball park" like AN ENTIRE LEVEL OF TARPED-OFF SEATS. This team, which plays on a shoestring budget in SF's dirty little brother of a city -- in a stadium that hasn't been fun since the Raiders moved back -- is typically a winner. Last year's miserable 34-home-win-season aside (which dropped the A's five spots on this list), a .552 home winning percentage since '09 puts O.co much higher than you'd expect, as does the surprisingly large variety of food available in the really narrow concourses.
16. Minute Maid Park
Houston Astros
Houston, TX
Well, at least it's no longer named after a corrupt energy conglomerate. So there's that. What there isn't is a baseball team that anybody's cared about in almost a decade (did you know they changed leagues? Yeah, THREE years ago!) with an anemic .440 winning percentage at home. Until last year when the 'stros put together a banging 52-wins at Minute Maid. Maybe it's because the stadium's air conditioned -- and that summer in Houston is oppressive -- but fans last year filled a respectable 63% of seats and boosted Minute Maid up six spots on this list.
15. Comerica Park
Detroit Tigers
Detroit, MI
People love to rag on Detroit. Especially people who haven't been to Detroit. Because if you have and checked out the relatively new home of the Tigers, you'd know it's as nice and homey as any park in baseball. How else would they get people from the suburbs to come downtown and fill 81% of the seats to watch a team that won 38 home games?
14. Angel Stadium
Los Angeles Angels of Anaheim
Anaheim, CA
You know your county doesn't have much to worry about when people actively get up in arms about your local baseball team's name. Which is exactly what happened when Orange County's Angels changed their name to Los Angeles a decade ago. That's about all that's changed, though. It's a nice enough place to watch a game, but the food and ambiance have about as much character as… a Southern California bedroom community.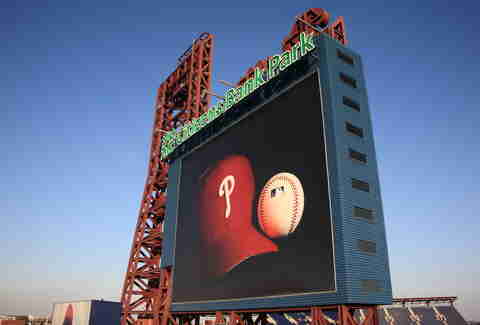 13. Citizens Bank Park
Philadelphia Phillies
Philadelphia, PA
Notice that we didn't include a metric here for the relative tolerability of the fans in the ballpark -- because if we did, Citizens Bank would rank 25th at best. Philly fans aside, the park has a summeriffic outfield bar that gets packed even on weekdays, serves authentic Philly cheese steaks, and plays host to a team that's won 54% of its home games over the past seven seasons. And that's good enough for 13th place!
12. Safeco Field
Seattle Mariners
Seattle, WA
While its next door neighbor at CenturyLink gets all the hype for its record-breaking noise (and, oh right, winning teams) the house that Griffey built has become an afterthought in the Seattle sports scene. Mostly because the M's have a losing record at home as of late, but also because they actually discourage heckling of opposing teams and make fans sit in assigned seats, even during games that draw under 10,000. They do serve great food (sushi!) and rank second overall from Bleacher Report, though.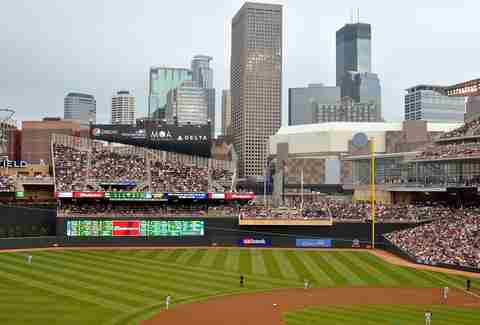 11. Target Field
Minnesota Twins
Minneapolis, MN
Playing outside in Minnesota during any month that's not July or August might sound like an invitation for a snow delay, but the Twins have built one of the prettiest new open-air stadiums in baseball. And even though the team was horrible until last year, the fans remained "Minnesota nice" and filled 70% of their seats. No doubt that's also because of food from locals spots like Murray's Steakhouse.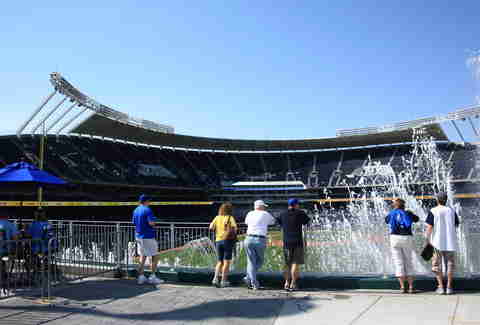 10. Kauffman Stadium
Kansas City Royals
Kansas City, MO
Your World Series Champion Kansas City Royals (sounds weird, doesn't it?) are the main reason why this waterfall-adorned park jumped six spots to crack our top ten. Winning certainly brought out the fans, who only filled 63% of seats in 2014 but topped out last season at 88%. Although, honestly, the damn fine barbecue in the concourse makes going to Royals games fun even if they aren't winning, and this stadium is a big part of why Kansas City is one of the best American cities to spend the weekend.
9. Coors Field
Colorado Rockies
Denver, CO
In a park where the only thing thinner than the air is Walt Weiss's hair (yes, we know he's bald), your chances of catching a souvenir home run ball at Coors are better than at most stadiums. But that's not what makes this place so great. The rooftop deck in right field is the perfect place to spend a cool (or blistering hot, or snowing) Denver summer night, and the team wins almost 54% of its home games.
8. Miller Park
Milwaukee Brewers
Milwaukee, WI
For pure tailgating, there's not a better stadium in baseball. And the food inside's first-rate too! Throw in Bernie Brewer's slide in left field, the sixth-inning sausage races, and a perpetual contender in the Brewers, and you've got the best thing to do in Wisconsin all summer that isn't Summerfest.
7. Wrigley Field
Chicago Cubs
Chicago, IL
The classic-versus-retro baseball stadium debate is endless, but if you've ever spent a summer afternoon at Wrigley then you know that no modern ballpark can duplicate what Cubs fans have. Over a hundred years of losing, notwithstanding. The retro scoreboard, the ivy-covered walls, the minimal bleachers: they all give Wrigley a feel and atmosphere that ensures over 80% of the seats are almost always filled. And the Cubbies' improved on-field performance in 2015 should offset any loss of hominess from the new outfield video board.
6. Busch Stadium
St. Louis Cardinals
St. Louis, MO
Aside from being the only place in America where drinking "macro" brew is still cool, St. Louis also seems to top a lot of "best sports town" lists -- despite managing to lose a football team. Why? Because: a) quick, name something else to do in St. Louis beside go to the top of the Arch and visit this crazy museum, and b) this stadium. It ranks third overall and hosts a team with a .622 home winning percentage.
5. PNC Park
Pittsburgh Pirates
Pittsburgh, PA
Sure, the Pirates were so traumatized by Sid Bream's 1992 slide that they didn't make the playoffs for another 20 years. But the 'Burgh is back in a cozy 38,796-seat stadium that sits on the water, is 80% full for most games, and boasts views of one of America's best skylines.
4. Dodger Stadium
Los Angeles Dodgers
Los Angeles, CA
You don't lure a team with a storied history away from its home city with a cookie cutter stadium on a tract of industrial land. Unless you're Oklahoma. But the Dodgers left Brooklyn for this prime piece of property in Chavez Ravine, which, even as the third-oldest park in baseball, packs 83% of its seats. The Dodger Dog isn't the only reason the food's in the top 10 either, as there's also an outpost of the venerable Canter's Deli.
3. Oriole Park at Camden Yards
Baltimore Orioles
Baltimore, MD
Wanna feel old? The stadium that opened in 1992 and changed the way ballparks were built is now the 10th oldest in baseball. That said, it's still got one of the best environments for taking in a game and Boog Powell's BBQ in right-center remains an absolute must-eat if you're there (in fact, BR ranks Camden Yards number one in food). The O's recent winning ways have also helped, although they're still only managing to fill 2/3 of their seats.
2. Fenway Park
Boston Red Sox
Boston, MA
Though their claim of having 820 consecutive sellouts is suspect at best, and the tiny seats/obstructed views sometimes have you staring straight at the right field wall, no stadium makes more out of less space than Fenway. Every seat feels like you're on the field; they've got a bar UNDER center field where you can watch the game without a ticket; and, the last two seasons notwithstanding, the team's rung up three titles since breaking that "curse" thing in 2004.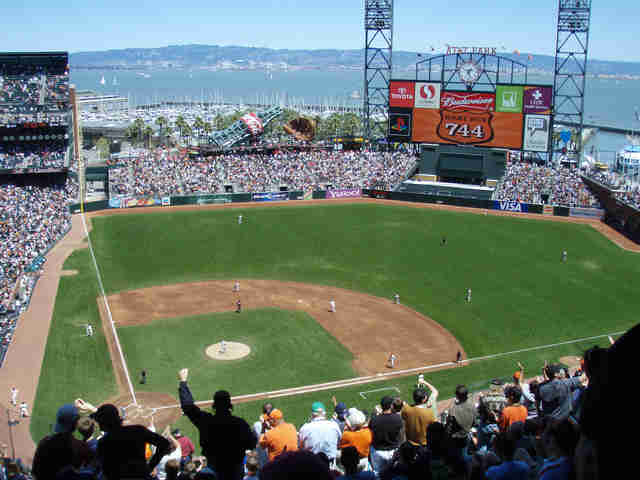 1. AT&T Park
San Francisco Giants
San Francisco, CA
Seriously, why does San Francisco have to be good at SO. MANY. THINGS? This retro park might have the most iconic water feature in all of baseball (McCovey Cove in right field), plus some of the best stadium food around -- The Stinking Rose and a Cha Cha bowl are both inside. Oh, and then there's the Giants and, you know, their three World Series championships in six years.
Sign up here for our daily Thrillist email, and get your fix of the best in food/drink/fun.
Matt Meltzer is a staff writer for Thrillist who grew up watching baseball in the Kingdome. Catch his gratuitous baseball stadium photography on Instagram @meltrez1.