Manchester's food and drink scene has a little bit of something for everyone. Whether it's cheap eats and beers in the Northern Quarter or a 15-course tasting menu and beautiful views in Spinningfields, there is a dizzying array of choices out there. We've gathered up the best of the bunch for you to check out, from pizza to steak and everything in between, we're here to help. Phew!
Recommended Video
This Restaurant Gives Brunch a Punjabi Twist
100-102 High St, Northern Quarter, M4 1HP
A simple-yet-effective combination of burgers, wings, sides, and fries explains this place's recent, meteoric expansion. It's like a Willy Wonka factory for burgers, with a constantly evolving menu that includes around 10 different burgers and seven different types of fries, one of which is topped with popping candy. Check out the Johnny Drama: a double burger, cheese, flat iron steak (yes), pickles, peppercorn, and homemade Million Island sauce, all served on a pretzel bun with a side of garlic salt-topped shoestring fries. Wash it all down with a boozy milkshake, a cocktail, or a beer, and if you somehow still have room, try a dessert.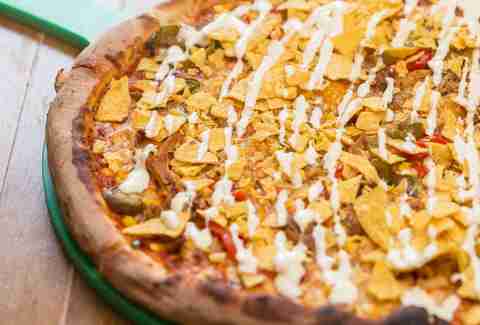 55-57 Bridge St, M3 3BQ
Pedro's is owned by the same guys who brought us one of our other favourite watering holes -- Liar's Club -- and has been serving up some truly bizarre and wonderful pizza combinations over the years. Try "Manchester's Weirdest Pizza," the Dirty Northerner: chips, cheese, and gravy, all atop a pizza base. If that sounds strange, then get a load of the Resurreggtion: it's a dessert-style Easter pizza with chocolate sauce, marshmallows, brownie, meringue, and a creme egg. Yes.

Sure, normal pies like pepperoni and margherita are also available, but next to options like the fried chicken and waffle (chicken, bacon, waffle, and maple syrup), there's really no contest. With a constantly changing menu and a range of cocktails and beers 'til 4am, Pedro's is an excellent choice at any time of day.
45/47 Hilton St, M1 2EF
Another Northern Quarter gem, Williams offers sit-down or takeaway service, and while you can get jacket potatoes or salads here, sandwiches are this place's bread and butter (!). Pick from a selection of bread (baguette, ciabatta, bagel, etc.) before getting to the myriad fillings on offer -- as in, 14 meat and eight vegetarian and cheese options, with plenty of extras as well. If this sounds like too much choice, there are some suggested combos for paninis and wraps which are also available hot. The chilli beef wrap with peppers and red onion is a classic, but don't overlook the hot 'n kickin' spicy chicken ciabatta: spicy chicken breast in herbs and spices, covered with a chili sauce. Yes, please.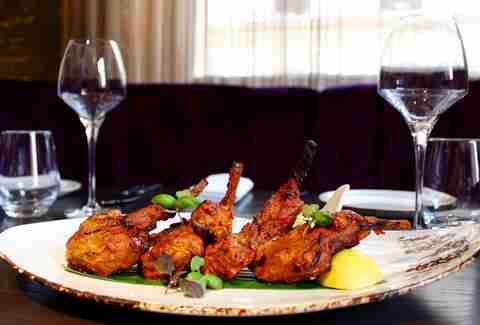 Best Indian: Asha's
47 Peter St, M2 3NG
Asha Bhosle was a Bollywood star, renowned cook, and subject of '90s hit "Brimful of Asha" -- and while that's impressive on its own, a listing in the most recent Michelin guide is what pushed this place over the top. With locations around the world, including Dubai and Abu Dhabi, this Manchester spot is the most recent addition (and second in the UK). To start, go with venison samosas or roasted potato salad. For mains, try the kodi curry -- it's a yoghurt-and-coconut-chicken-based curry topped with fried spinach -- or the paneer ka soola, made with cottage cheese, peppers, tomatoes, and pineapple in a deliciously spicy sauce. The sides of butter rice and sun-blushed tomato naan complement the curries amazingly.
Best late-night food: Kwok Man
28-32 Princess St, M1 4LB
If you want Chinese food at 2am (and really, who doesn't?), don't miss a visit to Kwok Man. You would be forgiven for walking past this basement restaurant in the middle of the city's Chinatown, as there's only a simple sign lighting the way to the downstairs entrance. Don't let the dingy decor put you off: start with hot & sour soup and a selection of the dim sum dumplings, before moving on to the main event (think beef in satay sauce or king prawns with green veggies). The whole restaurant smells great, thanks in large part to the fact that many of the dishes are served on sizzling hot plates -- if you're with a large group and want to sample a variety of dishes, the mix & match banquets should be your move.
49-51 Edge St, M4 1HW
Opening at 9am every day and serving breakfast 'til 2pm, this place makes sure you have no excuse to miss the most important meal of the day -- the bottomless coffee before 12pm is a hangover blessing. When it comes to the food, you can opt for classics like eggs and bacon on toast or full/veggie breakfasts, but we suggest exploring some of the more original options: the breakfast burrito with eggs, chorizo, beans, cheese, and chipotle sauce is a great (and filling!) choice. If you're after something sweeter, go for the OMG French toast: brioche bread with Nutella, toasted coconut, and strawberries with salted caramel. In fact, maybe just get that regardless.
Best fancy spot for when you're not paying: Manchester House
18-22 Bridge St, M3 3BZ
Michelin star holder Aiden Byrne is the man in charge of one of the most popular restaurants in town; his style is described as classic flavour combinations created in unique, unexpected ways and it does not disappoint. The open kitchen means you can watch the team at work, whether it's a set course lunch, a la carte dinner, or an eight- or 14-course tasting menu (which are available in vegetarian and carnivorous varieties). Once your meal is over, end your night on a high note (literally) at the lounge 10 floors up -- the 360-degree rooftop views are spectacular, even more so if you've got a drink in hand.
Best vegetarian option: 8th Day
111 Oxford Rd, M1 7DU.
The mantra here is fabulous vegetarian food, no genetically modified produce, organic where possible, and no artificial additives. Each day, the cafe has new offerings like quiches, stews, and curries; the five-lentil stew we tried had an incredible amount of flavour, and the red Thai curry had the perfect amount of spice and was crammed with fresh, delicious vegetables. Many of 8th Day's options are vegan, including some desserts -- the apple and rhubarb crumble with vanilla soya cream is so tasty, even staunch dairy lovers will see the light.

Lowry Hotel, 50 Dearmans Pl, Chapel Wharf, M3 5LH
As the name would suggest, this place is situated right beside the river Mersey in a stunning five-star hotel; the space is beautiful and bright by day, cosy and candlelit by night. The Chef's Choice dinner menu changes each month, and at £24.95 for three courses, there;s no reason not to make regular visits. Seasonal, local produce is the name of the game, and with mains like slow-cooked beef flat iron and sorrel potatoes with oyster mushrooms -- not to mention the lemon sponge, mascarpone, and raspberry pearl dessert -- the only downside is your favorite dishes are only around for a 30-day period. All the more reason to come back for a second date!
3 Soap St, M4 1EW
Mention cheap food to people in Manchester, and most of them will bring up this cafe hidden down a small alley in the middle of the Northern Quarter. The menu consists of three or four daily rotating curries (you can check the website to see what's on each day) served on a bed of rice, and while your choice of curry will affect the price, the most you'll pay is £6.50. That's right, £6.50 for four different curries with rice. The lamb karahi chops are a favorite, but if vegetables are more your thing, go for the kidney bean and potato curry, and make sure you have garlic naan and a mango lassi to finish.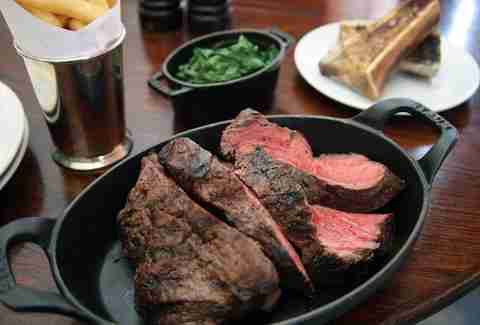 184 Deansgate, M3 3WB.
Set in a beautiful old courthouse, there's only one entree on the menu at this steakhouse that's not meat, so it's not a place to take a vegetarian -- although why you'd take a vegetarian to a steakhouse is another question entirely. Try not to get paralysed by choice: there are eight options when it comes to cuts of beef, five different sauces, four extras (like bone marrow and half a lobster), and a choice of 12 different sides.

What's more, sharing options (like the porterhouse or T-bone) are priced per 100g, so you can order based on how hungry you and your friends are. Try the smoked salmon with soda bread to start, and then dive in with an 800g porterhouse with extras of fried eggs and maple bacon; the dripping fries and buttered greens are perfect side choices also, FYI.
Best comfort food: Bluu
Smithfield Market Buildings, Thomas St, M4 1BD.
This bar's replete with plenty of of big sofas and booths, allowing you to get comfortable whilst having some amazing British meat cooked in a US style. Of course, it's not just the seating that's comforting -- think buckets of ribs, chili & caramel chicken wings, and chili brisket-topped burgers. There are token salads here too, and while the smoked couscous & halloumi is actually pretty legit, it's really all about the meat here. The skin-on fries are great, and if you can handle having the richness of the Parmesan & truffle sour cream frites, DO IT.

Then go home for a nap.

Sign up here for our daily Thrillist email, and get your fix of the best in food/drink/fun.