Europe gets a lot of credit for its beaches, and deservedly so -- they're pretty damn spectacular. But delightful though the Scandinavian seashore is, let's be real for a second: the absolute best beaches are located on the south of the continent, on the coastlines and islands of the Mediterranean. Sorry, Iceland.
With that in mind, we did some beachcombing, some soul searching, and more than a little sun tanning, to come up with our picks for the most transcendent shorelines in the region. From the sun-bleached islands of Greece to the sandy shores of Tunisia, these are the Mediterranean's 10 best beaches.
Kaputaş Beach
Turkey
The long staircase winding down to this picturesque cove on the Turkish Riviera might look intimidating, but it's actually not as dangerous as it seems. Once you descend to the beach itself, you'll find an untouched shoreline bookended by imposing cliffs -- what you won't find, though, are beach bars or permanent vendors of any kind, so you'll wanna bring your own refreshments and the like. Nevertheless, this little beach remains a popular stopping point for Blue Cruises as they sail up and down the Turkish coast.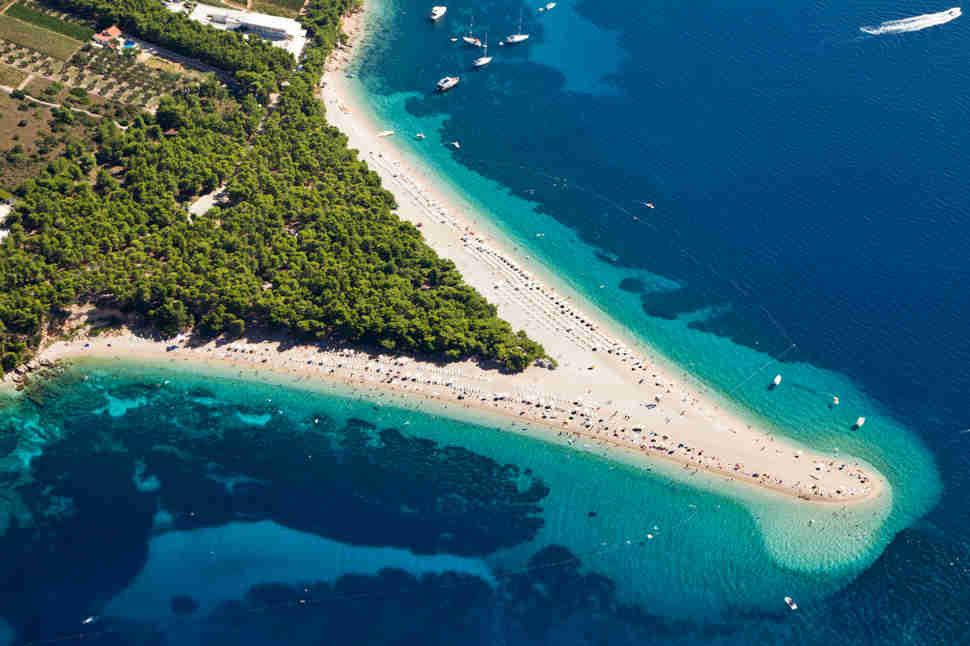 Zlatni Rat
Brač, Croatia
This beach-lined promontory on the Hvar Channel's commonly referred to as the "Golden Cape," likely because of its clear azure water, verdant pine trees, and shoreline of smooth, white pebbles. It might also have something to do with the Croatian sunbathers laying out for a fresh tan on the clothing-optional parts of the beach, as well as the boring, fully clothed portions. Who's to say, really?
Zlatni Rat's also a hotspot for windsurfers because of its consistent westerly wind. In fact, the beach itself is constantly changing shape depending on the strength of the wind and the flow of the current.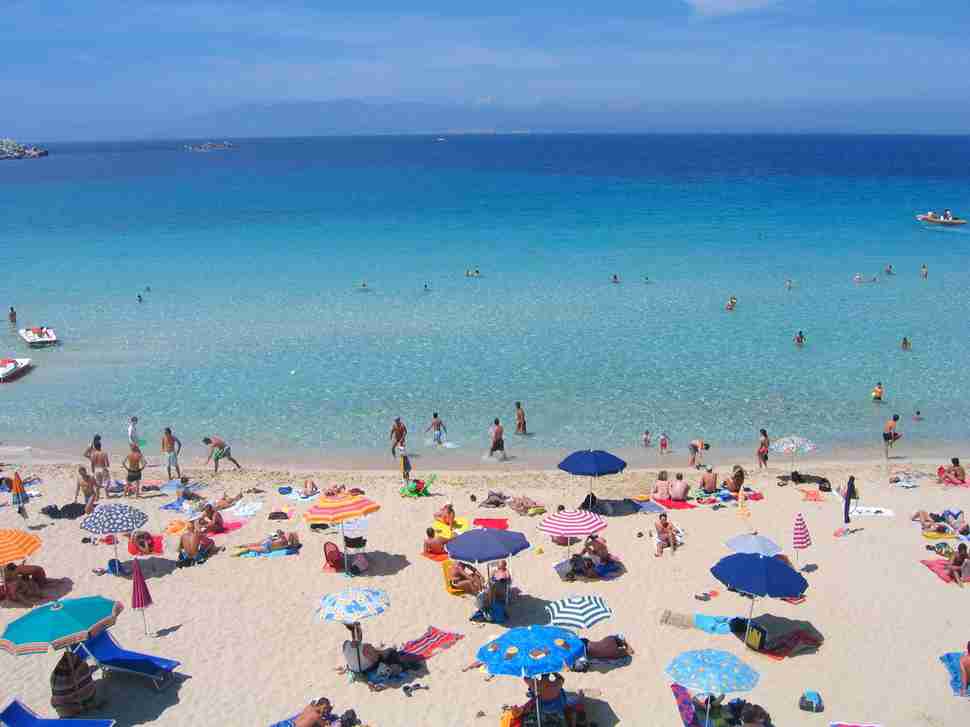 Rena Bianca
Santa Teresa, Sardinia
With warm turquoise waves lapping at its white sandy shores, Rena Bianca's pretty much what comes to mind when you think "Mediterranean beach" -- except that it's not clothing-optional, so you'd be well advised to keep your mouse in its house. Thanks to the clarity of the water here, this place is a must-hit for snorkeling and scuba diving, although topside water sports like kayaking and windsurfing are definite draws as well.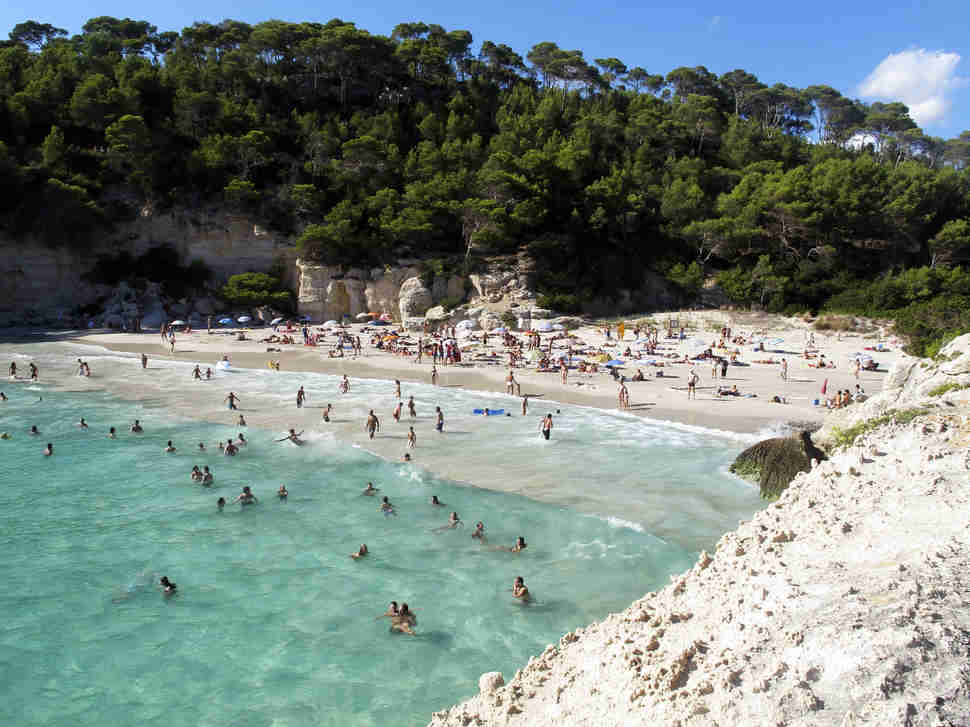 Cala Mitjaneta
Minorca, Spain
Dwarfed by nearby Majorca, this fellow Balearic Island punches well above its weight as far as beachiness is concerned. Case in point: Cala Mitjaneta, a small strip tucked among rocky caves and tree-topped cliffs, sees a ton of action during the summer high season thanks to the above white sand and picturesque cliffs. If you're an adrenaline junkie, and the idea of relaxing on a hidden cove just ain't cutting it, there's a 30ft cliff to the left of the beach that's a favorite diving spot for ballsy types like yourself.
Egremni
Lefkada, Greece
Take a photo of a regular beach, and after tweaking the color saturation levels for an hour, you'll wind up with something that looks the way Egremni does in real life. Seriously, with its impossibly blue water and brilliantly white sand, this might be the absolute sexiest beach in Greece -- and thanks to its remoteness and difficulty of access, the place is remarkably peaceful most of the time. Oh, and since this is Greece, topless and nude sunbathing are definite possibilities, especially in the central part of the beach. So, there's that.
Hammamet Beach
Hammamet, Tunisia
This beach sits about 40 miles southeast of the Tunisian capital, and welcomes European tourists from as far afield as Russia and Poland. While there's obviously the same opportunities for lounging on the sand/parasailing you'd find elsewhere, one of the pluses of visiting the North African coast is that you can totally ride a camel along the beach like it ain't no thang. Another plus? Visiting the nearby medina and having dudes call you "my friend" before up-selling you on a sweet rug.
If TripAdvisor reviews are to be trusted, Hammamet oscillates between being an immaculately groomed piece of shoreline and a horribly unkempt seafront wasteland. Then again, TA created an entire tourist attraction page for a Scottish woman, so maybe it should be taken with a grain of salt. Or sand.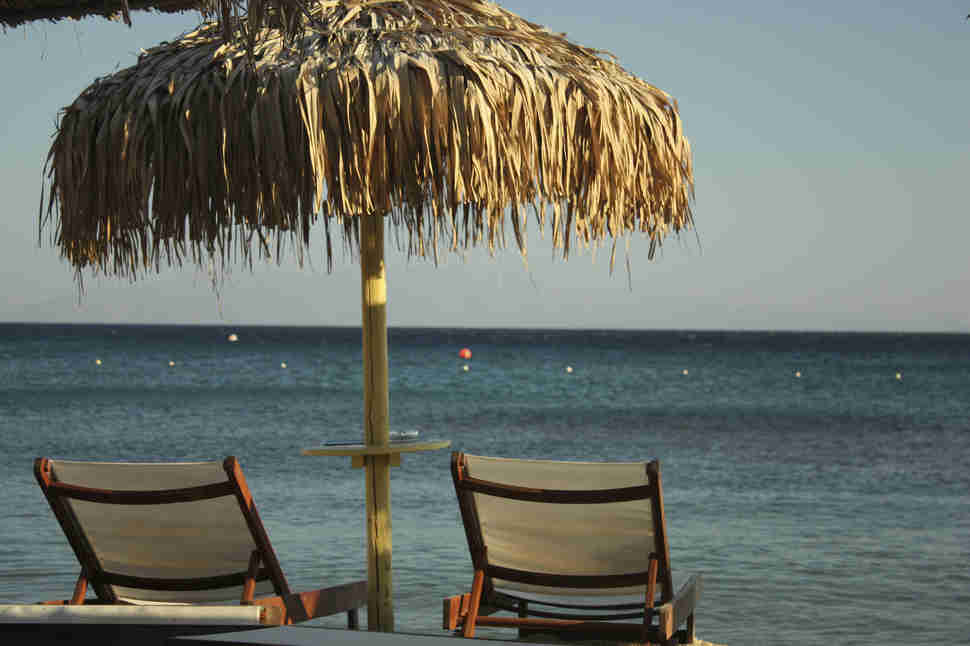 Paradise Beach
Mykonos, Greece
The aforementioned Egremni is a refuge for sunbathers in search of solitude, but Paradise Beach is all about the party scene. Young travelers from Cyprus flock here every summer, drawn by the beachfront bars, the nearby Cavo Paradiso nightclub, and the fact that the beach itself essentially turns into a giant dance party once the sun goes down. It's also (surprise surprise) a popular clothing-optional beach, and although the number of nudists has declined with the increased arrival of young party-goers, they're by no means extinct.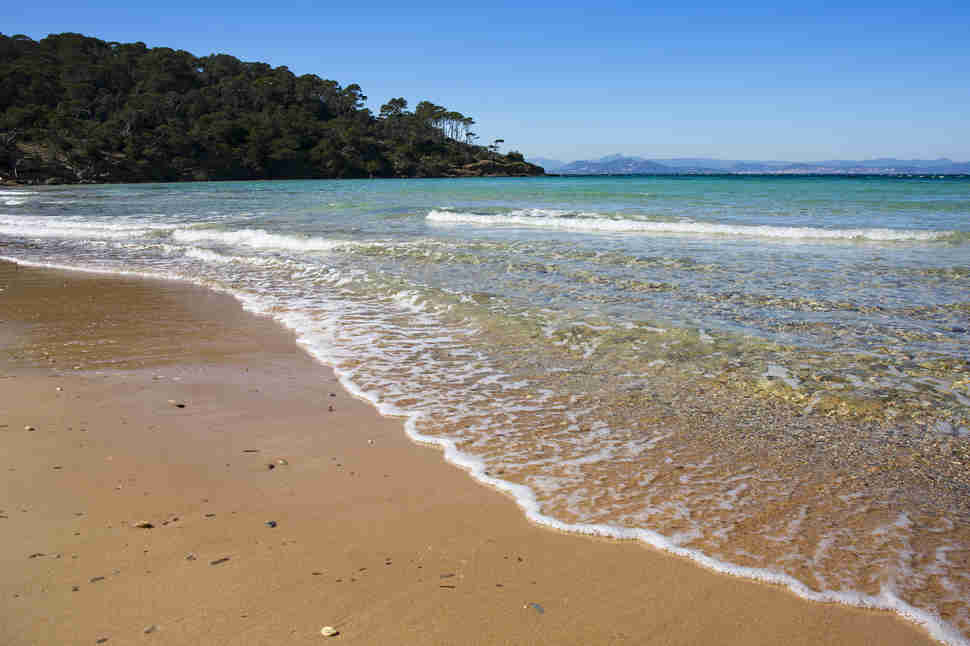 Plage Notre Dame
Porquerolles, France
The French Riviera's reputation for being a top-shelf beach destination is well-deserved, and if the island of Porquerolles is a jewel in that vacation crown, then Plage Notre Dame is the facet that shines the brightest. Yes, some of Porquerolles' other beaches (like Plage d'Argent) might be more popular, but as a result of that, Notre Dame's got a lot less tourist congestion, allowing you to actually appreciate the lingering smell of the eucalyptus and pine trees that surround the beach. Plus, nearly the whole island's protected as national park land, so wherever you end up going, it's pretty much guaranteed to be litter-free.
Marina Beach
Marina, Egypt
Marina's traditionally been a playground for more upper-crusty Egyptians to unwind, and its pristine private beaches are studded with villas and cabins for rent by the day. Even though some villas don't accept bookings from non-married couples (for real), the shorefront's a haven for local youths with cash to spend, and loud dance parties on the beach are a pretty common occurrence. Thanks to their exclusive nature, Marina's beaches are kept in excellent condition, and although it's not exactly a standard destination for international tourists, that'll continue to change as Egypt's Northern Coast develops.
Navagio Beach
Zakynthos, Greece
This remote stretch of sand's also known as Shipwreck Cove, and got its name when a trading vessel suspected of smuggling cigarettes ran aground on the beach in 1980. The cove's surrounded on three sides by limestone cliffs, and while it's only reachable via boat, it still sees thousands of visitors each year thanks to its powdery sand, incredibly clear water, and, well, the whole "scenic shipwreck" thing. 
On top of being a magnificent beach, it's also one of the world's premier BASE jumping locales, which is either a major selling point or a terrifying prospect. Even if you don't take a leap of faith like these crazies, at the end of the day you'll still be on the most unique beach in the world, and that ain't bad.
Gianni Jaccoma is a staff writer for Thrillist, and he's too much of a wuss to ever do any BASE jumping. Follow him at ground level on Twitter @gjaccoma