NASCAR is one of America's great creations. Sure, auto racing might have its origins in Europe, but we took a sport full of winding tracks and funny looking cars and made it better with Chevy Impalas and hundreds of left turns. And then perfected it with beer.
However, fully realizing that even a diamond cutter on Adderall couldn't focus on cars doing circles for three hours, NASCAR has become as much about the weekend party as it has about the race itself. In fact, NASCAR has gone through great efforts of late to move the party from the parking lot INTO the stadium, and while some might say it's changed the scene for the better (others say notsomuch), the fact remains that the party is a HUGE part of the experience.
And to find out which tracks throw the best parties, we asked a bunch of NASCAR fans. These were their top 10.
Recommended Video
Please Don't Hang Up: The Best Things to See, Eat, and Do in Milwaukee
10. Texas Motor Speedway
Ft. Worth, TX
NASCAR fans bristled when this cookie-cutter track opened in 1996 and snatched races away from North Wilkesboro and Rockingham. But this track in the far northeastern reaches of Ft. Worth has won fans over with its party. First, parking lots sometimes open TWO WEEKS before race day, allowing for a lot of extra tailgating time. Second, the 1.5-mile track has an expansive infield where cars cruise among bead-tossing revelers and fans throw epic nighttime parties. And finally, the pre-race "No Limits Garage Party" held in, you guessed it, the garage area has even spawned its own craft beer: the No Limits Checkered Past.
9. Darlington Raceway
Darlington, SC
Part of what makes NASCAR parties so special is when they're held, and no weekend invites the end-of-summer-madness better than Labor Day in Darlington. After a brief hiatus, NASCAR is bringing this annual holiday weekend race back to the Lady in Black in 2016. The best part about this track is that it's not just the fans who get in on the action; locals who live on the adjoining streets rent out camping space on their front lawn and it becomes a community event. More people + more time = one of the best parties in sports.
8. Homestead-Miami Speedway
Homestead, FL
OK, so the party at the final race of the season isn't the beer-soaked celebration of all things Southern that people typically associate with NASCAR. What it is, however, is the last chance for corporate sponsors to get brand recognition for the year, and in South Beach no less. So, what does that mean? It means pretty much everyone who plasters their logo on a pair of coveralls is having some sort of VIP blowout over race weekend. And even though the race still draws every fan from Ocala south, the championship race is just as much about its parties in Miami as it is the ones at the track.
7. Charlotte Motor Speedway
Concord, NC
Few tracks have achieved NASCAR's aim of moving the party inside the speedway more effectively than Charlotte. The race here is held over Memorial Day weekend which, like it does in Darlington on Labor Day, lends itself to an extended celebration. Charlotte handles it flawlessly, giving fans ten solid days of racing and, of course, ten solid days of tailgates. Then on race day, the track hosts full-on concerts (not the usual 30-minute greatest hits variety you get after a Friday night baseball game) from some of the biggest names in music like Brantley Gilbert, ZZ Top, and Lee Brice.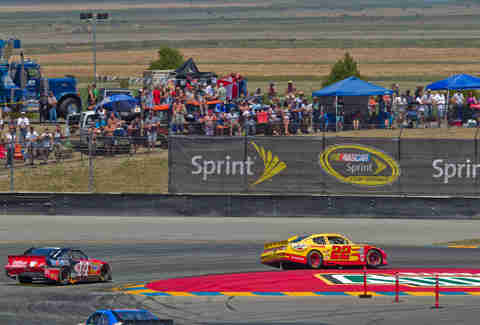 6. Sonoma Raceway
Sonoma, CA
Road tracks offer a different kind of NASCAR party, putting fans much closer to the action than at traditional speedways. The brown hills that surround the track in Sonoma create a natural amphitheater, where people can pull their trucks right up on the hill and catch the race without putting lawn chairs on the roof. Since the party's in wine country, the tailgates can skew more grapes than hops, and the food usually runs more inventive than classic barbecue. But none of that makes the crowd any tamer. The weather in Sonoma is also much more hospitable than other locales, which make this one of the more pleasant, but still exciting, parties of the season.
5. Michigan International Speedway
Brooklyn, MI
Nobody has done more to make race weekends three-day destination events than Michigan. Camping here isn't just about tailgating for an extended weekend (though it can be), it's also about the three-day music festival the track hosts known as the Keloorah Festival. This year, it will showcase the Neighbourhood, Andy Grammer, and Elle King, among others.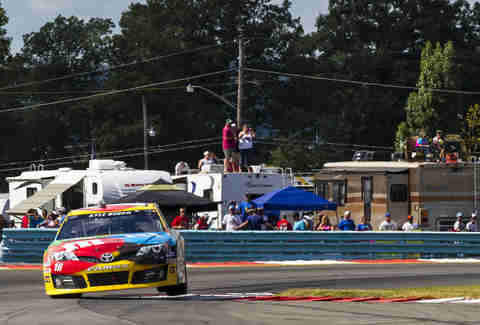 4. Watkins Glen International
Watkins Glen, NY
If you look at old footage or races at Watkins Glen, you'll see people setting up makeshift swimming pools outside the walls of NASCAR's oldest road track. This is a perfect example of why road-track parties are so awesome: there's no distinction between where the track ends and the seats begin, so the feel is more like a neighborhood coming out to watch a race than a major sporting event. Here you can surf from party to party, venturing from a classy, Churchill Downs-like scene at one turn to a beer-guzzling country crowd at the next. And it all melds together like the fall colors of the Finger Lakes.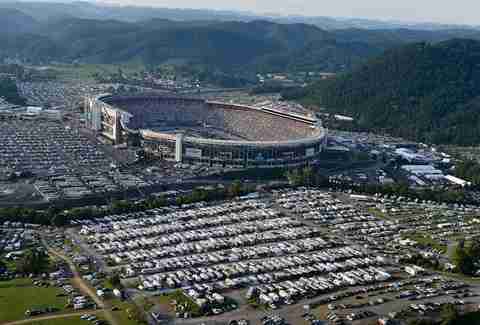 3. Bristol Motor Speedway
Bristol, TN
Bristol is, without competition, the most intense experience in NASCAR. The track is the second-smallest in the Sprint Cup at just over a half-mile, but it still seats 160,000 people -- or 59,000 more than Daytona. It's also set in a canyon enclosed by mountains in Eastern Tennessee, which means race noise can climb to a deafening 145 decibels. Not only that, but fans spend an entire week there, the party stretches for miles, and the place develops an almost city-like feeling, a Burning Man without the art. For years this was the hardest ticket in sports to get; make one trip inside the intense walls of the speedway and you'll know exactly why.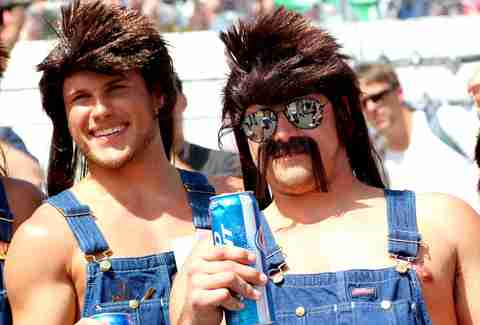 2. Daytona International Speedway
Daytona Beach, FL
While it's not the Preakness Stakes of auto racing that it might have been a few years ago, it is still... Daytona.  So while, no, the infield debauchery isn't worthy of its own edition of Wild On anymore, the party is still better than almost anywhere in sports. The expansive infield hosts everything from mega RVs to tent campers to old-school busses, and every neighborhood on the track has its own set of nightly parties. And the new renovations to Daytona added elevated platforms to the infield, as well as a grandstand bar with unobstructed views of the action. Throw in a backstretch lake with its own bar and Daytona proves it doesn't need to be out of control to still be a great party.
1. Talladega Superspeedway
Talladega, AL
It's not the cleanest. Or the nicest. Or the sleekest. But when it comes to NASCAR parties, nobody's beating the mud-soaked fun that is a weekend at Talladega. It's even on our Great American Bucket List. Instead of fighting long-standing party traditions like mud wrestling, the parade of John Deere tractors, and the Miss Mud Queen Pageant, Talladega has included them in its own event named "The Big One On The Blvd." That officially sanctioned party starts with drivers tossing beads from floats like it's Mardi Gras before spectators participate in events like body pong, BBQ-sauce wrestling, and a Jell-O crawl. And while the infield mud still lends itself to plenty of non-sanctioned rowdiness, to its credit the track lets it go and fully embraces its role as NASCAR's party capital.
Sign up here for our daily Thrillist email, and get your fix of the best in food/drink/fun.
Matt Meltzer is a staff writer with Thrillist who strongly encourages anyone who's never been to a NASCAR race to go to one this year. See some of why you should on his Instagram @meltrez1.