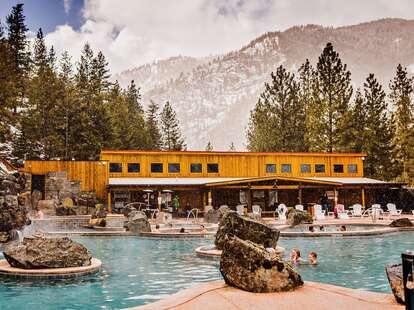 Geothermal springs are, literally, hot tub time machines. Formed millions of years ago, these naturally occurring formations bubble out from deep within the earth at temperatures that can range from pleasantly lukewarm all the way to boiling hot. And while they may be related to gushing geysers like Old Faithful, don't worry: Around the country, there are plenty to soak in—the National Centers for Environmental Information counts some 1600-plus—that won't, well, shoot you 50 feet into the air or literally melt your face off.
For centuries before the naturopathic-crystal-Goop industry took off, hot springs were the cure for tired muscles and hike-weary legs; they've long been known for containing healing minerals like calcium carbonate and magnesium sodium sulfate. (Scan the label on a package of bougie mineral bath salts and you'll see the same ingredients.)
They can be rustic or resort-chic, perfect for a luxe solo soak or an energetic bachelorette party. You can find them on public land, in national parks, or even in resorts, restaurants, and—praise be—bars. Some require hiking boots and a map; others just a credit card. No matter what vibe you're after, sinking into a pool of restorative thermal water is a surefire way to soak your winter blues away.
Montana
A luxe, cowboy chic lodge
Just miles from Yellowstone National Park and an hour's drive from Bozeman near the tiny town of Pray, Montana, Chico caters to a more upscale crowd than most hot springs resorts with horseback riding, a spa, and a Wine Spectator-approved, Champagne-focused wine list. Opened in 1900, the resort's property now encompasses 635 acres with 112 rooms between the historic main lodge and more newly constructed cabins. It still maintains its Montana charm, though, with live music in the saloon at night and 360-degree views of the Absaroka Mountains. Three open-air, concrete-walled pools—a large, generally 98°F pool plus two smaller, hotter pools (about 104°F and 106°F)—are fed by a nearby spring. Day passes are available year-round, but lodging does book well in advance, up to a year in advance for the high season between May and September.
New Mexico
Dreamy desert serenity on the edge of the Rio Grande
Just when you thought New Mexico couldn't get any funkier, along comes the dusty desert town of Truth or Consequences, which sounds like an episode of Deadwood, but is in fact a mountainous respite awash in mineral springs. In fact, before changing its name to that of a radio game show (seriously), the town was called Hot Springs for its all-natural pools formed from a rift in the Rio Grande some 50 million years ago.
Today, you can melt your stresses away in any number of local bathhouses, but the cream of the crop is Riverbend Hot Springs. The resort's jacuzzi-like springs sit along the shores of the Rio Grande, offering dreamy views of the iconic river and the surrounding Caballo Mountains. Infused with 38 cleansing minerals that'll leave you feeling good inside and out, the waters reach up to 115ºF—the kind of too-perfect temperature that's hard to pry yourself away from. It's $25 to soak in the common pools, with access to hammocks and fire pits for optimal desert quaintness, but it's 100% worthwhile to pay a bit more for a private pool. The only consequence in Truth or Consequences is the regret you'll feel if you don't take advantage of all the ways to relax.
Arkansas
Roaring 20s-style opulence and a gangster's paradise
Nestled in the Ouachita Mountains of western Arkansas, a bucolic landscape nicknamed "Valley of the Vapors" for the steam billowing from its abundant thermal waters, Hot Springs National Park is the Disneyland of natural hot springs. Since the early 20th-century, "Spa City" has attracted everyone from gangsters and politicians to professional ballplayers, all of whom flocked to soak in the ornate Gilded Age bathhouses on Bathhouse Row. Today, only two of said bathhouses, Quapaw and Buckstaff, are actually used for bathing, offering traditional tubs in lavish facilities that look like something on the Titanic. Quapaw has both private rooms and a massive communal area with numerous pools, ranging in temperature from 95ºF to 104ºF, while Buckstaff has been offering private soaks—plus a full range of other spa services—since 1912. Al Capone isn't usually someone to take advice from, but hell, he had good taste in hot springs.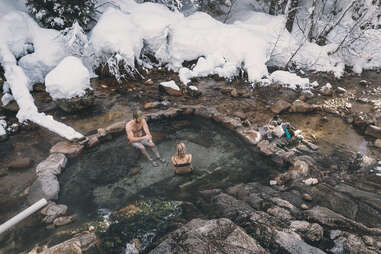 Idaho
A little hike with a big payoff​​
Also known as Samuel's Hot Springs, these natural pools sit just 2 hours outside of Boise in Cascade, Idaho, inside Payette National Forest. This is about as picturesque as it gets when it comes to wintertime soaks: Concealed by a dense patch of trees and dammed off by giant boulders, the springs butt up against a creek so that visitors can listen to the sounds of a busy stream as they let the steamy, 110-degree water melt away their worries. Although the hike through the forest is relatively quick—it's just a 0.2-mile jaunt from the parking lot off Warm Lake Road to the pools—the trail is pretty steep and gets slippery come winter, so use caution. (Safety first, total relaxation second!) Bonus: From here, Gold Fork Hot Springs and Vulcan Hot Springs are both within an hour's drive.
Florida
Take a dip in Florida's very own "Fountain of Youth"
When you think of natural springs, Florida probably isn't the first destination that comes to mind; worrying about alligators probably doesn't lend itself to a relaxing thermal soak. But thanks to the state's multi-billion-gallon natural underground aquifer, Florida has more than 700 peaceful natural springs—more than anywhere else in the country. North Port's Warm Mineral Springs is both one of the most unique thermal pools in the US and, at 1.4 acres and reaching depths of 250 feet, one of the largest natural mineral springs on Earth. The water here is a blissful 87°F, and visitors are restricted to the shallow end for swimming and luxuriating—likely for the best, since the oxygen-deprived depths have been found to contain remnants of saber-toothed cats and ancient camels. Added bonus: The pool is so mineral-dense that it's been nicknamed the "Fountain of Youth," which means it's practically a super-cheap botox alternative.
Utah
Like a rejuvenating water park
With temperatures that range from a brisk 65°F to a steamy 134°F, the various pools at Utah's Crystal Hot Springs have been a soothing balm for centuries. Long before the town of Honeyville was established, Native American tribes and Chinese railroad workers soaked up some of the most mineral-rich waters on the planet here—a tradition that continues today, but now with the addition of warm water slides and waterfall grottos. Open year-round, the resort boasts three mineral hot tubs, a soaking pool, and an Olympic-size pool, plus an on-site campground with tent and RV sites.
Arizona
A bougie desert oasis with "honeymoon" written all over it
The definitional oasis in the desert, Castle Hot Springs is a beacon of relaxation and luxury in Arizona's Bradshaw Mountains, about an hour north of Phoenix (as well as from Scottsdale, the Spa Capital of the US). In centuries past, local tribes like the Apache and the Yavapai basked in these crystal-clear springs, which are among the hottest non-volcanic springs in the world at 120°F. Now home to a lavish resort with perfectly manicured lawns and alfresco tasting menus, the natural pools are picture-perfect in their canyon confines, surrounded by green-tinted rocks and cacti. The springs are only accessible to resort guests, which adds to the overall peace and quiet of the whole experience.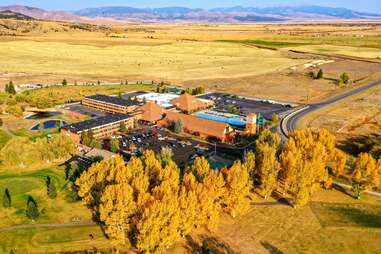 Montana
A Western but modern family-friendly resort
From the reservation desk, Fairmont looks like any other family-friendly Western hotel, its two-story lobby decked out in impressive taxidermy. But further inside, you'll find a heated Olympic-sized indoor pool, an indoor 104°F soaking pool, an outdoor 104°F soaking pool, and a large outdoor warm pool with a corkscrew water slide all ready for your enjoyment. All of the above are naturally fed by pipes from a nearby spring, but the water is lightly chlorinated to boost sanitization. Guests of the 153-room hotel have 24-hour access, but public day passes are also available for less than $20, and anyone can enjoy the property's restaurant, casual cafe, and bar after they soak.
Texas
Mild, mild waters in the Wild, Wild West
The Rio Grande is the thermal gift that keeps on giving, as evidenced by these natural springs found in west Texas's vast, remote, and underrated Big Bend National Park—a setting ideal for an anti-social soak since you're far more likely to encounter roadrunners than humans out in the middle of the desert. Located along the north shore of the Rio Grande about four miles upriver from Boquillas Canyon, the springs sit in the foundation of the long-gone riverside bathhouse originally built by homesteader J.O. Langford. Found at the end of a short path through tall grass, they resemble a rustic stone-clad hot tub and offer tranquility in an all-natural setting: the "floor" of this 105°F spring is straight-up mud. When the Rio Grande is high enough, you can perch yourself on the edge, dangling one leg in the hot spring and the other in the cool river. Just make sure to rotate so that the calcium carbonate, calcium sulfate, sodium sulfate, sodium chloride, and lithium are equally dispersed to both limbs.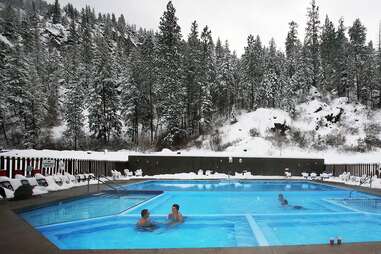 Montana
A comfy wilderness getaway
If you'd prefer your hot springs experience sans hiking or getting pine cones in your hair, look for a hot springs resort like Quinn's. Located in the tiny town of Paradise, Montana, Quinn's boasts six outdoor, uncovered concrete pools of varying temperatures, all fed by naturally heated mineral water piped in from a nearby spring. (Hop from the super-hot pool to the cooler pool for the most "refreshing" experience.) Quinn's has the feel of a casual lodge, with a main building and cabins for rent as well as a dining room, bar, and sizable gift shop. Note that walk-in swim passes are limited, as guests receive first priority. The crowd is mostly local with some travelers who are treated to an ultra-scenic drive along the Flathead River from points east or the Clark For River from points west.
Kate Bernot
is a certified BJCP judge and freelance reporter whose work regularly appears in Craft Beer & Brewing, Thrillist, and Good Beer Hunting. Follow her at
@kbernot
.
Matt Kirouac
is a travel writer with a passion for national parks, Disney, and food. He's the co-founder and co-host of Hello Ranger, a national parks community blog, podcast, and app. Follow him on IG
@matt_kirouac
.

Tiana Attride
contributed to the reporting of this story.