Soak Your Winter Blues Away in America's Most Beautiful Natural Hot Springs
Geothermal springs are, literally, hot tub time machines. Formed millions of years ago, these naturally occurring formations bubble out from deep within the earth at temperatures from just a few degrees above air temperature all the way to boiling. They're related to gushing geysers like Old Faithful, but don't worry -- these won't shoot you into the air or burn your face off. Some exist on public land while others are part of private resorts, but either way, getting your soak on is a must for any visitor to the Northwest -- especially if your glutes are blazing after hitting the slopes.
Hot springs are the cure for tired muscles and hike-weary legs, thanks to the water's high mineral content. For centuries before the naturopathic-crystal-Goop industry took off, these waters have been said to have all sorts of restorative properties. Whether scientific studies would agree, hot spring regulars tout the calcium carbonate, magnesium sodium sulfate, sodium carbonate and sodium chloride content in these "healing waters." (Scan the label on a package of bougie mineral bath salts and you'll see the same ingredients.)
Back in the day, getting to the good stuff used to require hiking in to a forest and wandering around until you found the springs. Thankfully, around the turn of the century, people began erecting hotels, tubs, showers, restaurants, and -- praise be -- bars to make the soaking experience more comfortable. The National Centers for Environmental Information counts some 1600-plus natural hot springs throughout the country, but especially concentrated in western states -- which means there are still plenty of hot springs hiding quietly in the middle of forests, but also a whole bunch set up like any other hotel pool.
Whether you're looking for hot springs that are rustic or resort-like, for bachelorette parties or quiet skinny-dipping, western Montana and Idaho have a pool for you. Some require hiking boots and a map, others just a credit card.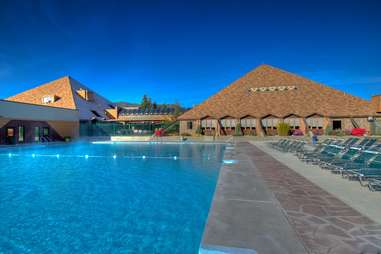 From the reservation desk, Fairmont looks like any other family-friendly Western hotel, its two-story lobby decked in impressive taxidermy. But head through a set of doors and you'll find the resort's warm Olympic-sized indoor pool, indoor 104-degree soaking pool, outdoor 104-degree soaking pool, and large outdoor warm pool with a corkscrew water slide. Guests of the 153-room hotel have 24-hour access to the pools, but public day passes are also available for less than $20. While the pools are naturally fed by pipes from a nearby spring, the water is lightly chlorinated, which is different from other area hot springs. Fairmont also has a restaurant, a casual cafe, and a bar.
Vibe: Family-friendly modern resort
Located 63 miles southwest of Missoula, Montana, just over the border in the Idaho panhandle in the Clearwater National Forest, Jerry Johnson is one of the most popular primitive -- meaning free and out in the forest -- hot springs in the area. The group-sized pools were damaged by flooding in spring 2017, but volunteers have rebuilt some of the rock and wood walls to contain the 100-degree-plus waters. Unless you visit in the dead of winter, you're likely to encounter other soakers in varying degrees of clothing -- much of the crowd would be wearing Birkenstocks or Chacos, if they were wearing anything at all. Vehicles can park at the Warm Spring Park trailhead before you hike mile along a path to reach the first of the springs.
Vibe: Rustic hippie retreat
Just miles from Yellowstone National Park and an hour's drive from Bozeman near the tiny town of Pray, Montana, Chico caters to a more upscale crowd than most hot springs resorts with horseback riding, a spa, and a Wine Spectator-approved, Champagne-focused wine list. Opened in 1900, the resort's property now encompasses 635 acres with 112 rooms between the historic main lodge and more newly constructed cabins. It still maintains its Montana charm, though, with live music in the saloon at night and 360-degree views of the Absaroka Mountains. Three open-air, concrete-walled pools—a large, generally 98-degree pool plus two smaller, hotter pools (about 104 and 106 degrees)—are fed by a nearby spring. Day passes are available year-round, but lodging does book well in advance, up to a year in advance for the high season between May and September.
Vibe: Luxe, cowboy chic lodge
Also in the Idaho panhandle, more than an hour's drive from the town of Lolo, Montana, Weir hot springs cluster just off Weir Creek. Both clothing-optional and free, it's only a half-mile hike from a trailhead parking lot to these rock-enclosed, 115-plus-degree springs, which makes them fairly popular year-round. Multiple pools fit from six to 15 people with elevated views of the creek and surrounding forest. The pools draw a diverse crowd across all ages, who are just as likely to have brought cans of beers as dogs and kids. Though it's a short hike from the parking lot, the path is steep at times and can be slick and difficult to climb after snow or rain. The nearest bathrooms or businesses are dozens of miles away, further adding to the secluded feel.
Vibe: Approachable hideaway
If you'd prefer your hot springs experience sans hiking or getting pine cones in your hair, look for a hot springs resort like Quinn's. Located in the tiny town of Paradise, Montana, Quinn's boasts six outdoor, uncovered concrete pools of varying temperatures, all fed by naturally heated mineral water piped in from a nearby spring. (Hop from the super-hot pool to the cooler pool for the most "refreshing" experience.) Quinn's has the feel of a casual lodge, with a main building and cabins for rent as well as a dining room, bar, and sizable gift shop. Note that walk-in swim passes are limited, as guests receive first priority. The crowd is mostly local with some travelers who are treated to an ultra-scenic drive along the Flathead River from points east or the Clark For River from points west.
Vibe: Comfy wilderness getaway