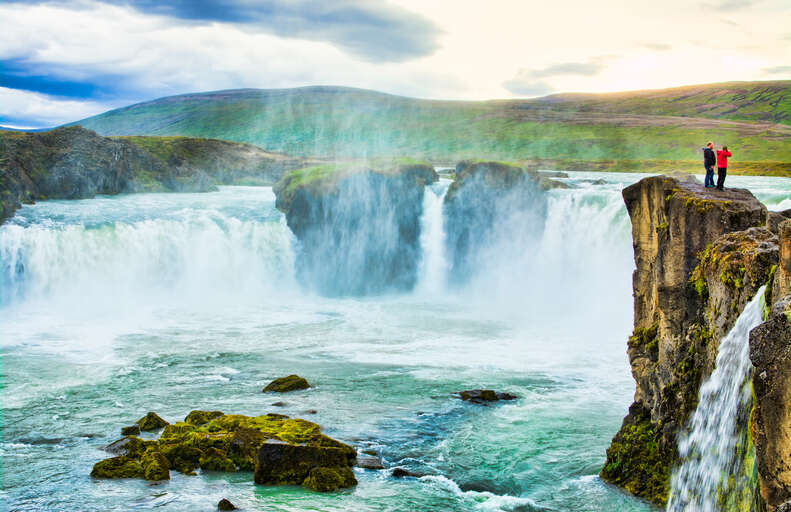 Iceland Is Open Again—and Its Jaw-Dropping Natural Wonders Are Waiting For You
Epic waterfalls, jet black beaches, and ancient villages await.
Editor's Note: We know COVID-19 is continuing to impact your travel plans. As of April 2021, official guidance from the Centers for Disease Control & Prevention states that fully vaccinated people can travel at low risk, though safety precautions are still required. Should you need to travel, be sure to familiarize yourself with the CDC's latest guidance as well as local requirements/protocols/restrictions for both your destination and home city upon your return. Be safe out there.
Iceland is Mother Nature's favorite plaything. This little island nation dangling from the Arctic Circle, with its ethereal geothermal terrain, is always finding new ways to stun. Seismic activity molds lava fields and obsidian beaches into entirely different landscapes. Storms thrash mountains and backcountry manors, leaving in its wake only delicate snowdrifts, pretty as Martha Stewart meringue. Geysers babble and spittle, and the earth even births out new hot springs wherever it pleases. All you can do is wear multiple layers and gawk.
And as of March 16, Iceland is inviting fully vaccinated travelers to once again stare slack-jawed at the country's singularly stunning natural features. Spend some time in Reykjavik then get out onto the spectacular Ring Road. Iceland is sparsely populated, and after a year of chaos, you'll feel calm, secluded, and like a bonafide Nat Geo photographer at the edge of the world. Here's your road map to some of Iceland's greatest and most impressive things to see.
But first: What's open in Iceland & other travel restrictions to know
You no longer need to get a Covid test or quarantine upon landing in Iceland. But it bears repeating: Iceland is open only to fully-vaccinated travelers—both doses, y'all—who can show proof of vaccination. Check the Icelandic government website for updates. Also note that you'll need to test negative for the virus no more than three days before you re-enter the US (learn more about registering for a test here).
Popular attractions like the Blue Lagoon are slowly reopening at limited capacity. As for Reykjavik, openings and closings continue to fluctuate, so be emotionally prepared for your favorite spots to be closed... or maybe open!
What you can rely on is daily, non-stop service on Delta from NYC, Boston, and MSP starting in May. And Iceland's population is less than 400,00—that's nine people per square mile—meaning that even with an influx of tourists this summer, social distancing won't be a problem. The beauty of Iceland is that all the attractions are HUGE, outdoors, and spread out—here are the best of 'em.
You'll see Seljalandsfoss coming long before you arrive. Even the tourists that gather at the base of this 200-foot-tall beast look like ants compared to the enormous rush of the falls. Visitors can also explore the rocks just behind the waterfall. Less than a two-hour drive from Reykjavik, it's one of the first major landmarks you'll spot on a trip around Ring Road—and a good omen of the beauty to come.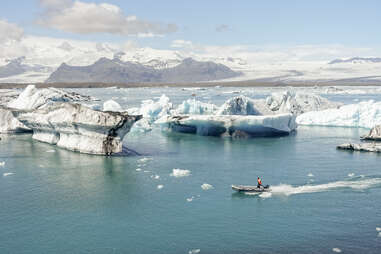 Scramble up a rocky path (and hold on tight, because the wind is a doozie) to gaze out over Jökulsárlón, where immense blocks of blue ice lull up and down in crystalline water. Recently inducted into Vatnajökull National Park, Iceland's most popular glacier lagoon and the snow-capped mountains that surround it will make it abundantly clear that you are witnessing life at the top of the globe.
Situated adjacent to the Jökulsárlón glacier lagoon on Iceland's southeastern coast, we're sure you've seen this beach's "glass shards" all over social media. The deep blue crystals that lend the beach its name (Breiðamerkursandur in Icelandic, Diamond Beach for us English-speakers) look twice as spectacular against the black sands that blanket the shoreline. Here, where fragments of frozen ice twinkle against obsidian earth, it's almost as if Mother Nature tried to bring the starry night sky a little closer to home.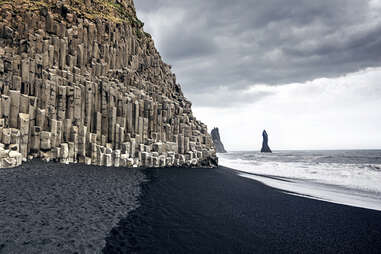 Another striking black sand beach, this time located in Vík, the country's southernmost village. On the shore, you'll stand side by side with unusually geometric basalt cliffs, and beyond the ghostly white waves, you'll spot the rocky spires of the Reynisdrangar sea stacks jutting out of the frigid Atlantic. (Just don't turn your back on the ocean for too long; "sneaker waves'' have been known to knock the unaware off their feet and sweep them out to sea in a matter of seconds).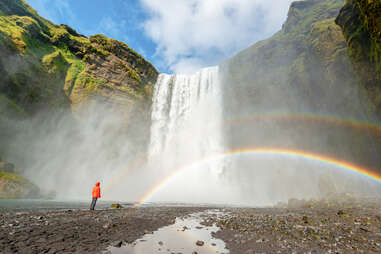 Just a two-hour drive from Reykjavik (and about 30 minutes from Vik's black sand beaches), Skógafoss is one of the easiest landmarks to reach from the Icelandic capital—and one of the country's most beautiful waterfalls. It's not uncommon to see a giant rainbow arc over the falls' wide, mossy green cliffs (though the water is so powerful, you'll get soaked if you get too close). In a place where trolls and fairies are considered part of the local landscape, it's not so hard to imagine these legendary creatures coming to life here.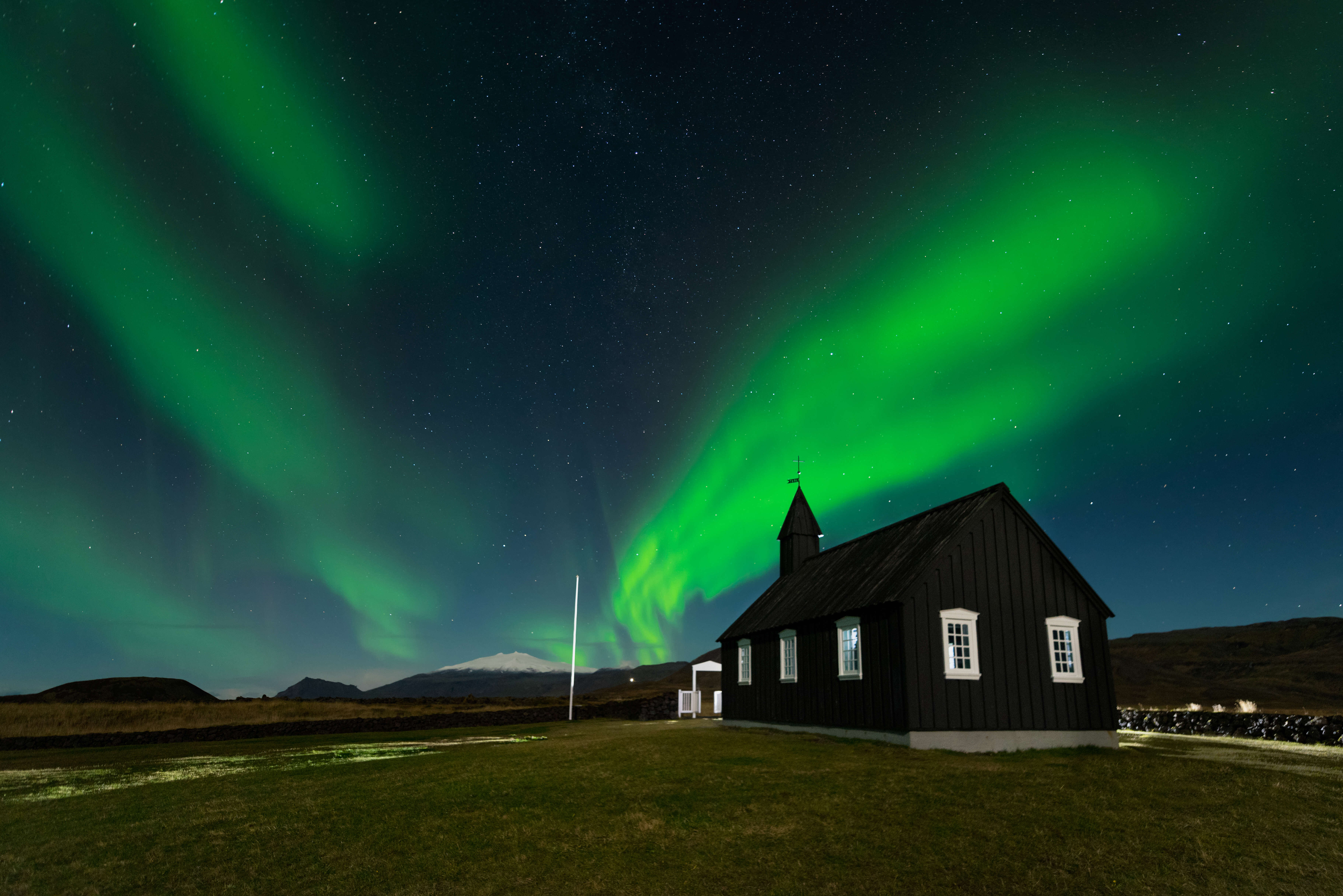 Buðir Church
This jet-black chapel, alone atop a lava field, is sure to evoke all those emo feels you haven't wallowed in since 9th grade. It may look like an album cover just waiting for a Scandinavian death metal band to show, but you can't help but admit it's a beaut. Reconstructed in 1987 as a nod to Iceland's history of painting churches black with pitch, to protect against storms, it's now the ideal spot for stalking the northern lights.
Gullfoss's unusual shape—from a distance, it almost looks like a dagger jutting out into the canyon of the Hvítá River—makes it easier to take in all at once. But tourists are welcome to witness the raw power of its two tiers up close: Use the marked path to sidle up to the waterfall's edge and peer into the vast caverns below. (Just, you know, don't peer too deep in, unless you want to end up like Kuzco and Kronk.)
Iceland sticks it to Old Faithful at both the great Geysir and Strokkur, both found in Þingvellir National Park. The former—which was the first geyser ever recorded in a printed source, as well as the first known to modern Europeans—has become relatively dormant in recent years, erupting pretty infrequently. But when it does, ho boy, the blasts can reach up to 230 ft. The latter, Strokkur, is a much better bet, shooting a blast of steaming hot water 100 feet into the air every 5-10 minutes.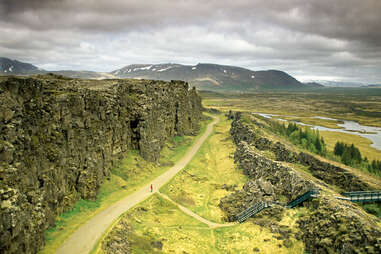 That's pronounced "Thingvellir," if you were wondering. This national park rounds out Iceland's Golden Circle, a popular tourist route that also loops past Geysir and Gullfoss. Here, you can walk between two tectonic plates at Almannagjá (or swim between them at the underwater valley Silfra), check out waterfalls like Öxarárfoss and Thorufoss, and see the site of the former Icleandic parliament, the Alþing—which, at nearly 1,100 years old, is the oldest surviving parliament building on earth.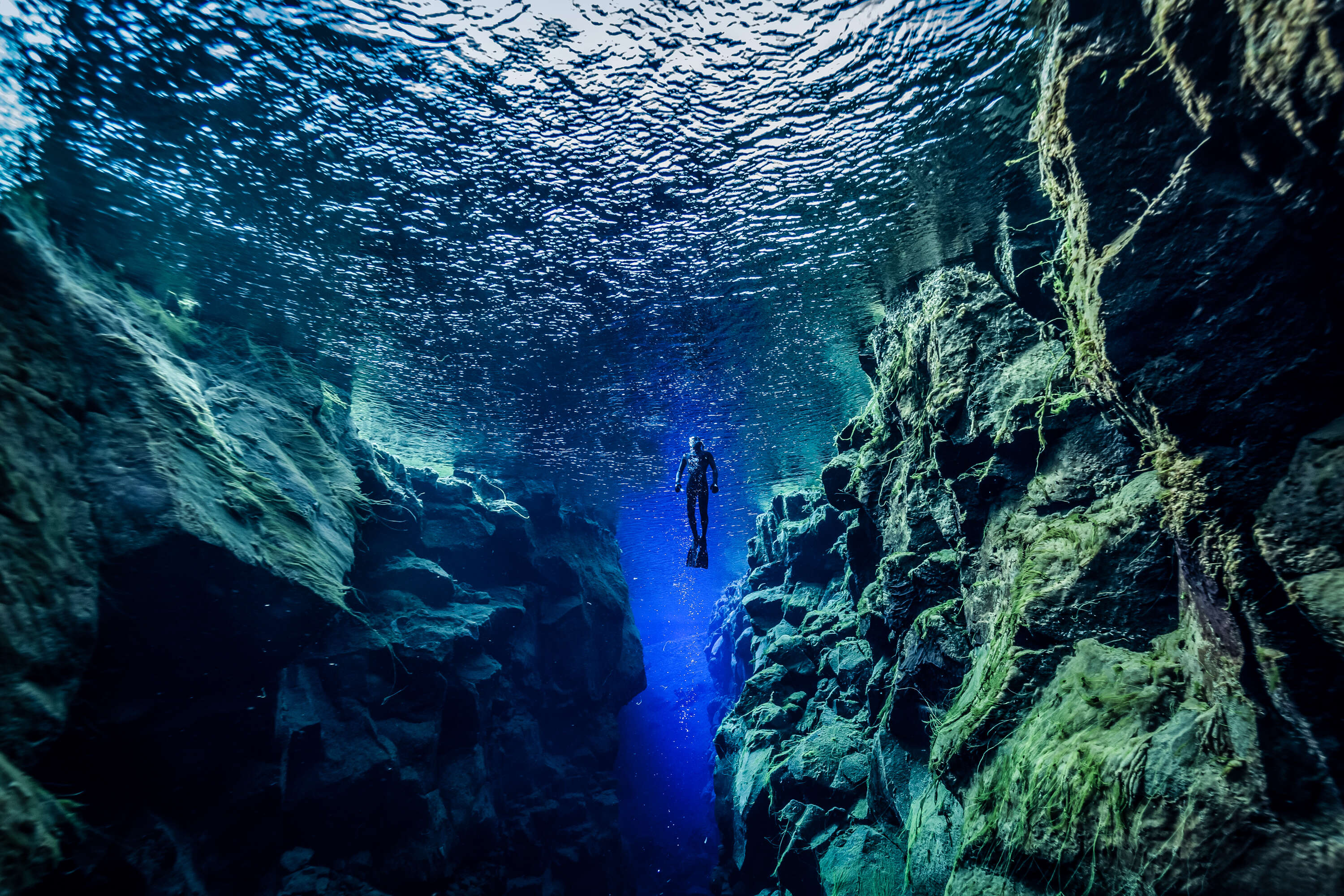 Silfra
This natural underwater rift makes for a diver's plunge unlike no other. Silfra was formed by an earthquake that split a deep fissure of warm freshwater. It's a welcome escape from cold temps, and you'll even get visibility as low as 300 feet: Filtered through tectonic rock, the water is so clear you'll see plenty whether snorkeling or scubaing.
Grjótagjá
Look closely and you'll recognize this lava-sculpted grotto -- OK, maybe not, 'cause you were too busy ogling Jon Snow's tush. Grjótagjá is so much more than the filming location of (or maybe just the inspiration for?) that sexy Game of Thrones scene. Unlike most volcanic rock caves, bundling pitch nothingness, it contains a natural hot spring that has been a below-ground bathing lair for locals throughout the years.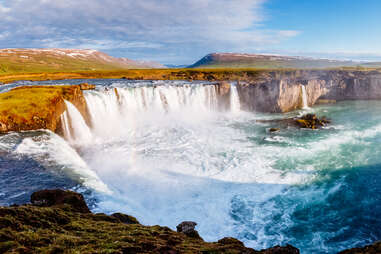 Goðafoss
Iceland's cascades and torrents are plenty, but Goðafoss, or "waterfall of the gods," trounces 'em all. These mighty rushes arc into a horseshoe and converge into a hypnagogic swirling pool 40 feet below. At the turn of the first millennium, it's believed that Iceland converted to Christianity with one fateful lob of pagan statues by a Viking priest into Goðafoss' frothy abyss.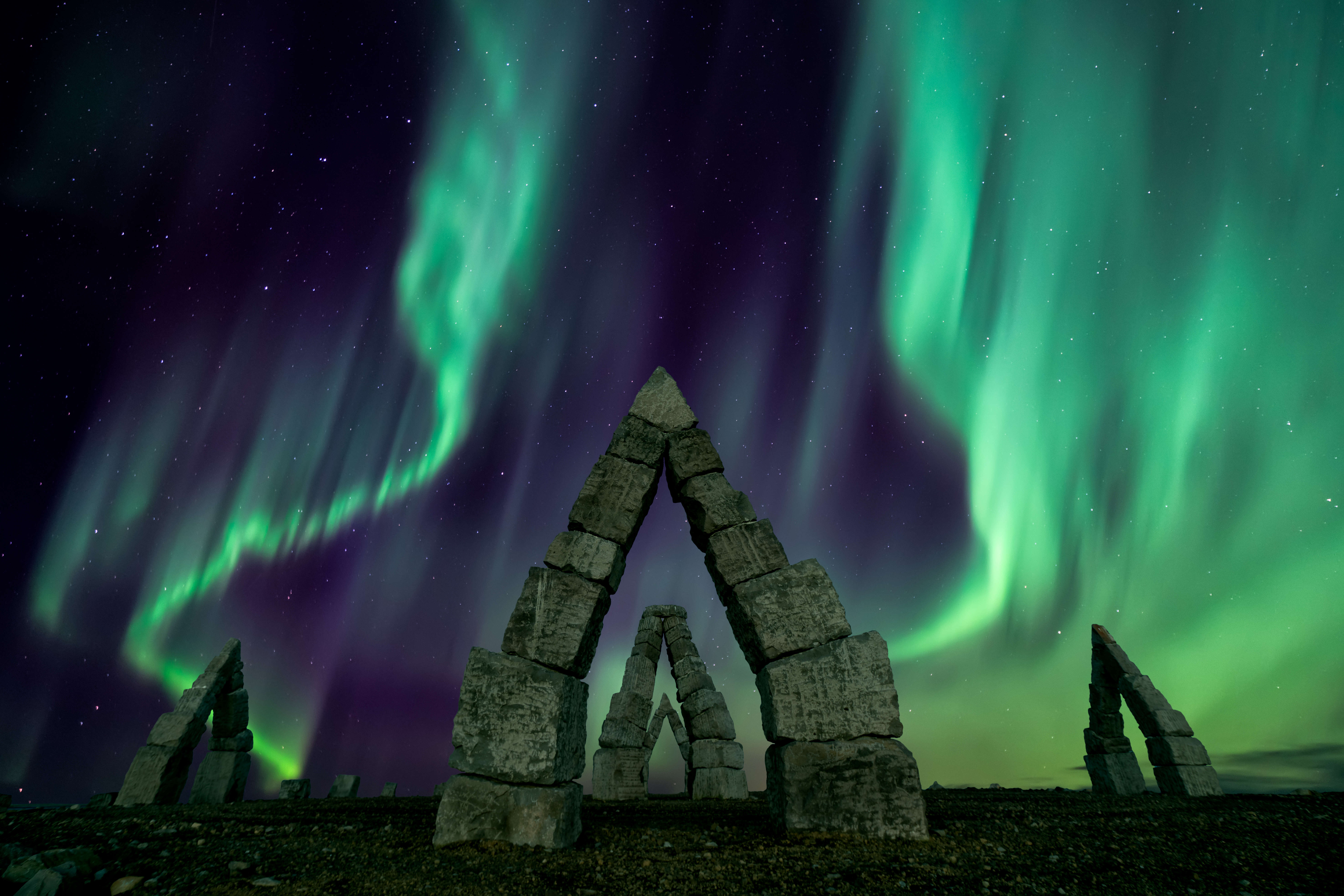 Arctic Henge
This sky-piercing heathen monument is a relatively new addition to Raufarhöfn, one of Iceland's most remote northern villages. It is only a couple decades old, but replicates the sundials of yore, throwing shadows and light around depending on the time of day, and showboating all kinds of pious carvings to dwarves and Norse gods. There is one modern embellishment planned, however: a webcam connecting visitors with folks back home.
Hverir
As cracked and desolate as this geothermal field looks from afar, get right up next to it and you'll find it's alive and very entertaining -- babbling hot springs, subterranean whistles and hisses, and mud spurts that are difficult not to describe as diarrhetic. The whole thing stinks like rotten eggs because of the sulfuric gas, but some Icelanders say there's no better cure for the common cold.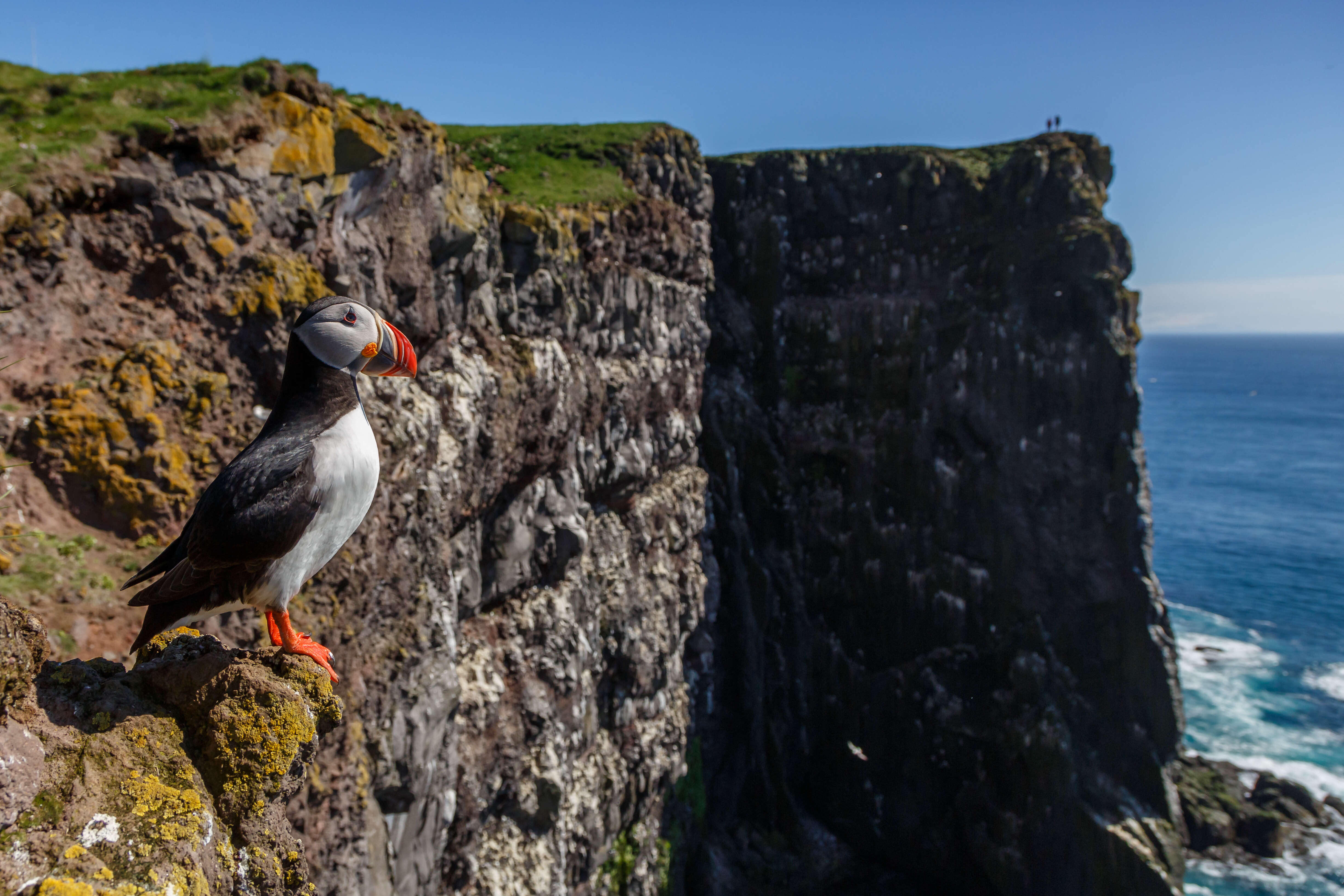 Látrabjarg
You can't miss visiting this rocky cutout on the Westfjords, and its millions of winged dwellers. You'll see all sorts of peppy seabirds here, but the most prominent are puffins, who could care less whether you're Instagramming them or just lounging around. Birds flock here for the well-shaped crags for nesting. Watch hatchlings bob around on crazy-high cliffs and if you're lucky, spot a white eagle swooping over the Atlantic.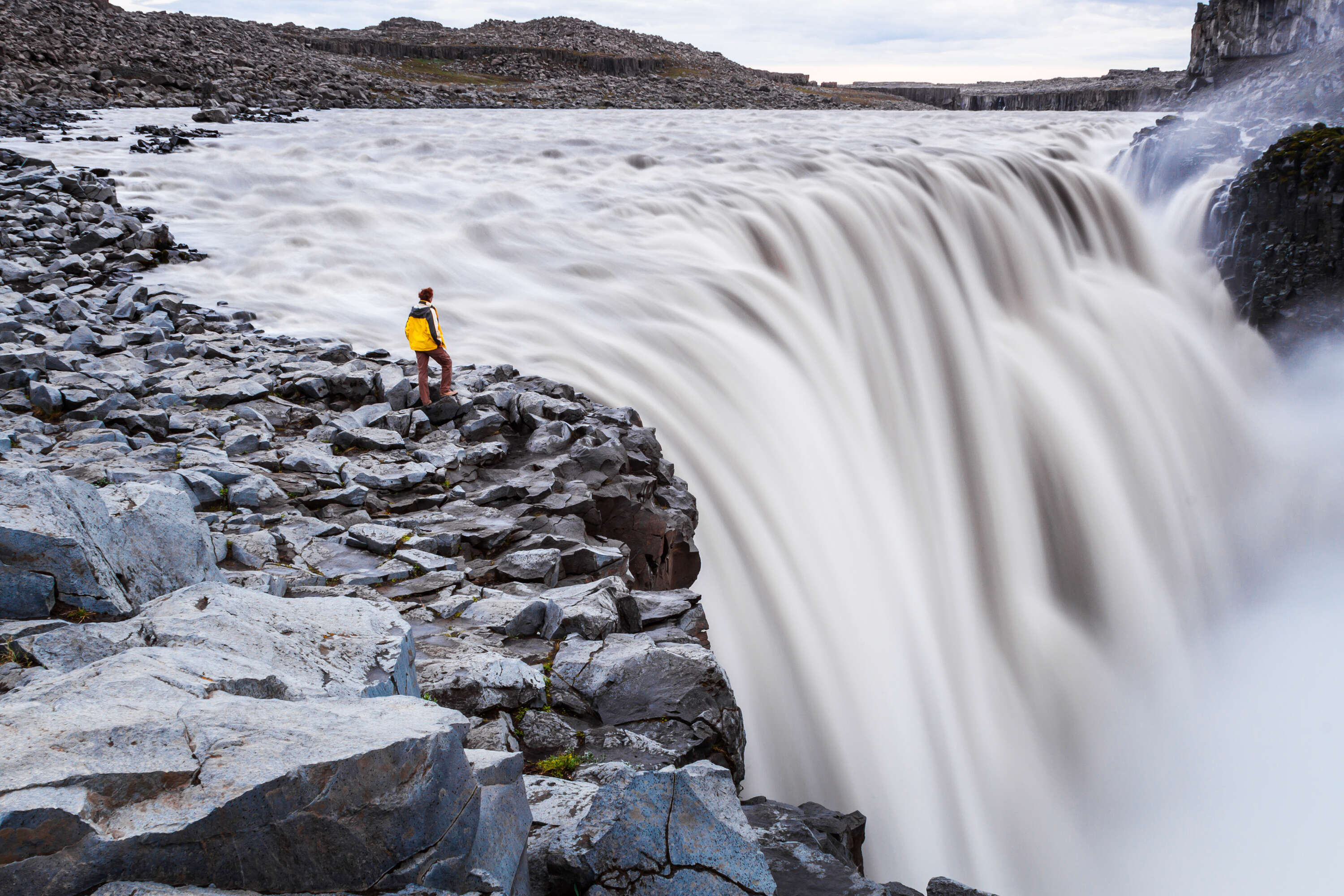 Dettifoss
Goðafoss is called the "Beauty" and Dettifoss the "Beast," for its long viperous avalanche. It's likely Europe's most powerful waterfall, but there's no way to get close enough to tell. Dettifoss stands about 150 feet, or the same height as the Statue of Liberty. On the approach to its toothy rock edges, you'll feel the mist spraying from miles away, so pay your respects with caution.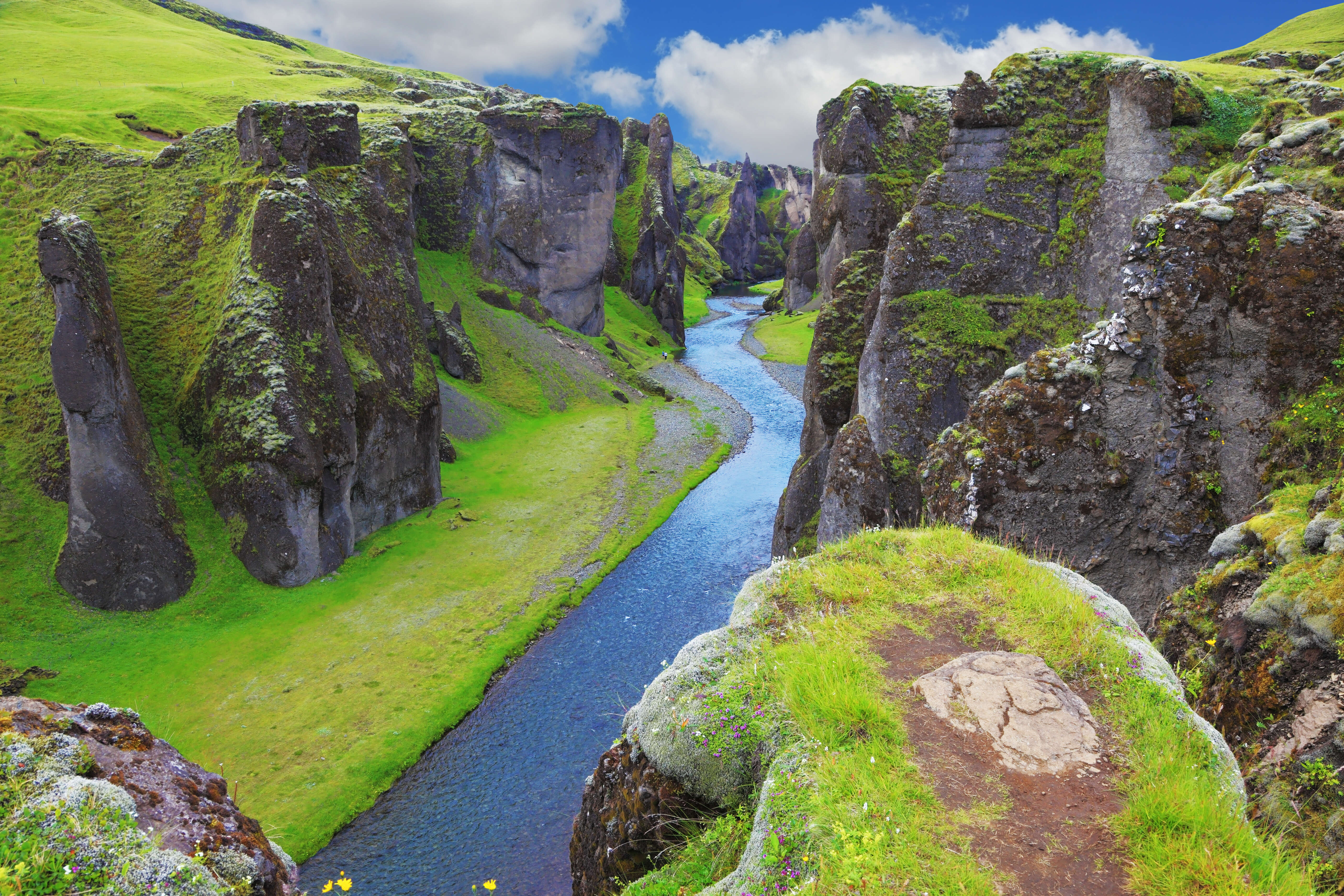 Fjaðrárgljúfur
If there are elves hot-footing around anywhere, it's here in Fjaðrárgljúfur, a southeastern canyon decked out in the most intense chartreuse you'll ever see. It was created during the Ice Age, as the Fjaðrá River's glacial flow eroded rocks and the surrounding earth. Trails are serpentine, and it makes for a true hiker's adventure. Winding along steep walls and mossy cliffs can be tricky, but just follow the water.
Selatangar
This abandoned fisherman's settlement is made up of decrepit stone huts strewn across lava rubble. Trawlers once returned from rough days on the sea -- and let's face it, probably even rougher nights in what were essentially glorified rock piles. Icelanders lived here from medieval times up to 19th-century industrialization. Yes, there are ghosts, but you already knew that right?
Of course we weren't going to have an "Iceland's best attractions" list without including this bad boy. Oh, how we crave a dip in the Blue Lagoon: a giant, steamy, vibrant blue, geothermally-heated public bath just outside of Reykjavik. Once you've washed up and taken your initial 1,000 selfies, wade over to the face mask station to slather on a thick, restorative mud mask, or stop by the in-pool bar to sip on wine while you soak. This is exactly what our tired old bones need after a year of writing half-slumped over in bed.
Sign up here for our daily Thrillist email and subscribe here for our YouTube channel to get your fix of the best in food/drink/fun.