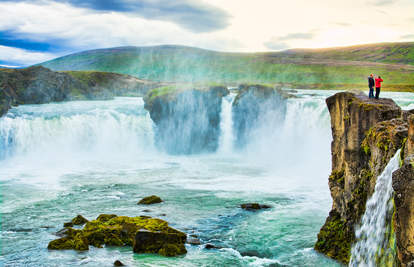 Iceland's Greatest Natural Wonders That Tourists Overlook
Iceland is Mother Nature's favorite plaything. This little island nation dangling from the Arctic Circle, with its ethereal geothermal terrain, is always finding new ways to stun. Seismic activity molds lava fields and obsidian beaches into entirely different landscapes. Storms thrash mountains and backcountry manors, leaving in its wake only delicate snowdrifts, pretty as Martha Stewart meringue. Geysers babble and spittle, and the earth even births out new hot springs wherever it pleases. All you can do is wear multiple layers and gawk.
Iceland's tourism boom has been well-covered; don't let the supposed crowds deter you. Spend a couple of days in Reykjavik, yes, and at some point, get out onto the spectacular Ring Road. Then keep moving. The country is sparsely populated, and the tourists so clustered near the capital, so most of the mind-blowing natural wonders here are up for grabs. Here are places where you can feel calm, secluded, and like a bonafide Nat Geo photographer at the edge of the world. Here is your road map to some of Iceland's most remote wonders:
Grjotagja lava cave, Myvatn, North Iceland

| Tabor Chichakly/Shutterstock
Grjótagjá
Look closely and you'll recognize this lava-sculpted grotto -- OK, maybe not, 'cause you were too busy ogling Jon Snow's tush. Grjótagjá is so much more than the filming location of (or maybe just the inspiration for?) that sexy Game of Thrones scene. Unlike most volcanic rock caves, bundling pitch nothingness, it contains a natural hot spring that has been a below-ground bathing lair for locals throughout the years.
Godafoss, Bardardalur valley

| Creative Travel Projects/Shutterstock
Goðafoss
Iceland's cascades and torrents are plenty, but Goðafoss, or "waterfall of the gods," trounces 'em all. These mighty rushes arc into a horseshoe and converge into a hypnagogic swirling pool 40 feet below. At the turn of the first millennium, it's believed that Iceland converted to Christianity with one fateful lob of pagan statues by a Viking priest into Goðafoss' frothy abyss.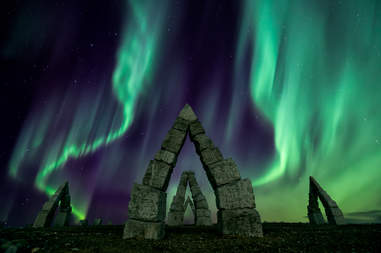 Arctic Henge, Raufarhöfn

| Ken Phung/Shutterstock
Arctic Henge
This sky-piercing heathen monument is a relatively new addition to Raufarhöfn, one of Iceland's most remote northern villages. It is only a couple decades old, but replicates the sundials of yore, throwing shadows and light around depending on the time of day, and showboating all kinds of pious carvings to dwarves and Norse gods. There is one modern embellishment planned, however: a webcam connecting visitors with folks back home.
Hverir, Northeast Iceland

| Wolfgang Kaehler/LightRocket/Getty Images
Hverir
As cracked and desolate as this geothermal field looks from afar, get right up next to it and you'll find it's alive and very entertaining -- babbling hot springs, subterranean whistles and hisses, and mud spurts that are difficult not to describe as diarrhetic. The whole thing stinks like rotten eggs because of the sulfuric gas, but some Icelanders say there's no better cure for the common cold.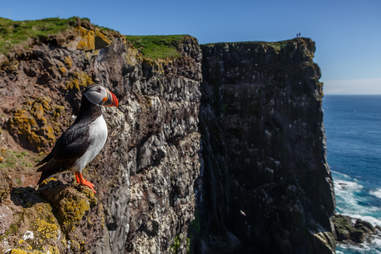 Latrabjarg, Iceland

| Menno Schaefer/Shutterstock
Látrabjarg
You can't miss visiting this rocky cutout on the Westfjords, and its millions of winged dwellers. You'll see all sorts of peppy seabirds here, but the most prominent are puffins, who could care less whether you're Instagramming them or just lounging around. Birds flock here for the well-shaped crags for nesting. Watch hatchlings bob around on crazy-high cliffs and if you're lucky, spot a white eagle swooping over the Atlantic.
Dettifoss waterfall, Jokulsargljufur National Park

| Mikel Bilbao/VW PICS/UIG/Getty Images
Dettifoss Waterfall
Goðafoss is called the "Beauty" and Dettifoss the "Beast," for its long viperous avalanche. It's likely Europe's most powerful waterfall, but there's no way to get close enough to tell. Dettifoss stands about 150 feet, or the same height as the Statue of Liberty. On the approach to its toothy rock edges, you'll feel the mist spraying from miles away, so pay your respects with caution.
The Black Church, Budir, Iceland

| ARoxoPT/Shutterstock
Buðir Church
This jet-black chapel, alone atop a lava field, is sure to evoke all those emo feels you haven't wallowed in since 9th grade. It may look like an album cover just waiting for a Scandinavian death metal band to show, but you can't help but admit it's a beaut. Reconstructed in 1987 as a nod to Iceland's history of painting churches black with pitch, to protect against storms, it's now the ideal spot for stalking the northern lights.
Fjadrargljufur, South East Iceland

| kavram/shutterstock
Fjaðrárgljúfur
If there are elves hot-footing around anywhere, it's here in Fjaðrárgljúfur, a southeastern canyon decked out in the most intense chartreuse you'll ever see. It was created during the Ice Age, as the Fjaðrá River's glacial flow eroded rocks and the surrounding earth. Trails are serpentine, and it makes for a true hiker's adventure. Winding along steep walls and mossy cliffs can be tricky, but just follow the water.
Silfra, Iceland

| nudiblue/Getty Images
Silfra
This natural underwater rift makes for a diver's plunge unlike no other. Silfra was formed by an earthquake that split a deep fissure of warm freshwater. It's a welcome escape from cold temps, and you'll even get visibility as low as 300 feet: Filtered through tectonic rock, the water is so clear you'll see plenty whether snorkeling or scubaing.
Selatangar, Reykjanes

| Pall Gudonsson/Getty Images
Selatangar
This abandoned fisherman's settlement is made up of decrepit stone huts strewn across lava rubble. Trawlers once returned from rough days on the sea -- and let's face it, probably even rougher nights in what were essentially glorified rock piles. Icelanders lived here from medieval times up to 19th-century industrialization. Yes, there are ghosts, but you already knew that right?
Sign up here for our daily Thrillist email and subscribe here for our YouTube channel to get your fix of the best in food/drink/fun.