Lonely house in Arnarstapi, Iceland

| Photo by Caroline Boden for Thrillist
Lonely house in Arnarstapi, Iceland

| Photo by Caroline Boden for Thrillist
Iceland's Natural Wonders Are a Photographer's Dream
Epic waterfalls, jet-black beaches, and charming villages await.
Iceland is Mother Nature's favorite plaything. This little island nation dangling from the Arctic Circle, with its ethereal geothermal terrain, is always finding new ways to stun. Seismic activity molds lava fields and obsidian beaches into entirely different landscapes. Storms thrash mountains and backcountry manors, leaving in its wake only delicate snowdrifts, pretty as Martha Stewart meringue. Geysers babble and spittle, and the earth births new hot springs wherever it pleases. And as for us humans, all we can do is wear multiple layers and gawk.
Iceland's population is less than 400,000—that's nine people per square mile—meaning that even with an influx of tourists during the warmer months, popular attractions like the Blue Lagoon won't be too overcrowded. On your next trip north, spend some time in Reykjavik then get out onto the spectacular Ring Road. Iceland is sparsely populated—the exact opposite of European Summer—so you'll feel calm and secluded as you perch at the edge of the world. It's an especially attractive landing place for aspiring photographers, as scenes straight out of National Geographic seem to lurk around every dazzling corner. And with guided tours around the island running the gamut from Arctic Adventures' outdoorsy treks to immersive camera-toting tutorials with Luminar Adventures, capturing Iceland's abundant beauty has never been easier.
Here's your roadmap to some of the country's greatest and most impressive natural attractions, from azure volcanic lakes to crystal-strewn shorelines and everywhere in between.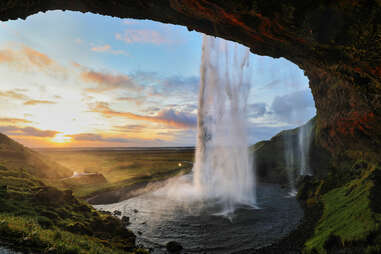 Seljalandsfoss
You'll see Seljalandsfoss coming long before you arrive. Even the tourists that gather at the base of this 200-foot-tall beast look like ants compared to the enormous rush of the falls. Visitors can also explore the rocks just behind the waterfall but may find they need a rain poncho for the blowing mist. Less than a two-hour drive from the capital city of Reykjavik, it's one of the first major landmarks you'll spot on a trip around Ring Road—and a good omen of the beauty to come.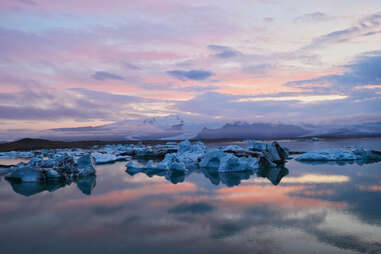 Jökulsárlón
Scramble up a rocky path (and hold on tight, because the wind is a doozie) to gaze out over Jökulsárlón, where immense blocks of blue ice lull up and down in crystalline water. Recently inducted into Vatnajökull National Park, Iceland's most popular glacier lagoon and the snow-capped mountains that surround it will make it abundantly clear that you are witnessing life at the top of the globe—and the presence of global warming breaking it apart. Get your cameras ready because it's likely you'll catch what's called "ice calving," where large chunks of glaciers separate from the mass.
Diamond Beach
Situated adjacent to the Jökulsárlón glacier lagoon on Iceland's southeastern coast, we're sure you've seen this beach's "glass shards" all over social media. The deep blue crystals that lend the beach its name (Breiðamerkursandur in Icelandic, Diamond Beach to us English-speakers) look twice as spectacular against the black sands that blanket the shoreline. Here, watching fragments of frozen ice twinkle against the onyx ground, you'd swear Mother Nature was trying to bring the starry night sky a little closer to home.
Reynisfjara Beach, Vík
This striking black sand beach in Vík, the country's southernmost village, is surrounded by unusually geometric basalt cliffs and ghostly white waves. You'll even spot the rocky spires of the Reynisdrangar Sea Stacks jutting out of the frigid Atlantic, its history tied to a couple of stubborn trolls. Just don't turn your back on the ocean for too long—"sneaker waves'' have been known to knock the unaware off their feet and sweep them out to sea in a matter of seconds.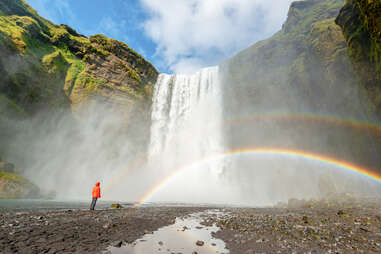 Skógafoss
Just a two-hour drive from Reykjavik (and about 30 minutes from Vik's black sand beaches), Skógafoss is one of the easiest landmarks to reach from the Icelandic capital—and one of the country's most captivating waterfalls. It's not uncommon to see a giant rainbow arc over the falls' wide, mossy green cliffs (though the water is so powerful, you'll get soaked if you get too close). In a place where trolls and fairies are considered part of the local landscape, it's not so hard to imagine these legendary creatures coming to life in this majestic setting.
Buðir Church
Sitting alone atop a lava field, this inky black chapel is sure to evoke all those emo feels you haven't wallowed in since 9th grade. And while it may look like an album cover just waiting for a Scandinavian death metal band to show, you can't help but admit it's a beaut. A nod to the Icelandic tradition of painting churches black to protect against storms, this 1987 reconstruction is now the ideal spot for stalking the northern lights.
Gullfoss
Gullfoss's unusual shape—from a distance, it almost looks like a dagger jutting out into the Hvítá River—makes it easier to take in all at once. But tourists who dare to view the raw power of its two tiers up close might find it resembles North America's very own Niagara Falls. Use the marked path to sidle up to the waterfall's edge and peer into the vast caverns below.
Great Geysir & Strokkur
Þingvellir National Park's Geysir and Strokkur both stick it to Old Faithful. The former—which was the first geyser ever recorded in a printed source, as well as the first known to modern Europeans—has become relatively dormant in recent years, erupting infrequently. But when it does, oh boy, the blasts can reach up to 230 feet. The latter, Strokkur, is a much better bet, shooting a blast of steaming hot water 100 feet into the air every five to 10 minutes.
Hnausapollur
Nestled in the heart of Iceland's Southern Highlands you'll find Hnausapollur, a crater lake surrounded by lava fields. Also known as Bláhylur thanks to its rich turquoise hue (bláhylur is Icelandic for blue lids), the broad, conic body of water is classified as a maar lake and was created over 1,200 years ago following a volcanic eruption. And it looks just as dramatic as it sounds, straight out of a sci-fi movie with its vast rocky banks.
Silfra
This natural underwater rift makes for a diver's plunge unlike no other. Formed by an earthquake that produced a deep fissure of warm freshwater, it's a welcome escape from the freezing cold air above ground—but don't expect a hot spring, as water temperatures average around 35 degrees Fahrenheit. Yet if you brave the chill, you'll be rewarded with visibility as low as 300 feet: Filtered through tectonic rock, the water here is so clear you're sure to see plenty whether you're snorkeling or scuba diving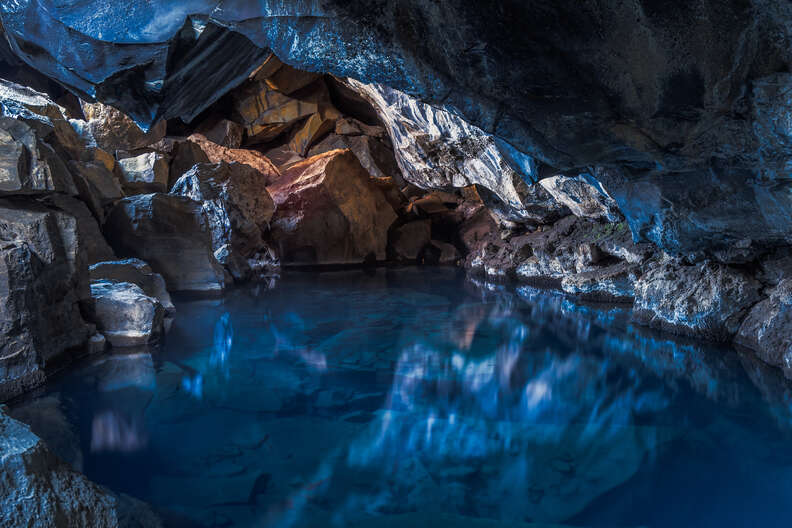 Grjótagjá
Look closely and you'll recognize this lava-sculpted grotto from a particularly steamy Game of Thrones scene—okay, maybe not, 'cause you were too busy ogling Jon Snow's tush. Grjótagjá is so much more than the filming location of (or maybe just the inspiration for?) that sexy shot. Unlike most volcanic rock caves that merely offer pitch-black nothingness, it contains a natural hot spring that's served as a favorite below-ground bathing lair for locals throughout the years.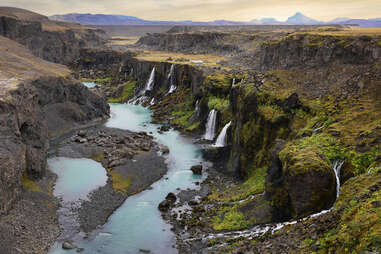 Sigöldugljúfur
Nicknamed the Valley of Tears for its multitude of waterfalls, Sigöldugljúfur's six crystal blue cascades make for quite the breathtaking spectacle. Stashed in the Icelandic Highlands of Iceland amid a landscape akin to Mars Rover footage, it attracts very few crowds thanks to its tricky terrain and remote location. But it's well worth the trip, especially if you couple it with a visit to Fjallabak Nature Reserve.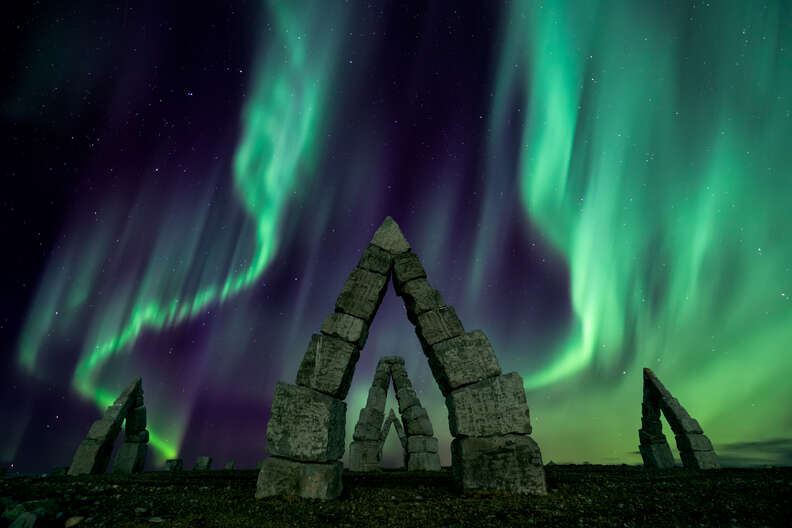 Arctic Henge
This sky-piercing behemoth of a monument is a relatively new addition to Raufarhöfn, one of Iceland's most far-flung northern villages. It's only a couple decades old, but replicates the sundials of yore, throwing shadows and light around depending on the time of day and showcasing all kinds of pious carvings dedicated to dwarves and Norse gods.
Kirkjufell
Yet another Game of Thrones filming location can be found on the north side of Iceland's Snæfellsnes Peninsula. The distinctly pointy peak was featured in seasons six and seven of the HBO series, capturing it in both its summer and winter glory. Standing 1519 feet tall, it also makes for the perfect vacation selfie backdrop.
Látrabjarg
You can't miss this rocky outcropping on the Westfjords, along with its millions of winged dwellers. You'll see all sorts of peppy seabirds here, but the most prominent are puffins, who could care less whether you're spying on them or just lounging around and enjoying the scenery. The birds flock here to nest in the cliffside's ideally shaped crags—watch for hatchlings bobbing around the seawall and if you're lucky, you might spot a white eagle swooping over the Atlantic.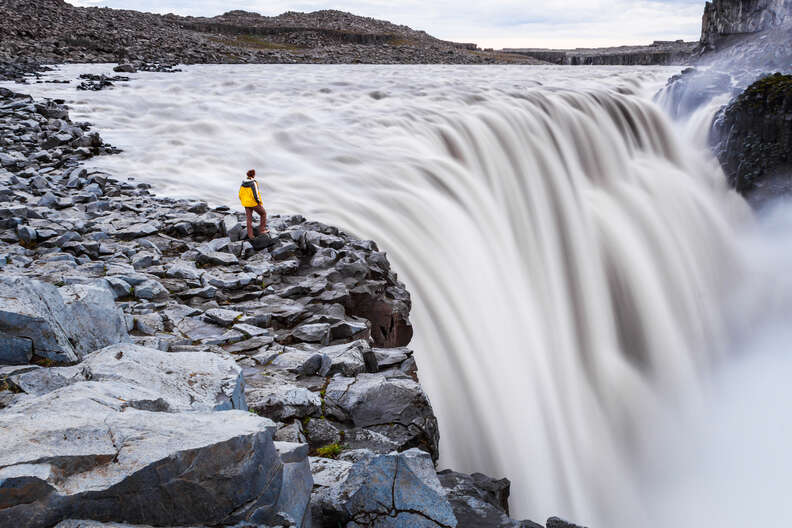 Dettifoss
While nearby Goðafoss is called the Beauty, Dettifoss is the Beast thanks to its long viperous avalanche. It's likely Europe's most powerful waterfall, but there's no way to get close enough to tell. Dettifoss stands about 150 feet tall—the same height as the Statue of Liberty. Approaching its toothy ledges, you'll feel the mist spraying from miles away, so pay your respects with caution.
Fjaðrárgljúfur
If there are elves hot-footing around anywhere, it's here in Fjaðrárgljúfur, a southeastern canyon decked out in the most intense chartreuse you'll ever see. It was created during the Ice Age, as the Fjaðrá River's glacial flow eroded rocks and the surrounding earth. Trails are serpentine, leading to a true hiker's adventure. And if you're wondering why this canyon looks familiar, it might be because it was the main filming location of Justin Bieber's "I'll Show You" music video—a fact that is not lost on Icelandic locals.
Gatklettur
Formed over the years from wind and waves constantly colliding with the stone, this sea arch in Iceland's Snæfulness Peninsula is one of the island's top natural attractions. Stand along the coastline and taste the saltwater in the air as you gape at seagulls circling above the mossy structure. Behind it, Arnarstapi's steep cliffs and thundering ocean combine to create a postcard-perfect frame.
The Blue Lagoon
Of course we weren't going to have an "Iceland's best attractions" list without including this bad boy. Oh, how we crave a dip in the iconic Blue Lagoon: a giant, steamy, vibrant blue, geothermally heated public bath located just outside of Reykjavik. Once you've washed up and taken your requisite 1,000 selfies, wade over to the face mask station to slather on a thick, restorative mud mask, or stop by the in-pool bar and grab a glass of wine to sip on while you soak. After taking in all these sights, it's exactly what your tired old bones need.