Along with river tubing and doing absolutely nada on a beach somewhere, frolicking in a swimming hole ranks high on the list of iconic summer activities. Superior among this nation's great natural pools are those that boast waterfalls you can swim in, and even better, rock slides!
These natural water parks won't take you through loops or drop you five stories at breakneck speeds, but fresh water, a satisfying hike, and beautiful scenery are certainly worth the price of admission (which is usually, yep, absolutely nada). Besides, most people are avoiding the long lines and lazy-but-stressfully-crowded rivers that are synonymous with waterparks right now. Instead, here are some of the best natural waterslides in the country to check out before summer ends.
Franconia Falls/Lower Falls
Lincoln and Conway, New Hampshire
Whether you take the gorgeous drive along Kancamagus Highway or opt to get there on foot, you'll find several flowing waterfalls and natural slides on the edge of the White Mountain National Forest. To get to Franconia Falls, you'll take a 3-mile "hike" (it's easy-peasy) and be met with swimming holes, various rockslides, and large rock slabs that make prime real estate for basking in the sun. But the main event is a 20-foot granite slide that propels you through a narrow chute into a 7-foot deep pool below. Just brace yourself for chilly water temperatures.
For a less steep, more approachable option, head twenty-five miles down the road and pull into a parking lot right off the highway to visit Lower Falls. You can slip and slide over smooth granite rocks with ease.
Slide Rock State Park
Sedona, Arizona
Construction of this badass natural water chute took about 8 million years. Once used as an irrigation system for a nearby apple orchard, today it's a welcomed respite from the desert heat with beautiful views of the surrounding canyon walls. The waterslide itself is 80 feet long and goes quick, thanks to the slippery algae clinging to the red rocks. The gift shop, snack stands, and actual restrooms give it the feel of a real water park -- and just 7 miles north of Sedona, it's among the most heavily visited parks in the state.
Tenaya Creek Waterslide
Yosemite National Park, California
The "secret" Tenaya Creek Waterslide isn't your typical tourist stop in Yosemite. The smooth, 100-foot-long granite slide isn't featured on any maps or brochures -- it's very fast, a bit dangerous, and not advisable for families with youngsters. (There's also no cell service. Soooo.) It's located roughly 2 miles off Tioga Pass road; park your car at the "sunrise trail" and start walking. Only a quarter of a mile of the hike is actually on a trail, the rest is literally off the beaten path; just follow the creek. The best (and really the only) time to slide is in late summer, as the water flow is too dangerous in the spring.
Sliding Rock
Pisgah National Forest, North Carolina
Not to be confused with Slide Rock, SlidING Rock is about an hour outside of Asheville, North Carolina. It's basically an epic 60-foot Slip 'N Slide that plunges riders into a chilly pool 7 feet deep. Unsurprisingly, it's super-popular -- expect long lines and a $2 admission fee from late May through September, between the hours of 10am and 6pm. (The slide is open year-round during daylight hours, but they don't charge you when it's, ya know, winter.) That entry fee buys you the comfort of a lifeguard staff and as many trips down the slide as you want. Hit the observation decks if you just want to watch the fun from above. Cell service is notoriously bad in the area, so make sure you know where you're going ahead of time.
White Oak Canyon
Robertson, Virginia
White Oak Canyon is part of Shenandoah National Park, nestled in the Blue Ridge Mountains. Choosing to hike the short (2 mile) but somewhat strenuous Cedar Run Trail will reward you with five glorious natural waterslides, aptly named Cedar Run Falls. About a third of the way in, you'll come across a small, cute slide (good enough for young'uns), but don't settle: You'll find bigger, faster slides ahead. If you're not worn out after a day of sliding, also hit up the gorgeous White Oak Falls by backtracking to the Cedar Run link trail. You can't slide down them, but you can certainly Instagram the hell out of 'em.
Little Backbone Creek
Near Shasta Lake, California
About an hour's drive north of Redding sits Shasta Lake, a reservoir boasting one of northern California's best natural waterslides. Thing is, getting there takes a smidge of effort. Most people boat or kayak to the mouth of the creek. From the shore it's only about a 20-minute hike up the beautiful canyon. You'll pass by clear pools, interesting rock formations, and thousands of ladybugs (which seem to swarm at different times of year). The waterslide itself is short but well worth it -- use the rope to hoist yourself up before taking the plunge into the cool splashing pool below. Oh, and those red rocks contain minerals that might stain your swimsuit. Best to wear darker colors and avoid red streaks on your bum.
Opal Creek
Lyons, Oregon
If you're willing to hike a bit (the 3-mile stretch is mid-level, but a bit steep and rocky) you'll be rewarded with a glorious 20-foot-long, super-smooth rock with a roar of water leading to a bright blue pool. Just east of Salem and around 2.5 hours from Portland, Opal Creek is located in the beautiful old-growth Willamette National Forest. It's fairly straightforward to reach. Hop on the main trailhead and voila (if you reach Jawbone Flats, you've gone about a half mile too far). Stomp the gravel off your hiking boots and grab a soak in the icy cold swimming hole to acclimate your body temp. Then get sliding! The slide is smooth but narrow -- keep your arms raised so you don't bang up your elbows on the way down. A Northwest Forest Pass is required for entry.
Meadow Run
Ohiopyle, Pennsylvania
This epic, 100-foot waterslide sits in Ohiopyle State Park on the southern side of the Laurel Highlands. Unlike some of the hidden waterslides on this list, you can actually find Meadow Run on Google Maps, with a full parking lot. If you want more of a hike, start at Cucumber Falls on the main trailhead, and after about 2.8 miles of easy trekking, you'll find the enormous, winding, sandstone slide running through a gorge. Even on its busiest day, the vastness of the area means it never feels too crowded. Check the water level before you go: If it's too high, it can be fast and dangerous. Leave the skimpy swimwear at home, though. This isn't a super-smooth ride, so opt for shirts and sturdier shorts -- or call up 1994 and ask for your cut-off jeans back.
Denny Creek
Near Marblemount, Washington
About an hour east of Seattle in Mt. Baker-Snoqualmie National Forest, Denny Creek boasts great natural waterslides, lovely hikes, and a waterfall to boot (riding the waterfall not recommended). It's relatively easy to access, just a mile from the trailhead, and the slides are relatively gentle, so bring the kids. If you're in the mood for a little natural beauty afterward, stunning Keekwulee Falls is less than a mile up the trail.
Bridal Veil Falls
Tallulah, Georgia
These falls require a lot of planning to get to. First of all, entrance into the gorge is only granted to holders of a "gorge floor pass" that you pick up at the park's interpretive center. The passes are free, but available in limited quantities -- 100 per day -- so get there early during the summer. And consult the weather app before you head out; if there's even a slight chance of rain, no passes will be given out. Second, the hike into the gorge is about 3 miles and very difficult. No pets or small children allowed, and anyone under 18 requires parental supervision. Should the universe align to let you actually reach Bridal Veil Falls, you'll find a fast-paced slide down a 30-foot smooth rock into a deep, expansive pool. Check out the suspension bridge for its amazing views of the falls, and you may even spot a tightrope walker or two trying their luck.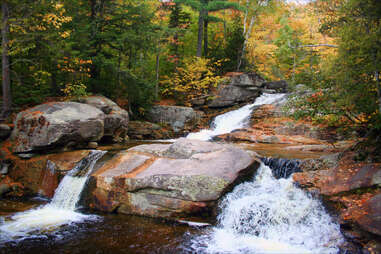 Step Falls
Newry, Maine
An easy one-mile hike that winds through hemlock and fir trees will give you a true Maine experience before dropping you off at Step Falls. Once you're there, the forest opens up and you'll see the Wight Brook glossing over smooth granite stones and dipping into swimming holes along the way. This spot -- the Nature Conservancy's first preserve in Maine -- has small, short cascades so it's not the best spot for thrill-seekers, but riding the current and plunging into swimming holes is an easy way to waste the day away.
Triangle Lake Rock Slide
Near Junction City, Oregon
Oregon's densely forested western expanses pack some serious Narnia vibes, so it's no surprise that in this river-rich patch of green reside ample cool-down oases. In fact, there are so many riverside cliff-jumping spots and waterfalls that it's easy to just shoot past a place like Triangle Lake, near Junction City west of Eugene. Those looking for secret spots are prone to blasting right past this well-marked stop off, which has its own parking with easy access to the slick rock slides that send you careening into the water under a rich canopy of trees. The area's also a greatest hits of Oregon forest water sports: Here you can cliff dive, laze in soaking pools, and even walk under waterfalls. It honestly wouldn't be all that surprising to stumble on a bleary-eyed goat man playing the lute.

Kylie writes and copy-edits from Madison, Wisconsin. Her goals include visiting the 11 tropical destinations in the Beach Boys song "Kokomo" (really) and drinking a beer at all the filming locations for the 1988 Tom Cruise film Cocktail (almost halfway there). On Twitter, she's @kylie_maxcy.