These New Cruise Ship Bars Would Even Be Cool on Land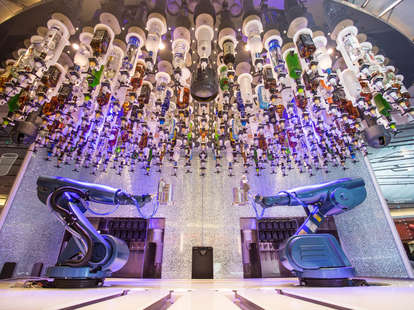 Courtesy of Royal Caribbean
Courtesy of Royal Caribbean
Cruise ships are always trying to find new ways to wow you, whether it's with a giant glass observation orb, bumpers cars, or an insane water park on the lido deck. But unless you're rocking out on the Groove Cruise, you'll realize after a couple of "at sea" days filled with tanning and trivia that onboard drinking is probably gonna be your go-to activity.

Lucky for you, the cruise lines have upped their bar game in recent years. Whereas once the main draw was fruity cocktails and steel drum bands, today's newer ships offer private wine bars, craft-beer dens, and even robot mixologists. And to give you an idea of what we're talking about, here are six of the coolest new boat bars on the high seas.
BLEND by Chateau Ste. Michelle
Koningsdam, Holland America
The bar on this Holland America ship (which is scheduled to launch in April) is partnering with Washington State's best known winery -- Chateau Ste. Michelle -- to allow groups of up to ten passengers (at scheduled seatings) to create their own wines. Guests start by tasting a handful of Chateau Ste. Michele's best before mxing up to five varietals in their own custom... BLEND! From there, they can bring the bottle to dinner or just back to the room to drink alone in the dark. Up to them.
Bionic Bar
Harmony of the Seas, Royal Caribbean
Want proof that machines are taking over the world? Look no further than the Harmony of the Seas, where your old friend the neighborhood bartender has been replaced by... two robotic arms! Yep. No more room for shady bartender tricks here as guests place their drink orders on a computer screen at the bar and a robot mixes the perfect cocktail every time using bottles from an overhead well. And with no pesky tip confusion! The downside, of course, is that said robot arms can't offer you much advice when you complain that the girl you met at the pool is currently "playing shuffleboard" with some other dude.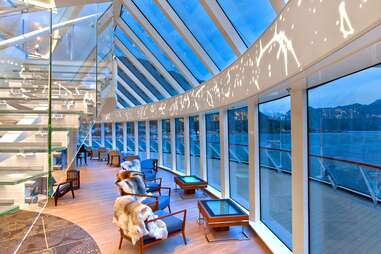 Explorers' Lounge
Viking Sea, Viking Ocean Cruises
This two-deck lounge on one of the best new (and smaller) ships of 2016 offers passengers a panoramic front-row seat from which to appreciate all the arctic fjords they're passing along the way. And if that's not enough, there's also a "craft beer library" and a bar where they sling cocktails with names like The Viking Royal and Norway 66.
Tobacco Road
Escape, Norwegian
It was a sad day in Miami last year when the city's oldest and most storied bar closed to make way for, you guessed it... more condos! But what was a loss for Miamians was a win for passengers of the new Norwegian Escape, where Tobacco Road reopened. Replete with all kinds of relics from the old space -- from its landmark neon sign to coasters made from the old Dade County Pine bar -- the new seaborne Tobacco Road boasts plenty of historic memorabilia and photos alongside it leather chairs and classic cocktails.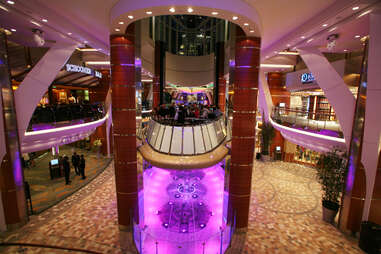 Rising Tide Bar
Harmony of the Seas, Royal Caribbean
Though you will undoubtedly stand next to someone in your boarding line from Alabama who says something like, "Hot damn, that Saban's so good they named a bar after 'im on a cruise ship!', this bar has NOTHING to do with football. Built into the center atrium, the bar raises and lowers three decks, allowing patrons to get a bird's eye view of all the action while enjoying their drinks.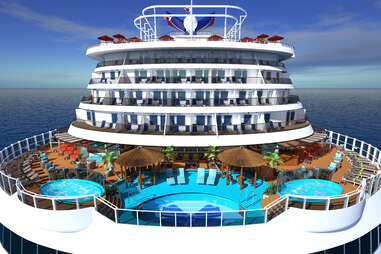 Havana Bar & Pool
Vista, Carnival
Nothing screams "terrible WiFi" like a bar that combines two of the world's worst wireless Internet experiences: Cuba and cruise ships. But hopefully you went on vacation to do more than look up Steve Harvey memes. Located by a private pool on the fifth deck of Carnival's newest ship, Havana Bar is all about plush lounge chairs, private cabanas, and stuffing your face with maduros and mojitos. At night, the place turns into a giant Latin nightclub where you can dance like you're Colin Farrell in that weird sequence from Miami Vice, but without the worry of international legal repercussions.
Sign up here for our daily Thrillist email, and get your fix of the best in food/drink/fun.
Matt Meltzer is a Miami-based staff writer with Thrillist who is eager to check out the authenticity of the bathrooms at the new Tobacco Road. Follow him on Instagram @meltrez1.