Certain cities, you visit for the food. Others, you visit despite the food. The old guard of Important Food Destinations, you know: the San Franciscos, the Chicagos, the New Orleanses. So who are the up-and-comers -- the places whose culinary reps should be rising fastest? We put the question to dozens of veteran travelers and found some surprising answers. Some of these spots are out-of-the-way mid-sized towns; others are big cities where some combination of abundant talent, great farms and fishing, and respect for traditional food have made them bona-fide dining destinations.
We guarantee you've passed through at least one of these towns without thinking twice about the food. Next time you visit, though, take a moment to stop and smell the s'mores burger.
Recommended Video
Next Time You Fall in Love in the City of Light, This Guy's Got You Covered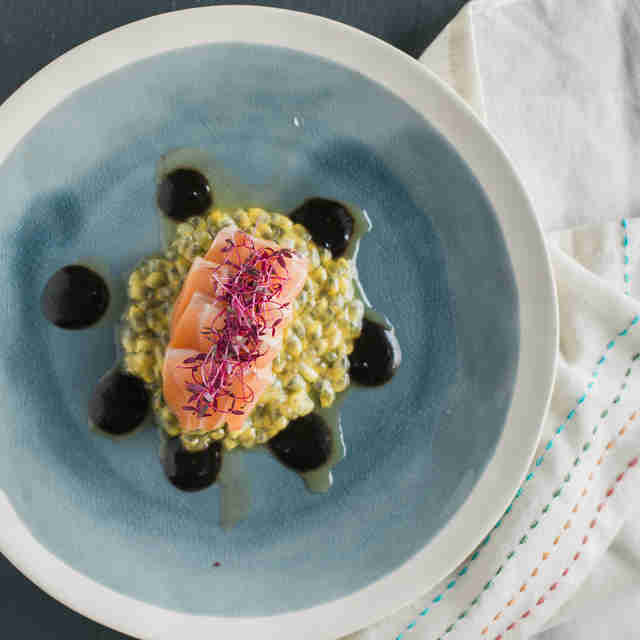 San Diego, California
Once maligned, it's a hotspot for fresh-sourced ingredients and world-class street food.
Some years ago, a cranky food critic passing through named San Diego the "worst food city in America." Once there may have been a shred of truth there, but it was hyperbole then, and nowhere close to the truth today. Restaurateurs have realized that San Diego, surrounded by farms and ocean, offers abundant high-quality ingredients, and local joints like Cesar, The Red Door, Trust, and Campfire have taken to working directly with farmers, ranchers, and fishermen to produce fantastic, environmentally responsible dishes.
One of the best restaurants in the United States is here: The James Beard-winning Addison at the Fairmont Grand Del Mar. But if you still want to just grab a fish taco and a craft beer, this is also the place to do it. Cali burritos -- the kind with carne asada and French fries -- are a staple for surfers and practically everyone else. (Lolita's Taco Shop is a good place to start your burrito exploration.) And as a bonus, San Diego's sister city in Mexico, Tijuana, is having its own food renaissance. You can literally walk across the border and find yourself neck-deep in some of the best street tacos Mexico has to offer.
If you have just one meal: Head up to Oceanside to eat at Wrench & Rodent Seabasstropub for fanciful, non-traditional sushi made with sustainable fish. It's one of the best sushi joints in the entire country, so ask for the omakase and allow yourself to be wowed. -- Jackie Bryant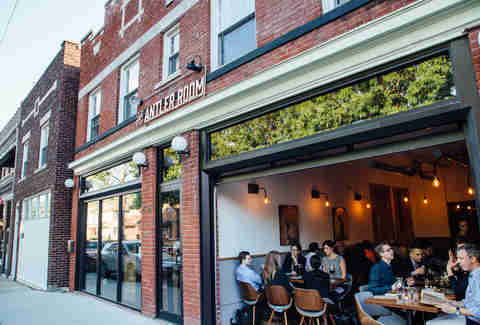 Kansas City, Missouri
You know it for its barbecue. There's a lot more here... but do start with that barbecue.
KCMO's legacy of slow-cooked meat slathered with thick, heavy molasses sauce has long set it apart from other BBQ giants further south. It also has the distinction of being the birthplace of burnt ends. The fatty, tender end pieces of the brisket were originally throwaway scraps, until legendary pitmasters at Arthur Bryant's began selling these meat candy cubes in the 1970s.
You'll have no problem gorging yourself on the blue ribbon-brisket at Q39 or the hallowed burnt-end sandwich at SLAP's (an acronym for "squeal like a pig"). But Kansas City is highly skilled at exceeding, nay, slaying your expectations: The Midwestern hub once disparaged as "Cowtown" is actually a fun-as-hell place to spend a weekend, or even quite contentedly live full-time -- and a diverse, wildly affordable food scene is just another point in its favor.
If you really want to be impressed, the standard-bearer for KC fine dining is Bluestem, with a reputation for daring seasonal compositions that helped earn chef-owner Colby Garrelts a James Beard Award. You'll also want to book a table at the upscale Rieger (order anything with bison), or the newly opened Antler Room, where artful, delicate plates like foie gras torchon atop beet carpaccio have landed it on national best new restaurant lists. Meanwhile, every chef in town will tell you that the "line cook's lunch" at Happy Gillis -- house-made pork terrine and chicken liver mousse piled high on a ciabatta bun -- is one of the best eats in town. Looking for something to line the stomach after hours? Get the croque madame at Ça Va, a Parisian-inspired Champagne bar, pretty much the furthest thing from BBQ there is.
If you have just one meal: Order "The End is Near" at SLAP's: a sliced burnt-end sandwich that will make you a true believer.  -- Natalie Gallagher
Washington, DC
A steakhouse town in the shadows of NYC and Philly proves it has real chops.
For the longest time, DC dining got a bad rap. For starters, most tourists think the city was built on a swamp. Not true. Then there are the transplants (ahem: New Yorkers) who whine about how hard it is to find a decent slice in this town (OK, ever heard of Wiseguys?). An even bigger drag on DC's fine dining is its rep as a strictly meat-and-potatoes town, a place where politicos power lunch, leaving you with, yes, a city filled with steakhouses. It probably doesn't help that our president eats his beef well-done and with a side of ketchup.
But in these last few years, DC has been quietly staking (no e) its claim as a culinary rival to its bigger East Coast cousins. In 2016 Michelin finally graced us with its presence, and Bon Appétit named us the Best Food City in America. DC chefs like Aaron Silverman, Jeremiah Langhorne, Marjorie Meek-Bradley, Erik Bruner-Yang, and José Andrés have become foodie-household names. Meanwhile, monolithic restaurateurs and chefs are creeping into DC too. That includes the likes of New York City's Danny Meyer, Philadelphia's Steven Starr, and Baltimore's Spike Gjerde. Today, if you want a fine meal in this town, you're swamped with options.
Don't miss: Walk down Capitol Hill's Barracks Row for a small taste of DC's culinary dominance. Start at ChiKo, a Korean-Chinese fast casual known for inventive dishes, like rib eye and rice cakes. Next, step up to the reservations-only Pineapple & Pearls. This Michelin-starred restaurant from Aaron Silverman serves fried chicken sandwiches ($9.50 each) at breakfast and lunch. His restaurant next door, Rose's Luxury, serves an a-la-carte dinner that gravitates to Mid-Atlantic and Southern cuisine. -- Tim Ebner
Santa Fe, New Mexico
Pretty much everything you love, done the best it can be done.
Every day in Santa Fe can be Christmas: Red chile sauce and green chile sauce slathered side-by-side on your enchilada, burrito, or chile relleno like a piquant Yuletide fiesta. Originally sourced during Columbus' voyages into the Caribbean, chiles arrived in Santa Fe when the Spanish founded the town in 1610, and some of the recipes you'll find at local landmarks like La Choza and the Shed are almost as old. Because these restaurants -- and other longtime favorites like Tia Sophia's, Palacio Café, and the Pink Adobe -- serve pretty much the same classic New Mexican fare in comfortably low-key surroundings, they compete by being meticulous in everything they make, slow-braising, fire-roasting, and generally pouring love into every tortilla and refried bean.
Between Santa Fe, Taos and nearby Albuquerque, Southwestern food culture runs deep, and chefs not only respect the old ways but update them with locally sourced grains and meats. The local booze community, led by Bosque Brewing Co. and Santa Fe Spirits, is producing wonderful stuff, too. Some say the margarita was invented in Santa Fe, and 60-year-old Maria's New Mexican Kitchen holds the flame, with more than 200 varieties listed on their eight-page menu.
If you have just one meal: New-school sensation Eloisa eschews the standard Santa Fe palette of purples and pinks for a sleek black-and-white space inside the Drury Plaza Hotel. Here local-born, world-traveled chef John Rivera Sedlar modernizes the town's traditional cuisine with such studied, loving finesse that dinner feels like an evolutionary inevitability. And if you're in town in the fall, be sure to grab a sack of fresh-roasted pinon nuts from a vendor at Santa Fe Plaza. A snack dating back to prehistoric times, pinon is the true taste (and scent) of Santa Fe. -- Jonathan Zwickel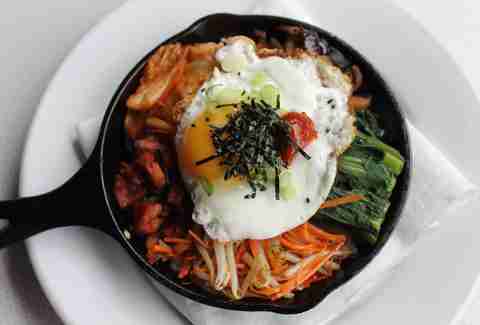 Honolulu, Hawaii
A pretension-free seafood paradise rewards you for veering off the tourist track.
Look, let's just get the Spam thing out of the way. Yes, Hawaii residents adore the stuff. You'll find Spam musubi at high-end sushi restaurants and 7-Elevens alike, as a domino-sized shingle of the compound meat grilled to a pleasant caramel hue and belted to a little brick of rice with a piece of seaweed. That Honolulu would tag in a peasant food like Spam for sashimi hints at the baseline stress level in a land where a nice aloha shirt (what you call a Hawaiian shirt) qualifies as acceptable formalwear. It also points to the casually bonkers mashup of influences -- Japanese, Polynesian, Portuguese (their immigrants invented the ukulele!), USofAmerican, Thai, Korean -- you'll find even on dive-bar menus in this town.
Skip the tourist-trap chains (seriously, people, why fly 4,000 miles to the center of the Pacific and then flomp down to a Cheesecake Factory dinner) and instead wander into pretty much anywhere else to score, in all likelihood, disarmingly fresh seafood, pineapple, vegetables, and swine. My go-tos when living there were the shoyu chicken from the food truck parked beside the state Capitol; and the poke at a cavelike, zero-frills neighborhood joint on Kalakaua Avenue called Home Bar & Grill. Everyone in there is wearing a $10 black T-shirt, eating low-key miraculous fresh tuna alongside tater-tot nachos, and probably just finished a shift at the Hard Rock Cafe down the street.
If you have just one meal: You'll never have fresher papaya, so order the green papaya salad first at any Thai spot. Otherwise, just get to REAL a gastropub and order any damn thing off their rotating menu, starting, if they're slinging 'em, with the "Pono Pork" Mojo Cuban Sliders. -- Sam Eifling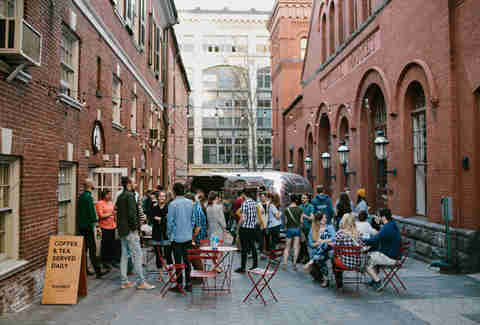 Lancaster, Pennsylvania
An inventive, international array of flavors fed by Amish farms.
Two hours' drive west of Philadelphia, you'll find this town of 60,000... but only after passing the farms (many of them Amish) that are putting produce on your tables here and feeding the constant, eclectic farmers markets that swarm the conspicuously quaint Downtown. No less an authority on hipness than, the, uh, New York Post has dubbed Lancaster "the new Brooklyn," but that misses wide. If anything, Brooklyn would envy this much farm for its farm-to-table restaurants, and at such low prices for high-end dining.
Try, for instance, the Australian comfort food of Aussie and the Fox, which serves up beets on sandwiches and Australian meat pies. Himalayan dishes up the best Indian food I've ever found, and with a Monday buffet that works as a full survey course in the cuisine, perfect for anyone stuck in a tikka masala rut. Maybe the finest embodiment of Lancaster's culture and terroir resides at slow-food champion Maison, the tiniest sliver of a restaurant (with fewer than ten tables and an open kitchen) on the ever-animated Prince Street. Order the handmade burrata, featuring crusty bread swimming in a burst pillow of gooey cheese. The seasonally changing gnocchi, studded variously with hen of the woods mushrooms or snow peas and ramps, has a fan in no less than Alton Brown.  
Lancaster has also been defining itself as a specialty coffee city: Hit up cafes and roasters like Square One, Prince Street Cafe, or Passenger Coffee for the real deal. At cocktail hour (whenever you define it), swagger into Pour to browse its rapidly revolving seasonal cocktail menu, with clever creations like "A Discrete Nod From the Bartender" (Fernet-Branca, ginger beer, bitters, and an orange slice).
If you have just one meal: Scarf down the duck truffle pizza at The Pressroom Restaurant and Bar; the Aussie Burger at Aussie and the Fox; or the Svenska Pannkakor (Swedish pancakes) at On Orange. Chase it with a Go Big or Go Rob at Pour. -- Sammy Nickalls
Tallahassee, Florida
Revel in cuisine fit for a sophisticated palate, at college-kid prices.
Unless you're just dying for a 24-hour Taco Bell fix, a college town probably ain't your first choice of dining destination. Stealthily, though, the home of Florida State University has nurtured a thriving food scene. (They're very proud of it, too, without being terribly braggy. Basically the opposite of the football team.)
The brilliance begins in the foods broke-ass college sophomores can actually afford, like the 10,230 ways you can get a frank at Dog et Al. Midtown Caboose makes a s'mores burger (way better than it sounds) or a tamer Mac Daddy mac & cheese burger (it has bacon!). Keep watch, too, for the food trucks that pop up around breweries and near campus.
The Edison, which looks right over Cascades Park (perfect during live outdoor concerts), is where you go when you graduate to higher-end food and cocktails. Or head just outside of the city limits to Wakulla Springs to ogle manatees swimming and to stuff your own self with fried chicken and some of the best fried green tomatoes in the country.
If you have just one meal: Head to Food Truck Thursday by Lake Ella in Midtown. Live music welcomes you to the scene as you find the perfect bite, whether it be Filipino Southern comfort, just-like-grandma's Puerto Rican, wood-fired pizza, or cupcakes. -- Keryn Means
Scottsdale, Arizona
Chefs like it for the same reason as the snowbirds: Tons of sun, for year-round fresh produce.
Below the surface in this resort-heavy desert town is a group of young chefs embracing the region's ancient and local crops. Take Weft & Warp Art Bar + Kitchen, where Chef Adam Sheff's dishes feature tepary beans, part of the Native American diet since pre-Columbian times, and I'itoi onions, brought to Arizona in the 17th century by Spanish missionaries (now grown at Crooked Sky Farms). You'll get hot sauces in glass beakers, and enjoy the view of the pool outside -- yep, it's at a resort.
The area's five growing seasons keep farmers markets running year-round. Head downtown to the Old Town Farmers Market for apples, tamales, free-range beef and eggs, cider, and honey. At the veggie-centric FnB, try the goat cheese-stuffed hatch chiles with peruano bean-tomato relish, and mains like halibut with tepary beans, eggplant, peppers, and tomatoes finished with tarragon mayo; the dishes' ancient grains come from nearby Hayden Flour Mills. Or try Gertrude's, on the grounds of the Desert Botanical Garden, which serves ancient grains and Native American ingredients in dishes like the anasazi bean and quinoa salad.
If you have just one meal: It's not ancient but it is infamous. The Stetson chopped salad at Cowboy Ciao has a dedicated local following. Find it as well at Terminal 4 at Phoenix Sky Harbor Airport. -- Jennifer Mattson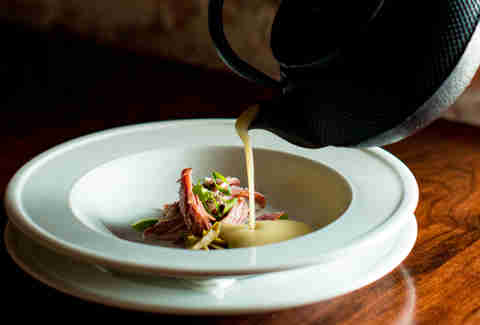 Indianapolis, Indiana
Wander just beyond the sporting industrial complexes and find the Midwest at its best.
Don't get stuck in Downtown Indy. The site of many a Colts game and NCAA Final Four is cluttered with chains, which is where far too many visitors settle for basic, Midwestern meat-and-potato fare. (Can't get out of Downtown? At least hit up Napolese for pizza, or get a great burger and vegetarian food at Mesh.) Truly, though, the worthwhile surprises here mostly lurk well under the radar, in the surrounding neighborhoods. Chefs are investing in abandoned and rundown buildings, fixing them up, and creating a thriving food culture in areas locals once avoided.
Just a 15-minute walk from the Pacers' home arena is Milktooth, one of the city's most beloved brunch spots, built into an old garage. Head here for Dutch pancakes with farm-fresh berries, bacon as thick as a baby's arm, and expertly roasted coffee. Down the road you'll find a couple of darlings of the food and beverage scene. Bluebeard offers small, medium, and large plates to share, changing seasonally with the local ingredients; it's best to order a lot of little plates. Across the street sits hotel-in-name-only Hotel Tango, a distillery with some of the proudest, and most well-versed bartenders around. Their garden-inspired and fruit concoctions are works of genius, applying robust seasonal flavors to shake up the old standards.
If you have just one meal: Eat at Bluebeard. This hot spot doesn't take reservations, and they really don't need to. They are always packed thanks to their farm-fresh menu that is ever-changing, depending on what the chef finds at the market. -- Keryn Means
Sign up here for our daily Thrillist email and subscribe here for our YouTube channel to get your fix of the best in food/drink/fun.