Football, America's religion, has some truly kick-ass cathedrals to draw in the believers. Stadiums in the 1970s were expected to transform into baseball parks for half the year and were carpeted with knee-destroying AstroTurf. Now they're the equivalent of plasma TVs: sleek, shiny, and capable of stealing some of your hearing when they're cranked up all the way.
Some of these pigskin palaces now cost upwards of a billion dollars; others offer apps to tell you how long bathroom lines are. And others are nearly a century old, living fossils, with cavernous concourses and all-day bathroom lines. Every stadium brings something special to the game day experience. Unless, it seems, you're in California.
From the Pacific Northwest to the Rust Belt and South Florida, we ranked all 31 NFL stadiums in the NFL (remember, two teams share a home) from the worst to the most amazing.
31. Oakland Alameda County Coliseum
Oakland, California
Home of the Oakland Raiders
Opened: 1966
Coolest feature: Imagine you took an entire Pelican Bay cellblock, dressed them in spiked shoulder pads, and told them to start drinking at 7am. Those are the nice fans in the Black Hole. It's as close to Mad Max as you'll find in a sports venue.
Fun fact: Converting the field from baseball to football costs $250,000 every time. This is now the only stadium that still does it.
Raiders fans are, without argument, the most menacing, violent fans in all of sports. My family has had season tickets since they moved to Oakland in 1993, and we've had our car blocked in by Raiders fans fighting EACH OTHER at least once a season. Opposing fans sometimes require police escorts through the stadium lots.
Even if you enjoy the anarchy that is a Raiders tailgate, this place is still a dump. One might think that as the third-oldest stadium in football, it would have some kitschy, throwback charm like a Fenway or a Wrigley. Then one would forget it was built in the 1960s, when seemingly every stadium was designed by architects just imported from communist East Germany. Por ejemplo: 56,000 seats. One concourse. Not even sure how this made sense in 1966. Nor do bathrooms so far apart they require missing half a quarter for the privilege of sharing a trough with a guy dressed like a skull. Also, because the A's still play here too, even the prime seats on the 50 are literally over 100ft from the sideline. And when an upper-deck tarp becomes your stadium's trademark feature, Las Vegas starts looking pretty good. -- Matt Meltzer, Thrillist staff writer
30. Los Angeles Memorial Coliseum
Los Angeles, California
Home of the Los Angeles Rams
Opened: 1923
Coolest feature: The Olympic rings and arches around the outside.
Fun fact: The LA Coliseum is the world's only stadium to serve as an Olympic stadium twice.
There's a reason the Rams' stadium is really just a temporary home: It hasn't been updated since the 1984 Summer Games, which means that the whole stadium feels like a waypoint for wayward athletes. Thankfully the LA Metro now runs by (it didn't until just a couple years ago), which means you no longer have to spend $100 on parking (that's not a typo). Let's be honest: Fans are just biding their time before the new stadium is erected on the other side of the city, theoretically in 2017.
Yet the experience here isn't ALL bad. Sure, you can't really see the historic arches or Olympic rings from anywhere inside the bowl, and the big track around the field makes you feel like you're watching the games from the 110. But because most of the food stands are portable tents, they can have stuff like teriyaki bowls and fajitas without having to renovate the concourse. And with 80,000 seats and LA weather, there are worse ways to spend a Sunday. -- MM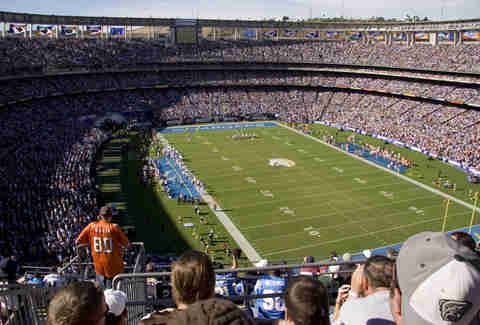 29. Qualcomm Stadium
San Diego, California
Home of the San Diego Chargers
Opened: 1967
Coolest feature: The San Diego Super Chargers song is played roughly 487 times a game.
Fun fact: The stadium was once called Jack Murphy Stadium, after the local sports writer who galvanized local support for a public bond issue to fund the stadium -- the only one in the NFL named for a journalist.
Qualcomm is the quintessential place to experience two of Southern California's great trademarks: perfect weather and unbearable traffic. Someone in the 1960s had the bright idea of sticking a 71,000-seat stadium in the middle of a valley with only a couple of on-ramps to get everyone in and out. As such, crawling the last two miles of your journey can take even longer than the hundred-miles-some drive from Los Angeles.
But it's not just car traffic you can experience at the Q! Oh no! That trip for a Charger Dog can find you missing half the second quarter because concourses are narrower and about as well designed as your average Caribbean airport. And the lines move even slower. Because the Murph was designed as a multipurpose stadium (the Padres used to play here), sightlines can be awkward and neck-craning. And the upper deck might as well be in Tijuana. But, hey, at least it's sunny, and if Las Vegas won't pony up money for a Raiders stadium, we won't have to deal with the place much longer. -- MM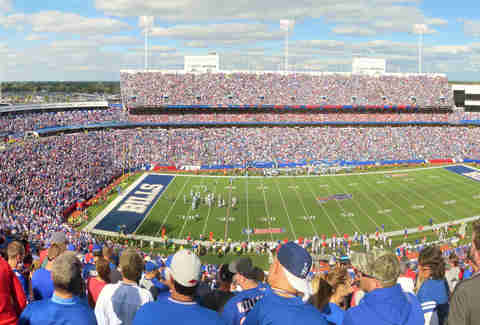 28. New Era Field
Orchard Park, New York
Home of the Buffalo Bills
Year opened: 1973
Coolest feature: The special-to-Buffalo version of "Shout," played after any Bills score, or more or less whenever anyone feels like reliving their favorite moments from Wedding Crashers.
Fun fact: Upon opening, it was among the first stadiums in the NFL to sell its naming rights, per a 25-year, $1.5 million deal with Rich Products, a local foodmaker.
New Era Field (nee Ralph Wilson Stadium, nee Rich Stadium) feels like a high school football stadium if you plopped an upper bowl on it. But first, you drive 30 minutes outside Buffalo proper to Orchard Park, a town of 29,000 people, to mingle with 72,000 fans who look, act, and drink like Rob Ryan. The tailgating is legendary, with guys in Bryce Paup jerseys powerbombing each other through tables. These maniacs stick it out through awful blizzards and worse football, seeing how the Bills haven't sniffed the playoffs since the Clinton administration. There's a reason Deadspin has turned "Bills fans" into its own gloriously NSFW coverage section. -- Ryan Craggs, News Editor
27. Georgia Dome
Atlanta, Georgia
Home of the Atlanta Falcons
Opened: 1992
Coolest feature: The new sound system installed in 2009, which of course was used to generate fake crowd noise.
Fun fact: The Dome played videos featuring Deltalina, the flight attendant from the Delta safety videos, as a humorous prank in 2008. Oh wait, this was supposed to be a fun fact. My bad. Nothing to see here.
There's a reason Falcons owner Arthur Blank partnered with the city for a futuristic new football and soccer stadium with a retractable roof, and you don't have to live in Atlanta to know it ain't because the Falcons earned it. With all due respect and nostalgia-whatever, the Georgia Dome is being replaced by Mercedes-Benz Stadium because, while it's nice enough on the inside, from the street view, it's the AMC Gremlin of American stadiums. Sure, those horrible teal seats and exterior wall paint were covered up with red and black, but that's basically the equivalent of whatever Jermaine Jackson's barber is spraying on his scalp. Let's be honest and admit it's time to retire the Georgia Dome the same way we said goodbye to the 1970s. -- Mike Jordan, Thrillist contributor
26. Mercedes-Benz Superdome
New Orleans, Louisiana
Home of the New Orleans Saints
Opened: 1975
Coolest feature: Champions Square, an area outside the stadium opened after the Super Bowl victory in 2010 so fans could actually do something akin to tailgating.
Fun fact: The Superdome holds the record for largest indoor concert ever: 87,500 watched the Rolling Stones here in 1981.
The Superdome has hosted more Super Bowls than any other stadium, proving that when it comes to any football game in New Orleans, it's much more about the all-around experience a short skip from the French Quarter than the stadium itself. Saints fans are just a generally happy lot, accustomed to tourist away fans taking up a good percentage of the seats. But if you're there to have a good time, they're completely welcoming.
Though the stadium has undergone several renovations and upgraded some facilities -- especially after Katrina -- the concourses are still small, the restrooms cramped, and the upper level seats a painful distance from the field. It's big and modern enough and for an indoor venue, still a great place to watch a game. But nothing here is all that memorable other than the drumline, the halftime marching bands, and the perpetual echoes of "Who Dat." -- MM
25. EverBank Field
Jacksonville, Florida
Home of the Jacksonville Jaguars
Opened: 1995
Coolest feature: Not one but TWO swimming pools fans can relax in at the Clevelander Deck.
Fun fact: There are eight churches within a three-block radius of this stadium. And yet the team is still terrible.
Did you know Jacksonville had an NFL team? Yeah, they played your team sometime in September when you swore you had a bye. Whatever, this is what happens when you play in the NFL's second-smallest market in a stadium exponentially better known for an annual regular season college game than for anything the Jags do. That said, after a recent renovation the stadium is large and comfortable, and with only a quarter of the seats in the end zones, it offers more good views than most stadiums in the NFL. The people in charge here know the on-field product is usually subpar, and have set up an area with two swimming pools called the Bud Light Party Zone with 18 TVs showing OTHER games.
So, no, the atmosphere here isn't intense; it borders on apathetic. Some fans are interested, others are just there to do something outside in Jacksonville that doesn't involve the word muddin'. But tickets are cheap, they let you bring in outside food, and going here is never a BAD time. It's just never all that special either. -- MM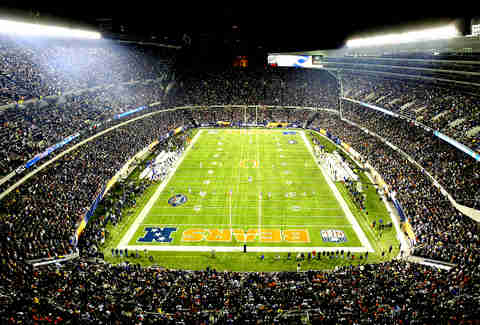 24. Soldier Field
Chicago, Illinois
Home of the Chicago Bears
Opened: 1924
Coolest feature: The original Doric columns on the exterior, which were preserved during a 2002 renovation resulting in what appears to be a alien spaceship landing inside the old stadium.
Fun fact: In 2012, Soldier Field became the first NFL stadium to receive LEED certification for its environmental friendliness. You would have thought some hippie California stadium, right?
So let's get this out of the way -- the aforementioned renovation became something of a local punchline for its, shall we say, less than seamless fusing of the original facade with something more modern. But most people got over that quickly because the interior represented a VAST upgrade of sight lines and amenities, and at least the stadium remained situated on the lakefront, affording a fantastic atmosphere walking in through the surrounding museum campus as you look out on the rolling waves of Lake Michigan (even if traffic and parking are something of a nightmare).
Also, having all the fancy-new stadium trappings is nice, even if your average Bears fan still gravitates towards the same Polish sausage and light beer he was consuming earlier that day in the parking lot. -- Matt Lynch, Thrillist Deputy Editor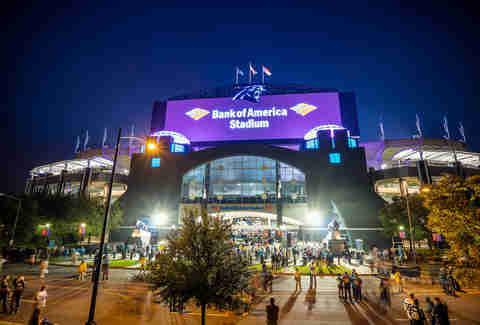 23. Bank of America Stadium
Charlotte, North Carolina
Home of the Carolina Panthers
Opened: 1996
Coolest feature: The city skyline that surrounds you as you watch the game, and the fact that the nearby Duke Energy building lights up in a colorful display when the Panthers score a touchdown.
Fun fact: The team claims the panther statues that stand guard outside the main entrances are the largest bronze sculptures ever commissioned in the US.
The amenities and convenience at BOA are top-notch. HD video boards, ribbon boards, a brain-jostling sound system make the field a real show, while escalator bays, tons of Carolina barbecue, fantastic sightlines, and sturdy Wi-Fi make a day there plain ol' pleasant. You can see the action from anywhere in the stadium, with an open-air view further heightened by a skyline backdrop that lights up to coincide with the scoreboard. It's a refreshing reminder that you're still in the city center, with post-game options galore for 75,000 sore-throated fans. Just plan to arrive early if tailgating is on your schedule; the address puts parking lots at a premium. -- Courtney Matinata, Thrillist contributor
22. Nissan Stadium
Nashville, Tennessee
Home of the Tennessee Titans
Year opened: 1999
Coolest feature: The neon lights of Lower Broad and the accompanying honky tonks full of beer, whiskey, women, and great music are a five-minute walk away from the stadium by pedestrian bridge.
Fun fact: Bud Adams, the team's late original owner, once garnered a $250,000 fine from the NFL for his double-bird salute from the owners box to the visiting fans after beating the Buffalo Bills.
It's always tough to see someone peak too early. Take the 1998 Tennessee Titans, who, in the final play of Super Bowl XXXIV, fell just a yard shy of taking the Rams to overtime. That was also the inaugural year in the team's new digs: The '98-'99 Titans were undefeated in the thunderous abode now known as Nissan Stadium. Team and building alike have struggled to live up to those glory days, with only minor upgrades in players and fan amenities in the years since. During the Titans' string of mediocre-to-dismal seasons, the team cut back on stadium personnel, leading to long lines to enter the stadium and purchase much-needed beers, despite dwindling attendance. Both the team and the crowds are improving, but the stadium is nearing the backside of its useful lifespan. -- Chris Chamberlain, Thrillist contributor
21. FedEx Field
Landover, Maryland
Home of the Washington Redskins
Opened: 1997
Coolest feature: Redskins' home games feature the oldest marching band in the league, which formed in 1937. There are open auditions every year and the all-volunteer ensemble performs "Hail to the Redskins" after every home team score. The only other NFL team with a marching band is the neighboring Baltimore Ravens.
Fun fact: The team has removed thousands of seats in three of the past five seasons because of poor attendance. Is this fact that "fun"? Not really. But neither is FedExField. If you were to have sent a Christmas card to the Redskins in 1997, you would've been sending it to Raljon, Maryland. When FedEx was built, it was named after the team's recently deceased owner, Jack Kent Cooke, and the site was named after his sons Ralph and John. That's right: Raljon, Maryland. Even though new owner Dan Snyder has done away with that Post Office-approved moniker, he hasn't made the field any more accessible, notable, or welcoming. And, oh yeah: putting his foot down on Raljon but keeping the other "R" name? -- Colin St. John, Thrillist contributor
20. FirstEnergy Stadium
Cleveland, Ohio
Home of the Cleveland Browns
Opened: 1999
Coolest feature: The infamous Dawg Pound, a group of masochists so dedicated to the Browns they show up to every game, sitting in the same section, dressed as dogs. They've effectively made the dog the Browns' de facto mascot.
Fun fact: You know why they take the caps off of all beer bottles at NFL Stadiums? Browns fans would routinely hurl them onto the field at old Municipal Stadium, leading to a league-wide ban.
Welcome to Cleveland! Titletown USA! Home of Champi… oh, wait. Yeah there's still the Browns. But, hey, at least the stadium is nice, assuming you aren't too bothered by the words "thirty-five below." Because the stadium was the cornerstone of the Browns' return to Cleveland after they moved to Baltimore and immediately won a Super Bowl, it's pretty nice -- a sight better than the team. Wide concourses, great food, big scoreboards, and all the things that make for a modern NFL palace. Tailgating here is great not only because of the knowledgeable fans, but because the city embraces and encourages it, unlike in other places. And while the surrounding neighborhood doesn't offer much beyond the Great Lakes Science Center and the Rock and Roll Hall of Fame, they still make a great indoor diversion when the bitter cold off Lake Erie renders the stadium uninhabitable. -- MM
19. Lincoln Financial Field
Philadelphia, Pennsylvania
Home of the Philadelphia Eagles
Opened: 2003
Coolest feature: Has a giant sports bar next door for people who want to tailgate and watch the game, but don't have tickets.
Fun fact: The stadium attempted to ban outside food (including the almighty Philly cheesesteak). The ban lasted ONE WEEK before they had to change it, because fans (justifiably) lost their minds.
The outside of Lincoln Financial Field is a land of wonder and joy (and fisticuffs). It's the best part of every game, because out there, the Eagles haven't yet disappointed their fans in spectacularly new and innovative ways.
You can take the Broad Street Line to avoid traffic AND start drinking early. Tailgates are unequivocally the best part of an Eagles game, because you can't lose the tailgate like you can the home opener, season finale, every rivalry, and the NFC Championship Game. For the cheap fans (most of us), you can still tailgate the game and watch every disappointing minute next door at XFINITY Live!, where you chase sorrows with mechanical bull rides and light-up shots of Rumchata (just me?). The inside of the Linc is a hellscape where dreams and civility go after their undignified death. But say this for the joint: Eagles fans will never, ever let you forget where you are. You're guaranteed to leave with new memories, kind of a feat for a weekend afternoon in Pennsylvania. -- Erin Weaver, Senior Social Media Editor
18. Paul Brown Stadium
Cincinnati, Ohio
Home of the Cincinnati Bengals
Opened: 2000
Coolest feature: Though it's been replaced by a far more sensible artificial turf, the field was covered in a Kentucky bluegrass playing surface for its first four seasons.
Fun fact: Hamilton County taxpayers have ponied up nearly a billion-with-a-'b' dollars in public funding for the stadium since PBS opened for business, and will take on a share of game-day operating expenses beginning next year.
A game at PBS has to be contextualized with the experience of attending a game at its predecessor, Riverfront Stadium, a Soviet-style concrete and artificial turf dual-sport monolith that hosted a decade and a half of execrable play from the home team. By contrast, the new place offers pigskin perestroika. Sight lines are good, the tailgating is on point, and by NFL standards, tickets and concessions are relatively inexpensive. And the on-field product is actually good of late! Thanks to climate change, fans coming from the Kentucky side of the Ohio River get to walk to and from games well into the holiday season via pedestrian bridges, adding a scenic touch to the game-day experience. -- Robert Weintraub, Thrillist contributor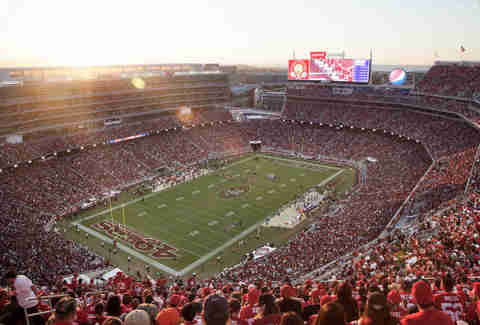 17. Levi's Stadium
Santa Clara, California
Home of the San Francisco 49ers
Opened: 2014
Coolest feature: The stadium has its own app (because Silicon Valley) that lets you get food delivered to your seat and tells how long the bathroom waits are.
Fun fact: The 49ers play the farthest from their named city of any team in the NFL.
One would think that a shiny, new $1.3 billion stadium like Levi's Stadium that's the greenest stadium in the NFL and the most high-tech stadium in the world would be higher up on this list. And all of the 49ers fans that spent thousands on their SBLs wish it were. Alas, despite excellent Wi-Fi, tasty food (including a $18 crab sandwich), a tap room with 30 varieties of craft beer, full bars (you need liquor if you're watching the Niners), and scoreboards that rank among the largest in the world, Levi's still sucks. It's sterile, soulless, and unlike its foggy namesake, unbearably hot (a fan died from heat-induced heart attack at the first pre-season game in 2014). It's also a long 45 miles from San Francisco. And the team on the field went from one of the best in the NFL to one of the worst in just two short years. Cue a Jed York shrug. He's laughing all the way to the bank. -- Daisy Barringer, Thrillist contributor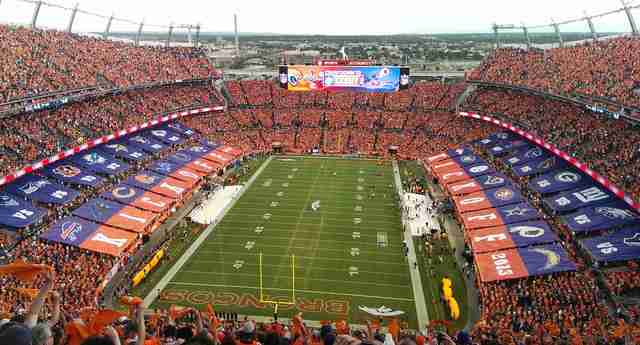 16. Sports Authority Field at Mile High
Denver, Colorado
Home of the Denver Broncos
Opened: 2001
Coolest feature: The fantastic craft brew offerings at Mile High include Breckenridge Brewery's United in Orange Pale Ale. It's brewed exclusively for the Broncos and sold only at the stadium.
Fun fact: There's a Kansas City Chiefs -- longtime rivals of the Broncos -- jersey buried somewhere near the 50-yard line.
Well, it ain't gonna be Sports Authority Field for long: The sporting goods company that owns the rights to the name of the Denver Broncos stadium -- it was originally called Invesco Field at Mile High -- has recently gone out of business. (The NFL and Broncos have refused to take offers for naming rights by local marijuana companies.) The name is a pretty good indication of what you're in for, here. The original Mile High stadium was gritty and ramshackle, but it had a lot of character. The current iteration has all the trappings you could hope for -- suites, craft beers and, well, a good football team -- but its corporate slickness lacks in defining aesthetics. What you can't ever change in Denver is a rabid, every-seat-has-a-butt-in-it fanbase, and the sight of visiting players huffing oxygen on the sidelines when they breathe our sweet, thin air. -- CSt.J
15. Metlife Stadium
East Rutherford, New Jersey
Home of the New York Giants AND New York Jets
Opened: 2010
Coolest feature: The stadium's aesthetic is totally customizable -- depending on which team is playing -- with thousands of adjustable-color LED lights, and the league's first removable end-zones.
Fun fact: It's the most expensive stadium in the history of the world and the only NFL stadium to house two teams.
To paraphrase NJ legend Bruce Springsteen, Metlife Stadium is a $1.6 billion air conditioner stuck in the mud, somewhere in the swamps of Jersey. "Giants Stadium II" / "Jetlife Stadium" (depending on your team) straddles the New Jersey turnpike in East Rutherford, sitting on a marshland, looking like a computer-generated stock image of a prototypical NFL stadium. But average, it is not. Metlife's coliseum-esque bowl shape creates a wall of fans, 360 degrees around the stadium, and its four massive LCD screens on both sides of the endzone are viewable from any angle. There's not a bad seat in the house. Hey, it was impressive enough to be the first open-air cold-weather stadium to host a Super Bowl, right?
Metlife, like its predecessor Giants Stadium, is known for its swirling winds and oft-frigid conditions that make life hell for kickers and quarterbacks visiting New York. The stadium gives off New York vibes that match the view of the Manhattan skyline. Yes, it's painfully bougie -- the box seats are some of the priciest and lavish in the entire league. And yet the crowds (particularly at Jets games) can be downright "you talkin' to me?" If you're rocking a Pats or Eagles jersey, expect to see a few birds flipped your way. Here, hedge fund managers and construction workers come together to hate on a common target, and it doesn't get much more New York than that. -- Wil Fulton, Thrillist staff writer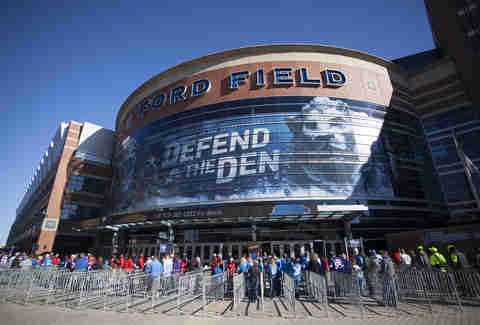 14. Ford Field
Detroit, Michigan
Home of the Detroit Lions
Opened: 2002
Coolest feature: The food offerings are exceptional, possibly the best assembly of local food you'll find in the state of Michigan. There's pizza from Bigalora, sandwiches from Russell Street Deli, sorbet and gelato from Zingerman's, BBQ from Slows, plus top local chains National Coney Island and La Shish.
Fun fact: The team finally added a team of cheerleaders in 2016, after more than 30 years of cheerleaderless games.
The Lions are not the Packers, or even the Bears, so when the Lions -- founded in 1929, participants in zero Super Bowls -- built a new stadium in 2002, they were wise to make their fans as warm and well-fed as possible. Lions fans are a perversely loyal group, but you can't ask them to shiver their asses off in the outdoor stadium like they do in Green Bay. Instead the Ford family built Ford Field in downtown Detroit -- an aesthetically pleasing indoor stadium with lots of natural light, good sight lines, and a host of dining options. Altogether it's almost enough to make you overlook the torturous product on the actual field. -- Bison Messink, Thrillist deputy editor
13. NRG Stadium
Houston, Texas
Home of the Houston Texans
Coolest feature: The two-paneled retractable roof, which takes seven minutes to open or close and helps immensely during Houston's late summer scorchers.
Fun fact: For the annual Houston Livestock Show & Rodeo, some 5,500 cubic yards of dirt are brought in to cover the stadium (another 2,600 cubic yards cover the livestock area and horse arena). After the rodeo, it's trucked out and saved for next year.
Hard to believe NRG Stadium was the first NFL facility with a retractable roof, considering it opened in 2002. That just seems to be how Houston rolls -- the city also invented AstroTurf, which the stadium began reppin' in 2015. Built to function as an intimate indoor arena but have the feel of the open air, the stadium rocks open-to-the-field concourses and a 71,500 capacity, with 8,200 club seats, 187 luxury suites, a bunch of club lounges and bars, two Killen's barbecue stands, and a Texans team store at which you can purchase J.J. Watt jerseys while wiping the tears from your eyes. Two colossal, 50ft-by-277ft HD screens sit pretty above each endzone, pumping up a crowd that admittedly plays home to a mixed bag of NFL fans (is anyone actually from Houston?). You'll find the loudest home-team crew in the "Bull Pen," a raucous bleacher section behind the north end zone. -- Brooke Viggiano, Thrillist Contributor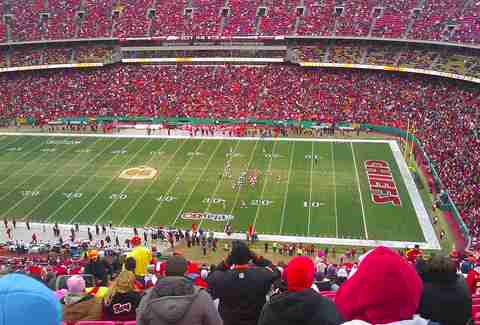 12. Arrowhead Stadium
Kansas City, Missouri
Home of the Kansas City Chiefs
Opened: 1972
Coolest feature: The football-shaped scoreboards, which as of 2009, are now hi-def!
Fun fact: In 2014 Chiefs fans set a record for loudest-ever crowd noise, recording 142.2 decibels, without the help of a metal overhang. The threshold for physical pain from noise is 125 decibels.
A game at Arrowhead is about as close to a college football atmosphere as you'll find in the NFL, without having to risk hypothermia at Lambeau. And much like with college games, you don't really even need to go inside the stadium to know that's true. Tailgating here starts early, as once the sun rises the lots around the stadium are a sea of smoke and red jerseys. Fans are knowledgeable and dedicated, an impressive feat of SEC-like dedication for a team that has one just one Super Bowl, and that in 1970.
Inside, the noise is deafening, as Chiefs fans pack a louder roar than even Seattle, which has the benefit of stadium design to amplify sound. This open-air beauty has widened its concourses in recent years to make it feel less crowded, but just as intense. And even if the on-field product isn't always something to cheer for, the BBQ offerings in the concourse can be. And it might be the only stadium in pro sports with its own gourmet mac and cheese bar. -- MM
11. M&T Bank Stadium
Baltimore, Maryland
Home of the Baltimore Ravens
Opened: 1998
Coolest feature: RavensWalk, a gauntlet of food, booze, and live music that stretches from Camden Yards to M&T Bank stadium, basically ground zero for all pregame partying.
Fun fact: The Ravens have their own marching band -- the Marching Ravens -- who began in 1947 as the Baltimore Colts Marching Band.
Locals consider M&T Bank Stadium was a big middle finger to the NFL and Bob Irsay for depriving Baltimore of a football team for 13 years. Bawlmer lured the old Browns to town with a purple palace it continues to deck out. (Not that the NFL minds one bit having fantastic venues in its portfolio.) The Ravens constantly invest in the place, updating scoreboards, lighting, and even adding a natural grass playing surface this past offseason. And though games here can get bitterly cold, the football-obsessed fans of Baltimore still show up in passionate droves. There are two statues outside the stadium -- Johnny Unitas and Ray Lewis -- but it's Johnny's foot that everyone rubs for good luck before the game.
Tailgating here can get exceptionally rowdy, and the area around the stadium draws Bawlmer denizens there as much for the party as for the game. With bars like Pickles Pub and dives in Ridgely's Delight, the stadium feels like a centerpiece to a city-wide party. The concessions are distinctly Maryland, with Old Bay everything and the must-have crab pretzel. And if you don't like Natty Boh, well, you just haven't had enough of them yet. -- Jess Mayhugh, Thrillist contributor
10. Raymond James Stadium
Tampa, Florida
Home of the Tampa Bay Buccaneers
Opened: 1998
Coolest feature: Buccaneer Cove. It's not only home to the famous 103ft pirate ship, but a fun outdoor area where you can watch the game while crushing pirate-themed concessions.
Fun fact: Raymond James is built on the former site of Al Lopez Field, the longtime spring training home of the Chicago White Sox and Cincinnati Reds.
Really all that's missing from this place being the football embodiment of the Pirates of the Caribbean ride is a wench running away from Jameis Winston. Cannons fire every time the Bucs score (not as often these days). You get 65,000-person sing-alongs to "Yo Ho (A Pirate's Life for Me)." The folks in charge of the in-game experience make sure you know you're at a Bucs game. Combine that with the absolutely knockout Florida weather, and it really doesn't matter that the team has been irrelevant for a decade-plus.
The seats here are big and comfortable, and because Ray-Jay was designed as a football stadium, the sightlines are good everywhere. Of course, someone thought it would be a great idea to leave most of the seats uncovered, so 1pm kickoffs before October will have you losing half your body weight in sweat before halftime. Which is fine, actually, because the tailgating here is surprisingly fantastic. Though the surrounding neighborhood is nothing to speak of, the sprawling parking lots, mild Decembers, and pleasant fans make it a fun place to party both before and after games. Even if you have absolutely no interest in pirates. -- MM
9. Lucas Oil Stadium
Indianapolis, Indiana
Home of the Indianapolis Colts
Year opened: 2008
Coolest feature: On the edge of the stadium's immense parking lot sits, all alone, an ancient-looking building that houses the Hurst's Beans company. The maker of dry bean soup mixes was supposed to be bulldozed to create yet more parking. Instead a grassroots movement saved the structure, which today hosts awesome (and bean-intensive) tailgate parties.
Fun fact: The Vince Lombardi trophy the Colts won in the 2006 Super Bowl is displayed around the stadium during games. Have your selfie stick ready.
The Indianapolis Colts are stinking up the place lately, but if you choose to suffer through a game in person, Lucas Oil remains a great place to do it. The brick behemoth is meant to look like an old-school high school gym -- albeit one with a retractable roof and a massive (also retractable) bank of windows at its north end. With the top closed, the noise from 62,000 spectators gets projected onto the field, making this a decidedly unfriendly place for visiting teams. Even the nosebleed seats provide a (mostly) unobstructed view, though the ones directly under the press box can be iffy. You can follow the action on a couple of massive "video walls," plus smaller screens located pretty much everywhere you look. The concessions menu offers one true gem: an authentic breaded tenderloin sandwich. This is basically a piece of pork pounded paper thin, flash fried, and served on a bun with fries. Unheard-of outside of Indiana, it's the Hoosier state sandwich and well worth a taste. -- Sam Stall, Thrillist contributor
8. U.S. Bank Stadium
Minneapolis, Minnesota
Home of the Minnesota Vikings
Opened: 2016
Fun fact: Though U.S. Bank Stadium secured the 2018 Super Bowl and the 2019 NCAA basketball tournament, Minnesota was unable to entice the WWE to host Wrestlemania 33 in 2017.
Coolest feature: Its 55ft-wide, 95ft-high doors are the largest pivoting glass doors in the world, containing over 30,000sqft of glass and weighing more than 40,000 tons.
Look, there's enough litigious sludge surrounding U.S. Bank Stadium to make any Twin Cities taxpayer cringe at the very mention of the name, but the simple fact is the brand-spankin'-new home of the Minnesota Vikings is the newest, edgiest home stadium in America. With tall corners of glass met with jet-black layers of stone, "The New Star of the North" cuts an imposing, definitive figure in Minneapolis' skyline. Inside, sunlight is captured in an atrium-like prism, with outstanding weather control and visibility. The concessions are world-class as well, with local destination restaurants Kramarczuk's and Revival represented. In a city with five (five!) pro-level stadiums, U.S. Bank stands above its peers with an outstanding selection from over 14 local craft breweries, erasing any memories of the Metrodome. Now if the Vikings could just put together a team worthy of playing on its turf. -- Jerard Fagerberg, Thrillist Contributor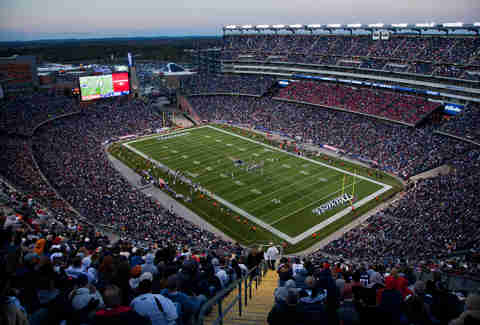 7. Gillette Stadium
Foxborough, Massachusetts
Home of the New England Patriots
Opened: 2002
Coolest feature: Because Gillette is sorta in the middle of nowhere, the Pats designed Patriot Place, a veritable city of its own with 1.3 million square feet of shopping, restaurants, a hotel, and even a bowling alley.
Fun fact: There are more than twice as many parking spots in Gillette's lots as there are parking meters in Boston.
When you take the rather long journey -- especially if you're a fan of the team the Patriots happen to be playing that day -- from Boston to Foxborough, you may forget to plan your meals appropriately. But, fear not: Gillette is has some of the safest food in the league, with zero reported critical violations. (The Patriots oversee the food themselves, unlike outsourcing as most other teams.) A lack of food poisoning will allow your other senses to notice that Gillette feels massive, especially in the lower sections -- like it's closing in on top of you. It's a tinge of paranoia that no doubt many visiting teams have felt when going up against New England's sizable home-field advantage. -- CSt.J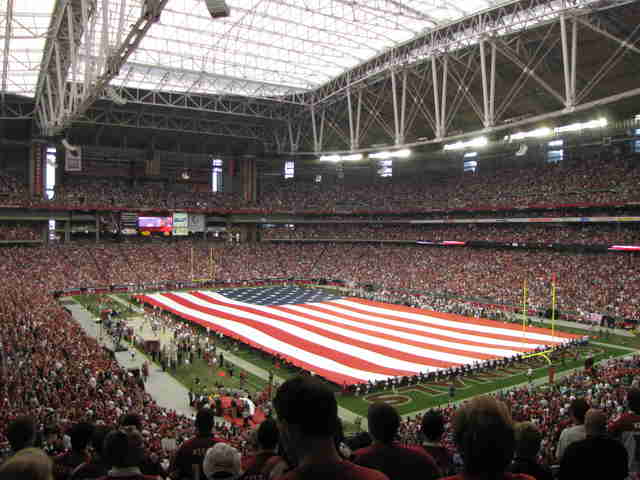 6. University of Phoenix Stadium
Glendale, Arizona
Home of the Arizona Cardinals
Year opened: 2006
Coolest feature: The grass on the field is completely removable so it can grow off-premises while the roof is closed.
Fun fact: The exterior was designed to resemble a barrel cactus.
Host to two Super Bowls and the annual Fiesta Bowl, the Nest is a true big-game Cadillac of stadiums. None of its 63,400 seats (expandable to 72,000) is subpar. Architects opted out of putting seats in the upper end zone because the view is obstructed -- good lookin' out. Only about half of NFL teams play on real grass, yet none quite like the Cards. The grass here is built atop an advanced drainage system that can roll right out of the stadium. This allows the turf to be exposed to natural sunlight, which sets the playing surface here apart from other domes. The Big Toaster has also got a retractable roof -- but this is Arizona and it's hot as hell, it's typically closed and the A/C is undoubtedly blasting, making fans feel right at home, in more ways than one. -- Lauren Topor, Thrillist contributor
5. Hard Rock Stadium
Miami Gardens, Florida
Home of the Miami Dolphins
Opened: 1987 (massive renovation in 2016)
Coolest feature: The Ford Field Club. Strangely sharing a name with the Lions' stadium, it plunks fans in big teal recliners on the field, with a flat-screen TV and an iPad.
Fun fact: Hard Rock Stadium is home to the only fully organic concession stand in sports -- Grown -- owned by former Heat star Ray Allen and his wife, Shannon.
By a stroke of typical Florida genius, the designers of the original Joe Robbie Stadium thought a venue designed to house two pro sports during Florida summers didn't need an overhang. As such, Dolphins (and Marlins) games that started before 7pm generally fluctuated between occupationally-illegal heat and torrential downpours. But the Fins finally fixed all that and covered the place with a giant canopy that now keeps fans cool and dry, and might just finally give the Dolphins a home field advantage: the newly covered Hard Rock is already noticeably louder.
The seats, now designed for football only, are closer to the field and give the place an almost arena-like feel from down low. It's Miami, so of course LIV has a location in the club level, where South Beach partiers who didn't bother sleeping between the club and the game can keep the party rolling. And if you love street art but hate Zika, skip Wynwood and roam the concourses with their collection of murals that includes a portrait of Don Shula jackhammered into the stadium's wall. Tailgating here is fantastic with sprawling lots and literally nothing around them, and the Dolphins are the first team with a designated Uber tailgate area for people who want to rideshare to the game and still fire it up. -- MM
4. Lambeau Field
Green Bay, Wisconsin
Home of the Green Bay Packers
Opened: 1957
Coolest feature: The field itself. Through updates over the years, the basic structure of the original bowl and field location have remained. It doesn't feel quite like anyplace else, occupying that Wrigley/Fenway space in the collective imagination of football fans.
Fun fact: Lambeau is the oldest continually operating NFL stadium (Soldier Field is older, but the Bears played at Wrigley Field until 1971).
As much as the small town "we're not just fans, we're OWNERS" vibe of Packers fans can grate against outsiders, even the most hardened Bears or Vikings fan will (perhaps grudgingly) tell you that a visit to Lambeau is a must for any football -- hell, any sports -- fan. It starts with the town-consuming tailgating: generations of fans cooking up beer brats in the same spot they've staked out for years, who are nonetheless remarkably welcoming to outsiders (pre-game, that is -- if the Packers lose, the post-game reception is a different story). It continues with your visit into a stadium that has managed to stay sufficiently updated with the times (including a shiny, glass-fronted atrium facing Lombardi Avenue) without sacrificing its time-earned gravitas.
And if you happen to visit on a snowy December day, staring out into the sea of fans keeping warm in orange hunting gear as you pound beers and eat cheese curds by the handful just to keep your jaw from chattering, and watch the place go absolutely bonkers for the Lambeau Leap and ensuing Todd Rundgren soundtrack, you'll find yourself a little less irritated next time Chris Berman grumbles about "The frozen tundra of Lambeau Field." A little less. -- ML
3. Heinz Field
Pittsburgh, Pennsylvania
Home of the Pittsburgh Steelers
Coolest feature: The Great Hall on the 100 Level, a Hall of Fame-caliber collection of memorabilia from the Steelers and the Pitt Panthers, the stadium's other tenants.
Fun fact: The Steelers' unofficial rally anthem is "Renegade" by Styx. STYX!
No venue in the NFL better represents its city and team than Heinz. Its everyman, condiment-based moniker and 12,000-ton steel-reinforced construction is an ode to the "Stillers" and Pittsburgh's smashmouth historical persona, while its aesthetic beauty and comfort embodies the modernity of both the city's tech boom and the pass-happy offense. While other stadiums claim to be "the most vegan-friendly venue in the NFL" or tout their pulled jackfruit "BBQ," Heinz Field contentedly dishes solid local cuisine: Primanti Brothers, Benkovitz Seafoods, and Quaker Steak & Lube.
The stadium has no artificial architectural noise enhancers, and its capacity of 68,400 ranks in the bottom half of NFL venues. No matter; the team's current home sellout record (since 1972) is ensured in the raucous, towel-waving atmosphere. The sightlines -- 60ft from the sideline to the first row, 25ft in the endzones -- are superior. The Gateway Clipper Riverboat arrival to games lets you pay homage at the Immaculate Reception Monument and Art Rooney statue en route to and outside of Gate A. For the stadium's tailgate-grade pre- and post-game parties, start at Jerome Bettis' Grille 36 and head up North Shore Dr for a myriad of bar and dining options. For even more scenic views of the Three Rivers as you crush Iron City Beer and pierogis, an open-bar "sailgate" offered by local boat charters will make your football Sunday in the City of Champions. -- Aaron Klueber, Thrillist contributor
2. CenturyLink Field
Seattle, Washington
Home of the Seattle Seahawks
Opened: 2002
Coolest feature: The shell-shaped roof not only makes this stadium the loudest in the NFL, it keeps hardcore football fans from getting rained on.
Fun fact: Seismologists say the noise created by Hawks fans after Marshawn Lynch's famous 67-yard run against the Saints in the 2011 playoffs registered the power of a 1.0 earthquake.
Pro football analysts, those chronic exaggerators, at least don't overstate the noise inside CenturyLink. Take a listen to an opposing team broadcast -- made up of announcers and engineers not accustomed to the noise -- and they're frequently impossible to hear before key third downs. The key is the genius engineering that traps noise and positions spectators as close as 40ft from the field, just one example of design contributing to the team's resurgence.
Think about it this way: The Seattle Seahawks were an irrelevant franchise until the early 2000s. Build this place? All of a sudden they've made three Super Bowls, and brought Seattle its first pro sports championship since 1979. And it's not because of their bold use of lime green. The stadium -- and the rabid fans inside -- can get as much, if not more credit for Seattle's success as Pete Carroll. The Seahawks have won 70% of their home games since CenturyLink opened.
Plus, it's just a hell of a place to blow a Sunday -- and a few hundred bucks. The concourses are huge, with varied food options that include salmon and gourmet coffee, all at prices designed for Amazon transplants. OK, so the Hawks have priced out many of their loyal fans, but they can still tailgate outside, right? Notsomuch. The rules and regulations in the stadium lots and surrounding city lots have, as one Seattle fan put it "pretty much banned fun." So it'll be interesting to see how enjoyable a game experience this is if the team shuffles back to mediocrity. -- MM
1. AT&T Stadium
Arlington, Texas
Home of the Dallas Cowboys
Opened: 2009
Coolest feature: The stadium is itself a $1.15 billion homage to the absolutely iconic Texas Stadium, keeping the classic hole in the roof -- often explained as a window so God can watch the Cowboys on Sundays -- as a part of the Cowboys' heritage.
Fun fact: There's a bonafide art gallery inside the stadium.
Surprisingly, the 175ft screen looming over the field isn't all that big of a reason why Jerry World is such a great stadium, even if it is every punter's favorite target. More vitally: The place is Texas-big and, like the Metroplex, has a zillion little enclaves. Its opening day saw 105,121 fans set the NFL's attendance record, but more impressive than the sheer quantity of people that fit in the pigskin-shaped football mecca is the ways in which they can attend. Want the convenience of a suite but can't stand being so far from the field? There are luxury suites at the freakin' field level. Prefer more of a college-y atmosphere? Grab yourself a standing room-only ticket and watch from a football crazed balcony. None of that good enough for you? There's a bonafide sports bar inside the stadium, complete with $45 ribeyes.
Regardless of your seating preference, you'll get more than good food and a quality football game. Modern art abounds inside AT&T stadium, from sculptural installations, to paintings, to huge murals designed to complement the escalators. Throw in the shockingly strong resurgence of America's Team and you have hands-down the best game day experience in the NFL. -- Aaron Miller, Thrillist Cars Editor
Sign up here for our daily Thrillist email, and get your fix of the best in food/drink/fun.