Going au naturel at the beach often feels like an all-or-nothing situation. While some appreciate joining the revelry of an official naturist resort, those who don't want to go all-in with an extended experience can ease into the concept at clothing-optional beaches without feeling like they've run off and joined some kind of commune.
Outside of the Mediterranean, so much as tanning topless could be enough to get slapped with public indecency charges. Even donning a thong bikini may be questionable in some areas, but at these (mostly official) clothing-optional beaches, you can tan as you choose without having to worry. Keep in mind that you still have to follow the rules of nudist resorts, so skip the photos and remember that public sex and nudity are two very different scenarios.
There are a handful of great nude beaches in the US (we've pinpointed our faves here), but we also combed through some of the secluded shores in more far-flung locales to compile this list of the best nude beaches around the world. Some are clothing-optional, while others ban clothing altogether, which makes these little pockets of paradise all the more desirable. The best part about nude beaches? No need to worry about tan lines or investing in a new suit this season.
Spiaggia di Guvano
Corniglia, Italy
This small shoreline is a far cry from the Riviera's tourist-packed beaches, and that's exactly what has made this pebble-strewn, secluded sliver in trail-covered Cinque Terre a favorite for nudists. Sandwiched in a bay between Vernazza and Corniglia, the trails and railway tunnels that once served as pedestrian paths to the beach are so treacherous, some have been closed to the public. Sure, you can try your luck navigating your way down, but your best bet to get here in one piece is by boat.
Red Beach
Crete, Greece
Red Beach gets its name from the rust-colored sand, but it's more widely known as one of Crete's most nude-friendly shores. You'll have to take a short hike from the village of Matala, which can be somewhat challenging, but once you arrive at the practically untouched beach (which has just a small drink and snack stand) and dive into the crystal-clear turquoise water, the trek will be immediately worth it. A word to the wise: The sand is a little coarse, and "a little coarse" can be an understatement when you're bearing it all, so bring a towel.
Plage de Tahiti
St. Tropez, France
St. Tropez's beaches helped pioneer the topless sunbathing craze of the '60s, and Plage de Tahiti is one of the more famous on the peninsula. It's also a well-known celebrity haunt, but better not to snap pics—it's all about people-watching here, and you may even spot someone like Eva Green or Gérard Depardieu. But hey, you take the pros with the cons.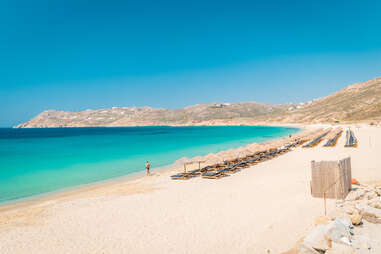 Paradise Beach
Mykonos, Greece
Nude beaches are often pretty laid-back, since most people are simply lounging or picnicking. Paradise Beach, on the other hand, is on an island known for its partying spirit. Considered one of the best nude party beaches in the world, this popular gay locale really heats up when the sun goes down. Expect international DJs spinning music all day (and night) at the beach clubs and bars—plus camping, so you don't have to go too far when the party wraps up. Time your trip around the monthly full moon party, when Paradise Beach transforms into one of the island's largest nightclubs.
Patara Beach
Patara, Turkey
Patara is the longest beach on the Turkish Riviera, and as one of the more preserved in the Mediterranean, you'll find powder-soft sand and crystal-clear water. Plenty of wildlife call the coastline home (it's a protected nesting site for sea turtles), and the view is pretty spectacular at sunset, so bring a picnic and plan to linger into the evening (in which case, you may want to bring a layer or two for later).
Vecaki Beach
Riga, Latvia
What you may not know about Latvia is that the country's coast is over 300 miles of pure, uninterrupted Baltic beach—not bad for a country the size of West Virginia. Just north of Latvia's capital is the country's biggest naturist beach. The nude-friendly portion of shoreline spans from Vecāķi to Kalngale, and is a popular beach volleyball spot for locals. That's right, naked Latvians playing beach volleyball. We'll leave it at that.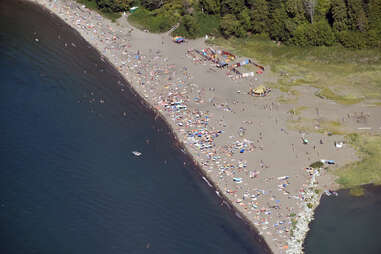 Wreck Beach
Vancouver, Canada
At the west end of University Boulevard, about a 15-minute walk from the University of British Columbia Vancouver campus, take the steep stairs down to Wreck Beach, which is part of Pacific Spirit Regional Park. The forested (and somewhat challenging) trail opens up to an isolated piece of paradise where musicians play through sunset and volleyball is one of the more popular activities on the sand. Bring your own snacks or snag something from one of the vendors propped up along the sand. Be sure to order early if you want homemade empanadas from Lucy's.
Samurai Beach
Port Stephens, Australia
Along with the nearby One Mile Beach, Samurai, a popular surf spot, is located next to Tomaree National Park and is well-maintained year-round. It's about an hour walk to one of the best swim spots at One Mile, yet unlike the family-friendly beach, Samurai and the nearby campground are entirely clothing-optional. You'll still have to throw on shorts or a bathing suit if you want to explore the surrounding bushland or dunes, and there are campsites located just behind. Half the fun is getting to Samurai, since you'll need a 4WD vehicle to make the trek to the campsite.
Haulover Beach
Miami, Florida
Party-centric South Beach is what one might describe as topless tolerant, but if you want to slip everything off without worrying, head north to Haulover. Europeans and South Americans mix with some stripped-down locals, so the beach has become an international tourist attraction for those heading to South Florida. It's less than half an hour from South Beach—or anywhere else you'd want to go in Miami or neighboring Ft. Lauderdale—so it's an easy beach to access. Just keep in mind that although it's well-marked, more than a few fully-clothed beach joggers find themselves running through here, so it's not exactly private.
Mai Khao
Phuket, Thailand
One of the longest nude beaches on the island, Mai Khao spans nearly 7 miles, so you'll never worry about finding a stretch of sand to spread out on. If you're looking for a party, this isn't the place. Tranquility is the draw here, so you'll have to provide your own entertainment. But given the lack of crowds and the stunning natural surroundings, you'll quickly see the appeal. And since the beach is pretty untouched except for a few restaurants, it's no surprise it's the only on Phuket where turtles come to lay their eggs.
Valalta
Rovinj, Croatia
Since Valalta is part of an award-winning naturist campsite in Istria, the nearly two-mile-long beach has something most others lack—adequate shade. Take your pick of a few different campsites for tents and caravans sitting just steps from the sea. There's also a pool with a bar and a water slide—plus an onsite brewery, meaning plenty of local beer on tap. Seriously, Croatians just get it.
Hippie Hollow Park
Austin, Texas
This secluded, rocky shoreline on Lake Travis has been Texas' only clothing-optional "beach" for more than 30 years, though it took some legal finagling in the 1970s to make it official. Since then, it's become a popular weekend spot where Texans drink beer under the sun while boaters cruise by. In a city bent on keeping itself weird in the face of a huge development boom, Hippie Hollow is a big help. Daylong parties are the norm here—cookouts and booze are totally fine. Once you leave the parking lot of the public park, clothing is optional. And unlike most nudist beaches, there's an 18 and over policy, so you won't be surrounded by a ton of teenagers or families with young kids.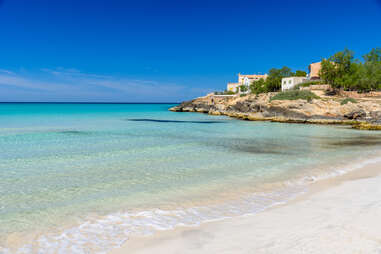 Es Trenc
Majorca, Spain
The secret's out on this one, and during the peak summer months you're likely to find hordes of visitors along the white sandy shores of Es Trenc—considered the island's last natural beach (meaning no sprawling resorts competing for a place on the sand). Fortunately, the central area of the beach—the nude part—tends to be less choked than the rest, and motorized vehicles aren't allowed on the beach here, so you can bask in the incredible beauty of the place in relative privacy.
Praia do Pinho
Balneário Camboriú, Brazil
Located about 50 miles north of Florianopolis, once rated happiest city in the world, Praia do Pinho is widely considered to be the first naturist beach in Brazil—one where you can even rent cabins and settle in for the weekend. But there are rules in this paradise. First off, nudity is mandatory here, so no taking off your shirt and then being all like, "I'm totally going to get settled in first." Second, unaccompanied males aren't allowed on the beach, unless they're members of the International Naturist Federation. So, if you're sans "naturist passport" (though we're not sure how said cards are acquired), be sure to show up with a female companion.
Little Beach
Maui, Hawaii
Some might argue in favor of the black sand beach at Kehena, but our pick for the best clothing-optional beach in Hawaii is along the soft white sands of Maui in a hidden, woodsy cove with big Pacific waves breaking on the shoreline. It's every bit the Hawaiian vacation fantasy—minus the bathing suits. Just one catch: Although technically nudity is illegal here, it's tolerated by local law enforcement but still meant to be something of a secret (hence the nickname Secret Beach).
Black's Beach
San Diego, California
The best nude beach on the Pacific—and one of the largest in the country—sits just north of San Diego near Torrey Pines. Given the location, it draws California beach-types rather than hippies, and feels more like Endless Summer than a beachside Woodstock (seriously, these are the best surf breaks of any nude beach, anywhere). Just remember it's still the Pacific Ocean, so while being naked might be liberating, it can be a little chilly. And pay attention to where you strip down—nudity is only legal on the state-owned portion of the beach.
Gunnison Beach
Sandy Hook, New Jersey
The National Park System is one of our great American treasures, and perhaps nowhere can we appreciate it more than here, at the largest clothing-optional beach on the East Coast. This former Army testing site is now managed by the NPS, and therefore exempt from New Jersey's state laws banning nudity on beaches. And it's close enough to NYC to offer stunning views of Brooklyn and the Verrazano-Narrows Bridge. That also means it can get crowded, but one upside is that since the beach sits on federal land, booze is allowed, so you can BYOB.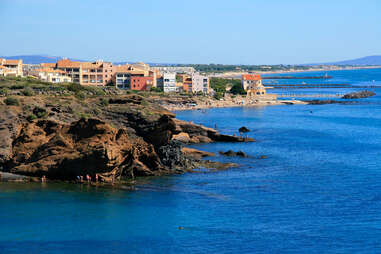 Cap d'Agde
Agde, France
As the world's largest clothing-optional beach resort, this village in the Languedoc, along the Mediterranean coast, has all the traditional outfittings of a resort town—bars and restaurants, shops, beach chairs, hotels, and holiday rentals—but also allows for the comfort of total nudity anywhere in the village. This is truly the place to be on New Year's Eve, when everyone skinny dips for the last swim of the year.
Playa El Torn
Tarragona, Spain
At almost a mile in length, El Torn's no slouch on size, so you'll have plenty of personal space when the locals and tourists descend. It's a protected beach, backed by a pine forest that, once you put your clothes on, makes for some challenging hikes and offers spectacular views of the water. You can also walk out onto the rocky promontory that forms the small island of Torn, where remnants of an old abandoned watch tower still stand. A coastal footpath that's a favorite for hikers also runs parallel to the coast.
Sandy Bay
Cape Town, South Africa
It's hard to find a secluded place in bustling Cape Town, but if you're down for a little hike—and Cape Town is overflowing with great outdoor strolls—you can trek down the beach to Sandy Bay and reward yourself by skinny dipping in the Atlantic. This quiet stretch of sand, where there's no direct vehicle access, isn't far from the busy Llandudno Beach, but since it's surrounded by dunes and boulders, it manages to be walled off from the rest of the area without being completely isolated.
Anse de Grande Saline
St. Barts
Anse de Grande Saline is the opposite of what most of us think when we envision a typical Caribbean nudist experience, which generally involves all-inclusive resorts like Hedonism II in Jamaica, where all-out nudity and an endless supply of food and alcohol come together with expected results. Here, on the southern coast of the island, you have almost everything you want in a Caribbean beach: white, powdery sand, turquoise water, and a wild coastline that invites discretion. Since it's a bit of a walk to the secluded cove, you'll be able to find a spot and enjoy it in relative privacy. The downside? Finding shade here isn't easy, so bring an umbrella to avoid burning areas that don't often see the sun.