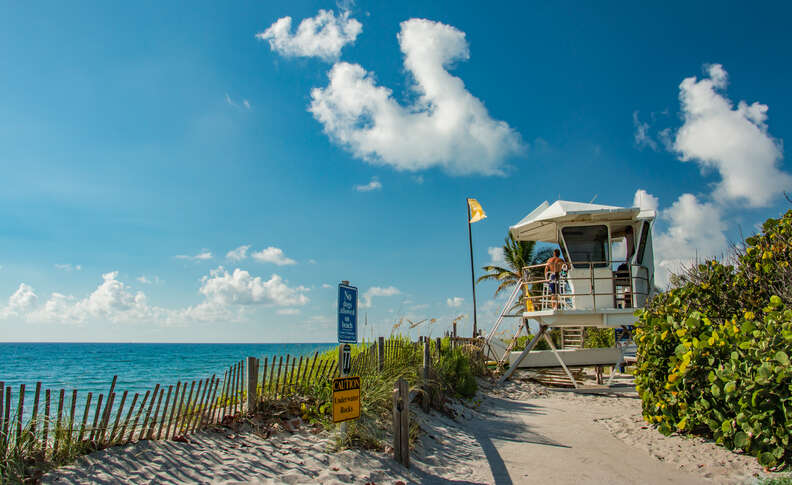 Hobe Sound, Jupiter Island

| Edie Ann/Shutterstock
Hobe Sound, Jupiter Island

| Edie Ann/Shutterstock
Stepping onto a nude beach in Florida isn't exactly like stepping onto the set of a sultry music video with a cast of extremely attractive, scantily-clad people. It's a little more like stepping onto the set of Cocoon. But you know what? Who cares. The point of a nude beach is to not care what anyone thinks of your body, and just be proud of what God gave you without marring it with unsightly tan lines.
So with year-round sunshine, over 800 miles of coastline, and a population that gives approximately zero fucks, you'd think nude beaches would be as common as afternoon thunderstorms and fraud. But for some reason, Florida has precious few places where you can tan au naturel without fear of embarrassing legal repercussions. Perhaps it's because a big part of our state is still in the Bible Belt. Or maybe it's because the people on our nude beaches aren't always the ones you want to see naked, so nobody's clamoring for more. That said, Florida's nude beaches are still some of the best in the world. So pack up your cooler, bring a little extra sunscreen, and leave your judgment at home. Here are the seven best nude beaches in Florida.
Haulover Beach
So you finally wanna get naked on a beach? Go here first.
Miami
One of the most entertaining things to do during a day at Florida's most popular nude beach is sit along the park's southern border near Bal Harbour and watch tourists on their morning runs unknowingly stride right into the middle of hundreds of naked bodies. Not one can -- or will -- hide their complete shock. Still, once you've gotten used to the sea of skin it's just like any other beach in Miami with beautiful turquoise water and grainy sand. There's even a chair rental guy who will happily look you right in the eyes while conducting business.
The beach is located in Haulover Park, and you'll have to park across Collins Avenue and walk under the road to get there. But once on the sand, the feeling of being there is relatively nondescript. And for a nude beach first-timer, there might not be a better spot in America.
Playalinda
A nudist haven forgotten by society and condo developers
Titusville
Following the signs from Titusville to the Merritt Island National Wildlife Refuge might lead you to think the place is full of turtles, manatees, storks, and other Florida flora and fauna. Which it is. But head out a little further to Playalinda Beach and you'll find another breed of natural Florida wildlife: Nudists. Characterizing them as "wild" might be a bit misleading -- the crowd here isn't exactly boisterous -- but it's definitely uninhibited and a welcoming place for anyone looking to try the naturist lifestyle. You won't find them stretched through all of Playalinda, though, as most keep to the far stretch up near Access #13.
The beach is typical of Central Florida: Blue water and thick sand, and there's not much here in the way of amenities. Hiking (with your clothes on, please) through the refuge can be a nice way to break up the day, just be advised going north of Access #13 to Klondike Beach requires a backcountry permit. And it's barely over an hour's drive if you find yourself at Disney with an extra day to explore.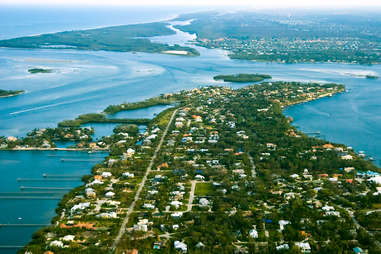 St. Lucie Inlet
Mansions and mystique set the tone at this inlet
Jupiter
Though not nearly as popular as some other clothing-optional spots in the state, St. Lucie Inlet gives you a chance to sunbathe in the buff just steps from Celine Dion's house. OK, that's a slight exaggeration, but the mega mansions set along the ocean here are celebrity favorites. And while you probably won't see any of them out tanning sans swimwear, that doesn't mean you can't.
St. Lucie Inlet is another beach where it's not technically legal to be naked, but heading a little south of the boardwalk finds you in a secluded spot where nobody will bother you. Head here during the week and you might find it tough to figure out where this section starts, as there might not be any other nude sunbathers to clue you in. But since nakedness isn't unheard of at St. Lucie Inlet, just pick a spot and keep to yourself, and you should be just fine.
Hobe Sound
An amazing beach with the added sight of massive waves crashing on limestone formations
Jupiter
The beach here offers the same celebrity-adjacent nude sunbathing thrills as nearby St. Lucie Inlet, but with the added proximity of the Blowing Rocks Preserve. Yes, you'll have to wear clothes there, but the limestone formations and massive waves crashing off of them are one of the coolest natural attractions in Florida, and a must-see before or after your nude beach experience.
If just sitting on the sand in your birthday suit gets a little old, Hobe Sound also offers naturist boating expeditions that'll take you to St. Lucie Inlet as well as along the Hobe Sound Pipe Crossing. Try not to giggle too much. It's a scenic ride around Jupiter island, by some of the most impressive beachfront homes in the state.
Blind Creek Beach
Sand and azul waters as far as the eye can see mere minutes from A1A
Fort Pierce
As nude beaches in Florida go, this one might feel the most remote, even though it's only about 8 miles from the Jensen Beach Causeway. There's not much in the way of development here, and the little brown sign on the side of A1A is pretty easy to miss. But once you're there, the beach feels like a step back into a time before anyone set foot in Florida, where views both north and south show nothing but sand, ocean, and vegetation. That's a big part of the reason Blind Creek is so popular with naturists: It really feels like nature, so walking around without anything but a layer of sunscreen doesn't feel weird.
South Beach
Watch out for camera phones (read: avoid on the weekends if you really wanna get naked)
Miami
Once upon a time in an era before phone cameras and social media, South Beach was the American Riviera where topless tanning and occasional nudity was pretty much the norm. Now, not so much, as the abundance of amateur beach "photographers" has made nude sunbathers a little more wary. That said, toplessness is still tolerated (for the most part) and if you head to less-populated areas during the week, and keep a lookout for sketchy dudes with phones, it can be a nice experience.
It's also the only beach on this list that's not set in a park or other natural preserve. Which does lend itself to a lot of onlookers, but also gives you things to do off the beach other than look at egrets.
Apollo Beach
Great for those who love seclusion, jokes about the moon, and turtles
New Smyrna
If you've got a friend who's a fan of dad jokes and nude beaches, this might be the best place in the world. This beach that shares a name with the famous moon missions sits on the Canaveral National Seashore, allowing for endless jokes about moons and space and all kinds of other stuff you'll probably try and tune out. Nude sunbathing here isn't legal, per se, but if you keep to yourself and don't bother anyone, they won't bother you. Most experienced Apollo naturists advise taking the time to trek to more deserted parts of the beach to avoid any potential adversity.
Once you've got that golden brown, line-free tan and feel like throwing your clothes back on, wander over to Mosquito Lagoon, where manatees migrate from November to April. In the summer, you can also make reservations to watch the massive sea turtles who nest along the shoreline. Both allowing for even more bad jokes about the people you just saw on the naked beach.
Sign up here for our daily Thrillist email and subscribe here for our YouTube channel to get your fix of the best in food/drink/fun.
Matt Meltzer is a contributing writer to Thrillist who once ran an entire 5K naked. It didn't hurt as much as you think. Follow him on Instagram @meltrez1.