Recommended Video
Debatable: It's Fine To Recline Your Seat On a Plane
R
eal quick, let's do some word association. I'll start: LAS VEGAS.
Let me guess: neon, poker, tourists, strippers, the Strip, The Hangover, NEON, possibly also Cirque?
All that's well and good, but what if I told you that Las Vegas is one of the best places for outdoors enthusiasts in the country? And I'm not talking about ATVs or dune buggies or Jet Skis, though of course you can do all that crazy stuff too. I'm talking hiking, climbing, cycling, horseback riding, kayaking, skiing (in REAL snow!). I'm talking four seasons' worth of outdoor activities -- most of them doable damn near year-round.
If you're wondering if people really come here for more than just $22 vodka Red Bulls and strippers, the answer is yes. There is a whole other side to Las Vegas. In a city with its whole seedy underbelly widely exposed, even celebrated, this is the Las Vegas underworld. And most of it is just 20 to 30 minutes from the Strip. So put down the poker chips. Get outside.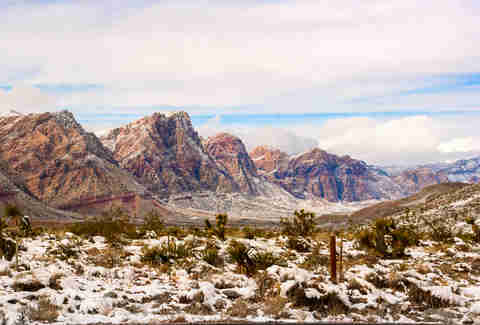 Drive time from the Las Vegas Strip: 20 minutes
Just 20 minuted away is a red-hued canyon that looks like an alien landscape and offers legit world-class climbing and bouldering, as well as endless opportunities for hiking, scrambling, peak bagging, canyoneering, cycling, mountain biking, and horseback riding. Yet the overwhelming majority of tourists to Red Rock choose just to drive the 13-mile loop-around, stopping to take pictures at the pull-outs. You can also hike one of the easy Calico trails (which, while good even for beginners, do offer some spectacular views). But for hardcore outdoors enthusiasts looking to do some more serious stuff, there is a huge community of hikers, climbers, and canyoneers you can connect with while you're here (start with VegasHikers and Hiking Las Vegas on Meetup).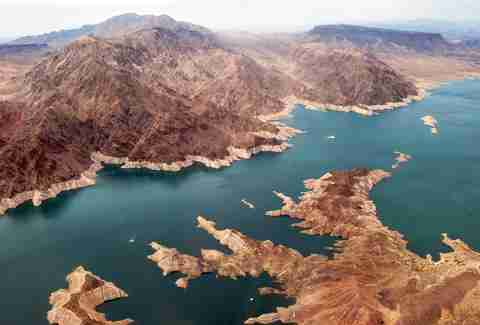 Drive time from Las Vegas Strip: 30-45 minutes
Straddling Nevada and Arizona, the Lake Mead National Recreation Area is America's most diverse -- and deadliest! -- national park, spreading out over 1.5 million acres. Hikers and canyoneers can explore the incredible canyons like nothing you'll find elsewhere in this corner of the world. In addition to the lake, the Colorado River also runs through this park, carving out the scenic Black Canyon and passing under the Hoover Dam. If you decide to explore the river by kayak or raft, don't miss the stunning Emerald Cave, just two miles upstream from the put-in at Willow Beach. The Arizona Hot Springs are also a short hike through a scenic canyon that takes you through several hot pools and ends at a beautiful spot on the Colorado River, where you can also choose to camp out for the night. There are also several mountain-biking trails in the area, for those who prefer life on two wheels.
Drive time from Las Vegas Strip: 1 hour 10 minutes
Located in Overton, Nevada, Valley of Fire is one of the most stunning geological phenomena you'll see (at least this side of Utah). There are several short trail hikes that are great for beginners, though adrenaline junkies will need to look elsewhere -- this place is more about taking in the bright-red Aztec sandstone, gray and tan limestone formations, petrified trees, petroglyphs, and short, accessible slot canyons than it is about peaks or 600ft vertical walls.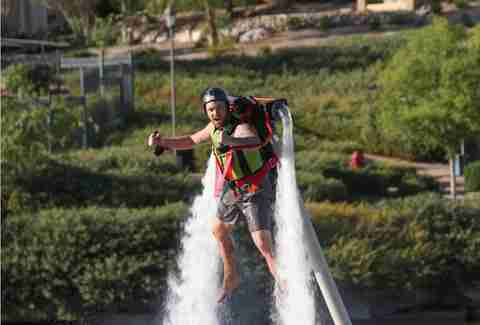 Drive time from Las Vegas Strip: 30 minutes
OK, so this is a lake made strictly for the purposes of building up a luxury housing and resort community that has a whole ersatz Mediterranean vibe. BUT, you can have some serious fun here kayaking, stand-up paddleboarding, and flyboarding -- perhaps in a Superman costume? Which they totally have available for you to wear, because this is Vegas.
Drive time from Las Vegas strip: 1 hour
For winter warriors who think Vegas is nothing but dry desert, imagine instead ponderosa pines, white firs, and quaking aspens. It's true -- you can ski, snowboard, snowshoe, and do other snow things just one hour outside of Vegas. Mount Charleston starts getting snowfall as early as October and you'll find higher-elevation trails with patches of snow well into spring. During the snowmelt, waterfalls flow over dramatic limestone cliffs and through the canyons, all easily accessible by trails.
Mount Charleston is also a popular area for hiking in the summer, with 53 miles of trails and temperatures about 20 degrees cooler than the Las Vegas Valley. Peak baggers also love it -- Charleston Peak itself is the tallest peak in Southern Nevada, with several other peaks to bag in the area as well. For less-strenuous hiking, Cathedral Rock is a beautiful and beginner-friendly hike with stunning views of the Spring Mountains range at the top, and the Raintree Trail takes you to the oldest living bristlecone pine in Nevada, clocking in at over 3,000 years old (though some think it might be more like 4,000).
BONUS: Road Trips!
Fun fact: Las Vegas is one of the best-located major cities for folks who want to explore the many national parks in California, Nevada, Utah, and Arizona -- all within a six-hour drive. Make Vegas your starting point then dart out for day trips and easy overnights to any of these mind-blowingly gorgeous national parks. Go before they're sold off to the highest bidder for condos or parking lots or whatever.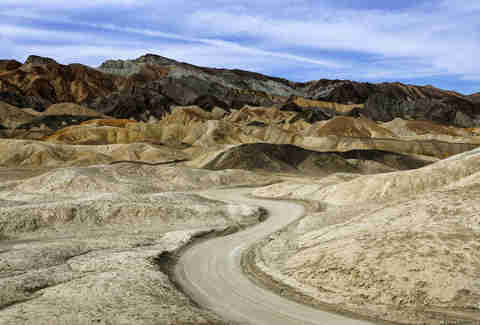 Drive time from Las Vegas Strip: Two hours
Why go: For salt flats that look like glaciers, rock formations streaked in pastels, and a dry lake bed with "sailing stones"
Drive time from Las Vegas Strip: 2.5 hours
Why go: For a relatively easy hike that only looks terrifying -- Angels Landing -- or to wade a few miles in the Virgin River through a gorgeous slot canyon
Drive time from Las Vegas Strip: 3.25 hours
Why go: For world-class rock climbing and bouldering; also: Joshua trees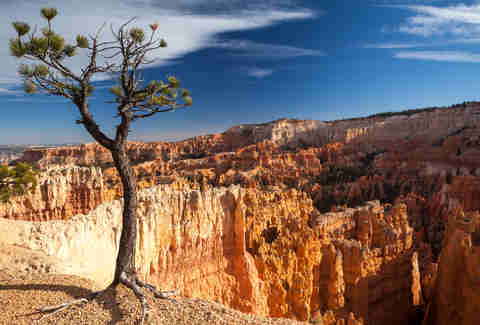 Drive time from Las Vegas Strip: Four hours
Why go: For the "forest of stone," the largest collection of hoodoos (rock pillars) in the world
Drive time from Las Vegas Strip: 4.5 hours
Why go: It's the freaking Grand Canyon.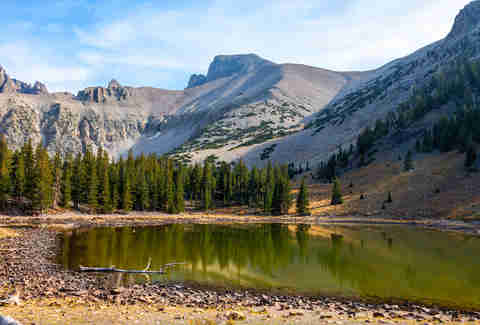 Drive time from Las Vegas Strip: 4.5 hours
Why go: For Wheeler Peak, the second-tallest peak in Nevada at 13,063' with a relatively easy and incredibly scenic trail to the top, plus the Lehman Caves
Drive time from Las Vegas Strip: 6.25 hours
Why go: For the world's largest concentration of natural sandstone arches
Sign up here for our daily Thrillist email, and get your fix of the best in food/drink/fun.