Not to rub it in, but: New York, Los Angeles, San Francisco, not that you care, but you didn't make this list. You either, Chicago. Instead, we found the places you may want to move the next time your landlord jacks up your rent. Or when you realize your novel is a pipe dream so long as you have to bang out 55-hour work weeks (plus commute).
Fact is, whether or not they admit it, most writers, musicians, painters, and tinkerers of every stripe aspire to remove the "struggling" from the "struggling artist" way of life. No matter what rom-coms suggest, the country is full of cities where you can find a vibrant life, in a home with room to sprawl, where you can cook or play music or just get friends together to conspire and collaborate.
This list takes into account the full livability spectrum: artistic communities (check), a good dose of nature (check), a food, craft beer/cocktail, or music scene, or all of the above (check), and a level of affordability that actually allows you to partake therein. (Apartment List's July report accounts for the housing stats, unless noted; and the population figures are the latest from the Census Bureau.) These are places where you can actually make it, the "it" being whatever you dream up.
Recommended Video
The Best Places to Visit This February
Albuquerque, New Mexico
Metro area population: 1.2 million
Median 1BD rental: $650
Key stat: $70 million -- estimate of what Breaking Bad spent filming in town
Next time the powers-that-be create a show based in the ABQ, it shouldn't be about the development and sale of high-potency methamphetamine. It should be about making green chili, because damn is it delicious. You know you've attained hero status when you can eat it three times in a day: on some eggs for breakfast, a bowl of it at high noon, and a heavy dose for your burger at dinner. When that spice hits, it might just make you more creative than if you had taken a tab of acid. Whoa, sorry, got carried away there. (But, seriously, try Frontier or Sadie's and you won't want to ever leave town again.)
If New Mexican cuisine doesn't make you feel as though you've been transported to another country altogether, the city's Pueblo Revival architecture and striking Sandia Mountains will. Albuquerque, the state's biggest city, has made leaps in recent years toward being as diverse and cosmopolitan as you'd expect from a major US hub. To boot, its housing prices are as low as Walter White and Jimmy McGill are willing to ethically sink, and, while the economy ain't exactly gangbusters, aren't you supposed to be busy writing that script for a new AMC series anyhow? -- Colin St. John, Thrillist contributor
Nashville, Tennessee
Metro population: 1.8 million
Median 1BD rental: $1,110
Key stat: 59 -- local yellow pages listings for record labels
A pretty serious crush on Nashville developed the first time we dropped my brother off at Vanderbilt, and my love for it proved to spring eternal. The people are nice, the BBQ is really nice, the economy is actually booming there (tech startups have been catching wind of the city's awesomeness) -- and you just want to chuck your life and become a line dancer. And since affordable housing market is aplenty, you actually could.
One of the best parts about Nashville is that a lot of its finest gems are totally free. It's called the Music City for a reason; the place holds 120 live music venues, and some of the best shows you'll see are the ones at little hole-in-the-wall honky-tonks (but still opt for the big shows at Nashville Opera and Jazz Workshop, at least once). You can also spend hours -- or days, really -- exploring its 3,000 acres of biking, walking, and even horse trail; urban greenspace borderline outnumbers the just urban space in this Southern town. And speaking of Southern, the food does not disappoint. Celeb chefs make a home there for the same reason others want to: quality of life. And residents reap the benefits at spots like Hattie B's (the famous Hot Chicken, do it) and Husk. -- L.N.
Baltimore, Maryland
Metro population: 2.8 million
Median 1BD rental: $1,360
Key stat: 36 -- books by newspaperman H.L. Mencken, the "Sage of Baltimore"
I used to think Baltimore would be a terrible place to live. As in "what are you honestly thinking"-level suckage. (Thanks, The Wire.) Then my best friend moved there; as a result, I found myself visiting a lot more, and subsequently eating my words between fistfuls of great crab cakes. Turns out the Charm City thing is actually real.
It's one of the major cities that doesn't make feel like you need to "escape," a genuine rarity. This owes to the pace, two steps slower than New York and DC, though the waterfront bar scene doesn't hurt -- even Inner Harbor isn't exactly besieged by tourists. The music and art scene hold their own, especially during Artscape, the largest free arts festival in the country. Lexington Market is like the Pike Place of the East Coast, except a hell of a lot older; it's been pedaling fresh fish, meats, and pretty much every food that exists since the 1700s. No wonder the bars and restaurants that line brick roads in Mt. Vernon and Fell's Point feel leftover from another era.
The selling point, above all else, is you can actually do all these things. Cost of living is a fraction of New York's (and a meaningful one, actually, like half) and convenient to most of Northeast's major cities by train, plane, or car. But if you live there, people most will likely be visiting you for crab cakes and Ravens games. Because that is what Maryland does. -- Liz Newman, Thrillist contributor
Bend, Oregon
Metro population: 175,000
Median 1BD rental: $642 (Sperling's)
Key stat: 36 percent -- countywide increase in tech jobs from 2010 to 2015
Nature has long stimulated the imagination of many an American. Just ask Ralph Waldo Emerson or Andrew Wyeth. Well, you can't really ask them. They're dead. But you get the point: the water, the mountains, the trees -- somewhere to breathe and get some thinking done. Bend, Oregon is a place where the natural surroundings are just a part of life, whether it be hiking in the foothills or kayaking down the Deschutes River. (A great brewery named after that body of water just so happens to be in Bend, too. Don't sleep on Boneyard, either.)
There's a solid restaurant scene and killer bars that beckon the younger folks and that pervasive, laid-back Oregon 'tude. And guess what? You get it without put-a-bird-on-it Portland's post-irony. The housing prices in Bend have spiked as of late -- plenty of young digital companies have strapped on their rock climbing shoes and made the move -- but it's not totally outrageous. Yet. If you're the sort who earns wages by telecommuting to big urban hubs, this is a great place to connect with the outside world while feeling most certainly outside of it. -- C.St.J.
Charleston, South Carolina
Metro population: 745,000
Median 1BD rental: $811 (Sperling's)
Key stat: 1773 -- when the Charleston Museum, the nation's first, was founded
It's nearly impossible to visit Charleston and not want to stay there. Seriously, try it, dare ya. Here's why: from church steeples and brick roads, to a 400-year-old Angel Oak and a stellar coastline, the entire place looks like a movie set in in that way it can't possibly be real. But it is, and you can be smack dab in for less than your rent in big cities.
Charleston is also inarguably one of the best food cities in the country, which is saying a lot for a smaller town. The money you save means you can fully immerse yourself in it, and you sorta have to when they make food a work of art. Plus, for a "sleepy town," the cocktail scene is wide awake and serious; the city is full of cocktails lounges and bars like Proof and The Gin Joint that will pour a drink that you absolutely will re-order.
Being outside and active is also a big deal here. With the landscape and the fact it's in the lowlands, it's a popular place bike, walk, hike -- and play tennis. If we must point out a drawback, it could be the job market, but it's really since this town kicks so much ass, people tend to not leave their jobs. Snagging one there is almost like being granted tenure. Meaning, it can be hard to do, but once you score one you've made it. So, simply put: don't leave. -- L.N.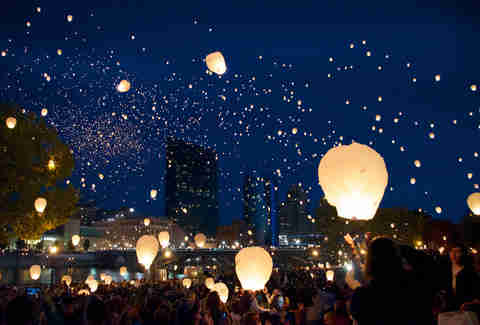 Grand Rapids, Michigan
Metro population: 1.4 million
Median 1BD rental: $830
Key stat: $500,000 -- prize money awarded to artists by popular vote in the annual ArtPrize competition
Chicago has more glitz, Detroit has more grit, but overlooked in between the two, Grand Rapids has emerged as one of the coolest cities in the Midwest. In the past decade or two, Grand Rapids has undergone an impressive transformation from a rather dull town best known for making office furniture to a place young people are actually drawn to. It's one of America's first-class craft beer cities, and boasts a revived Downtown with a lively array of bars and restaurants, classic housing stock, and art spaces like the gallery/theater/party place, UICA (Urban Institute for Contemporary Arts). Plus, you can actually afford to live there, unlike Chicago or Downtown Detroit. Along with the low rents, Grand Rapids has still maintained most of its smaller town trappings: great farm stands and farmers markets, hardly any traffic, and approximately one million Protestant churches.
Grand Rapids had long been one of the largest cities in America without a major university, but that has gradually changed as nearby Grand Valley State -- now the third biggest school in Michigan -- has steadily built more of its campus in Downtown Grand Rapids. And those students now have more reason to stick around GR upon graduating, thanks to centrally located hangouts like Founders Brewing Co., Stella's Lounge, and Brewery Vivant. ArtPrize, an annual art spectacle that takes over the city for a couple weeks every year since 2009, has only added to the energy that Grand Rapids has been building for a couple decades as its Downtown and core neighborhoods steadily developed into more exciting places to live. Plus, it's less than 45 minutes to the beach on Lake Michigan. -- Bison Messink, Thrillist deputy editor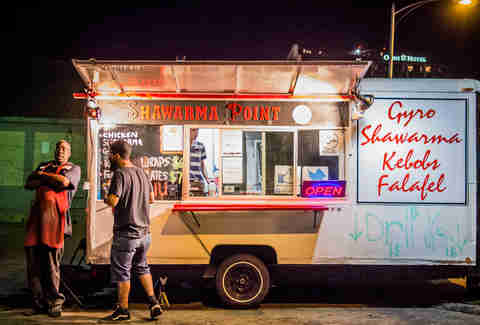 Austin, Texas
Metro population: 2 million
Median 1BD rental: $1,200
Key stat: 51,000 -- the student population of the University of Texas
It's a mainstay on lists like these for a reason. Everyone who has been to Austin City Limits or South by Southwest has felt Lady Austin's tempting allure: "Why don't I live here?" you might ask. Well, why don't you? The city is noticeably chiller when visited on a non-festival week, and you still get those trademark feels that make Austin the only city in Texas that most non-Texans would move to. You've got your BBQ (yup, Franklin, OK, we've heard of it), your tunes, your picturesque lakes, your giant university, and your Shiner Bocks. Perhaps most importantly, Austin's economy is boomin' -- and, no, not the song-as-currency economy -- which will allow you quickly land a paycheck that, in turn, might afford you freedom to roam.
The traffic is almost as big of a bummer as trying to catch a cab during SXSW but is offset by truly mind-blowing experiences like The Little Longhorn Saloon's Chicken Shit Bingo. (Yes, this is where you purchase a number on a table and if the chicken defecates upon it, you win.) Towns on the outskirts like Round Rock and San Marcos add an affordability quotient into the mix, allowing even the most underpaid artsy type to Keep Austin Weird. -- C.St.J.
Ft. Collins, Colorado
Metro population: 335,000
Median 1BD rental: $758 (Sperling's)
Key stat: 3% -- the local unemployment rate
When you're having trouble coming up with a new subject for a painting or are experiencing writer's block, what to do? Drink beer, of course. And you'd be well-suited, here, as Ft. Collins is one of the finest ale towns in the land, with the likes of New Belgium, Odell, Ft. Collins Brewery, and Funkwerks cooking up world-class suds. The town's dispensaries (whoa), gorgeous vistas (whoa again, especially when combined with, well, ya know), and college-town lifestyle (Colorado State University is a major player here) are sure to get the creative juices flowing.
Ft. Collins still has an under-the-radar affordability, allowing for a full 'Rado experience -- think: great weather, hiking, fishing, biking, skiing, rafting, golfing, watching ThunderCats DVDs under the influence -- with a cost of living at a fraction of Denver, Boulder, Aspen, or Vail. Plus, you won't catch any holier-than-thou ego trips that you might find in some of Colorado's more expensive places. This is a place where you can do your own thing and wave your freak flag without fear of comeuppance. -- C.St.J.
Las Vegas, Nevada
Metro population: 2.1 million
Median 1BD rental: $850
Key stat: 40 million -- the number of visitors who come to the city every year
If you've never seen Vegas as the stirring backdrop to a film, then there's a pretty good chance you've never seen a film. The luminous city is firing on all cylinders 'round the clock, something you may or may have had to deal with on an early morning flight out of town. But even if you did, in your haze, chances are you thought about staying. And why not? The lights, the sounds, the shows, the cash. There probably isn't a better city for pure sensory overload which, hey -- if you're looking to do something with your life other than just punch a clock -- is a pretty good look.
And Sin City has grown up a bit in the past few years. Qualitatively, it's become one of the best restaurant cities in the country, found a new generation of stars to fill its theaters, looks to be landing a couple of major league sports franchises, and has readied economic boosters like the Zappos-led Downtown Project. And quantitatively, it was the big US city with the fastest growth of creative workers between 2000 and 2014 -- 42 percent, according to urbanist Richard Florida. But, c'mon, it's not totally mature. You'll realize as much while barfing into an empty bag of Chili Cheese Fritos on Fremont St at 5am. There are more than a couple of ways to paint this town. -- C.St.J.
Madison, Wisconsin
Metro population: 870,000
Median 1BD rental: $890
Key stat: 17 million+, album sales by the band Garbage, formed in Madison
It's a short list, overall, of American state capitals that contain the state's flagship research university. That combo works to make places like Austin, Columbus, and the Twin Cities fantastic melting pots of grad students, policy nerds, and an array of overeducated bohemians. In Madison, long a hotbed of fiery politics, you've also got a battleground for the direction of middle America. Governor Scott Walker's crusade against public unions has made purple-state-that-tilts-blue Wisconsin a focal point for how to imagine functional, fair state governance well into the future. Madison, as much as any town its size in America right now, is a place to stake out big ideas, defend them ferociously, and maybe put on some public theater, in the cold, when the legislature disagrees.
But this city named for a president, where 39 streets are named for the men who signed the Constitution, is about much more than the capitol building. Walk out its doors, a mile from the University of Wisconsin campus, and you'll be on State St, the de facto main drag for college student shenanigans and a haven for live music, restaurants, and art. If you're in a pensive mode, duck into Paul's Book Store, a 1954-vintage repository of used books, or saunter past the offices of the century-old liberal magazine The Progressive. If you're looking to dress up and raise hell, hit the strip on Halloween, when tens of thousands of students and other people with more creativity than sense pack the street for a street party the city a few years ago embraced and dubbed "Freakfest." You can always get away from the crowds -- the city, concentrated on an isthmus between two large lakes, includes three more lakes within its borders -- but the promise of Madison is forever that you can jostle in a mob and perhaps emerge changed. -- Sam Eifling, Thrillist travel editor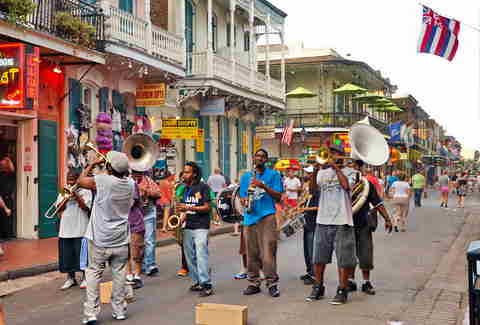 New Orleans, Louisiana
Metro population: 1.5 million
Median 1BD rental: $1,450
Key stat: 70 -- number of parades in the city the week of Mardi Gras
The Big Easy just breathes stimulation. Walking through the French Quarter you could imagine yourself the next crafter of a character like Ignatius Reilly or Stanley Kowalski. Then, you way too many hurricanes at Pat O'Brien's and forget all of your great ideas. No matter: You'll come up with some more, no doubt inspired by the city's music, its parties, its food (the best in America, no less). There is some kind of festival in town nearly every weekend and the weather never really fully cools off, so your chances for uninhibited, year-round imagination are legion. (As are your odds of developing cirrhosis; it's like the damn booze comes out of the faucets down there.)
Rents are still reasonable post-Katrina -- NOLA was the biggest city in America in which rents actually fell last year -- and make no mistake: the renaissance of New Orleans is in full swing. If you can survive all of the temptation, you'll probably have some pretty damn good stories to tell. -- C.St.J.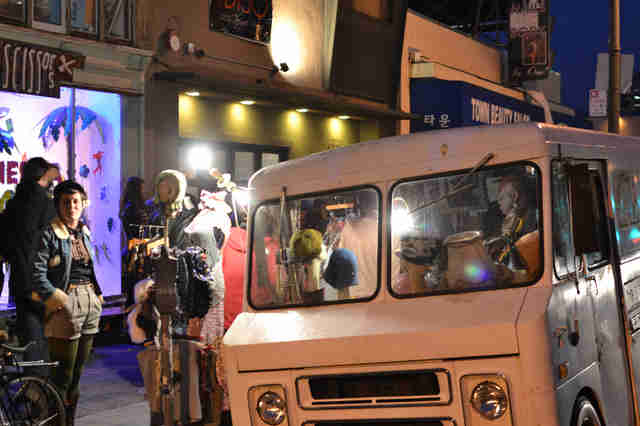 Oakland, California
Metro population: 8.7 million (Bay Area)
Median 1BD rental: $1,198 (Sperling's)
Key stat: 1 -- rank of diversity among large American cities, per a WalletHub analysis
Yes, the madness that is Silicon Valley has rocked the Bay Area housing market, but a lucky soul can still suss out a decent rent in Oaktown. Once there, you'll find the vibrancy and up-and-up mood of the place infectious. (Even if the Warriors just lost in the Finals. Side note: don't become one of those instant aka annoying Warriors fans right when you move to Oakland.) The hipper, edgier twin to San Francisco's buttoned-up poshness, Oakland has all the bars, restaurants and art that you can handle -- you might even find yourself traipsing across the Bay only rarely, when you get an inexplicable yearning to wear a sweatshirt in August.
To boot, not all OG Oakland residents have been shipped off to Gentrificationland, so it still retains a sense of place and memory. And those annoying Silicon Valley neighbors? Their most positive characteristic might just be blasting out a healthy job market from its epicenter like an earthquake. Oh, right: best not to make those kind of jokes in these parts. -- C.St.J.
Philadelphia, Pennsylvania
Metro population: 6 million
Median 1BD rental: $1,300
Key stat: 67 -- National Historic Landmarks in the city
Philly is one of those cities you automatically want to love due to reruns of The Fresh Prince of Bel-Air, Rocky and Trading Places. How could so much good come out of a city without it being a solid place to live? Perhaps the most unicorn-like attribute of the City of Brotherly Life is that it's a major metropolis (second largest city on the East Coast major) while still masquerading as a small one. Somehow, despite its size, it just never feels all that crowded. What this really breaks down to: job opportunities and quality of life can happen here.
Philadelphia even has a hint of college town in some areas thanks to University of Pennsylvania and more than a dozen other colleges. And since almost half of those are prestigious art schools, it has one of the better collections of museums and galleries in the country; obviously Philly has the architecture and culture down, given that it's the literal birthplace for American history. If you remember anything from History class, hopefully it's that the The Declaration of Independence and the Constitution were signed here. It's also packed with -- wait for it -- green space galore. This was intentional. William Penn designed the city be aesthetically pleasing and feel like a community; he pretty much nailed it with tree-lined parks like Rittenhouse Square, Logan Square, Franklin Square (yes, Ben Franklin. He's big deal in these parts.) In other words, for all walks of creatives -- history and art alike -- Philly is really a great stepping stone for someone ready to dip their toe into suburban life without actually diving in. -- L.N.
Providence, Rhode Island
Metro population: 1.6 million
Median 1BD rental: $1,310
Key stat: 84,000 -- works in the permanent collection at the 140-year-old RISD Museum of Art
You may think Providence is a town for tourists and Ivy leaguers -- and that's totally true -- but it's also a great place to park it if you're neither of those things. You're basically living in a vacation town that still has lots to do when the the vacation ends. And it still keeps pace with the big boys with by packing in the culture. In fact, creatives flock to Providence (this is the hometown of Rhode Island School of Design, aka RISD, aka Seth MacFarlane's alma mater, nbd), and since it's actually affordable to live within the city limits, they don't necessarily struggle. It's filled to the brim with painters, sculptors, performers, and artist communities. The city manages to maintain a laid-back festival environment 365 days a year without getting annoying.  
Now, the food is pretty delicious there. And just because it's literally sandwiched (no pun intended) between Brown and RISD, you'll likely just want to camp out on Thayer St; it's flooded with falafel and kebab and curry joints, and slices that rival NYC's. The city is also famous for its River Walk -- which in some cases can be overrated, but in this case is definitely not. It's great for the usual walking-jogging rigmarole during days, and goes bonkers during the occasional WaterFire evenings, when droves turn out for an artist installation of nearly 100 braziers floating in the middle of the damn Woonasquatucket River. So, yeah, this place is actually on fire. -- L.N.
Richmond, Virginia
Metro population: 1.3 million
Median 1BD rental: $960
Key stat: 100 -- murals painted in five years of the annual Richmond Mural Project
We told you the best places for hipsters to vacation, well let us introduce you to one of the best places for them to dwell. This Old South town has basically become the Brooklyn of the Southeast. Most of that is because of Carytown, also known as the museum district, home to the 1920s Byrd Theater ($2 movie theater that plays new releases). Then there's the Jazz Festival and Richmond Mural Project, an annual event when artists outfit the city in more than 100 murals.
But here's the clincher: Richmond has the southern hospitality, the art, the food, and it's still in Virginia. Meaning, you get the East Coast version of California -- acres of shoreline, river rapids, mountains, and perhaps most importantly, non-West Coast prices. The average home in Richmond is less than $200k; if you aren't packing for your move right now, maybe this will help: it's the town that birthed Jimmy Dean the Sausage King. -- L.N.
Salt Lake City, Utah
Metro population: 2.5 million
Median 1BD rental: $780
Key stat: 20,000 -- attendance at the annual Utah Pride event
OK, so Salt Lake gets a bad rap in the hipness department courtesy of the its most famous residents, the members of the Church of Jesus Christ of Latter-day Saints. And while, yeah, the laws say that the barman will probably measure your shot at the local tavern and, no, you can't really escape places like Temple Square, every hero needs an enemy! Have you seen SLC Punk!? Plus, Mormons make up less than half of the town's population. So, you can go ahead and curse, drink coffee, not pay the tithe and live in your cheap house.
Being the hip, creative type in a town where you'd least expect it is, well, creative in and of itself. Plus, Salt Lake boasts that huge body of water (right next door) and some of the best skiing in the world (just an hour away). It's a distinctly gorgeous place and, if you want some time to work on the next version of Under the Banner of Heaven, just get a gig working the lift lines at Park City. Or, go for a job right in town: the job market is hotter than a microphone at a closed-door Mitt Romney speech. -- C.St.J.
Tampa, Florida
Metro population: 4.3 million (Tampa Bay area)
Median 1BD rental: $990
Key stat: 1 million -- number of people who attend part of the Gasparilla Pirate Festival
I've been defending Tampa my entire life, at least to people who had never visited. Similar to Orlando, it has many preconceptions attached. When I first moved to Miami from my hometown, most people just assumed I grew up cow-tipping (I assumed they all had gel in their hair). To this day, nothing beats the reaction when these same people visit me here, and I get the jaw-dropping reactions like: "Wait, this place is awesome."
Tampa really is a great place to live, and this is coming from someone who tried to pretend that wasn't true for more than a decade after leaving it -- only to move back from New York City. What Tampa has always had is a New England charm in a city that has a lot of Southern influence: colonial homes, water throughout the city, and people who are just here to enjoy life, not rush through it. Growing up here is still very Leave It to Beaver, as in my neighborhood had an actual ice cream man, and we all knew his first and last name. But a single 30-something will be glad to hear that you don't have to have kids and a white picket fence to reap the benefits of this town. Between live music, museums, a Riverwalk with outdoor bars and biking paths, Gasparilla Fest, Ybor City, and the large amount of breweries popping up everywhere (Cigar City is a big deal now!), Tampa really is coming into its own, just like its little Chamber of Commerce video says. Possibly most shocking is the development of the once only grandparent-inhabited St. Pete. It still blows me away this place is cool now. It's edgy, artsy, young, and just 20 minutes away. A boat ride from Pass-a-Grille down to Egmont Key will make anyone who doesn't live here question why they don't. (Worked for me.) -- L.N.
Sign up here for our daily Thrillist email, and get your fix of the best in food/drink/fun.