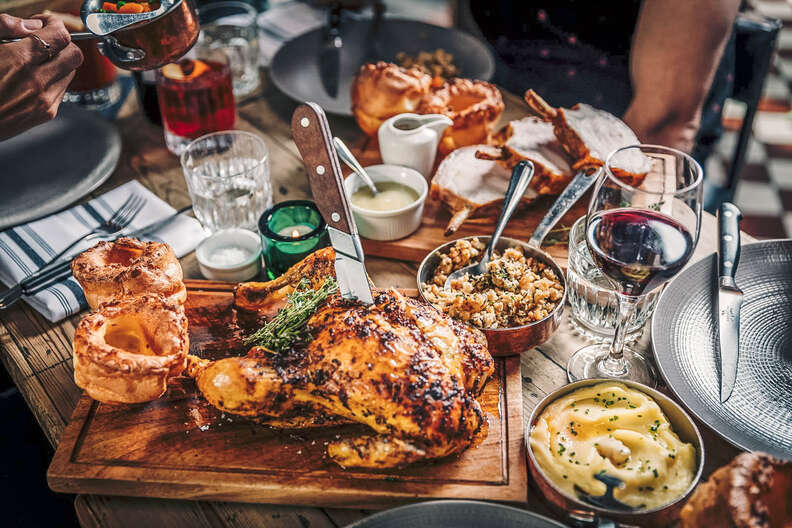 12 Can't-Miss Things to Eat in Dublin
When I think about Irish food, I think of the aromatic spice of wild garlic, of pungent smoked cheese and creamy farmhouse mozzarella, of the juice from pink spring lamb dripping down my chin. I think of my friend who lives on the coast and gets fresh lobster almost every day in the summer, and of the start of fall game season, when blushing venison pops up on menus, served with juicy foraged blackberries.
When other people think about Irish food, they might think of stodgy, bland dishes like beef stew, boiled bacon, and cabbage. As someone who's lived here for 12 years, nothing makes my eyes roll into the back of my head faster. Let me say this: Not once have I ever seen corned beef on a menu.
For all the lingering misconceptions about Irish cuisine, the modern food scene here is damn good. The produce along these shores (and in the waters) yields the best tender beef, salty butter, and mackerel so thick and meaty it would bring a tear to your eye. But it's also on account of the vibrant new chefs who have come in over the last decade and shaken things up.
In Dublin, the food scene moves quickly. New restaurants pop up almost every other week, as old favorites close their doors. We love a trend here, which is why you'll see a zillion identical donut shops and burrito joints along the streets. We don't take our food too seriously (or actually boil it very often). You can get an amazing meal at every budget, whether you want to sit down for a luxurious dinner or grab a pizza on the go. Here are some of the can't-miss things to eat in Dublin when you're in town.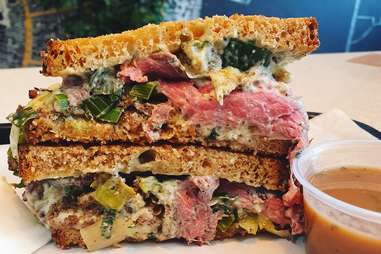 Cultural Quarter
This tiny café is sacred ground for sandwich lovers. The air is thick with the scent of cheesesteaks and Ruebens bubbling under the grill, but the weekly specials board is where the real magic happens.
The Dublin Dip, only available a few times a year, is a sandwich worth getting on a plane for. Slices of super rare seared beef, melted smoked cheese, and caramelized red onions sit between toasted sourdough. But it's the flavor-packed, roasted chicken gravy that really tips it over the edge. I don't know if I'll ever get married, but if I do, it will be to this sandwich.
Temple Bar
With all due respect to New England, you really can't beat Irish seafood. Our native oysters are the absolute finest: plump, juicy, and perfectly briny, with the faintest tang of the ocean on the nose.
The best place to get oysters in Dublin is the stand in the Temple Bar Food Market, open only on Saturdays, where you can get half a dozen on a seaweed strewn platter with a glass of wine for €14. (Other market finds include amazing roast pork sandwiches, fresh crêpes, and an excellent array of artisan Irish cheeses.) If it's not Saturday, pop into The Seafood Café around the corner (incidentally, their lobster roll is to die for).
City center
The pizza scene in Dublin has exploded, and we're almost spoiled for choice, but this is by far one of the best. Their signature DPC pizza is a dreamboat, with a charred, chewy base, creamy mozzarella from West Cork, whiskey-cured salami, and shavings of aged Coolea. Order a side of the black garlic and truffle mayo to dip your crust -- honestly, you'll be licking it clean when you're finished.
There's no seating at this hole-in-the-wall, but they have an arrangement with The Swan pub just a minute away, so you can take your pizza in there. They also have an outlet in The Well on Stephen's Green, a cool and buzzy cocktail bar.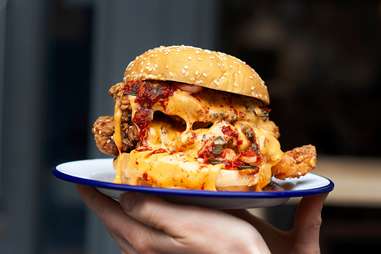 City center
I dare you to follow Chimac on Instagram. The food porn of their Korean fried-chicken burgers, dripping in Ssamjang and gooey cheddar cheese, will leave you with a craving so strong you'll have no choice but to book a flight to Dublin.
While the chicken sandwiches at this casual and perpetually busy joint are incredible, I have a softer spot for their "nugs," which come drenched in a sriracha caramel pour over. It's a combination of all things amazing -- crispy skin, juicy chicken and a sticky, spicy sauce that just dribbles right into your soul. An enamel mug of their own frosé is the icing on the cake.
Mount Merrion
Remember what I said about Irish seafood being the best in the world? Well, you can sample almost all of it on one heavenly platter at Little Mike's. Their signature seafood platters are towering with the freshest treasures from Dublin waters -- crab claws, lobster fish cakes, black sole, halibut -- all pan-seared and dripping in lemon butter. Make sure you're hungry when you walk through the doors.
City center
You can't order a burger rare in Ireland -- the Food Safety Authority basically banned it -- but the ones at Bunsen are as close as you can get. They mince the patties fresh every morning, so they're allowed to chuck it on the grill and serve it medium pink and juicy. The menu is so small it fits on a business card, and there's nothing for veggies in these here parts -- it's good old-fashioned burgers, fries, and shakes, and that's it. Oh, and their own (excellent) lager. There are a few locations, but my favorite is down on Wexford Street, a handy pre-show meal before a concert at Whelan's.

Dublin 1
It doesn't look like much from the outside… just a run-of-the-mill Korean grocery store on a quiet side street. But right at the back is a tiny little restaurant serving up the best Korean food in Dublin (and at a bargain of a price, too). It's more of a canteen -- don't dawdle when you're ordering and grab the first seat you see. There's a buffet of choices like fried noodles and pork, but the dishes ordered fresh are the best. Their bibimbap is killer, richly sticky and soy-spiked with a pot of chilli paste on the side (so you can control the spice), and served in a pleasing spiral with a bubbling fried egg on top.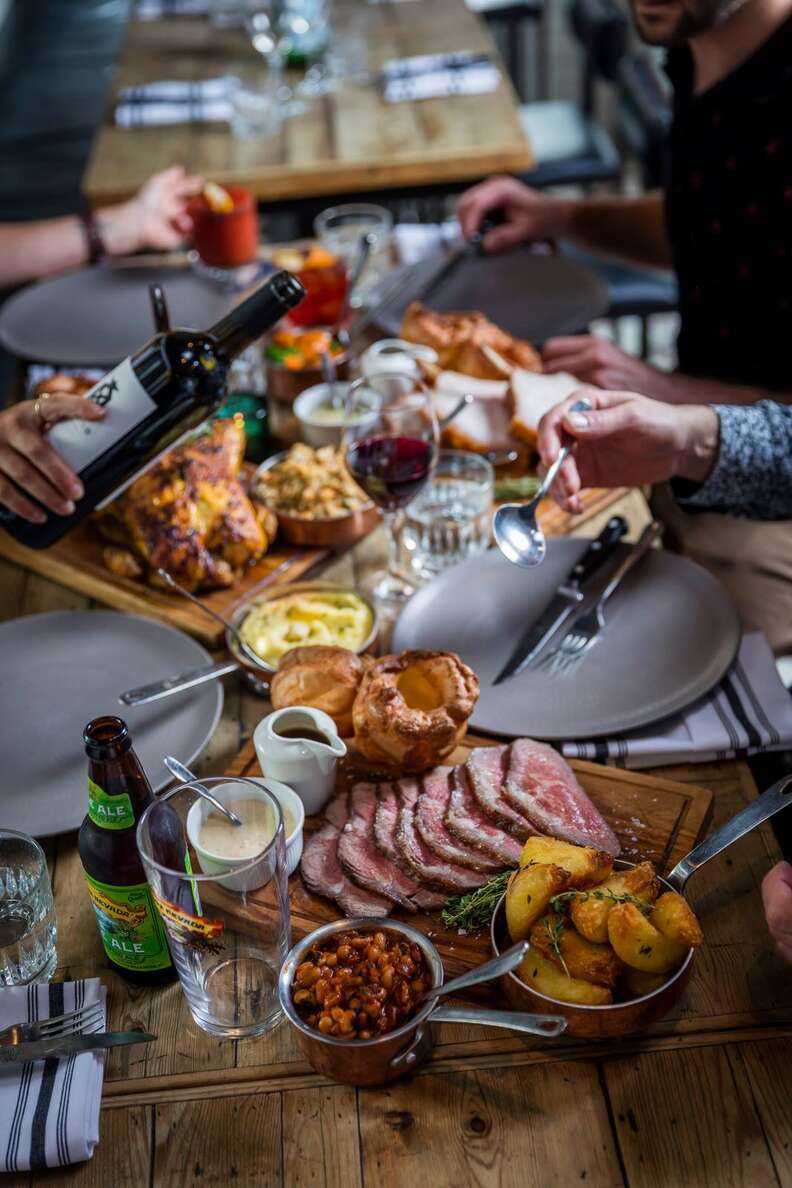 Ranelagh
A Sunday roast is something of an Irish institution, but it can be hit or miss in a restaurant. That's not the case at the Butcher Grill. The weekend roasts at this cozy steakhouse (served between 12-4pm) are absolutely unreal -- slivers of juicy roast beef are draped on a wooden board with huge puffy Yorkshire puddings, a jug of rich gravy, and horseradish sauce. But the real star of the show is the bowl of roast potatoes. So crispy they smack open with the slightest tap from a fork, the fluffy potato inside is like a tiny little hug for your belly.
O'Connell Street
Dublin has caught the donut craze. For a long time, the little Rolling Donut kiosk on O'Connell Street was the only place to get them in town. But now? They're everywhere. The Rolling Donut brand itself has expanded, selling sourdough donuts in shops all over the city with a variety of flavors (though I never quite forgave them for discontinuing the maple bacon).
In my humble opinion, you can't beat the original kiosk, where tiny donuts are served warm and fresh straight from the fryer and doused in cinnamon sugar or chocolate. Get a little bag and eat them while they're hot as you wander down to the River Liffey.
Creative Quarter
Technically, this fudge comes from an island off the west coast of Ireland (one of the Aran islands, hence the name). But they have a stall in the George's Street Arcade, a gothic red brick building in the middle of the city. Their original tiger butter fudge is an absolute beauty -- go pick up a few slices and you'll be on a sugar high for hours. Fudge is literally the only thing they sell, but whoever's behind the counter is usually full of serving suggestions -- a guy once insisted I chop it finely over ice cream and butterscotch, and I happily obeyed.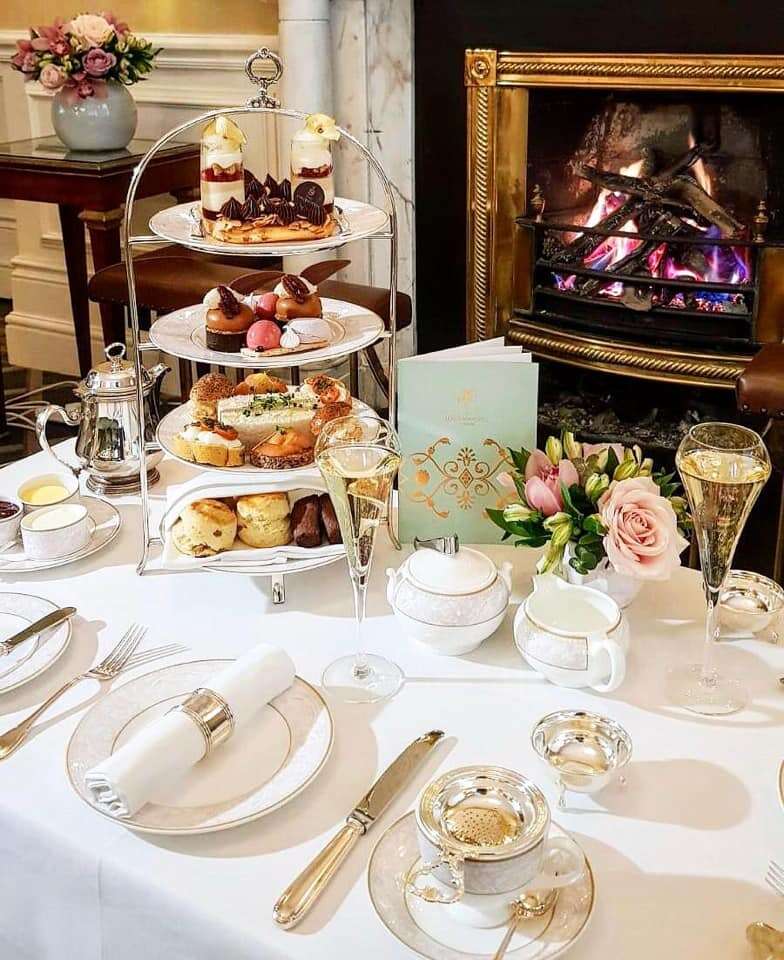 Stephen's Green
There's nowhere like The Shelbourne. One of Dublin's finest hotels, it's weaved into the very tapestry of the city's history. It was occupied during the Easter Rising, and bullets would be flying nearby as those inside carried on about their business, sipping their Afternoon Tea in the Lord Mayor's Lounge. It was only when a stray bullet clipped the edge of a lady's bonnet that the tea was moved to the back of the hotel instead.
Nowadays, Afternoon Tea at The Shelbourne is still very much a thing, where you can dress in your finery and enjoy tiers of delicious little sandwiches and pastries (the chocolate éclair is otherworldly). If you can't stretch to the €55 it costs, head into the hotel's No. 27 Lounge for a regular pot of tea (or a glass of champagne).
City center
The opening of this ultra-hip wine bar has got all of the local food nerds aflutter, with their two signature dishes quickly gaining cult status. First up? Their spider crab bigoli: Served in a rich crabby broth (poured right from the shell at the tableside) this creamy, tangy pasta is topped with a confit egg yolk. The second? A BBQ lamb and seaweed pappardelle. But for me? Nothing beats the shiitake miso butter that comes with wedges of sourdough, which you can slather on with gusto.
Nicola Brady is a travel writer living in Dublin, who spends far too much time thinking about sandwiches (and even longer talking about them). She writes for the Irish Independent, Condé Nast Traveler, the Evening Standard and more, and hopes that if she spends enough time writing about Ireland, people won't notice that she's actually English (apologetically). Follow her @nicola_brady.