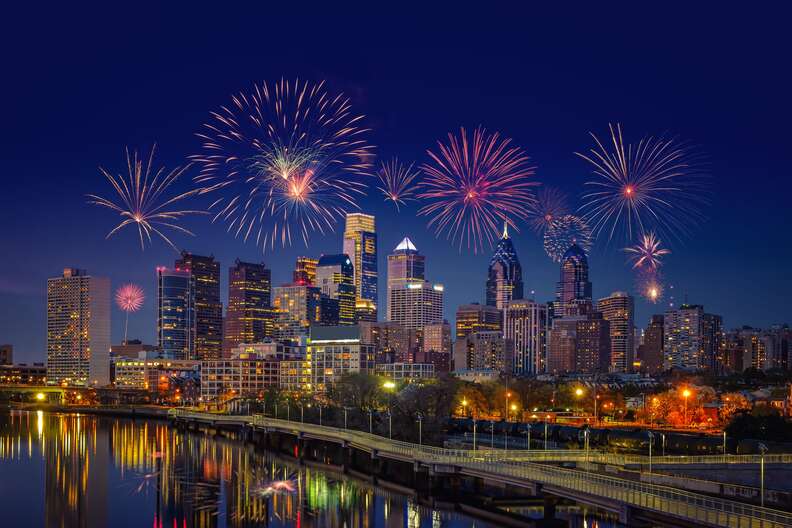 From Lake Tahoe to St. Louis, these July 4th shows are the ones worth traveling for.

| Marti Bug Catcher/Shutterstock
From Lake Tahoe to St. Louis, these July 4th shows are the ones worth traveling for.

| Marti Bug Catcher/Shutterstock
Memorial Day may be the unofficial kickoff to summer, but the 4th of July is really one of the highlights of the season (a guaranteed three-day weekend doesn't hurt, either). The federal fête's origin dates back to 1776, when the Declaration of Independence was adopted and our country was, officially, independent from Britain. In the 246 years since, July 4th has come to signify the ultimate celebration of summer, a holiday dedicated to day drinking, barbecues, and being in the great outdoors—particularly somewhere along the coast.
Fireworks are, of course, a highlight, and it's no surprise that some of the best shows are in metropolises like New York, DC, LA, and Miami— as well as some of the more dynamic southern cities like Austin and Nashville. But if you're looking for an Independence Day filled with drawn-out patriotic parades, over-the-top, synchronized fireworks displays, and seafood spreads you can only find in coastal New England towns, here are the best places to celebrate America's birthday in full fanfare.
Keep in mind that states like Massachusetts have outlawed consumer fireworks of all forms—and a few other states have restrictions of some kind or other, so if you're planning a DIY show this year,
check the laws first
.
Addison, Texas
Just a few minutes north of Dallas, Addison has fully cornered the "random town known for this one specific thing" market. Around Independence Day, its population mushrooms from less than 16,000 to something like 500,000 for Kaboom Town!—when 4.4-square-mile Addison sets off about 3,500 pounds of fireworks. Fireworks here go off July 3—not the 4th—and you'll need a ticket (which is free) to join the party in the 12-acre Addison Circle Park. The display lasts about 25 minutes, which makes sense given that it's a midsize sedan's weight in fireworks. There'll be live music and vendors from 5 pm, the Addison Airport Airshow (featuring historic warbirds, specialty aircraft, parachute jumpers, and aerial aerobatics) at 7:30 pm, and the fireworks show, which starts at 9:30 pm sharp.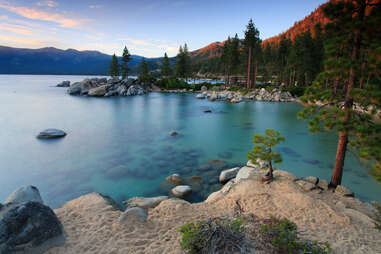 Lake Tahoe, Nevada
The ideal 4th of July setup involves a lake town somewhere in the West, like Lake Tahoe. There's a whole lineup of firework displays in the area, but long-time fave Lights on the Lake in South Lake Tahoe is consistently deemed one of the best shows in the country. Stake out a picnic table along the shoreline of Nevada Beach State Park and do your thing (BBQing and BYOBing) while tuning in to KRLT-FM 93.9 or KOWL-AM 1490 for patriotic jams—or you can hop aboard Tahoe Cruises's 80-foot motor yacht, the Safari Rose, for a Champagne-fueled evening on the water. The 25-minute fireworks show—which is shot from barges anchored near the Stateline section of Lake Tahoe—begins at 9:45 pm, and the music is synchronized to the firing of the shells (it's the largest of its kind west of the Mississippi), so you're in for a Disney-esque display.
Philadelphia, Pennsylvania
The Declaration of Independence was signed here, and the good people of Philadelphia see that as a reason to really go off on Independence Day. The WaWa Welcome America Festival is a 16-day party that kicks off on Juneteenth and runs through the 4th. It's packed with free museum days, film screenings, block parties, and a lot of (unfortunately, not-free) drinking. On July 4, there'll be vendors, guest speakers, a concert helmed by pop stars Jason Derulo and Ava Max, and a parade that sets off at 11 am (and features Miss America 2022, Emma Broyles, as the grand marshal), leaving you plenty of time to get good and buzzy before the 9:30 pm fireworks display starts.
Mackinac Island, Michigan
Michigan is not where you'd expect to find summer island vibes, but that's probably because you haven't been to Mackinac Island yet. Often ranked in the top 10 islands in the U.S., this spot is a tourist favorite—and for good reason. If it's that idealized, apple pie image of American life you're after (instead of the absolute maelstrom it's been of late), here is a place to find just that. Car-free, lined with pastel-hued historic homes and shops, Mackinac feels like a step back to a simpler time. Case in point: Independence Day stone-skipping contests, when professional stone skippers show off their skills competing for a coveted trophy. Of course, the island also has more traditional July Fourth festivities, with two fireworks displays going off simultaneously at dusk (around 10 pm). So, after finishing up dinner, swing by Scoops for a waffle cone and find a spot to settle in for the show.
Jackson Hole, Wyoming
Considered the "last real mountain town," spending Fourth of July in Jackson Hole makes for a great start to a summer vacation in one of the nearby national parks like Yellowstone or Grand Teton. The festivities kick off with a mix of orchestra performers at the Grand Teton Music Festival on July 3, and continues the following day with the annual all-you-can-eat pancake breakfast on Jackson's Town Square; a patriotic parade of classic cars and riders on horseback (a nod to the town's western culture); a shootout reenactment show in the square; and, finally—after a quick rodeo at 8 pm—three fireworks displays around 10 pm. If you can, spend a few extra days to go camping at Shadow Mountain, tubing down Snake River, or jumping off the appropriately named "jumping rock" at Phelps Lake. And, if you're still in town on Tuesday night, head over to the Silver Dollar for dancing.
Bar Harbor, Maine
Bar Harbor, Maine, is just a few hours from Portland, and serves as the main entry point to one of the country's most-visited national parks, Acadia. It also has similar vibes to Mackinac—at some point, you'll definitely find yourself eating homemade fudge or ice cream from a mom-and-pop shop while strolling along a beach so serene, you'll wonder why it took you so long to get here in the first place. You can expect a full schedule of wholesome Independence Day activities. There's a downtown-wide lobster scavenger hunt (which sounds more like lobster hide-and-seek of some sort?), a pancake breakfast, a craft fair and marketplace, and a parade—plus a seafood festival of Maine classics like lobster and crab rolls. There's also live music all day at the Town Pier leading up to the main event—the fireworks show on the waterfront over Frenchman Bay at 9:15 pm.
Gatlinburg, Tennessee
Gatlinburg is the OG Fourth of July destination, since it was where the very first Independence Day parade was held. The city takes the national holiday so seriously, celebrations kick off at 12:01 am on July Fourth with a Midnight Parade. At noon, there's the River Raft Regatta in downtown Gatlinburg, where contestants send uncrewed floatables of their own creation down the Little Pigeon River and hope for the best, since they can't steer them. Prizes are awarded to the most creative and fastest floats. For $2, $3, or $5, you can even rent and enter your very own rubber ducky. Lest we forget, there's also the (often-crowded) fireworks display shot off the Space Needle at 11 pm on July 4th, which is best seen from the city's famous SkyBridge. (There's even a VIP party on top of the mountain at SkyLift Park, if you don't want to deal with crowds.)
St. Louis, Missouri
Calling itself "America's Biggest Birthday Party," Fair Saint Louis, as you can probably guess, has one of the country's best fireworks shows. The three-day-long celebration in downtown St. Louis draws nearly 300,000 people to events like the 137th America's Biggest Birthday Parade (taking place July 2 at 10 am) and free performances across Kiener Plaza and Ballpark Village (headliners include big-name acts like Third Eye Blind and X Ambassadors). While residents have the best spot for the big show, you can get prime seats for the fireworks at 9:30 pm nearly anywhere in town, since the display is along the Mississippi and framed by the landmark Gateway Arch. If you're road tripping in the area for a few days, head over to Branson, home to Wild West-themed resorts, an 1880s-themed amusement park, and ziplines through the Ozarks.
Happy Independence Day, everyone!