The Independence Day coming down the hatch this year does not look to be a particularly auspicious one, due to the slow-motion collapse of American democracy and the fact that it falls on a Wednesday. That's all right, though. There's plenty of things to do on the Fourth of July, regardless of our political frustrations. We are going to work with what we have. We are going to drink and BBQ and be one with nature as a fireworks display illuminates the beer cans of our American brethren. Maybe then we'll remember why we celebrate our independence. 
Many of the nation's most spectacular Fourth of July fireworks are in the big coastal cities -- since you already kind of expect those to be good, we're going to highlight some others around the country you might not have considered. Whether it's because they have the raddest light shows, the most stunning backdrops, or the most festive parades, these July 4 celebrations will remind you of what you love about this country. We're a celebratory bunch, and cascading stars mixed with high-pitch whistle fireworks are manifestations of our diverse and ever-flaring nationalism. So undercook some burgers, salute some explosions, and then get back to making this a more perfect union while Lee Greenwood's still ringing in your ears.
Kindly note that Delaware, Massachusetts, and New Jersey have outlawed consumer fireworks in all forms and that a number of other states have restrictions of some kind or other, so if you're planning to DIY your show this year just, y'know, check the laws first. God bless.
Recommended Video
Please Don't Hang Up: The Best Things to See, Eat, and Do in Seattle, WA
First things first, the fireworks go off here July 3, not the 4, so make a note lest you arrive a day late. Now, to business: Addison sits a few minutes north of Dallas and is known, literally, as "Kaboom Town!" Around the Fourth of July, its population mushrooms from under 15,000 to something like 500,000, and yes that it the correct number of zeroes. Addison has fully cornered the "random town known for this one specific thing" market when it comes to Fourth of July, and you will see why once it starts setting off 3,500 pounds of fireworks. Also the correct number of zeros. The display is longer than most -- about 25 minutes -- which makes sense because, again, a mid-sized sedan's weight in fireworks.
A carnival rolls into town each year, too, so you can make a whole day of it. Everything's super kid-friendly (face-painting!) though not dog-friendly (kudos to your Very Good Dog if they're brave in the face of pyrotechnics, but only service animals will be allowed into Addison Circle Park). Grounds open at 4pm, live entertainment and various other activities should begin at 5pm, and the fireworks themselves start around 9:30pm. Addison Circle Park is the place to be, but if you're tired of sun and bugs and so forth you can post up at one of the scores of nearby restaurants that'll be hosting live watch parties. Tip your waitstaff 30%: they're working hard dealing with all you clowns.
Lake Tahoe, Nevada
My ideal July 4 involves a lake town somewhere in the West, remote enough that I am unlikely to hear anyone talking about Scott Pruitt but not so remote that I can't check Twitter hourly to see whether he's yet fallen down an unregulated mineshaft. I will be confined to New York, alongside leaking garbage trucks and Andrew Cuomo, so you must go to Lake Tahoe in my stead. There's a whole lineup of firework displays in the area, but long-time fav Lights on the Lake in South Lake Tahoe is the one you'll want to aim for.
Stake out a picnic table along the shoreline of Nevada Beach State Park and do your thing (BBQing and BYOBing) while tuning in to KRLT-FM 93.9 or KOWL-AM 1490 for patriotic jams. The nearby Bijou Community Park is a good alternative -- with a skate park, disc golf park, and playground -- if you'd like your fun a little more pre-assembled. The fireworks (another 25-minute show) begin at 9:45pm. They're consistently deemed one of the best displays in the country, so if you get restless waiting for them just sit tight, continue drinking, admire one of the cleanest lakes in the country, and use any spare time to donate to the National Resources Defense Council.
Watertown, South Dakota
Like a few others on this list, Watertown has been recognized by the American Pyrotechnics Association as a first-class destination for Fourth of July fireworks. But fireworks alone do not a :fire: Fourth of July make, so it is good that Watertown also has you covered with local distilleries and wineries, and excellent fishing at Lake Kampeska for the dads in the crowd. But the fireworks here are cool because, instead of some corporate display franchised out from Big Pyrotechnic or whatever, they're a labor of love by one Lew Raderschadt, a local whose story I'll briefly turn over to the website of Lew's Fireworks, Inc.:
Lew Raderschadt's entrepreneurial spirit was ignited at the young age of 10 when he figured out that dollars were necessary to buy the things he wanted.
Lew Raderschadt is no longer with us, but his legacy lives on in the 100-plus signature firework products of what is now a third-generation family business. This year's display is slated for July 3, not the 4th -- food and drink vendors open at 5pm, live music begins at 7pm, and the Lew's Fireworks fireworks will launch sometime after sunset. Enjoy the show. Remember to support small businesses.
The annual shindig known as Fair St. Louis, advertised as "America's Biggest Birthday Party," showcases a ton of local vendors each year and is known for top-tier fireworks. After a few years off at another location, in 2018 Fair St. Louis returns to the city's iconic Gateway Arch. Blessedly, St. Louis has the good sense to extend its celebration to include July 6 and 7 (a Friday and Saturday) so you may celebrate properly without using any precious vacation days.
On the 6th, catch live sets by Andy Grammer and... Jason Derulo -- not necessarily the most 2018 of performers but a very famous person nonetheless. On the 7th, performances by RaeLynn and Martina McBride. Fireworks launch at 9:35pm all three days. The St. Louis Symphony Orchestra will perform on the 4th, too, and the Boeing Air Show will have elite fighter pilots diving through the air above the Mississippi River.
All of this is free. The festivities mark the reopening of a museum massively overhauled to tell the story of St. Louis' history. If you can carve out an extra day or two, we suggest you get brunch at Rooster, then wander through the pleasantly French Soulard neighborhood for drinks. Soak in the feeling of a city that is visibly moving forward -- enjoying new bike lanes, land bridges, green spaces, wheelchair ramps, noise-reduction, and other small miracles of urban planning.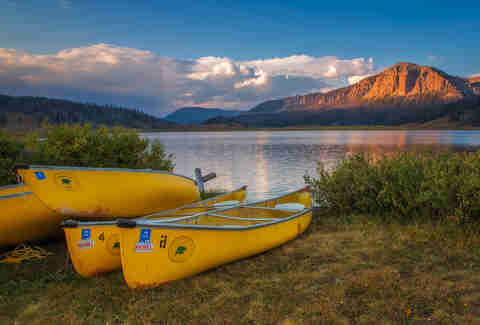 If, like me, you knew that Jackson Hole is, like, a place people go, but not exactly why they go or what they do once there, Fourth of July is an ideal time to see what all the fuss is about. Until recently, the resort town was probably best known for skiing, but it now has the distinction of being the workplace -- and cover art -- for Kanye's unfortunate new album ye. Visit Jackson Hole immediately, before it is too late and your brain forever associates it with a shitty meme.
For $10 ($5 or free for kids, depending on their age) you can get a seat at the community breakfast that pops up from 7am to 10am each year. Then there's a parade, then live music, then a shootout reenactment show in the town square, and finally -- after a quick rodeo -- fireworks around 10pm. If you can take the time off work, it's worth spending the extra couple of days here to go camping at Shadow Mountain and tubing down Snake River. If you can manage it, go jump off the appropriately named "jumping rock" at Phelps Lake. And if you get to Jackson Hole by Tuesday night, you must go dancing at the Silver Dollar. While you're still high on nature, support America's National Parks by getting an annual pass.
Bowling Green, Kentucky
This quaint college town is the road trip mecca your kids scream for without realizing it, and circa the first week of July, it'd be an oasis even without the holiday. Eons of rainfall chemically reacting with the limestone bedrock has left this swath of southern Kentucky abundantly capillaried with caves, which are both cooler than you're picturing and, at 57 degrees year-round, cooler than anywhere else in the South till about Halloween. The commute to and from Mammoth Cave National Park -- the world's longest cave system at 400+ miles so far explored -- will bring you past the sort of woodsy, gemstones-and-mini-golf Americana that you only think you've outgrown. Book those cave tours in advance and see towering chambers; or go smol at Lost River Cave, in town, where you'll tour in a flat-bottomed boat, ducking below low-hanging slabs to emerge in wide-open caverns.
At some point the brutal summer sun will go down, and the fireworks will come up. On July 3, anyone who is even the faintest sort of car person will get amped to see classic Corvettes rumble through town: The world's only Corvette plant is local, and thus so is the National Corvette Museum, a temple to arguably America's most iconic automotive design legacy. The museum is throwing Thunderfest that day, which will have music and food trucks and fun kid stuff, and then a ton of fireworks. Ditto the next night at the minor-league ballpark downtown. The Bowling Green Hot Rods light off righteous gobs of postgame fireworks even on normal summer nights -- on July 4, though, they're going to Clark Griswoldian levels after they play the South Bend Cubs. 
Philadelphia, Pennsylvania
The Declaration of Independence was signed here, and that makes Philadelphia a strong contender for the best Independence Day -- not because of the symbolism, but because the good people of Philadelphia have used that symbolism as a reason to really go off. The WaWa Welcome America is a weeklong party beginning June 28 packed with free museum days, free outdoor film screenings, free block parties, a lot of sand sculptures, and a lot of drinking. On July 4, a parade sets off at 11am, which leaves you plenty of time to get good and buzzy before Philly's largest fireworks display in more than a decade begins around 9:30pm. Can't get there on the 4th (which is, again, a Wednesday)? There are also fireworks scheduled for Saturday, June 30.
In 2k18, Philadelphia is my No. 1 pick for anyone who has the means to get to it. Ever since Donald Trump disinvited the Philadelphia Eagles from their scheduled visit to the White House after falsely claiming the Super Bowl LII champions stayed in their locker room during the national anthem (they did not) and kneeled (they were praying), people have reacted with a lot more wit and solidarity and grace than we expect of them these days. Responses from the players and fans (the real ones, not the fake ones Trump claimed to host after the Eagles "abandoned" them) would have even Cowboys fans feeling proud to spend this July 4 in Philly. Here's a clip of Philadelphia mayor Jim Kenney giving us hope we can still turn the franchise around; I am referring of course not to the NFL, but to white men:
Gatlinburg is the OG Fourth of July destination, since it was the site of the nation's very first Independence Day parade. Remarkably, while we'd have forgiven it for peaking early the city has kept things sexy for 43 years with its Midnight Parade, which sets off each year at 12:01am on July 4. Of vastly greater historical and cultural importance, though, is the River Raft Regatta, in which contestants send uncrewed floatables of their own creation down the Little Pigeon River and... hope for the best I guess, it's not like they can steer them or anything. Prizes are awarded to the most creative floats as well as to the fastest ones. For one (1) US dollar, you can rent and enter a rubber ducky. No word on what happens if you lose the ducky somewhere downriver, I assume you lose your deposit, too.
Fireworks launch at 10pm on July 4. It does get crowded up in here, so if you're going to stake out spots for chairs plan to get there early on the morning of the 3rd. For the best view, try to squeeze somewhere between East Parkway traffic lights No. 3 and No. 5. And set aside some time before you leave for the Gatlinburg Sky Lift, which will give you the best view of Great Smoky Mountains National Park anyone could ever ask for. In honor of your lost ducky, send a few bucks to the folks cleaning plastic out of our oceans.
Sign up here for our daily Thrillist email and subscribe here for our YouTube channel to get your fix of the best in food/drink/fun.