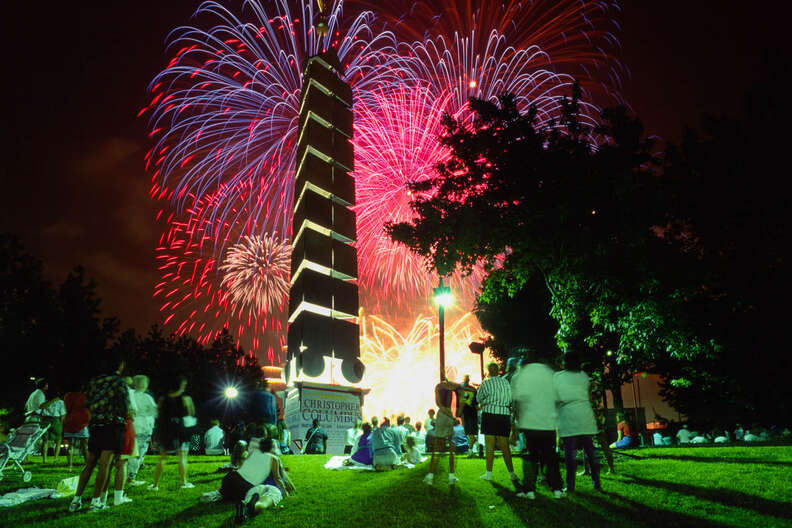 Well, everybody, here we are again: celebrating our highly functional nation and its positively superb government for the 245th year in a row! Let us drink and barbecue and be one with nature as fireworks illuminate the skies and beer cans of our American brethren.
Many of the nation's most spectacular Fourth of July events are in the big coastal cities—and since you already kind of expect those to be good, here are a few other firework displays around the country you might not have considered. So undercook some burgers, salute some explosions, and celebrate that we each got a whopping $3,200 max for a year and a half of hell.
Kindly note that Massachusetts has outlawed consumer fireworks in all forms and that a few of other states have restrictions of some kind or other, so if you're planning to DIY your show this year just, y'know, check the laws first.
Just a few minutes north of Dallas, Addison has fully cornered the "random town known for this one specific thing" market. Around Independence Day, its population mushrooms from under 15,000 to something like 500,000 for Kaboom Town! —during which they set off about 3,500 pounds of fireworks. Note that the fireworks here go off July 3, not the 4, AND you'll need to make reservations this year because of Covid, so make a note lest you screw yourself over. The display lasts almost a half-hour, which makes sense given that it's a midsize sedan's weight in fireworks. There'll be live music and vendors from 5pm, the Freedom Flyover (featuring cool old planes!) at 7:30 pm, and a fireworks display at 9:30pm sharp.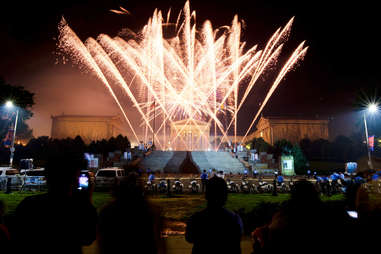 Philadelphia, Pennsylvania
The Declaration of Independence was signed here, and the good people of Philadelphia see that as a reason to really go off on Independence Day. The WaWa Welcome America is a two-week-long party that begins on Juneteenth and runs through the 4th. It's packed with free museum days, film screenings, block parties, and a lot of (unfortunately, not-free) drinking. On July 4, there'll be vendors, guest speakers, a concert (featuring the musical stylings of the greatest American of us all, Flo Rida), and a parade that sets off at 11am, leaving you plenty of time to get good and buzzy before the 9:30pm fireworks display.
Mackinac Island, Michigan
We're feeling pretty good about Michigan this summer. And Mackinac Island is a tourist favorite, but for good reason: If it's that idealized, apple pie image of American life you're after (instead of the absolute maelstrom it's been of late), here is a place to find just that. Car-free, lined with pastel-colored historic homes and shops, and fond of quaint annual events like Independence Day stone-skipping contests, Mackinac feels like it's lost in a simpler time. The island's fireworks begin at 10 pm on the Fourth, so grab an evening waffle cone from Scoops and let freedom ring.
The ideal July 4 involves a lake town somewhere in the West, and ideally, that lake town is Lake Tahoe. There's a whole lineup of firework displays in the area, but long-time fav Lights on the Lake in South Lake Tahoe is consistently deemed one of the best displays in the country. Stake out a picnic table along the shoreline of Nevada Beach State Park and do your thing (BBQing and BYOBing) while tuning in to KRLT-FM 93.9 or KOWL-AM 1490 for patriotic jams. The nearby Bijou Community Park is a good alternative if you'd like your fun a little more pre-assembled. The 25-minute fireworks show begins at 9:45pm. Admire one of the cleanest lakes in the country, and use any spare time to donate to the National Resources Defense Council.
Gatlinburg is the OG Fourth of July destination, since it was the site of the nation's very first Independence Day parade. Remarkably, while we'd have forgiven it for peaking early, the city has kept things sexy for 43 years with its Midnight Parade, which sets off each year at 12:01am on July 4. Later that day, there's the River Raft Regatta, in which contestants send uncrewed floatables of their own creation down the Little Pigeon River and... hope for the best I guess, since they can't steer them. Prizes are awarded to the most creative and the fastest floats. For a dollar, you can even rent and enter your very own rubber ducky. Lest we forget, there's also the (often-crowded) fireworks display at 10pm on the 4th, best seen from the city's famous Skybridge.
Fourth of July is an ideal time to see what all the Jackson Hole fuss is about. Things kick off with the giant annual pancake breakfast in town square, which costs just $10 for adults (and $5 or free for kids, depending on their age). Then there's a 10k and a parade, then live music, then a shootout reenactment show in the town square, and finally—after a quick rodeo—fireworks around 10pm. If you can, spend a few extra days here to go camping at Shadow Mountain, tubing down Snake River, or jumping off the appropriately named "jumping rock" at Phelps Lake. And if you're still in town on Tuesday night, you must go dancing at the Silver Dollar.
If blaring country tracks and brazenly drunk antics aren't what you see in your Fourth of July future, there's hardly any place more laid-back—now or honestly anytime—than Bar Harbor, Maine, just a few hours from Portland. With similar vibes to Mackinac—at some point, you'll definitely find yourself eating homemade fudge or ice cream from a mom-and-pop shop while strolling along an eternally calm beach—you can expect a full schedule of wholesome Independence Day activities: there's a town-wide scavenger hunt (which sounds more like lobster hide and seek of some sort?), a craft fair and marketplace, and a parade during the day, plus a fireworks show over Frenchman Bay in the evening around 9:15pm. And in the in-between time, allow us to recommend hiking through nearby Acadia National Park or straight-up gorging yourself on seafood.
By the end of most Fourth of July weekends, you probably find yourself sunburned to high hell and begging to go home and slather your sad body in aloe. But not in Bowling Green. This swath of southern Kentucky is capillaried with caves, which are both cool-looking and, at 57 degrees year-round, quite literally cooler than anywhere else in the South 'til Halloween. Book a trip to explore Mammoth Cave National Park or Lost River Cave during the day, then emerge Batman-like to check out the fireworks and festivities: On the 3rd, the National Corvette Museum hosts Thunderfest, which'll have live music, food trucks, and more. Or catch Fourth of July weekend fireworks every night after Bowling Green Hot Rods baseball games, which is a very, very American sentence.
Happy Independence Day, everybody!