Temple Bar Street in Old Town

| Unsplash/Anna Church
Temple Bar Street in Old Town

| Unsplash/Anna Church
Rainy Day Dublin: The Best Places to Wait Out an Irish Rainstorm
For all its lush parks, friendly locals, and impressive architecture, Dublin doesn't have the best reputation when it comes to weather. After living here for 12 years, I can confirm the weather changes by the minute -- you can open your curtains to blazing sunshine, and by the time you're out of the shower it's blowing a gale. Frankly, your packing list might be the least straightforward part of planning a trip to Ireland.
Rain in Dublin doesn't have that glamorous, romantic quality like it does in a city like Paris. But what we do have is an inordinate amount of warm, welcoming pubs and grand museums that make drying off and hiding out ridiculously easy. So whack on a decent raincoat and get on out there: Here are the best places to go on a rainy day in Dublin.
Rainy day museums:
National Museum of Ireland - Archaeology
Merrion Square
Whenever a friend comes to visit me in Dublin, I take them to the National Museum on Kildare Street. More specifically, I take them to the Kinship and Sacrifice exhibit, where you'll find the Iron Age bog bodies. These bodies were preserved in the boglands of Ireland for centuries, and they are remarkably intact -- they have fingernails, hair, even eyelashes! The stories behind their (often gruesome) demises are absolutely fascinating. It's morbid, yes, but also utterly captivating and uniquely Irish.
National Gallery of Ireland
Merrion Square
Roaming this grand, rambling museum -- part Georgian mansion, part modernist masterpiece -- is an easy way to kill a few hours. Even when it's lashing outside, it's glorious in here, especially in the light-filled indoor courtyard. An added bonus? It's all free.
Highlights include a gorgeous Caravaggio, and a huge installation by artist Joe Caslin of a figure sitting between the storeys. If you can wangle the timings, pop in between 5:30pm and 6:30pm on a Thursday, or 2pm and 3pm on a Sunday. There's a beautiful (but delicate) watercolor, Helleliland Hildebrand, the Meeting on the Turret Stairs, that's only on view between those hours.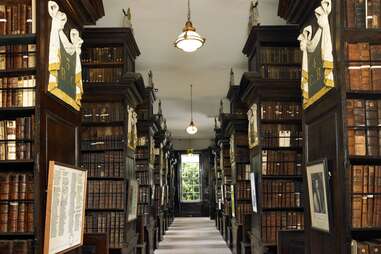 Rainy day book nooks:
Marsh's Library
The Liberties
The tourist masses will flock to the Long Room in Trinity College to get hustled along and elbowed by school kids at the Book of Kells. For a less-crowded alternative, visit Marsh's Library. The towering shelves strain under the weight of heavy old books, some of which are put on display in a rotating exhibition. The building has barely changed in three centuries. Take a look at the office space at the end of the main library -- there are bullet holes in the spines of some the books (the result of a shooting during the Easter Rising).
Gutter Bookshop
Temple Bar
One of the finest bookshops in the city, and the ideal place to hide from the rain if you're sightseeing in the Temple Bar neighborhood. The shelves are stocked with the best from contemporary Irish authors like Sally Rooney and Karl Geary. The staff are always up for a chat, and they really know their stuff. A quick rain-splashed dash over the cobbles and you'll be in Queen of Tarts, a cozy little café with dreamily rich cakes and treats.
Rainy day shopping spree:
Powerscourt Centre
South Inner City
This old Georgian townhouse in the middle of town offers some of the best shopping in Dublin. Wander around the tiny antique shops and independent boutiques while the resident pianist tickles the ivories in the atrium. Head up to Chupi for fine gold jewellery coveted by every cool Dublin girl. If you've got time for a cup of tea, the Pepper Pot café has the best cakes and sandwiches, but if you want to get really cozy, head to the deeply sexy bar Farrier & Draper and plonk yourself down on a plush armchair next to the fire.

Rainy day place to get some work done:
Fumbally Café
The Liberties
Perpetually filled with freelancers, the Fumbally's most coveted seats are the huge, mismatched couches and comfy armchairs in the back. They serve excellent coffee, homemade kombucha, and wholesome food like falafel wraps and eggs with sautéed kale and Gubbeen cheese. The phrase "All sorrows are less with bread" is scribbled on the wall, and when you taste the Le Levain sourdough they use, you'll wholeheartedly agree.
Rainy day pubs (so, so many pubs)
A pub with a Snug
Various/City center
Sometimes, when the heavens have opened, all you really want is to nip into the nearest pub and warm the cockles with a pint. You don't have to go far -- you're in Dublin! -- but if you really feel like hiding away from the world, you'll want to find a pub with a good Snug.
These uniquely Irish rooms are found just off the main bar (most will have a hatch, so your drinks can be secretly passed through) and are completely self-enclosed. There's a truly gorgeous Snug in Toners, as well as in Kehoe's, where you can also dry off by the fire upstairs. There's another in the Palace Bar, a classic old boozer on the edge of Temple Bar.
Token
Smithfield
This bar doubles as an arcade, with vintage games like Pac Man, Mario Kart, and Donkey Kong. There are a good few pinball machines, too. They serve delightful junk food, from fries loaded with bacon jam and parmesan to a downright filthy Kinder Clusterf**k Cheesecake. There are plenty of vegan options too, if that's your bag. It's adults only, and on weekdays doesn't let you in until 4pm, but from Friday-Sunday you can start your button mashing at 1pm.
Rainy day movie theater:
Lighthouse Cinema
Smithfield
When all else fails, go to the movies. This indie theater in Smithfield doesn't look like much from the outside, but has a quirky subterranean design with a wide staircase that makes you want to cancan down the steps on your way to the screens. The Lighthouse always has a great mix of new releases and classics, from Creature From The Black Lagoon to The Big Lebowski, and there are frequent movie marathons too, like a Die Hard double-billing. Their little café makes a mean grilled cheese sandwich, and there's a bar.
Nicola Brady is a travel writer living in Dublin, who spends far too much time thinking about sandwiches (and even longer talking about them). She writes for the Irish Independent, Condé Nast Traveler, the Evening Standard and more, and hopes that if she spends enough time writing about Ireland, people won't notice that she's actually English (apologetically). Follow her @nicola_brady.