The Best Places Around the World to Scuba Dive
Take an underwater safari in a whole new world.
Note: We know COVID-19 is impacting travel plans right now. For a little inspiration, we'll continue to share stories from our favorite places around the world so you can keep daydreaming about your next adventure.
If you've never scuba dived, you might trick yourself into believing snorkeling is just as good. And to be sure, there are some beautiful coral reefs and magical marine life to be seen at surface level. But once you strap on a scuba tank to dive deeper, you can truly submerge -- and stay for a while, too -- in a whole new world.
Divers marvel at just how unbothered-by-humans marine life can be. Watch as sharks patrol by the hundreds at the mouths of atolls. See unperturbed sea turtles munch on sponges and play hide and seek with a clown fish. It's like being on an underwater safari without the protective shield of a Jeep, powered by your own gentle finning and the steady inhales and exhales of your breath.

If you have the time and money (less than you think, on both accounts) to get scuba certified, here's how it's done. Then you can set out for some of the world's best dive sites -- often in locales that might surprise you.
"I've worked in many places that divers wouldn't necessarily think of [as the best]" says long-time National Geographic contributing photographer Brian Skerry, "and they still became my favorites."
Whether exploring old shipwrecks or frolicking on Caribbean reefs in what feels like warm bathwater, there's a dive out there that's perfect for you.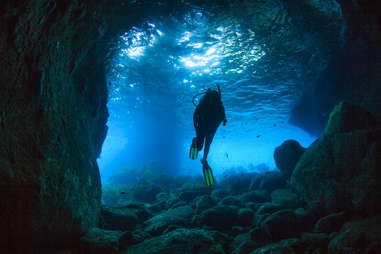 Poor Knights Islands, New Zealand
Best for: Experienced divers, cold water divers
This rocky chain of small, volcanic pinnacles off the North Island is rich with life and among the top scuba diving locations. Here, warm currents from the Coral Sea sweep south into cooler waters, resulting in a remarkable diversity of species. You might see such unlikely pairings as sea turtles and parrot fish (typical warm water critters) alongside cold water denizens like scorpion fish and the ubiquitous schooling blue Mao Mao. Nudibranchs -- psychedelic soft-bodied mollusks that look like colorful oceanic caterpillars -- also delight divers around these magical isles.
"Poor Knights is fantastic -- that deep, deep blue water you get in the North Island," Skerry says. "[New Zealand is] a country that's had a pretty strong conservation ethic. They created a network of protected marine areas along their coastline and have done a lot to restore ecosystems there. There's just such a huge variety of habitats."
When you're back onshore in Tutukaka, where the dive boats leave from, have a celebratory drink or meal at Schnappa Rock, the best cafe in town.
Southern Line Islands, Republic of Kiribati
Best for: Marine biology nerds, bucket list tickers, pristine coral reefs
Among the most isolated atolls on the planet, the Line Islands sit on both sides of the equator. Five on the southern side -- Malden, Starbuck, Vostok, Flint, and Caroline (a.k.a. Millennium) -- comprise what's usually referred to as "the line." Coral around the world may be bleaching and dying, but in these remote waters, it's thriving.
"There are places in pretty much any Caribbean island that, if you went in the 1970s or even the 1990s, would look vastly different," Skerry says. "The reefs have been overfished, bleached, there are algae growing because the herbivores are gone… [but] the Southern Line Islands, way out in the Pacific, are just off the charts in terms of pristine coral environments."
One of the best places to dive here is Christmas Island, famous for the annual migration of red land crabs every October or November. Off-land, divers relish the pristine reefs and larger marine life, too, including manta rays, eagle rays and spinner dolphins frolicking in water that often exceeds 100 feet of visibility.
For a glamping experience like no other, reserve one of the luxe eco tents at Swell Lodge, a wilderness retreat run entirely by solar power on Christmas Island's western tip.
Bali, Indonesia
Best for: Shore divers, muck divers, beginners
Boat diving isn't for everybody -- especially people who get sea sick easily or would rather just suit up and step right out from a sandy shore. And this where Bali comes in, with one of the best shore dives on the planet.
The USS Liberty is a sunken cargo ship from World War II located in shallow waters just off Bali's east coast (one of best places to visit in Southeast Asia) in Tulamben. The wreck is basically a reef now, and is covered in corals and sponges with more fish than you'll ever be able to identify. Everything from schooling jacks and beautiful juvenile sweetlips to bat fish, butterfly fish, and anemone fish (Nemo!) are regularly spotted in the clear waters surrounding the wreck, and within its twisting metal nooks and crannies, too.
MORE: Feeling seasick? Jacques Cousteau's son gave us some advice
The wreck is less than a five-minute swim from the shore and sits at a depth of 20 to 100 feet, which makes it one of the most accessible wreck dives in the world. Pro-tip: the Tulamben Dive Resort is a dive-friendly property located within steps of the Liberty Wreck.
Muck diving, another pursuit that brings divers to these waters, refers to the search for macro (small) and unusual bottom-dwelling creatures that live in sand and muck as opposed to on the coral reef. Famous muck sites in Bali include Secret Bay, where you can usually find oddities like sea moths and ghost pipe fish, and the jetty in Padang Bai, where rhinopias and giant frog fish, with their incredibly camouflage skills, lurk.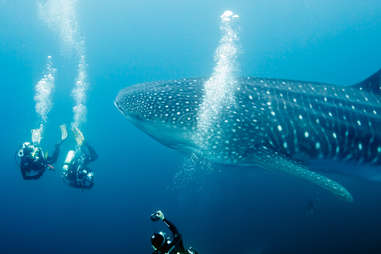 Galapagos Islands, Ecuador
Best for: Shark fanatics, cold water divers, experienced divers, marine biology nerds
Charles Darwin gave us so many reasons to visit the Galapagos Islands. Those giant tortoises and blue-footed boobies are pure magic, but if you just stick to land, you're only seeing half the picture.
The site called Darwin's Arch at Darwin Island is as epic as diving gets, with sea lions and turtles frequently spotted in the shallows and huge shoals of schooling fish, eagle rays, and even whale sharks deeper down. June through December is whale shark season in these parts, so if that's a bucket list wildlife encounter for you, consider your calendar marked.
MORE: Besides swimming with sharks, here are 49 more ideas for your bucket list
"Absolutely magnificent," Skerry recalls of his first time diving with a whale shark back in the '90s. "It was like being with a dinosaur." And since whale sharks can often be as large as a bus, getting a photo of the two of you together isn't as hard as you might think.
"The reality with [photographing] sharks, which I think most folks don't understand, is that you need to get within a foot or two to really make a great picture," Skerry says. This sometimes involves the ethically murky practice of cage diving, a method for divers to get up close and personal with sharks with a safety barrier between them. But you don't have to worry about that with whale sharks, the largest fish in the sea. The famously gentle giants are known for passing right up close to divers, and they definitely will not eat you.
Bermuda
Best for: Fans of shipwrecks, intrepid divers, beginners
With more than 300 identified wrecks in its waters, Bermuda is an epic place to dive and a quick hop from the US. The waters are gin-clear, both in the shallows and at depth, sometimes exceeding 150 feet of visibility… and there's much to see, so prepare to have your mind blown.
MORE: International trips from the US you can nail in a long weekend
If you dive just one wreck in the wreck capital of the Atlantic, make it the Mary Celestia. This was a blockade runner ship for the Confederacy during the Civil War that met its demise after hitting a reef in 1864. The ship is the site of a massive aggregation of parrot fish each June, which come here to spawn after the full moon.
There are 25 pristine reefs around Bermuda to dive, too, with swim-throughs and enormous barracudas among the dazzling views. For a post-dive celebratory toast, get the island's iconic cocktail, the Rum Swizzle, at its oldest pub, The Swizzle Inn.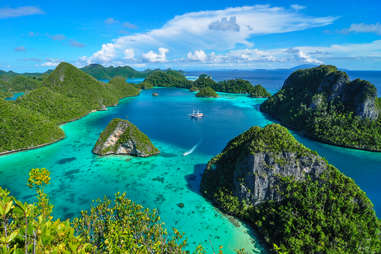 Raja Ampat, Indonesia
Best for: Marine biology nerds, bucket list tickers
For experienced scuba divers, there's everywhere else -- and then, there's Raja Ampat. The "Four Kings" islands are located in Indonesia's West Papua province. You have to be committed to reach this remote part of the world, but you'll find yourself at the epicenter of marine biodiversity.
More than 1,300 species of reef fish live in the waters here. That's about 50 percent of all the world's known reef fish species, a number that makes Caribbean waters positively pale by comparison. And the diversity of habitats underwater include everything from coral gardens and mangroves to sheer walls, current-swept passages, sheltered bays and more.
"Raja Ampat is best appreciated by someone who wants to look beneath the hood at the inner workings of the marine biodiversity machine," says professional underwater photographer Brandon Cole, who has dived here many times. "It deserves to be the diamond in the whole necklace. You're checking off so many new species you've never seen before on every dive."
For an eco-friendly stay in Raja Ampat with access to great diving out the door, reserve a bungalow built on stilts within a short fin of the house reef at Misool Eco Resort.
Vancouver Island, British Columba
Best for: Cold water divers, octopus hunters, ship-wreck fanatics
If there's any cold water dive destination that's well worth layering on the neoprene for, it's Vancouver Island. Water temperatures hover around the 50 degree Fahrenheit mark, so you're best off being certified as a dry suit diver before entering the drink here.
But the rewards are many-fold: walls of amazingly colorful sponges and anemones, and the chance to come face to face with the largest octopus in the word,the great Pacific octopus, often seen in the waters off Port Hardy. Then there are some classic wrecks in the waters off Nanaimo on the eastern shore, including the HMCS Saskatchewan, an artificial reef covered with plumose anemones and crawling with crabs.
"I am very comfortable placing Vancouver Island at the top of the cold water diving spots in the world," says Cole. "You have to work with the tides to orchestrate your dives here. But doing so opens the opportunity to see especially stunning invertebrate life -- anemones, sea stars, sponges and the like."
Don't leave Nanaimo without trying the famous sweet called a Nanaimo Bar, which you can try at spots like Nanaimo Bakery Confectionery.
Sign up here for our daily Thrillist email and subscribe here for our YouTube channel to get your fix of the best in food/drink/fun.
A freelance travel writer since 2001 when she quit her desk job in Florida to travel the world and live in Australia and New Zealand, Terry Ward has written for such publications as The Los Angeles Times Magazine, Conde Nast Traveler, and Scuba Diving Magazine.