It has come time to say good riddance to summer, a season that feels sticky and smells unpleasant. As the temperatures cool (slightly) and the days shorten, we watch the green drain gradually from the forests and wait expectantly for what comes next. It is a cliche, it is conversationally on par with making small talk about the weather, but it is magnificent nonetheless. It is foliage season.
Trees are responding to the cooler air and weakened daylight by slowing photosynthesis, thus producing less chlorophyll, which means no more greening of their leaves. All that death, though, brings forth America's most glorious season for scenery, when our more temperate climes (sorry, California and Florida) turn into a blazing rainbow of oranges, yellows, reds, occasionally purples, and your parents' rich friends spend their weekends driving through the countryside to take it all in. Since we've all seen Family Guy, and know New Englanders like leaf peepers about as much as they like Bucky Dent, here are nine places outside New England with fall colors that are worth making a trip for.
MORE: Check out this (obviously very colorful) map to plan the best time for leaf-peeping. 
Recommended Video
Debatable: It's Fine To Recline Your Seat On a Plane
Upper Peninsula, Michigan
Yeah, it's a bit of an oddball place, but even in a state known for beautiful coastal scenery, no place tops the Upper Peninsula. Bordering three of the Great Lakes, a fall-foliage drive through these parts will take you across the Mackinac Bridge and along the Keweenaw Peninsula. The best spot to catch great views is in the far north's Copper Harbor (with a quick detour along the kaleidoscopic Pictured Rocks National Lakeshore), but a drive through the vast wilderness on the way there is just as vibrant, and mostly uninterrupted. When you're done driving for a bit, pull over for a seasonal brew by the fireplace at Houghton's Keweenaw Brewing Company.
Pocono Mountains, Pennsylvania
This vast mountainous region in Eastern Pennsylvania spans 2,400 square miles, so you can visit any of its three leaf-peeping regions at different points of the fall and get a completely singular experience. With 127 different types of foliage, peak season will vary between the northern, central, and southern regions, and the tourism department's Facebook page lets you know when each one is at its peak. And there's lots to do in the Poconos aside from oogle the leaves: There are tons of wineries and craft breweries, excellent live music, the storied Mount Airy Casino, and skiing and tobogganing later in the season, when oranges and yellows turn to powder white.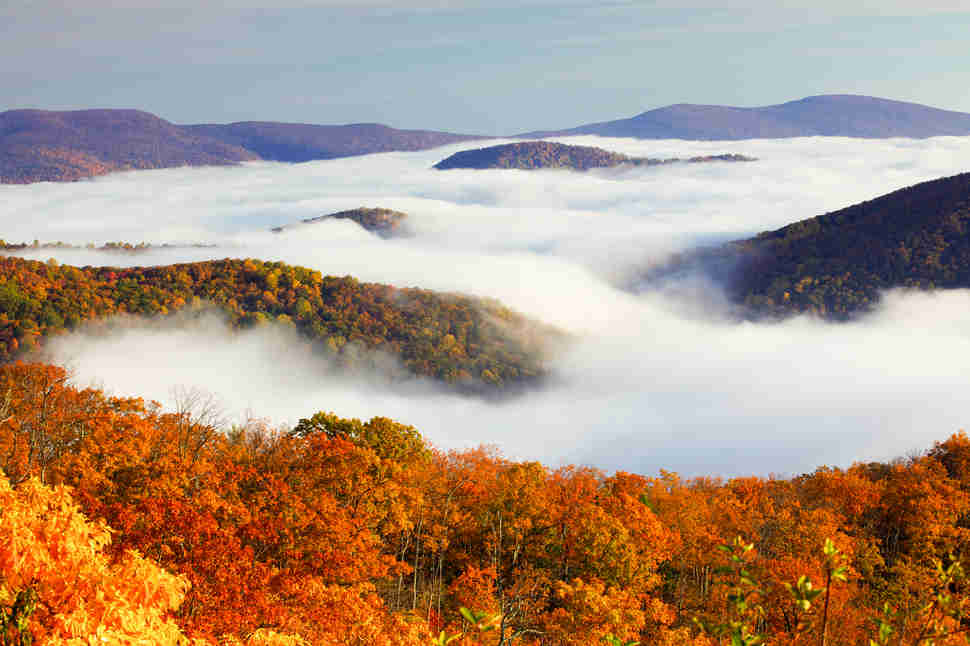 Shenandoah National Park, Virginia
Fall colors are great. Fall temperatures? Not always so much. That's why if you prefer the climate-controlled comfort of your SUV there's no better place in America for leaves than Shenandoah National Park. It's home to the famous 105-mile Skyline Drive, where you'll be enshrouded by a canopy of red, orange, yellow, and green. Aim the park's eastern border and you'll find another famous drive: Blue Ridge Parkway, which climbs thousands of feet in elevation from its start in central Virginia to its end in Cherokee National Forest. Typically, higher elevations will turn first -- toward mid-September -- and the lower elevations will transition as the season wears on.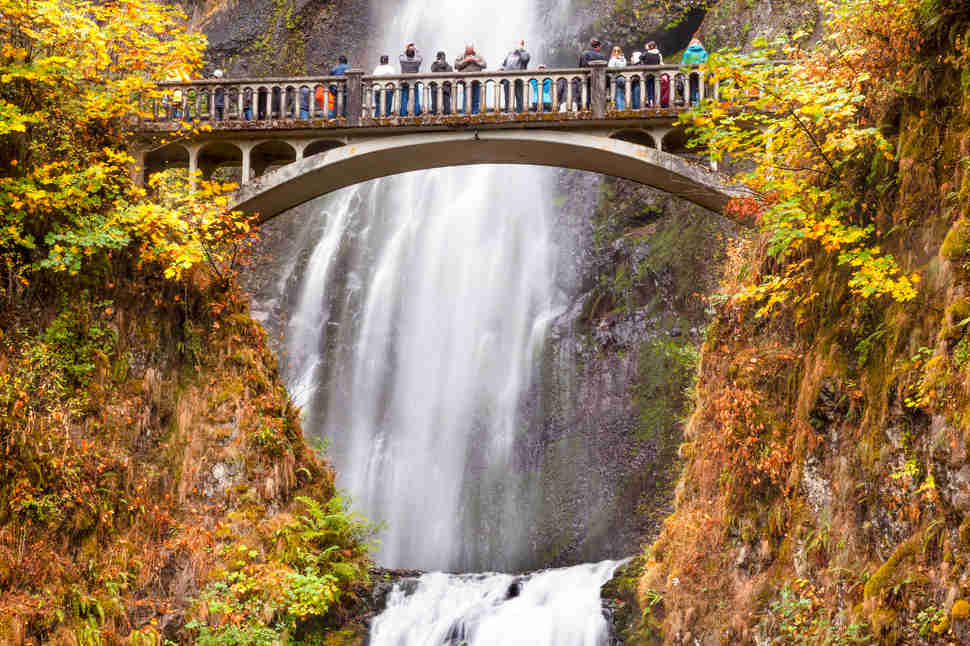 Columbia River Gorge, Oregon
The Pacific Northwest is almost certainly the country's most underrated region for fall colors. This is where the Columbia River surges through the Cascade Mountains, and it is just stupid beautiful over here. Many think of it as either evergreen or desert, but a hike to Multnomah Falls during September or October will have you standing on a bridge directly in front of a thundering waterfall, surrounded by the brightest colors you'll see in the region. Take a day hike through the region's many waterfall-studded trails to get the full effect.
Great River Bluffs, Minnesota
For the best view of these bluffs that line the Mississippi River, jump on the Great River Rd -- aka Hwy 60 between Red Wing and La Crescent. It'll not only take you through charming little river towns, but also some of the state's best scenic overlooks at Frontenac and Great River Bluffs State Parks. Hike the King's Bluff trail for a majestic view of the Mississippi River Valley in its autumnal glory. To maximize your leaf-peeping, check the Minnesota Department of Natural Resources' handy Fall Color Finder.
Aspen, Colorado
It's a given that fall foliage will be spectacular here, considering the city's namesake shimmery golden trees, but that doesn't mean you'll be at all prepared for it when you see it. It's worth a trip to this resort -- one of our favorite mountain towns in America -- 160 gorgeous miles southwest of Denver just to spot bright yellows and oranges contrasted against regal snow-capped mountains. Visit the nearby Maroon Bells, an iconia vista and the most-photographed mountain range in North America. September and October bring festivities like the Golden Leaf Half Marathon and Aspen Film Fest, which you can squeeze between gold-flecked bike rides up the Rio Grande Trail.
Great Smoky Mountains National Park, North Carolina/Tennessee
America's most visited national park relies on more than just the Old West photos in Gatlinburg. Summer hiking and winter skiing aren't even the best reasons to go. The best time to visit here is the fall -- especially mid-October through early November -- when the Great Smoky Mountains turn to fire (figuratively, of course) in a sea of orange, yellow, and red. One of the best ways to scope that splendor is to hike to Looking Glass Falls. Plan out your visit with the Smokies' Fall Foliage Prediction Map, and don't forget the Gatlinburg Smoky Mountains Harvest Festival -- it runs this year from September 6 through November 22.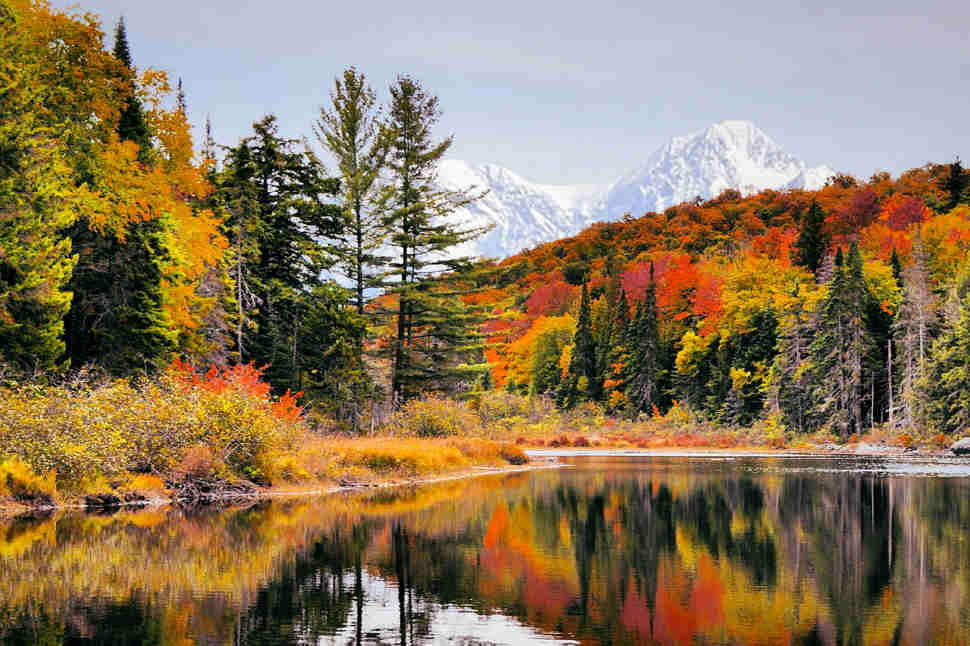 Upstate New York
While the final two weeks of September in the Adirondacks might be the peak of leaf-peeping season, festivals in the region run almost every weekend through October. A few hours South lie the New York Catskills, where the famous "Five State Lookout" in East Windham will have you scoping leaves in New York, Vermont, New Hampshire, Massachusetts, and Connecticut simultaneously. You can also summit the Catskills' 3,214ft Mount Utsayantha for a 360-degree fall foliage experience. If you're not so active, there's a chairlift at Hunter Mountain that'll give you a nice slow look at the changing colors.
Denali National Park, Alaska
Alaska might seem a little far to go for fall foliage if you're currently in the continental US, but by September the throngs of seniors on tour buses are gone and you can enjoy the brilliant fall colors of America's North by yourself. A drive through the park not only showcases the bright hues set against Denali -- the highest point in North America -- but also affords a chance to see moose, bears, and elks doing their thing amid the turning leaves. Fall comes earlier 'round these parts, so aim to make your leaf pilgrimage no later than early October.