The Best Places on Earth to (Ethically) Visit Rad Wild Animals
Animal and wildlife tourism can be incredibly sketchy. Here's where to go to do it right.
Animal and wildlife tourism is one of those industries with a dark underbelly people don't want to think about. They just want to hug a sloth, which is totally understandable. And it's often impossible to tell from the outside whether you're giving your tourism dollars to a place that's helping the animal in question or hurting them. (Unless you're just wading through bioluminescent plankton, in which case, wade on.)
To cut through some of the confusion, here are some of the most breathtaking animal-lover destinations around the globe that you can safely stan—places where you can visit your fave animal without worry, and ideally, contribute to its conservation. Sloths for all.
Where to see elephants: Chiang Mai, Thailand
You are going to see so many offers to ride and play with elephants in Thailand, and we regret to inform you that that shit is Problematic™. But instead of giving money to facilities and organizations where elephants are abused, you can help undo some of that damage at Elephant Nature Reserve, an extraordinary rehabilitation center that rescues abused elephants from tourist traps and logging camps. No, you don't ride the elephants (not trying to ruin your day right now so you if you want to see for yourself what goes into "training" an elephant to be ridden, just Google "elephant phajaan videos"). But you do feed them and bathe and play with them, all without having to feel awful about it.
When to go: February or November, when the weather is crisp and cool and you can catch some local festivals.
Cost: Starting at $80 for adults, $40 for children ages 2 to 11; includes transportation and lunch.
Where to see gray whales: Baja California, Mexico
You know you've always wanted to pet a whale, and in Baja California you can safely do so. Friendly and inquisitive, gray whales will swim right up to your boat and invite you to splash them and scratch their heads. This doesn't hurt them or mess with their migration routes in any way, so it's one of the few times you have the green light to pet an animal in the wild. The three main lagoons in Baja where gray whales hang out are Scammon's Lagoon, Magdalena Bay, and San Ignacio Lagoon, the latter of which is the most popular for whale-watching and -petting tours.
When to go: Springtime, when gray whales stop here to mate and give birth (gestation lasts about a year) on their way to the Arctic.
Cost: From around $55 for basic day trips that don't include food up through the $3,000-range for weeklong, all-inclusive packages by airplane and boat.
Where to see humpback whales: Hawaii
Male humpback whales are the ones that make that famous whale song, and Hawaii (Maui is probably your best bet here) is among the world's optimal places to see and hear them. Humpbacks are another sociable species, so if you take a boat trip odds are decent they'll come right up close to check you out. If you're on the fence about booking a trip, listening to this might help.
In 2016 humpback whales were removed from the endangered species list for the first time in more than 50 years. But scientists are uncertain whether this is a good thing for the whales, and whether the data that led to them getting bumped was really representing the full picture. You can donate to the Hawaii Wildlife Fund to support ongoing humpback conservation work.
When to go: February is peak season, but you can find them migrating through Hawaiian waters from November to May.
Cost: Starting around $50 for a snorkeling day trip or dinner cruise.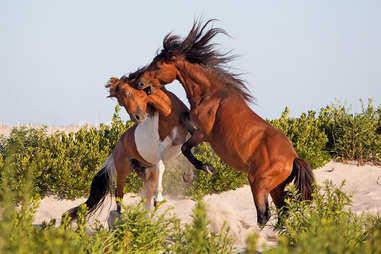 Where to see wild horses: Assateague Island, Virginia
Local legend posits that the feral wild horses of Assateague Island are survivors of a shipwreck, made to fend for themselves in a dramatic tale of conquering odds. While there's no evidence to back that up, their actual lives are just as cinematic: The horses roam free, the salty wind whipping through their manes, braving the elements on a barrier island almost barren of food.
On a single day every year since 1925, they do a "Pony Swim," an annual roundup where they swim (!) from the horse-populated island of Assateague to the human-populated neighbor island of Chincoteague, accompanied by Saltwater Cowboys (again, !). On Pony Swim days you can line up on shore for a thrilling view, and to see the horses any other day you can either drive onto the island (but don't get too close, or try to feed them), or rent a kayak or take a boat tour to spot them along the shoreline, maybe along with some dolphins.
When to go: July for the Chincoteague Pony Swim. If you're not into crowds—the event can draw tens of thousands of visitors—try going sometime between April and October.
Cost: National Park entrance fees start at $5; day trips by boat are generally around $45.
Where to see sloths: Monteverde Cloud Forest, Costa Rica
Sloths are stupefyingly cute and adorably slow, and, fun fact, come in either two-toed or three-toed varieties. But lately some questionable details have surfaced about a few of the more popular sloth sanctuaries. Consider hiring a guide and searching for them in their natural environment instead. Costa Rica, inarguably the sloth-tourism capital of the world, features loads of places where you can hunt (figuratively speaking) for both two- and three-toed sloths. But among the most extraordinary is the Monteverde Cloud Forest; take a night tour in addition to your daytime hike to improve your sloth-seeing odds.
When to go: Immediately (or whenever's convenient; sloth-visibility is about the same year-round).
Cost: Starting around $25.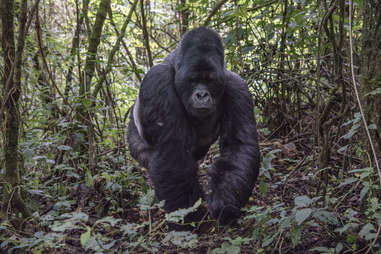 Where to see gorillas: Virunga National Park, Democratic Republic of the Congo
There's no better place in the world to see critically endangered mountain gorillas than the park that was founded to protect them. The park rangers today literally give their lives to keep the remaining gorillas safe from poachers, just as they did through the Congolese civil war. So when you go on a gorilla trek with them, you can be confident that every precaution has been taken so you won't harm the gorillas or their environment—even in non-Covid times you're required to wear a surgical mask, since gorillas' immune systems aren't set up to handle whatever diseases your human body might be packing (no offense). Kids have to be at least 15 to go on a gorilla trek, though there are no age restrictions on the other themed treks the park offers (chimpanzee, volcano, and mountain climbing).
When to go: December through February if you're going to the northern part of the park; April through October for the southern part. December is the most popular time, so book far in advance if that's when you plan to take those vacation days.
Cost: $400 for non-Congolese adults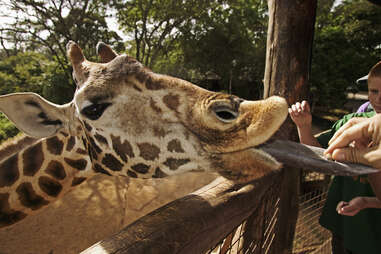 Where to see endangered giraffes: Nairobi, Kenya
Kenya is a land of safaris, but you don't need to shell out the big bucks to have an encounter with the world's tallest mammal. Nairobi is home to Giraffe Centre, an environmental conservation sanctuary for endangered Rothschild giraffes, of which only 2,100 are left in Africa. The gentle giants spend their days roaming in their own personal acreage and, when they feel like it, wandering over to your tower, where you can feed them pellets (put one in your mouth and get a purple-tongued "kiss"). Next, stroll their Nature Trail, where you can spot dik-diks (adorable) and warthogs (watch out).
You can also spend the night at Giraffe Manor, an elegant boutique hotel across from the reserve, which you've probably oohed and aahed on Instagram. The big guys often come around at breakfast and poke their heads through the dining room windows for some attention (and hopefully snacks). It's a bucket-list experience that doesn't come cheap, but your money helps support the sanctuary.
When to go: Whenever you want, really, but the driest and coolest months are July and August.
Cost: $14 for the Giraffe Center, starting at $875/night for Giraffe Manor.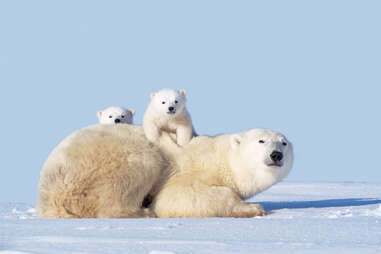 Where to see polar bears: Churchill, Manitoba, Canada
Every year a lumbering army of polar bears make the trek to the remote Canadian town of Churchill for feeding season. The town is even nicknamed the Polar Bear Capital of the World, with a whole tourism industry built around the spectacle. Operators will take you out into the tundra on a massive schoolbus-sized 4x4 (all the better to keep out of reach of curious furry friends). For an even more up close-and personal look, book a stay with Churchill Wild, a set of family-owned and operated lodges and the first to pioneer walking tours in polar bear country. The town of Churchill is also a spectacular viewing location for the Northern Lights, visible 300 days of the year, and to see chirping beluga whales in the summer.
When to go: October to November for polar bears; July to September for belugas
Cost: Tundra tours begin at $400, with multi-day Churchill Wild Tours beginning at $10,000
Where to see kangaroos: Kangaroo Island
It's right there in the name: Australia's Kangaroo Island lets you get up close and personal with the pugilistic indigenous marsupials. But it's also pretty famous for Tammar wallabies, koalas, pelicans, penguins, whale watching, the only wild population of platypus in South Australia, and seals (for that, go to Seal Bay—they don't get too creative with the names, it seems).
Known as the Australian Galapagos, over one third of this land is protected in national and conservation parks. Which means an itinerary could include a nocturnal tour of koalas (they're usually snoozing during the day), spotting raptors in the air, avoiding kangaroo kicks in a sanctuary, and communing with lazy seals and curious wallabies at Flinders Chase National Park. (The latter is also home to the impressive Admirals Arch and the insta-famous Cape du Couedic Road). Note: the park was severely damaged during the wildfires in 2020, but has re-opened for self-driving. Camping is not yet allowed.
When to go: March through May, but each season offers different wildlife spotting opportunities.
Cost: From $11 entry to Flinders Chase National Park. Plus, whatever your car rental costs. Nocturnal tours, $47.