Animal and wildlife tourism is one of those industries with a dark underbelly people don't generally want to think about because they just want to hug a sloth, which is understandable. And it's often impossible to tell from the outside whether you're giving your tourism dollars to a place that's helping the animal in question or hurting them. (Unless you're just wading through bioluminescent plankton, in which case, wade on.)
To cut through some of the confusion, here are some of the most breathtaking animal-lover destinations from around the globe that you can safely stan -- places where you can visit your fav animal without worrying that you're contributing to its abuse, and ideally where you're contributing to its conservation. Sloths for all.
Recommended Video
Debatable: It's Fine To Recline Your Seat On a Plane
Where to see pigs: Exumas, Bahamas
You knew this was going to be on here, so let's not waste any time. Bay Major Cay, one of the (many) islands that make up the Exuma district in the Bahamas, is not inhabited by humans, but it is inhabited by pigs, and you can swim with them. The pig-tourism boom has been a mixed blessing for the Exumas; in 2017, seven of the pigs were found dead, the cause of which was apparently their ingesting sand along with the food that tourists were throwing them on the beach. Which is to say: Swim with the pigs, just do not snack with the pigs. You can rent a boat and drive it to the island yourself, assuming that is a thing you know how to do, or you can book a tour that'll handle the logistics for you. It'll take about two hours each way, so make sure you set aside a full day for this.
When to go: Between November and March, when it's not hurricane season but the spring breakers haven't descended yet.
Cost: Tours start around $150 per person and generally include lunch and snorkeling gear.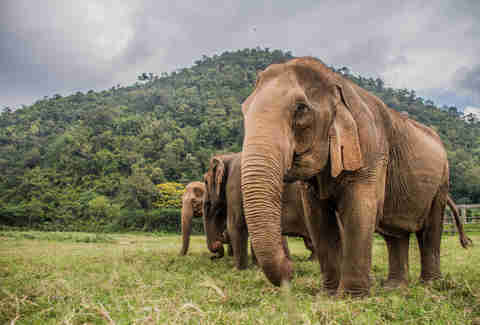 Where to see elephants: Chiang Mai, Thailand
You are going to see so many offers to ride and play with elephants in Thailand, and it is with greatest regret that I inform you that that shit is Problematic™. But instead of giving money to facilities and organizations where elephants are abused -- which would be pretty much all of them -- you can help undo some of that damage at Elephant Nature Reserve, an extraordinary rehabilitation center that rescues abused elephants from tourist traps and logging camps. No, you don't ride the elephants (I'm not trying to ruin your day right now so you if you want to see for yourself what goes into "training" an elephant to be ridden, just Google "elephant phajaan videos"). But you do feed them and bathe and play with them, all without having to feel awful about it. This was one of the best things I did in Thailand.
When to go: February, when the weather is crisp and cool and you can catch some local festivals.
Cost: $80 for adults, $40 for children ages 2 to 11; includes transportation and lunch.
Where to see gray whales: Baja California, Mexico
Also, in Baja California, you can pet these gray whales. Friendly and inquisitive, gray whales will swim right up to your boat and invite you to splash them and scratch their heads. This doesn't hurt them or mess with their migration routes in any way, so it's one of the few times you have the green light to pet an animal in the wild. The three main lagoons in Baja where gray whales hang out are Scammon's Lagoon, Magdalena Bay, and San Ignacio Lagoon, the latter of which is the most popular for whale-watching and -petting tours.
When to go: Springtime, when gray whales stop here to mate and give birth (gestation lasts about a year) on their way to the Arctic.
Cost: From around $55 for basic day trips that don't include food up through the $3,000-range for weeklong, all-inclusive packages by airplane and boat.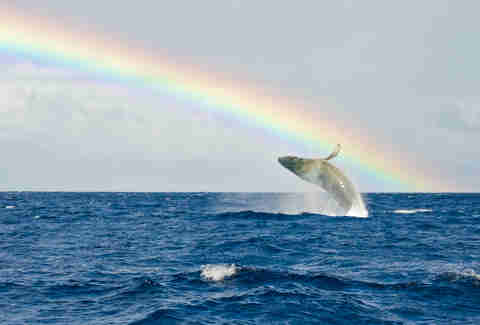 Where to see humpback whales: Hawaii
Male humpback whales are the ones that make that famous whale song, and Hawaii (Maui is probably your best bet here) is among the world's optimal places to see and hear them. Humpbacks are another sociable species, so if you take a boat trip odds are decent they'll come right up close to check you out. If you're on the fence about booking a trip, listening to this might help. Humpback whales were recently removed from the endangered species list for the first time in more than 50 years. But scientists are uncertain whether this is a good thing for the whales, and whether the data that led to them getting bumped was really representing the full picture. You can donate to the Hawaii Wildlife Fund to support ongoing humpback conservation work.
When to go: February is peak season, but you can find them migrating through Hawaiian waters from November to May.
Cost: Starting around $50 for a snorkeling day trip or dinner cruise.
Where to see wild horses: Assateague Island, Virginia
I will disclose right up front that I was a Horse Girl growing up and am still vulnerable to residual bias toward these islands because I read all those Misty books as a kid, but I feel comfortable saying that these islands hold their own against the top animal-lover travel destinations around the world. The wild horses of Assateague are famous for the annual roundup where they swim from the horse-populated island of Assateague to the human-populated neighbor island of Chincoteague. You can see them by taking a boat tour (or a kayak tour if you're more ambitious) where you'll spot ponies along the shoreline; maybe even some dolphins. You can also drive onto the island.
When to go: July for the Chincoteague Pony Swim. If you're not into crowds -- the event can draw tens of thousands of visitors -- try going sometime between April and October.
Cost: National Park entrance fees start at $5; day trips by boat are generally around $45.
Where to see sloths: Monteverde Cloud Forest, Costa Rica
Sloths -- or, if you are David Attenborough, slowths -- are stupefyingly adorable, but lately some questionable details have surfaced about a few of the more popular sloth sanctuaries. Consider hiring a guide and searching for them in their natural environment instead. Costa Rica, inarguably the sloth-tourism capital of the world, features loads of places where you can hunt (figuratively speaking) for both two- and three-toed sloths. But among the most extraordinary is the Monteverde Cloud Forest; take a night tour in addition to your daytime hike to improve your sloth-seeing odds.
When to go: Immediately (or whenever's convenient; sloth-visibility is about the same year-round).
Cost: Starting around $25.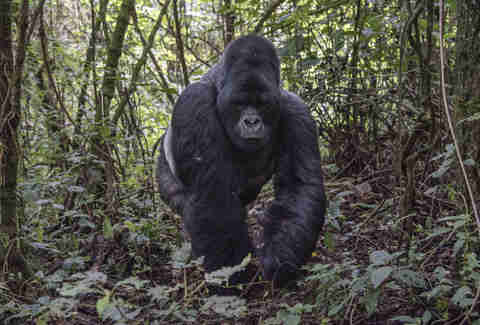 Where to see gorillas: Virunga National Park, Democratic Republic of the Congo
There's no better place in the world to see critically endangered mountain gorillas than the park that was founded to protect them. The park rangers today literally give their lives to keep the remaining gorillas safe from poachers, just as they did through the Congolese civil war. So when you go on a gorilla trek with them, you can be confident that every precaution has been taken so you won't harm the gorillas or their environment -- you'll even wear a surgical mask, since gorillas' immune systems aren't set up to handle whatever diseases your human body might be packing (no offense). Kids have to be at least 15 to go on a gorilla trek, though there are no restrictions on the other themed treks the park offers (chimpanzee, volcano, and mountain climbing).
When to go: December through February if you're going to the northern part of the park; April through October for the southern part. December is the most popular time, so book far in advance if that's when you plan to take those vacation days.
Cost: $400 for non-Congolese adults
Where to see dogs (2018 Bonus): Inverness, Scotland
You're forgiven for not knowing this, but 2018 marks the 150th anniversary of the Golden Retriever. Yes, the dog. The Golden Retriever Club of Scotland is honoring that anniversary this summer at Guisachan, where the breed was founded by one Lord Tweedmouth, to whom we all owe a debt. The event -- officially called the Guisachan Gathering, but to which I shall hereafter refer as PuppyCon -- will likely break the world record for most Very Good Dogs in one place (yes, there are photos from the previous one). Though in its early days the Club's #brand was more stuffy, in the last 20 years or so the members have made it part of their mission to rescue dogs when they can and to speak out about the dangers of puppy mills. Though it's widely reported as an annual event, the Club has only been hosting one of these gatherings every five or so years.
When to go: July, for PuppyCon, please pay attention.
Cost: TBD, but when they last held one of these in 2013, BYOB buffet tickets were around $11.
Sign up here for our daily Thrillist email and subscribe here for our YouTube channel to get your fix of the best in food/drink/fun.