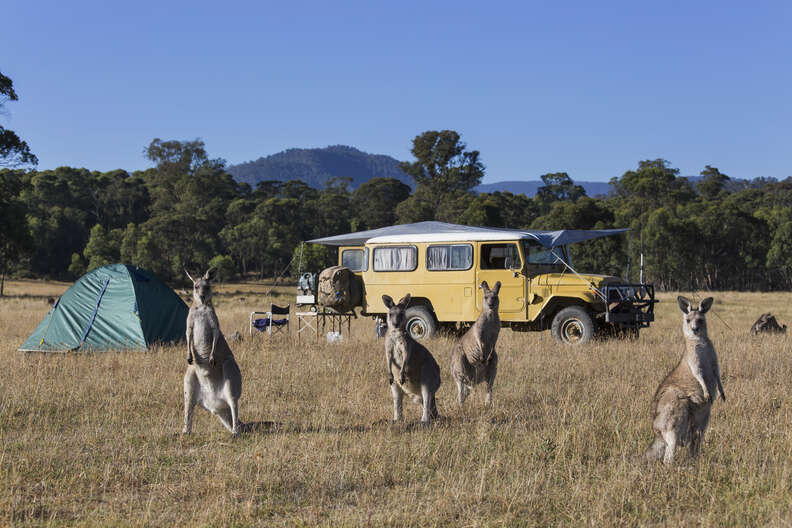 What a view to wake up to.

| Tobias Titz/fStop/Getty Images
What a view to wake up to.

| Tobias Titz/fStop/Getty Images
Editor's note:
As reports about the rapid progression of climate change and other earthly afflictions continue to increase (as do our nights spent doom scrolling), it may often feel like there's nothing we can do to prevent the degradation of the planet—especially if you're a traveler. But remember that there's power and influence in numbers. This Earth Day, here are some
Green Travel
tips to lessen your impact and join the millions of people doing their part to make preserving the planet priority #1.
Wildlife tourism sure seems wonderful in theory. Who among us doesn't covet a chance to get up close and personal with some new friends? (Not to mention the social capital that comes with that sweet Instagram shot.)
But in practice, it often comes with collateral damage. You could be hurting the very creatures you're there to cherish; worse yet, in its seediest instances the industry is prone to exploitation—not just of the animals, but the environment and local communities that any responsible tourist hopes to support.
Being an ethical traveler means finding sustainably-minded adventures where you can intimately appreciate as well as contribute to the conservation of local ecosystems—those that, all too often, big name hotels and commercial tour groups are all too eager to encroach upon.
It's not always easy to separate the truly sustainable enterprises from the greenwashers. To cut through that confusion, we've compiled this list of the most memorable and ethical wild animal tours from around the globe—wonderful experiences in theory and in practice.
Where to see gray whales: Baja California, Mexico
You know you've always wanted to pet a whale, and in Baja California, you can safely do so. Friendly and inquisitive, gray whales will swim right up to your boat and invite you to splash them and scratch their heads. This doesn't hurt them or mess with their migration routes in any way, so it's one of the few times you have the green light to pet an animal in the wild.
The three main lagoons in Baja where gray whales hang out are Scammon's Lagoon, Magdalena Bay, and San Ignacio Lagoon, the latter of which is the most popular for whale-watching and -petting tours.
When to go: Springtime, when gray whales stop here to mate and give birth (gestation lasts about a year) on their way to the Arctic.
Cost: From around $85 for basic day trips that don't include food up through the $3,000-range for weeklong, all-inclusive packages by airplane and boat.
Where to see wild horses: Assateague Island, Virginia
Local legend posits that the feral wild horses of Assateague Island are survivors of a shipwreck, made to fend for themselves in a dramatic tale of conquering odds. While there's no evidence to back that up, their actual lives are just as cinematic: The horses roam free, the salty wind whipping through their manes, braving the elements on a barrier island almost barren of food.
On a single day every year since 1925, they do a "Pony Swim," an annual roundup where they swim (!) from the horse-populated island of Assateague to the human-populated neighbor island of Chincoteague, accompanied by Saltwater Cowboys (again, !).
On Pony Swim days you can line up on shore for a thrilling view, and to see the horses any other day you can either drive onto the island (but don't get too close, or try to feed them), or rent a kayak or take a boat tour to spot them along the shoreline, maybe along with some dolphins.
When to go: July for the Chincoteague Pony Swim. If you're not into crowds—the event can draw tens of thousands of visitors—try going sometime between April and October.
Cost: National Park entrance fees start at $5; day trips by boat are generally around $45.
Where to see Bengal tigers: Maharashtra, India
Royal Bengal tigers are perhaps the most majestic of all cats in the wild—and with a whopping 115 in residence, Tadoba National Park has one of largest concentrations of the black and orange felines in all of India's 47 tiger reserves. There's so many, the likelihood of seeing one is almost 80%, according to Wild Trails India.
The beautiful striped creature is even reflected in the park's name. According to the mythological tale, Taru was a Gond tribal leader who encountered and fought a mighty tiger near his village. He rose victorious over the beast, and went on to become a god named Tadoba. The reserve was established in 1993, and not only will you see tigers, but 300 other species including leopards, sloth bears, cheetal (AKA spotted deer), chinkara, nilgai, and much more. Cycle, take a boat ride, or book morning and night safaris—each venue offers a different up close and personal animal experience.
Book affordable accommodations at places like Salai Homestay, which offers home-cooked meals and traditional Indian hospitality for $25 to $75 a night. Or go the luxury wellness route with Tadoba Vanya Villas Resort or Bamboo Forest Safari Lodge, each complete with nighttime safaris to round out your animal-spotting adventure. An added bonus? The latter also uses funds to benefit farmers that were displaced by the migratory routes of animals inside the national park.
Even better: Bamboo Forest Safari Lodge is the first in India to use battery-powered safari vehicles, which is better for both noise and environmental pollution.
When to go: Ideally, between November and March.
Cost: The luxury lodges range from $400 to $800 a night.
Where to see elephants: Nairobi National Park, Kenya
Located along the western edge of Nairobi National Park, the Sheldrick Wildlife Trust (SWT) operates the largest orphan elephant rescue and rehabilitation program in the world. Founded in 1977 in honor of renowned naturalist David Leslie William Sheldrick, their projects include all manner of conservational endeavors ranging from anti-poaching to veterinary assistance.
For visitors here, however, it's all about access to the elephants. Arrive during their late afternoon feeding session and you'll get to see these magnificent mammals from arms length. Watch them lift their adorable tusks and slurp down milk while learning all about how the facility nurses them back to health, ultimately readying them for a return to the savannah. And if you're so inspired, you can stay overnight at one of Sheldrick's eco-lodges or donate to the cause by adopting an elephant—or rhino—of your own!
When to go: SWT is open year-round, but the only time you can view the elephants is between 11 am through noon, Monday through Friday.
Cost: $7 donation fee upon entrance, plus around $25 taxi fare from center of Nairobi.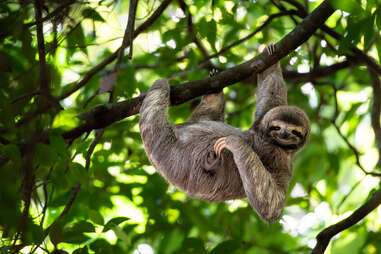 Where to see sloths: Monteverde Cloud Forest, Costa Rica
Sloths are stupefyingly cute and adorably slow, and—fun fact—come in either two-toed or three-toed varieties. But lately, some questionable details have surfaced about a few of the more popular sloth sanctuaries. Consider hiring a guide and searching for them in their natural environment instead.
Costa Rica, inarguably the sloth-tourism capital of the world, features loads of places where you can hunt (figuratively speaking) for both two- and three-toed sloths. But among the most extraordinary is the Monteverde Cloud Forest; take a night tour in addition to your daytime hike to improve your sloth-seeing odds.
When to go: Immediately (or whenever's convenient; sloth-visibility is about the same year-round).
Cost: Starting around $25.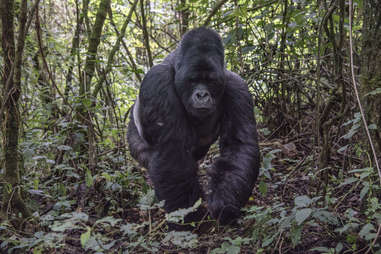 Where to see gorillas: Virunga National Park, Democratic Republic of the Congo
There's no better place in the world to see critically endangered mountain gorillas than the park that was founded to protect them. The park rangers today literally give their lives to keep the remaining gorillas safe from poachers, just as they did through the Congolese Civil War.
So when you go on a gorilla trek with them, you can be confident that every precaution has been taken so you won't harm the gorillas or their environment—even in non-COVID times, you're required to wear a surgical mask, since gorillas' immune systems aren't set up to handle whatever diseases your human body might be packing (no offense).
Kids have to be at least 15 to go on a gorilla trek, though there are no age restrictions on the other themed treks the park offers (chimpanzee, volcano, and mountain climbing).
When to go: December through February if you're going to the northern part of the park; April through October for the southern part. December is the most popular time, so book far in advance if that's when you plan to take those vacation days.
Cost: $400 for non-Congolese adults.
Where to see manta rays: Kona Coast, Hawai'i
The serene shores of Hawai'i's Kona Coast are teeming with aquatic life. Among all that natural wonder, manta rays capture the imagination like little else. Here, they grow up to 15 feet across, weighing as much as 3,000 pounds. And they're as mesmerizing as they are massive, gently gliding through the water with the grace of a ballerina.
They're also highly sensitive to vibrations given off by outboard motors, which is how most tour groups get close to them. Thankfully there's another way: Anelakai Adventures affords you the opportunity to snorkel with these impressive beasts in a wholly unobtrusive way.
The Native Hawaiian-owned outfitter helms excursions on traditional Hawaiian canoes. An ultraviolet light is used to attract the phytoplankton on which the mantas feed, ensuring that dozens of the gentle giants will swim enthusiastically past you as you're suspended plank-like from the side of the outrigger. The nightly procession only lasts an hour, but the memories will be with you for life.
When to go: Because the weather is always perfect in Hawai'i, there's never a bad time to swim with the mantas. However, there is greater availability in the shoulder seasons of fall and spring. Nightly sessions are offered Monday through Saturday at 7 and 9 pm.
Cost: $130 per person, ages 2 and up.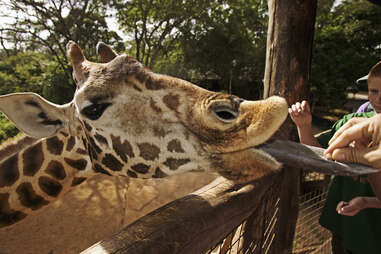 Where to see endangered giraffes: Nairobi, Kenya
Kenya is a land of safaris, but you don't need to shell out the big bucks to have an encounter with the world's tallest mammal. Nairobi is home to Giraffe Centre, an environmental conservation sanctuary for endangered Rothschild giraffes, of which only 2,100 are left in Africa.
The gentle giants spend their days roaming in their own personal acreage and, when they feel like it, wandering over to your tower, where you can feed them pellets (put one in your mouth and get a purple-tongued "kiss"). Next, stroll their Nature Trail, where you can spot dik-diks (adorable) and warthogs (watch out).
You can also spend the night at Giraffe Manor, an elegant boutique hotel across from the reserve, which you've probably oohed and aahed on Instagram. The big guys often come around at breakfast and poke their heads through the dining room windows for some attention (and hopefully snacks). It's a bucket-list experience that doesn't come cheap, but your money helps support the sanctuary.
When to go: Whenever you want, really, but the driest and coolest months are July and August.
Cost: $14 for the Giraffe Center, starting at $875/night for Giraffe Manor.
Where to see polar bears: Churchill, Manitoba, Canada
Every year a lumbering army of polar bears make the trek to the remote Canadian town of Churchill for feeding season. The town is even nicknamed the Polar Bear Capital of the World, with a whole tourism industry built around the spectacle. Operators will take you out into the tundra on a massive schoolbus-sized 4x4 (all the better to keep out of reach of curious furry friends).
For an even more up-close-and-personal look, book a stay with Churchill Wild, a set of family-owned and operated lodges and the first to pioneer walking tours in polar bear country. The town of Churchill is also a spectacular viewing location for the Northern Lights, visible 300 days of the year, and to see chirping beluga whales in the summer.
When to go: October to November for polar bears; July to September for belugas.
Cost: Tundra tours begin at $400, with multi-day Churchill Wild Tours beginning at $10,000.
Where to see kangaroos: Kangaroo Island, Australia
It's right there in the name: Australia's Kangaroo Island lets you make close friends with the pugilistic indigenous marsupials. But it's also pretty famous for Tammar wallabies, koalas, pelicans, penguins, whale watching, the only wild population of platypus in South Australia, and seals (for that, go to Seal Bay—they don't get too creative with the names, it seems).
Known as the Australian Galápagos, over one-third of this land is protected in national and conservation parks, meaning an itinerary could include a nocturnal tour of koalas (they're usually snoozing during the day), spotting raptors in the air, avoiding kangaroo kicks in a sanctuary, and communing with lazy seals and curious wallabies at Flinders Chase National Park. (The latter is also home to the impressive Admirals Arch and the Insta-famous Cape du Couedic Road).
When to go: March through May, but each season offers different wildlife spotting opportunities.
Cost: From $11 entry to Flinders Chase National Park. Plus, whatever your car rental costs. Nocturnal tours, $47.
Where to see rhinos and zebras: Isiolo, Kenya
The Lewa Wildlife Conservancy is home to 10% of Kenya's critically endangered rhino population, not to mention the world's largest concentration of Grevy's zebras. And Elewana Lewa Safari Camp, a tourist enclave owned by the very conservancy upon which it sits, is the best way for a wildlife enthusiast to take them all in.
Guests here get to observe the rhinos while also preserving them. You'll join local rangers on patrol and meet with an anti-poaching team and their sniffer dogs. You can also participate in other wildlife monitoring activities as well as help re-green the preserve. All profits and fees generated by the camp are reinvested directly into the conservation and community efforts of the Lewa Wildlife Conservancy.
Since the area is accessible primarily by air taxi, most visitors arrive as part of a tour package. Just be mindful of who you're booking with; not all companies are committed to preservation.
In this regard, Micato Safari stands head and shoulders above the rest. The tour operator has been a reliable steward of the continent's delicate ecosystem for more than five decades. A two-week luxury excursion on their Grand Safari includes two days in Lewa and champions ethical partnerships through its entirety.
When to go: The park is open year-round but the best time to see it is during dry season, from late June through September.
Cost: An all-inclusive luxury package with Micato, built around 15 days of Kenyan safari adventure, starts at $19,950 for a double occupancy.