The Best Places to Stargaze in the U.S. Right Now
Planning a camping trip? Consider these big-sky destinations.
Sponsored By

Imagine being able to see billions of stars in the Milky Way, just with your naked eye, from your own backyard. It was once a common reality, until artificial lights from our growing cities started encroaching upon the night sky. Today in order to see the Milky Way—and most constellations other than, say, the Big Dipper—you have to trek far, far away from humanity. The darker the sky, the better.
The ultimate stargazing spots are fittingly called Dark Sky Places: designated pockets where light pollution is at a minimum and the stars are out in all their glory. And the keepers of those Dark Sky Places are the International Dark Sky Association.
What began in 1988 as a grassroots movement among astronomers in Tucson is now international, with 170 certified Dark Sky Places in 21 countries. Their mission is to protect natural landscapes, educate, and counteract the harmful effects of excessive light pollution linked to everything from insomnia to obesity to cancer. "It messes with our circadian rhythms," says Ryan Parker, Chair of the Colorado chapter of the IDA. "Our body naturally needs to sleep and rest and rebuild. And when we don't allow that to happen, it interferes with our natural homeostasis."
When the 24-hour cycle of light and dark is interrupted for wildlife, the consequences can be dire. Nocturnal animals confuse night and day and become easy prey. Birds that migrate or hunt by moonlight get thrown off course by artificial light, migrating too early or colliding into buildings. Baby sea turtles that hatch on the beach and find their way to the ocean by the light of the moon are lured in the opposite direction by urban glow. Night pollinators can't, well, pollinate.
Beyond that, the impetus to preserve our dark skies should be pretty obvious: just look up. An unpolluted sky is glorious, awe-inspiring even. And more and more communities are working to get officially certified by the IDA's standards—a process that can take up to three years.
Dark Sky Places fall under five designations: Sanctuaries, the most remote and unpopulated dark areas; Reserves, sparsely populated centers where policies are enacted to keep the skies unpolluted; Dark Sky Parks, public and privately-owned lands, including many national parks; Urban Night Sky Places, located near cities; and International Dark Sky Communities, cities and towns that enact policy and educate their citizens about dark sky practices.
"It's really a neat thing because you have a buy-in from the community who wouldn't normally consider doing something like that," says Parker. "But when they do they're saying 'Hey, this is our town, and we're really proud to be a Dark Sky Community. Come see.'"
In addition to certifying Dark Sky Places, the 50 IDA chapters also run star parties like the upcoming Rocky Mountain Star Share, an annual extravaganza in Colorado on 35 acres of land with speakers, camping, and massive telescopes for visitors to play with. There's International Dark Sky Week in April, and both Utah and Colorado host Dark Sky Months, with events and extra outreach to inspire visitors to make changes in their own homes and communities.
When you want the best views of a starry night, there's only one thing to do: hop in your car and take a drive to Nevada. A trip with friends on the open road will be the stargazing adventure you don't want to miss out on. For the best spots to see your favorite constellations alongside your favorite people, visit Travel Nevada
The coolest Dark Sky Places to visit in the US
Across the 111 Dark Sky Places in the United States, you'll find friendly amateur astronomers and ample opportunities to gaze uninterrupted into the heavens. Consider picking up a red light headlamp—a hands-free way to illuminate your path, but not obstruct the experience. Check the weather forecast, bring layers and plenty of water, tell someone where you're going, and don't forget to look down every once in a while. "You can fall off a cliff if you're not paying attention," says Parker.
Cherry Springs State Park
Pennsylvania
The East Coast is a mess on the light-pollution map, but that doesn't mean there aren't excellent options for stargazing. Cherry Springs State Park comes with its own astronomy field, and it even offers private tours. It's open year-round, and you can check when the skies overhead are expected to be clearest. There are star parties, but they do fill up in advance so make sure to register well ahead of time if you have your heart set on one. You might even see the northern lights.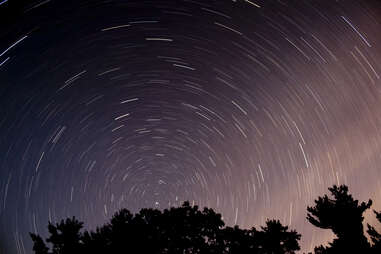 Katahdin Woods and Waters National Monument
Maine
Speaking of the East Coast, Maine's been busy. Pre-pandemic, there were no Dark Sky Places in the state, and now there are two. In May 2021 the Appalachian Mountain Club's Maine Woods was designated an International Dark Sky Park: its 300 square kilometers of land within Maine's famed 100-Mile Wilderness includes a section of the Appalachian Trail.
It follows last year's designation of the Katahdin Woods and Waters National Monument as a Dark Sky Sanctuary, one of only thirteen Sanctuaries in the world and the only one east of the Mississippi. A haven for daytime exploration, when night falls you can see the stars just as brightly as the indigenous Wabanaki did 11,000 years ago. Each year there's a Stars over Katahdin celebration, which returns in-person this October.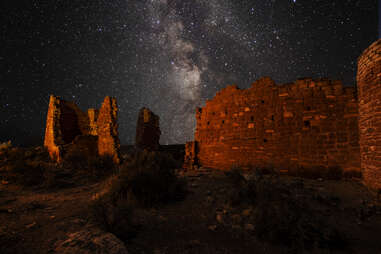 Colorado
Just 90 miles from Denver, in 2020 Jackson Lake State Park became the first state park in Colorado to be designated an International Dark Sky Park, bringing Colorado's total Dark Sky Places up to a whopping eight. It was already a go-to for amateur astronomers—with free astronomy meet-ups from July through September—but advocates recently removed street lamps, updated light fixtures, and obtained a Celetron telescope for public use. Stargazing is especially good from the sandy beaches around the massive reservoir, whose reflective surface mirrors the Milky Way.
Goblin Valley State Park
Utah
Utah punches well above its weight in terms of stargazing — between Arches, Zion, Bryce, Capitol Reef, and Canyonlands, the state might as well just be one big-ass national park. Each of those places deserves a place on this list. But don't overlook the state parks, either. They give the big boys a run for their money, and none is more surreal under a blanket of stars than the hoodoos and otherworldly formations at Goblin Valley, which happens to also be a certified International Dark Sky Park. Here, the aural glows are very likely to trick your eyes into thinking that there are truly creatures lurking around the spires. Or maybe it's just David Bowie. Either way, you can check Goblin Valley's dark sky forecast here.
Grand Canyon National Park
Arizona
Is it the best national park in America? That's debatable. It is the most recognizable, and an extraordinary place to stargaze. A few years ago, the Grand Canyon Village began retrofitting all its lighting to be more dark sky-friendly, and in 2016 was rewarded with Provisional Dark Sky status. Between that effort and the accessibility, Grand Canyon's allure for the astronomically inclined is not up for debate. There's an annual Grand Canyon Star Party held in June, and the Desert View Watchtower is a popular spot for capturing the Milky Way with astrophotography. On a full moon night take a ranger-led hike along the rim (currently on hiatus), or on other nights, a ranger-led constellation tour. Here's how to plan a visit.
Death Valley National Park
California and Nevada
Death Valley is the largest Dark Sky National Park in the country and happens to be Gold Tier. You can set up shop at designated campgrounds and gaze upwards; the Mesquite Flat Sand Dunes are also an otherworldly spot to watch the stars come out. Bring a flashlight and be cognizant of the extreme heat, which on summer nights can hover in the 90s. Come spring and winter you'll find a robust program of ranger-led astronomy activities, like the big ol' star party they throw each year around March, the Death Valley Dark Sky Festival, a collaboration between the park and NASA. The dates for 2021's event are yet to be announced.
Cosmic Campground
New Mexico
Cosmic Campground sits within Gila National Forest, and was the first Dark Sky Sanctuary not just within the National Forest System but anywhere in North America. It's so dark you won't find any artificial light sources for 40 miles. There's a star party each spring, but don't stress if you miss—this is a particularly great place to go to be alone. The forest is free to enter and open year-round; you can check out the campground's stargazing tips here. The camping amenities are bare-bones, but isn't that what you're looking for? Drive southeast to White Sands National Monument, and you'll find more excellent stargazing sites complete with star parties, too.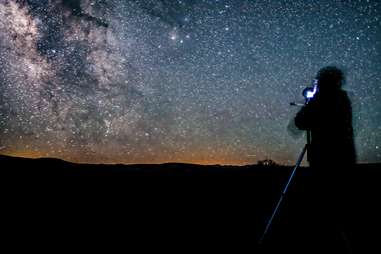 Massacre Rim
Nevada
Two volcanic plateaus are encompassed in the Massacre Rim Wilderness Study Area, which in 2019 was designated a Dark Sky Sanctuary. A 1,200 foot tall escarpment descends with drama into a valley, and it's so dark you can see shadows cast by the light of the Milky Way. It's a little tricky to get there — the region is remote, the roads rife with wildlife, and rough and rocky to navigate (they recommend having a spare tire on hand). But that just means less tourists. Massacre Rim is popular with backcountry hikers — while it might not be your pick if you're looking for more of a park ranger-led star party scene, if you're looking to truly get away then you should add it to your list.

Natural Bridges National Monument
Utah
Like its state parks, Utah's national monuments often hide in the shadows of the big five national parks. As such, only about 100,000 people visit Natural Bridges each year, and most of those folks don't stick around once the sun goes down. It's unfortunate: Natural Bridges became the first international Dark Sky Park back in 2007, owing to it having some of the absolute darkest skies in the country, with astronomy events held through the summer. At night, the sky positively explodes with stars and celestial bodies, and canyon walls are pitch black, a contrast to the celestial river that is the Milky Way rising over Owachomo Bridge. Gaze through the arch, upward and uninterrupted.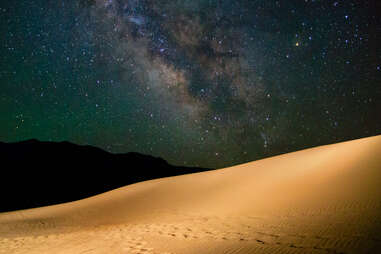 Great Sand Dunes National Park
Colorado
One of our most underrated national parks, Great Sand Dunes is a reprieve from the canyons and arches one typically thinks of in the Southwest. Here, things look decidedly different. You know those iconic movie scenes where our hero marches up a giant sand dune under a brilliant scene of stars? This is basically that. A few tips: check their events website for night programs like constellation lectures and quicksand survival stories (!). Skip the contacts — it would make for a particularly excruciating experience on a windy night. And for a true once-in-a-lifetime experience, bring your own sand sled or sand board (the park does not rent them, but it is permitted in designated areas) for a particularly surreal evening surfing beneath a galactic glow.