I blame Jaws. Ever since Chrissie Watkins spoiled ocean skinny dipping forever, the idea that sharks are malevolent, grudge-bearing death machines has been etched in the human psyche. The Discovery Channel's Shark Week fans the sensationalist flames each year, and tour operators are only too happy to cash in on the hype by using chum (blood and guts and fish bits) to coax sharks into aggressive behavior. "What's wrong with chum?" you might ask. Well, in general, it makes sharks look vicious and bloodthirsty, and encourages them to associate human contact with a round meal, which is no good for anyone, obviously.
But hey, one thing is undeniably true: Sharks are huge, powerful, awe-inspiring creatures, and in the world of animal tourism, swimming with them is just about the biggest buzz you can get. Ethical animal tourism is complicated to navigate, but it is absolutely possible to see sharks in their natural habitat without simultaneously fucking them over. You just need to know where to look…
Recommended Video
Debatable: It's Fine to Recline Your Seat on a Plane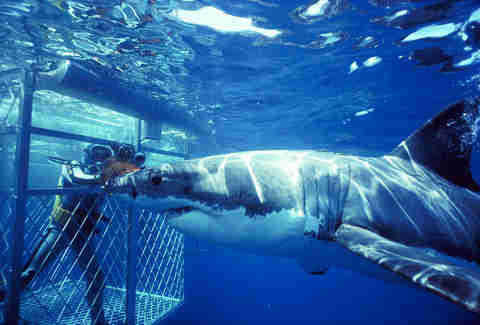 Port Lincoln, Australia
Adventure Bay Charters, an Australia-based pioneer of sustainable and eco-friendly shark tourism, offers cage dives that draw great whites up from the depths with something that is not chum. I'll give you a moment to guess what they use instead because it's more fun that way. The answer will be revealed after a brief commercial break, by which I just mean this clip that nobody can ever watch too many times. You can skip to the 2:10 mark if you're pressed for time.
Welcome back! The answer is: seminal Australian rock group AC/DC. Sharks are attracted to sound vibrations in the water, and it turns out they've got a particular fondness for hard rock, because of its consistent, low-frequency beats. So there you have it: Back in Black is apparently all you need to get the great whites looking up to the surface thinking, "Now that's a fucking tune."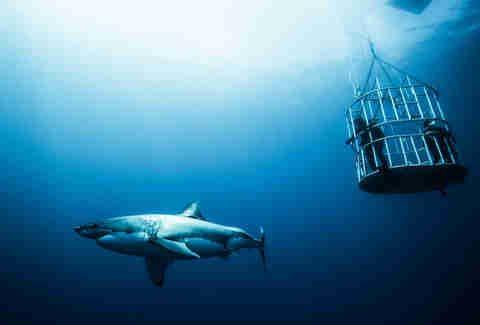 Isla Guadalupe, Mexico
This island off the coast of Baja California is a top-shelf choice if you want to cage dive with great whites. Tour companies here will leave fish free-floating on the surface for sharks to find along their natural migration routes. That allows them to abstain from actual shark baiting (dragging the food through the water) which steers the sharks off-course, and it also means the sharks don't associate boats and humans with food, which for obvious reasons is a good thing all around.
Oahu, Hawaii
One Ocean Diving offers open-water snorkeling and diving packages to swim with sharks. They don't chum the waters. They operate by familiarizing themselves with the sharks' territory and learning to predict their whereabouts and behavior. This means your guide won't be able to know for sure how many sharks you'll see, but in the unlikely event that it's none at all, the company will issue a full refund. On any given day, you can expect a mix of scalloped hammerheads, sandbar sharks, Galapagos sharks, tiger sharks, the odd mako shark and, occasionally, whale sharks.
Gansbaii, South Africa
South Africa is one of the shark-diving capitals of the world, and it's pretty much impossible to find a company advertising great white tours that does not chum. Marine Dynamics does indeed chum, but it's also Fair Trade-certified and helps fund ongoing research on great white migration patterns, which are still in many ways a mystery to us. Each tour will have a marine biologist aboard to give you some background on shark behavior and conservation.
"Chumming, I think you can do it responsibly," says photojournalist Brian Skerry, who's been a contributing photographer for National Geographic for the past two decades. "You just have to be very aware of where in the wild you're doing this… like with so many things, I think there are degrees of ethical behavior."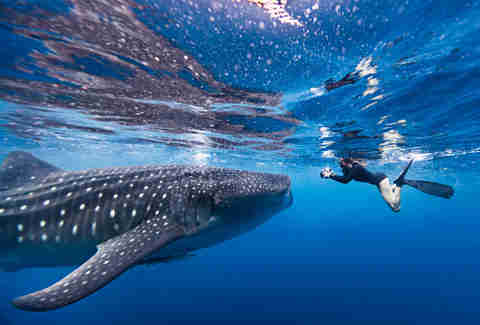 Isla Mujeres, Mexico
Whale sharks, the largest and most extraordinary fish in the world, are famously mysterious in their behavior and migration routes. But you'll most reliably find them around Mexico in the peak season of July and August, when they come by the hundreds to bask in the warm waters and presumably their own elegance. Also to eat plankton.
"If anything in nature can be a slam dunk, Isla Mujeres is it," Skerry says. "You can stay in the water for three or four hours and never not see a whale shark."
One day, I will finally get the chance to swim with whale sharks, and when that day comes it will be the final test of whether my commitment to ethical travel is as strong as I try to make it sound online, or whether I am in fact full of shit. Touching the sharks can tear the protective layer of mucus covering their skin and leave them vulnerable to parasites and infections -- so as tempting as it undeniably is to grab hold (looking at you, 80-year-old Buzz Aldrin) and attempt to hitch a ride out to sea, we can be better than this. Fortunately, whale sharks are gentle and inquisitive creatures, and will swim right up close even though we don't deserve them.
Sign up here for our daily Thrillist email and subscribe here for our YouTube channel to get your fix of the best in food/drink/fun.