The Best Places for Swimming With Sharks in the Wild
Nothing can prepare you for a dive with these incredible creatures.
Mexico

| Westend61/getty images
Mexico

| Westend61/getty images
You can prepare for many things before you backward roll off a zodiac into the waters surrounding a remote atoll in French Polynesia. You'll be apprised of the underwater plan via a thorough dive briefing from your dive master. You'll understand the maximum depth you're meant to go. You'll review the basic hand signals to use for simple comms underwater.
But absolutely nothing prepared me for the view through my mask when I descended into the blue on a dive at Fakarava's south pass -- the epic site called Tetamanu -- in the Tuamotu Atolls.
I knew this place would be sharky; I've dived with sharks several times, from the Bahamas to Palau, and I respect and admire them far more than I fear them. Still, Fakarava is a league all its own.
Within seconds of emptying my BCD of air and letting my body sink down to the ocean floor, I was met with a scene straight out of an underwater documentary. As I held tight to a rock in the current, hundreds of grey reef sharks cruised all around me with effortless, torpedo-like grace. They were almost robotic, soaring on the conveyor belt of the incoming tide at the mouth of the atoll. A firm bite on my regulator's mouthpiece kept my jaw from going slack with awe.
For divers, Tetamanu pass equates to the holy grail of shark diving: an experience you simply can't have anywhere else on earth. That said, there are many fabulous places around the planet to get in the water with sharks, including species that range from nurse sharks and reef sharks to lemons, tigers, bulls, and the all-too-often vilified great white. -- Terry Ward
Port Lincoln, Australia
Adventure Bay Charters, an Australia-based pioneer of sustainable and eco-friendly shark tourism, offers cage dives that draw great whites up from the depths with a surprising alternative to a bucket of bloody chum (a.k.a fish guts -- often used by tour operators to coax sharks into aggressive behavior). Any guesses what it might be? The answer will be revealed after a brief commercial break, by which I mean this clip that nobody can ever watch too many times. You can skip to the 2:10 mark if you're pressed for time.
There you have it! The answer is: seminal Australian rock group AC/DC. Sharks are attracted to sound vibrations in the water, and it turns out they've got a particular fondness for hard rock thanks to its consistent, low-frequency beats. Back in Black is apparently just the ticket to get the great whites gazing up to the surface thinking, "Now that's a fucking tune."
For the most adrenaline-pumping encounter with them, certified divers should request the Bottom Cage Diving Adventure by Adventure Bay Charters, during which you'll spend about 45 minutes some 60 feet down on the ocean's bottom inside a steel cage for an eye-to-eye look at great whites in their natural territory.
Isla Guadalupe, Mexico
This Mexican island off the coast of Baja California is a top choice for cage diving with great whites, which migrate through these waters from July to September. Most tour companies depart from San Diego, drive across the border to Ensenada, and then ferry guests out to the island aboard dedicated dive boats. A steel surface cage hangs off the boat stern, and you can pretty much hop into it whenever you like.
Guides leave fish free-floating on the water's surface for the sharks to find along their natural migration routes. This allows operators to abstain from actual shark baiting (dragging the food through the water), which can steer the sharks off-course. It's also a good practice for helping to make sure sharks don't associate boats and humans with their food source.
Fakarava, Tuamotu Atolls, French Polynesia
For the shark dive of a lifetime, it's worth the trek to French Polynesia's remote Tuamotu Atolls -- a spectacularly gorgeous location east of Tahiti that's far removed from the honeymooning masses of touristy Bora Bora.
Here, on the incoming tide, dive boat operators like TOPDIVE deposit trained scuba divers into waters as clear as mouthwash. Attracted like magnets to the east side of Tetamanu pass, hundreds of grey reef sharks patrol the current, and divers sink to the ocean's bottom to sit in awe and stare up at the spectacle as it unfolds around them.
The dive ends on an equally thrilling note, too, as you let the incoming tide push you from the outer pass into the lagoon's coral-rich waters, where you'll spot all manner of tropical fish flitting about, and may even see a manta ray on the wing.
MORE:Some of the coolest places to scuba dive around the world
Oahu, Hawaii
One Ocean Diving offers open-water snorkeling and diving packages to swim, snorkel, and free dive with sharks in a cage-free environment in the open ocean. On any given day, you might be lucky enough to encounter scalloped hammerheads, sandbar sharks, Galapagos sharks, tiger sharks, or even the odd mako sharks. Sometimes, whale sharks -- the largest fish in the ocean -- even grace divers with a surprise appearance.
Rather than chum the waters to attract the animals, however, the company operates by familiarizing itself with the sharks' territory and learning to predict the animals' whereabouts and behavior. As a result, there's no way of telling how many sharks you might see during your adventure. But in the unlikely event that none of the finned friends show up, the company issues a full refund. So you've really got nothing to lose.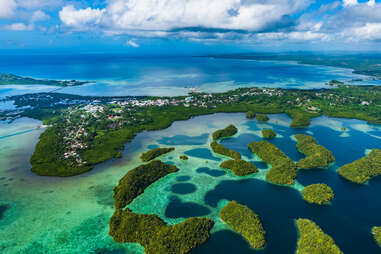 Palau, Micronesia
Famous for the screensaver-worthy views of its Rock Islands -- karst limestone formations that punctuate the perfect blue water like so many marine mushrooms -- Palau is another far-flung locale that lures shark lovers.
Sam's Tours, one of the longstanding and most trusted dive operators in Palau, runs regular boat trips from its bayside dive shop. At famous dive sites like Blue Corner and Ulong Channel, reef sharks are usually seen patrolling the blue, where the coral reef juts out into the dizzying depths of the open ocean.
Something unique to shark diving in Palau is the use of a reef hook: a metal hook attached by a lanyard to your BCD that you'll learn to deploy to tether yourself to a rock in the current. It makes it all the easier for staying put so you can watch the whole scene of swirling sharks unfold all around you.
Isla Mujeres, Mexico
Whale sharks, the largest and most extraordinary fish in the world, are famously mysterious in their behavior and migration routes. For the most reliable encounters with these gentle giants, head to Isla Mujeres off Mexico's Yucatan peninsula to spot them during the peak season, in July and August. That's when whale sharks arrive here by the hundreds to bask in the warm waters and feast on a buffet of plankton while snorkelers swim alongside them.
Whale sharks are gentle and inquisitive creatures that will swim right up close to you, but touching the sharks can tear the protective layer of mucus covering their skin and leave them vulnerable to parasites and infections. So as tempting as it may be to grab hold of a fin for a ride, try to avoid it.
MORE: Wanna get scuba certified? Here's what you need to know
Gansbaii, South Africa
South Africa has staked its claim as one of the world's main shark-diving capitals, but it's pretty much impossible to find a company here that doesn't turn to chumming to attract the animals. It's how things have been since the industry started, and it's how they've stayed -- but at least one company is adapting in a more sustainable way.
While Marine Dynamics does indeed chum, the company is Fair Trade-certified and helps fund ongoing research on great white migration patterns. When you head out on a tour with the company, you'll be joined by a marine biologist who provides background on shark behavior and conservation. And the steel cages you'll dive in are purpose-built to have no sharp edges which could be potentially damaging to a shark.
"I think you can do (chumming) responsibly," says photojournalist Brian Skerry, who's been a contributing photographer for National Geographic for the past two decades. "You just have to be very aware of where in the wild you're doing this… like with so many things, I think there are degrees of ethical behavior."
And if you're keen on diving in South Africa, deciding to head out with a responsible operator like Marine Dynamics is one degree of ethical shark-diving behavior that you can take on yourself.
Sign up here for our daily Thrillist email and subscribe here for our YouTube channel to get your fix of the best in food/drink/fun.
A freelance travel writer since 2001 when she quit her desk job in Florida to travel the world and live in Australia and New Zealand, Terry Ward has written for such publications as The Los Angeles Times Magazine, Conde Nast Traveler, and Scuba Diving Magazine.