Need another month to think about it? Check out our list of the best places to travel in May this year.
Getting out of town in January, February, and March is a cinch with so many viable cold weather and spring break destinations. But April's like the awkward middle child between winter and summer, and planning a trip can be tricky. It's a bit too warm to go careening down the side of a mountain, but the full-blown summer lake parties won't be going down for another two months. Plus, it's probably raining.
Luckily we've scoured the globe and the far reaches of America to find the coolest events and new attractions worth traveling for this month. Here are your best bets for kicking off spring with a bang.
Recommended Video
There's a Stock Market-Themed Cocktail Bar in Hong Kong
Coachella Valley, California
This year's Coachella Music Festival runs from April 20-22 and will include headliners Eminem and Beyoncé, as well as The Weeknd, Post Malone, alt-J, Tyler the Creator, Portugal the Man, and Jamiroquai. And if the news that Jamiroquai has actually made new music since 1996 isn't getting you on a plane to Indio, we're not sure what will.
Of course, the huge crowds and big names of Coachella aren't the only festival happening there in April. There's also the Stagecoach festival from April 27-29, the largest country music festival in California, headlined this year by Garth Brooks, Keith Urban, and Florida Georgia Line, if you consider them country. You can also check out the brand new Hotel Paseo, which among other retro accommodations has a fully restored Airstream trailer you can stay in, and the hot new AC3 Restaurant and Bar.
Singapore
This Southeastern Asian city-state is one of the greatest food destinations in the world, and the best way to experience it will be the World Gourmet Summit from March 20 to April 16. Over four weeks, spots like Bacchanalia Singapore, Hua Ting Restaurant, Gattopardo Ristorante Di Mare, Majestic Restaurant, and Tippling Club will have special menus for the event, showcasing their top dishes and collaborating with other chefs from around the world. The festival also includes dinners hosted by vintners from Europe, Australia, and the Americas, plus a smattering of celebrities and after-parties.
Even if you tire of the fancy festival foodie stuff, Singapore boasts some of the world's best street food, and with influences from all over Asia and Europe in the city's restaurants, you'd have to try to find a bad meal. Last fall saw some dirt-cheap flights over there, so keep your eyes peeled for a repeat.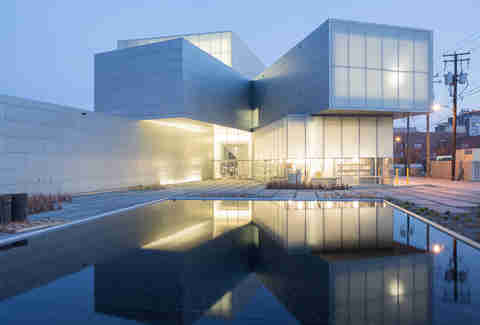 Richmond, Virginia
Richmond, of all places, is home to America's biggest new art museum opening of 2018. This April, Virginia Commonwealth University cuts the ribbon on its Institute for Contemporary Art, a 41,000-square-foot, $41 million project that will feature rotating collections of contemporary artwork, films, and performances.
Richmond already rocks a renowned ballet and repertory theater; it's time you came down to see what the fuss is about. The once-boarded Downtown is alive again, with record stores and thrift shops lining the streets and a converted dry goods store now serving as the Quirk Hotel. It's become one of the best beer towns in the South, with Veil Brewing, Hardywood Park, and Downtown's Answer Brewpub all must-hits. Warm April days are also the perfect time to come and experience the James River and to horse around in the Pony Pastures Rapid Park.
Oahu, Hawaii
Picking the best time to go to Hawaii is kind of like picking the best Ben & Jerry's flavor: you really can't go wrong. That said, April might have Oahu's best lineup of things to do, other than laying on the beach and hiking Diamondhead. First there's the annual Waikiki SPAM Jam, where 30,000 people jam Kalakaua Avenue sampling Spam made in every way you could possibly imagine. Spam sushi. Spam pizza. Spam pho. Chocolate-covered Spam. It's an education in both Hawaiian culture and Spam subculture, all out in front of the venerable Outrigger Waikiki Beach.
Other aspects of Hawaiian culture beyond processed pork will be on display at the Mele Mei festival, which kicks off in April and features music and hula events all over the island. This is where you'll get your lifetime quota of steel guitar, ukulele, and slack key.
If your new year's goal was to run more, there's no better place to do it than the Hapalua, a half-marathon on April 8. For a look into the world of fresh Hawaiian food, April 1 marks the beginning of a new farm-to-table experience on Oahu where you'll travel out to Kualoa Private Nature Reserve and tour through livestock ranches, tropical produce farms, and shrimping operations before enjoying a meal made from stuff grown on the reserve.
Idaho
This past December, the United States got its first designated Dark Sky Reserve from the International Dark Sky Association. It's only the 12th in the world, and sits just outside the Sawtooth Mountains National Recreation Area, in a patch of central Idaho the size of Long Island. The thing about Idaho in December to March, though: It skews cold. As spring rolls around it's the perfect time to go and check out the best stars in the country without freezing your toes off.
April is also Idaho Craft Beer Month, where breweries statewide will be holding special events to showcase what Gem State beer is all about. It all wraps up April 28 in Boise, when a massive beer festival takes over Downtown with brewers from all over Idaho and the rest of the beer-crazy West pour samples in the warm mountain sunshine.
Croatia
You may have sultry dreams of Yacht Week for your first Croatian vacation. Thing is, so does everyone else, and it's both cheaper and easier to steer clear. Instead hit up Croatia in April, when Dubrovnik will host Festiwine, which, as the name might imply, brings over 100 local winemakers to the city to sample their goods from the 16th to the 22nd. If you're more active, the Dubrovnik half-marathon is the 28th and 29th, in which runners wind through the streets of the walled city. Not enough of a challenge? Hit the 100 Miles of Istria on April 6, where more than a thousand people will race through Medieval stone towns, mystic forests, and perches above the Adriatic. Kikra National Park and has reduced admissions in April, and it's just a short hop from the town of Sibenik, which just got its first UNESCO World Heritage Site at St. Nicholas Fortress.
Baltimore, Maryland
Opening day at Camden Yards is one of the highlights of the year in Charm City, but even if you're not a baseball person you've still got great reason to head to Baltimore in April. This month brings the Light City festival from April 6-22, when buildings, bridges, sidewalks and pretty much every space in the city becomes a canvas for illuminated art. Light-based artwork will pop up throughout 14 neighborhoods, turning the city into a sprawling outdoor museum.
This year the festival adds a couple of new activities designed to engage visitors and locals alike. Lab@LightCity will take place from the 18th to the 21st, a pay-what-you-can conference where aspiring artists can learn from panel discussions and interactive sessions. It'll also add a "Where's Charlie the Peacock" game, where one of the most popular pieces from the original festival will appear in different areas each night.
Western Washington
April can be iffy in the dreary Pacific Northwest, but if recent springs have been any indication, you may be in for blue skies and low-60s temperatures. Oh, and the best dang oysters of your life. Hood Canal Oysters -- which you've undoubtedly been grossly overcharged for in a restaurant at some point -- are their fattest this time of year, due to a combination of glacial fjord water and April's place in the oyster's reproductive phase. Don't think too hard about that and head over to Hood Canal, where the Alderbrook Resort will have oyster barbecues, beachside oyster delivery, and shucking lessons.
If pork is more your traif of choice, the Bacon and Beer Classic promises to be the most exciting thing at Safeco Field all year. The home of the Seattle Mariners will host the festival April 28th, where $49 gets you unlimited bacon dishes served by some of Seattle's best restaurants, like Warthog Barbecue. You'll wash it all down with 100 different craft beers, and even have a chance to win free bacon for a year. Come earlier in the month, and you can see the home team begin its quest to end the longest playoff drought in all of professional sports. Thank you, Buffalo Bills!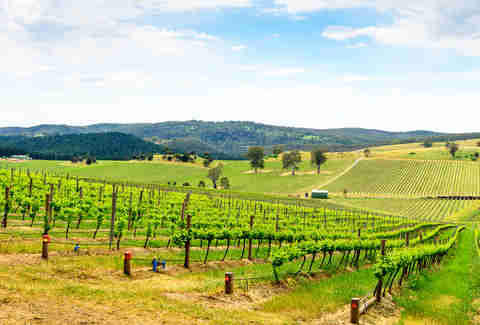 South Australia
Food festivals with Michelin-starred chefs and culinary masters from the world's best restaurants are fun and all. But wouldn't they be a lot more fun with kangaroos? Australia's overlooked southern state Adelaide hosts the annual Tasting Australia food festival in April, where names like Norbert Niederkofler of three-Michelin starred St. Hubertus in Italy and Christian Puglisi of Relæ in Copenhagen (No. 39 among the World's 50 Best Restaurants) will be hosting events in from the 13th through the 22nd.
Once you're done eating, fall is a beautiful time to be in South Australia, where some of the country's top wine regions still have harvests going on and the sunsets over the vineyards are pure magic. When the first cold snap hits, the colors along the Barossa ranges are a magnificent green and gold. Which gives you a chance to go leaf-peeping six months before all your friends back home.  
Toronto, Ontario
The cherry blossoms in DC might be the most iconic outside of Japan, but the ones in Toronto's High Park in late April are just as impressive and won't be packed with eighth-grade field-trippers. Look, too, for Toronto to open its new Museum of Contemporary Art, a 55,000-square-foot space in an old industrial building that's set to anchor the Junction Triangle neighborhood.
The spring thaw kickstarts a festival season that Canada does as well as anyone in the world. It begins in Toronto with the Creativ Festival April 13-14, in which craft makers and scrapbookers from all over Canada converge. It continues with the Hot Docs fest, the largest documentary film festival in North America, drawing more than 20,000 attendees and more than 200 films. Add that to four professional sports when the Blue Jays and Toronto FC begin their seasons as the Raptors and Leafs wind theirs down, and this is definitely the month to check out one of the world's most diverse cities.
San Antonio, Texas
There's this little amateur basketball tournament called the Final Four hitting the Alamodome in April. Much like the Super Bowl, it's more about the parties, events, and celebrities than it is about any actual sports, and often more fun to attend if you're not actually going to the game, i.e., overpaying for nosebleed seats in a converted football arena.
April also brings the annual Fiesta from April 19-29, which, if you learned three words of Spanish, you can guess means "big party with a rowdy parade." The event honors the heroes of the Alamo, but has morphed into a citywide event with a Fiesta King and Queen, chicken on a stick, and colorful costumes. Beyond that, San Antonio also celebrates its tricentennial this year, as well as the 50th anniversary of the World's Fair from April 6-8.
Sign up here for our daily Thrillist email and subscribe here for our YouTube channel to get your fix of the best in food/drink/fun.