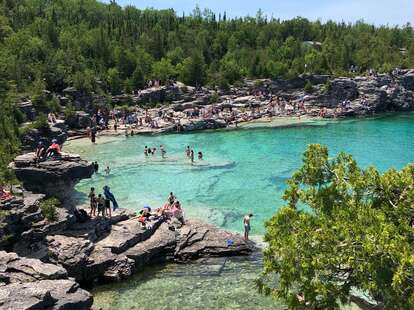 This month, we do not lament the fleeting days of summer—there is still much to do and plenty of fun places to travel this August. The big headliner, of course, is Canada, which finally opens up on August 9th to vaccinated visitors from the US. Keep an eye out for cheap flight deals to whisk you up north (might we suggest the vastly underrated Toronto?) or get to planning your road trip across the border.
But if you're staying close to home, we've got you covered there too. Dabble in sunflowers and honey-laced gin in Vermont, catch the Perseid meteor shower in Nevada, and eat seafood—all the seafood—in Rhode Island. Get out there and make the most of it.
Get thee to Canada
Set your alarms for August 9: That's when our neighbors to the North will open their gates to welcome the vaccinated masses. Finally you can sate your appetite for poutine topped with lobes of foie gras in Montreal, juicy jerk chicken or oxtail in Toronto, or deliciously briny oysters on Prince Edward Island—a very good place to belatedly celebrate National Oyster Day (August 5th). For something a little unexpected, head 15 minutes out of Quebec City to the serene farming island of Île d'Orléans, full of chocolateries, cheese shops, maple tree farms (where you can see how syrup is tapped), and some of the best strawberries you've ever tasted (seriously, try them, and get some jam).
If you want to do something other than eat, maybe head up north (like way north) to Churchill, Manitoba for belugas and birdwatching (and later in the year, a fuzzy convergence of polar bears). Or hit some new attractions like the Qaumajuq Inuit art museum in Winnipeg, or the freshly-renovated Biodome in Montreal. Say yes to adventure in Golden, British Columbia, where they just built the country's highest suspension bridge 426 feet above Hospital Creek Canyon. You've got options.
Be selfish with your shellfish in Rhode Island
The famous Maine lobster festival in Rockport may be cancelled this year, but never fear: Rhode Island picks up the slack with the Charlestown Seafood Festival (August 6-8), a "gastronomic extravaganza" featuring every kind of shellfish you can think of, plus fish and chips, corn on the cob, and a raw bar. If you can't get enough of those oysters, hop on a tour with the 401 Oyster Company, which takes you to their plot in Ninigret Pond where you can observe oysters in all stages of growth. Then, you get to eat some.
Why not make it a summer Rhoadie road trip? Charleston is off of Highway 1A, which meanders past breezy beach towns and places like the quaint Wickford Village, with Revolutionary War-era structures, and the Living Shark Museum in Westerly, with free admission and a pretty big collection of shark teeth.
Gaze up at the night sky in Nevada
You'll want to seek out some dark skies this August 11 and 12 for the once-in-a-lifetime (OK, annual) Perseid meteor shower. There are 111 Dark Sky Places in the US, but this year we're going all in on Nevada, with three star-studded road trip itineraries to choose from: Go off-grid to the ultra-remote Massacre Rim, one of only seven Dark Sky Sanctuaries in the world; hop aboard the Star Train in Ely, hosted by very official-sounding Dark Sky Rangers from Great Basin; or pull over for old mining towns and weird roadside attractions on your way out to Death Valley (please stay very well-hydrated if you choose this option).
And if figuring out your stargazing trip seems daunting, Reno Tahoe can help. The destination is giving away a free trip to sleep under the Perseids at Massacre Rim, including round-trip airfare for two, a 4x4 car rental, a night at a hotel and more, including an assortment of local beer (they thought of everything). Throw your hat in the ring before August 6, and good luck!
See an erupting volcano in Iceland
Icelandic elf Björk was pre-ty excited when Fagradalsfjall volcano started erupting in March, not only because she filmed the video for Black Lake there, but because the lava filling the valley is creating incredible new, ethereal landscapes. The eruption is still bubbling, so a visit to Iceland in August should include a rare excursion to see the extraordinary flow near the fishing village of Grindavík. Then go explore the rest of Iceland's out-of-this-world natural attractions—we've rounded up all the hits for you.
And not many Americans can say they've seen Björk in her homeland, but this month that could be you. August 29th kicks off a postponed run of the musician's Orkestral - Live from Reyk­javík performances in Harpa Concert Hall (catch additional shows on September 5th, 12th, and 19th, and they will also be live-streamed). Hot-tip if you can make it in person: Iceland's most famous hot dog stand, Bæjarins Beztu Pylsur, is right near the venue.
Stop and smell the sunflowers in Woodstock, Vermont
Everybody's always fawning over Woodstock, New York, but does anyone ever ask how Woodstock, Vermont is doing? The answer is incredibly well, thank you very much. The charming town (chartered in 1761, 15 years before the Declaration of Independence) is in full bloom—literally, at the Billings Farm and Museum, where Master Gardener Benjamin Pauly of the Woodstock Inn & Resort created a 20,000-square-foot sunflower house. There you can see thousands of sunflowers growing from 18 inches to 14 feet in height.
The Instagrammer's dream blooms through early September but peaks in mid-August, with a pollination festival on August 28 and 29 where you can learn about bees and butterflies. (Another hot-tip: For a honey-themed tipple post-visit, the Barr Hill Distillery in nearby Montpelier makes an award-winning gin finished with raw honey extracted right from their farm.) If you take a pic at the sunflower house and post it with #SunflowerSelfie, tagging the farm, you'll be in the running to win a 4oz block of cheese.
Explore a dreamy underrated region of France
Now that France has opened up everyone will be booking a ticket to Paris. But allow us a suggestion: Make like Issa Rae and head south. Find your way to the city of Montpellier via plane or train, rent a car, and explore France's dreamy (and uncrowded) Languedoc-Roussillon region. Known for its wine and Roman heritage, you can explore both at Domaine Riberach, a luxury hotel, spa, and Michelin-starred restaurant in the Eastern Pyrenees. Visit the medieval town and take a "wine safari" through the vineyard before overnighting in rooms constructed of giant wine vats.
And as long as we're talking oysters (which apparently we can't stop doing), the Languedoc is a producer of some of the most delicious oysters in the world. You can see the square-framed oyster farms sitting in the waters of the Etang de Thau. Follow them to a museum, Musée de l'Etang de Thau, to learn about the history of oyster and mussel farming in the area. And slurp them down at Atelier & Co., where your terrace table comes with relaxing views of the open water, with oyster farms in the distance; food as fresh as it can be, from a third-generator shellfish farmer.
Enjoy the breeze in Croatia
You've been eyeing those crystal blue waters from afar and we're here to tell you: now's the time to go to Croatia, when you can hit medieval cities like Split and Dubrovnik without the typical tourist crowds bearing down on you. Croatia is also booming with music festivals, like this month's Membrain Festival (August 5-8)—"Europe's Heartiest Underground Bass Culture Gathering" at an outdoor venue surrounded by pine trees and sea. But the safest option would be Dekmantel Selectors, on an island getaway at The Garden Resort Tisno (August 26-30). Billing themselves as "a break to breathe," capacity is capped at just 2500 and the vibe is mellow, so you can have your DJs with a side of breezy chill.
Or find a taste of Europe, stateside
There's plenty of European heritage to explore right here at home. The town of Frankenmuth bills itself as "Michigan's Little Bavaria," which means a traditional covered wooden bridge, wooden Bauernhaus-style restaurants serving up pretzels and steins of cold beer, and the largest Christmas store in the world (open year-round). Of course they go all out for Oktoberfest in September, but there's plenty to do in August: from a flower festival (where one of the events is yoga among sunflower fields) from August 6 to 15, to a honey festival on the 7th, to a food truck festival on the 12th, to a summer polka music festival from the 10 to the 14. Don't forget your lederhosen.
Down south, St. Augustine in Florida still boasts the narrow streets and balconied houses from its days of Spanish settlement; in the Pacific Northwest Leavenworth, Washington is our little Bavaria to the west, alpine buildings emerging from the Cascade mountains. But perhaps the most famous stateside European town is Solvang, in California's Santa Ynez Valley. "The Danish Capital in America" is a sweet two square miles of cobblestone streets, windmills, buildings with shingled roofs, and bakeries selling traditional pastries like aebleskivers, and stroopwafels. Wine tastings are available in town; combine it with an exploration of Santa Barbara's wine country.
Vanita Salisbury is Thrillist's Senior Travel Writer. She would like to know if the beers in Leavenworth and Frankenmuth come in giant glass boots.