As loyal readers, you know that January is consistently the best month for scoring cheap flights, whether you're trying to escape winter or lean fully into it. But figuring out the best places to travel in February is a different game. Mardi Gras is the classic bucket-list destination this time of year, but hotels in New Orleans can get pricey, and there are a ton of other cities that do Mardi Gras real nice, too, to say nothing of Carnival. February's not just about beads and hangovers. There's perfect weather in the tropics, great skiing in the mountains, and Valentine's Day, if you're into that sort of thing. So if you're planning your late-winter escape now, here are nine of the best places around the world to visit in February.
Recommended Video
Miami: The Ultimate Local's Guide
San Juan, Puerto Rico
All eyes were on San Juan this January when the Broadway hit musical Hamilton came to town. Reprising his role as the OG Alexander Hamilton was the show's creator, Lin-Manuel Miranda, whose return to the stage successfully put the national spotlight back on Puerto Rico. This gorgeous island is still rebuilding after 2017's devastating Hurricane Maria, and while your shot at seeing Hamilton rise up has passed, now's a great time to check out the progress that's been made. The weather is fine x1000 this time of year, but if you need yet another excuse to sip piña coladas on the beach in mid-February, you can make a direct impact on the local community simply by booking a hotel room.
Marriott International has partnered with Hamilton and the Flamboyan Arts Fund -- an initiative championed by Miranda and his father -- to help raise funding for local art museums, theater and dance groups, cultural education programs, and more. That means an automatic $1-$10 donation for every room booked at properties like the San Juan Marriott Resort & Stellaris Casino (which, indeed, boasts a glitzy casino; ask for a newly renovated Cabana room) or the lush, luxurious Dorado Beach, a Ritz-Carlton Reserve. You'll have to arrive before February ends, but in further defense of this spontaneous getaway, there are snaggable flights in the $200 range.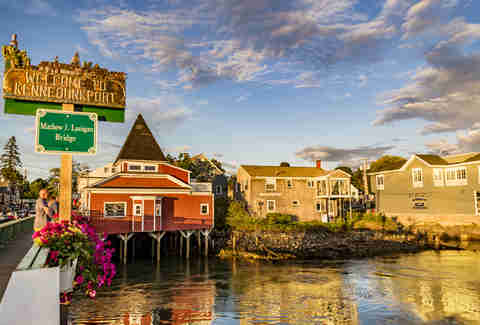 Kennebunkport, Maine
If you've never been, know that Kennebunkport is almost alarmingly picturesque. It looks like the set of Gilmore Girls but with greater production value. Every year around Valentine's Day, Kennebunkport goes absolutely all-out with Paint The Town Red, decorating with red twinkly lights and branding itself "New England's Most Romantic Town." Festivities begin February 2, when you can hit up the ice bar at The Boathouse Waterfront Hotel. The rest of the month is a parade of wine tastings, mixology classes, sushi-making classes, and oyster-shucking classes.
Queensland, Australia
The beaches along the Coral Sea in Queensland seem especially inviting when it's winter here. Much like in America's tropical climes, though, the summer months can mean the occasional thunderstorm and slight humidity. The good news is they keep local tourists away, leaving hotel rooms, tours, and other attractions far less crowded, and usually much cheaper. If you're into endurance sports, February also hosts two world-class events: the Noosa Summer Swim Festival on February 2-3, with ocean races from 300 meters to a 5K; and on February 10, in Goondiwindi, the Hell of the West Triathlon -- a brutally tough course where temperatures can top 100 degrees.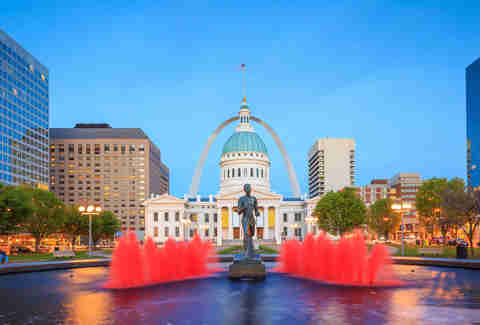 St. Louis, Missouri
We'll concede that February in Missouri isn't exactly the sort of thing you'd win on a game show, but if you're looking for the best Mardi Gras party outside the Gulf Coast, it's in St. Louis. You may recall St. Louis was also settled by the French (hence the "Louis"), a fact the city loudly remembers in February with the second-largest parade in the country. Beyond the parade, the city is full of all kinds of fun, free things to do like the St. Louis Art Museum, Science Center, and zoo. And even on a sluggish weekend, the Soulard neighborhood is one of the liveliest places in the Midwest for brews, cheap good eats, and laughs.
Ambergris Caye, Belize
February marks the beginning of the dry season in what many say is the best diving region in the Caribbean. Fewer storms mean better visibility along the Belize Barrier Reef -- the world's second-largest -- making February prime time to visit your underwater friends. On the picturesque island of Ambergris Caye, Hilton's 60-acre Mahogany Bay Village even has its own scuba school if you show up in divers' paradise without a certification (but also, let us help you get certified). If that's out of your price range, the rest of the country is blissfully affordable, leaving you more money to spend on adventures under the sea.
Elko, Nevada
Is there ever really a BAD time to visit Elko, Nevada? Of course there's not. But February is a special time here. The air is crisp, the snow is likely to be deepest and the skiing the gnarliest. The annual National Cowboy Poetry Gathering, a festival of American Western culture filled with food and performance art, comes to town January 28 to February 2 and gives you the rare chance to hear grizzled cowpokes open up their souls. Check out the Cowboy Arts and Gear Museum while you're in town, too. February is also the perfect time to head into the Ruby Mountains for some of the best heli-skiing in America.
Vermont
If you live on the East Coast, finding a first-rate ski destination is tough without crossing over a couple of time zones. The best skiing and snowboarding can be found in Vermont, where visiting resorts like Mount Snow ensures your stay is as much about the party as the powder with a million events like concerts, parades and fireworks. (Don't miss the weeklong winterfest, February 16-23.) Nearby, The Lodge at Spruce Peak has a film series February 23, too. At the stately Stowe Mountain Lodge, you can do other cool stuff like learn to ice climb, or take daylong sled dog rides through the Vermont wilderness. Or if you just wanna cuddle up and eat, the state has no shortage of B&B's, or Ben and Jerry's.
Venice, Italy
The world's finest water-bound city is the stuff of romantic legend -- and yet many a first-time tourist comes back whining about the fragrant canals and claustrophobia-inciting crowds. You know when none of that is a problem? February. Those Instagrammable alleys are way less packed in the earlier months of the year, and cooler temperatures mean the water is easier on the nostrils. It's the best time to really take a breath and bask in this city's incomparable beauty. February 16 also kicks off the Venice Carnival, where the city takes Carnival traditions and makes them uniquely Venetian with boat parades, floating stage-shows, and street food. Speaking of which, take yourself on a tour of all the very best food in northern Italy's very best mountain towns.
Monterey, California
It's not exactly a tropical beach locale, but the majestic cliffs, deep blue Pacific waters, and sunny springtime days are still a welcome respite from winter. Along California's central coast, February might be the biggest month of the year when the Pebble Beach Pro-Am comes to town from the 4th through the 10th. Almost 20,000 people descend on some of the most scenic courses in America to see celebs and top golfers go at it.
Sign up here for our daily Thrillist email and subscribe here for our YouTube channel to get your fix of the best in food/drink/fun.