You know January is a weirdly cheap travel month to either go rushing headlong into winter, or to dodge it like a thrown wrench. Figuring out the best places to travel in February is a bit more tricky. Mardi Gras is the classic bucket-list destination this time of year, but hotels in New Orleans can get pricey, and there are a ton of other cities that do Mardi Gras pretty well. February's not just about beads and hangovers, either. There's perfect weather in the tropics, great skiing in the mountains, the Super Bowl, and the 2018 Winter Olympics. So if you're planning your late-winter escape now, here are 12 of the best places around the world to visit in February.
Recommended Video
Now Your Carry-on can Carry You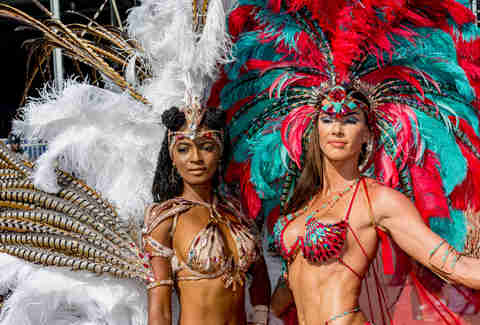 Trinidad and Tobago
Ask anyone in the Caribbean who has the best Carnival, and they'll say Trinidad. This 48-hour rager goes from 4am the Monday before Ash Wednesday, filling the streets with barely clothed people shaking to soca music. Between the heat and the duration, it's an even-more intense version of Mardi Gras, a trip everyone needs to make at least once in their lifetime.
Biloxi, Mississippi
Don't you DARE call this city along Mississippi's quirky, artsy Gulf Coast "the poor man's New Orleans." Biloxi's been doing Mardi Gras for 300-plus years thankyouverymuch, and rolls out 25 parades, more than 100 floats, and all the great traditions of its cousin across the state line. Plus hotels are much cheaper, the fishing is great, the beach is, like, RIGHT THERE, and you won't be dealing with near the mass of stumbling novice drinkers. So you could almost say Biloxi is "the smart man's New Orleans."
Seoul, South Korea
Even though our good buddies from Russia won't be joining us at this year's Winter Olympics in Pyeongchang, that doesn't mean you can't. Rather, the booked-up hotels and prohibitively expensive tickets mean you can't! But that's OK; the nearest major city is literally the best party city in the world, and this February will be the jumping-off point for sports fans from all over the globe. That means you don't even need to sniff the snow to have the time of your life in South Korea this February. It's like the global equivalent of watching the big game from a sports bar across the street from the stadium. Way cheaper, and ultimately more fun.
Queensland, Australia
The beaches along the Coral Sea in Queensland seem especially inviting when it's winter here. Much like in America's tropical climates, though, the summer months can mean the occasional thunderstorm and slight humidity. The good news is they keep local tourists away, leaving hotel rooms, tours, and other attractions far less crowded, and usually much cheaper. If you're into endurance sports, February also hosts two world-class events: the Noosa Summer Swim Festival on February 3-4, with ocean races from 300 meters to a 5K; and the Hell of the West Triathlon in Goondiwindi, a brutally tough course where temperatures can top 100 degrees.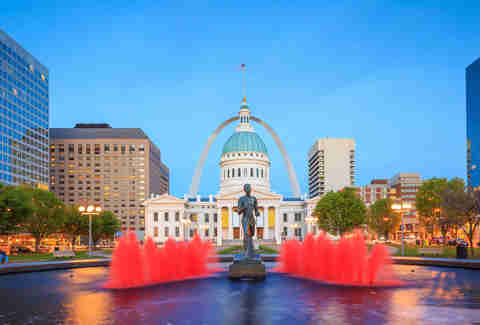 St. Louis, Missouri
We'll concede that February in Missouri isn't exactly the sort of thing you'd win on a game show, but if you're looking for the best Mardi Gras party outside the Gulf Coast, it'll be in St. Louis. You may recall St. Louis was also settled by the French (hence the "Louis"), a fact the city loudly remembers in February with the second-largest parade in the country. Beyond the parade, the city is full of all kinds of fun, free things to do like the St. Louis Art Museum, Science Center, and zoo. And even on a sluggish weekend, the Soulard neighborhood is one of the most lively places in the Midwest for brews, cheap good eats, and laughs.
Belize
February marks the beginning of the dry season in what may say is the best diving region in the Caribbean. Fewer storms mean better visibility along the Belize Barrier Reef -- the world's second-largest -- making February prime time to visit your underwater friends. This season also brings Belize its first Hilton mega-resort on the picturesque island of Ambergris Caye. The 60-acre Mahogany Bay Village even has its own scuba school if you show up in divers' paradise without a certification. If that's out of your price range, the rest of the country is blissfully affordable, leaving you more money to spend on adventures under the sea.
Elko, Nevada
Is there ever really a BAD time to visit Elko, Nevada? Of course there's not. But February is a special time here when the annual National Cowboy Poetry Gathering comes to town, from January 29 to February 3. Don't miss this rare chance to hear grizzled cowpokes open up their souls, a weeklong festival of American Western culture filled with food and performance art. It's also the perfect time to check out the brand-new Cowboy Arts and Gear Museum, or to head into the Ruby Mountains for some of the best heli-skiing in America.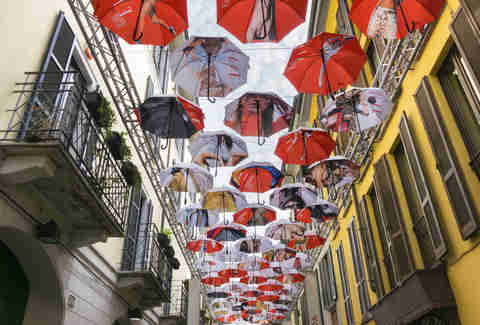 Milan, Italy
There's something poetically ironic about finding a dirt-cheap flight to the fashion capital of the world, only to spend a week looking at models sporting socks that cost more than your plane ticket. But that's exactly what you'll be doing in February, when Milan Fashion week goes down from February 21-27. If you're jonesing for an experience more on-brand with the beautiful people, Zicasso is running a 10-day tour of Italy that includes VIP access to fashion week; a night at the Teatro dell'Opera di Roma; an after-hours private tour of the Rolex laboratory; a visit to Bulgari's private workshop; and a private fashion show at the Ferragamo Boutique in Florence.
Minneapolis, Minnesota
Even in the blustering cold of Minnesota (cue your John Facenda voice), Super Bowl Week is a helluva party. As anyone who's ever been to a Super Bowl host city will attest, the week is only tangentially related to football. No, you go for the celebrities, epic parties, and all-out mayhem that accompany the biggest event in America sports. If you want to get to town a little early, the US Pond Hockey Championship takes place January 24-28, when 100 teams compete on 25 rinks around Lake Nokomis for the right to hoist the Golden Shovel. That might sound like a lot of standing around in the freezing cold watching amateurs play hockey on a pond, but Sports Illustrated didn't name it one of the "101 Things Sports Fans Must Experience Before They Die" because they enjoy people getting frostbite.
New Orleans, Louisiana
No huge shock here, since the Big Easy is home to the biggest February party on the planet. But this year it'll pack an extra punch as the city celebrates its 300th birthday, with festivities kicking off during the Mardi Gras parades. On the off-chance you want to visit NOLA for something other than bead-tossing, the Prospect 4 contemporary art show has works from 75 artists spread over 17 venues including NOMA and the New Orleans Jazz Museum. There's also a French Film Festival kicking off February 25, and one of the country's biggest Vietnamese New Year's celebrations during Tet on February 1.
Vermont
If you live on the East Coast, finding a first-rate ski destination is tough without crossing over a couple of time zones. The best skiing and snowboarding can be found in Vermont, where resorts like Mount Snow make trips as much about the party as the powder with events like its snowbound Mardi Gras. Nearby, the Stratton Mountain Resort has a winter concert series, with February performances from Big Eyed Phish and the Wailers, among others. At the stately Stowe Mountain Lodge, you can do other cool stuff like learn to ice climb, or take daylong sled dog rides through the Vermont wilderness. Or if you just wanna cuddle up and eat, the state has no shortage of B&B's, or Ben and Jerry's.
Monterey, California
It's not exactly a tropical beach locale, but the majestic cliffs, deep blue Pacific waters, and sunny springtime days are still a welcome respite from winter. Along California's central coast, February might be the biggest month of the year when the Pebble Beach Pro-Am comes to town. Almost 20,000 people descend on some of the most scenic courses in America to see celebs and top golfers go at it. This year you can catch the likes of Larry the Cable Guy, Toby Keith, and Carson Daly hitting the links alongside Dustin Johnson and Rory McIlroy.
Sign up here for our daily Thrillist email and subscribe here for our YouTube channel to get your fix of the best in food/drink/fun.