Make February Wilder with These Offbeat Travel Ideas
It's the Year of the Tiger, after all.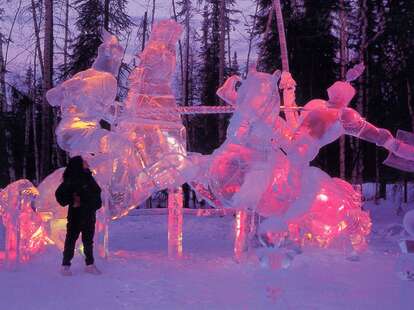 With a white dusting on the ground and Omicron's guns a-blazin', we head into February literally and figuratively cold, with no idea what the groundhogs will predict for the future. Will it be six more weeks of a pandemic winter? Will it be an early, forgiving spring? If last year's groundhog disagreement is any indication, the answer is…who knows! We do know that Connecticut won't bring out an interim hedgehog again—they've since replaced their beloved groundhog Chuckles, who sadly passed away in 2020. (Sorry, hedgehog Phoebe.)
Whether or not we have six more weeks of winter, let us embrace the immediate: This month we have wacky barstool races in Montana and ice sculpting in Fairbanks. We have desert warmth and style in Palm Springs—plus architecture, for the city's celebrated Modernism week. We have ways to cheer on truffle-digging doggos in Oregon, places to celebrate Black History Month, spots to welcome the Lunar New Year with firecrackers aplenty, and how to check out the Yosemite Firefall. No matter what happens, there's a light at the end of the tunnel (and shimmering down a cliff).
See what's new in Albuquerque, New Mexico's Old Town
Sure, you might think you know what Albuquerque's adobe-filled Old Town and its surrounding areas are about—it's right there in the name. But there's much that's new to love in this historic city.
First, thanks to recently-adjusted liquor laws, wineries like Noisy Water and Sheehan have opened up new tasting rooms in Plaza Don Luis, right in the heart of Old Town; on the brewery side of things, there's Outpost 1706, owned and operated by Native New Mexicans. Stores like Lapis Room, Turquoise Tree Flower Shop, and Oaxacan Zapotec House sell fare beyond the tourist trinkets of the past. And if it's a wide selection of food you're after, walk just ten minutes or so to the Sawmill Market, a sprawling new food court in the former American Lumber Company, serving fare from breakfast burritos to homemade pasta to artisanal hot chocolate, banh mis, and elote. Plus a brewery, upscale wine bar, and plenty of outdoor seating. Stay at the Hotel Chaco across the street and the market's plentiful offerings could be your daily buffet.
Pro tip: Pull the old and new together with an in-depth walking or biking tour of Old Town with Heritage Inspirations, with offices also in the hotel.
Freeze your fingers in Fairbanks, Alaska
Worlds are constructed out of frozen water at the World Ice Art Championships in Fairbanks, Alaska (February 14—March 2). Such competitions have been happening since the 1930s, with this one in its 29th year. See extreme artists carving shapes from seahorses to actual horses, which look especially cool when lit up at night.
While you're up here, be sure to visit Chena Hot Springs, about 60 miles away. Not only can you soak in warm waters and catch the northern lights (perhaps both at the same time), you can also tour the Aurora Ice Museum, while sipping a martini out of a vessel made of… what else? Ice.
Balance on a barstool in Martin City, Montana
After months of cold, Martin City, Montana, gets a little wacky in February. And we're here for it. The usually subdued city hosts Cabin Fever Days (February 11—13), a rowdy weekend of silliness in the snow with things like egg and spoon races and snowshoe softball. The pinnacle happens during the Barstool Ski Races, which, sure, include barstools on skis, but also things like live bands barreling down the main slope on a stage and creative costumes the audience gets to judge. (Thankfully, most contestants wear helmets.) Come for the antics, stay for the elk sausage.

Scratch your Modernism itch in Palm Springs, California
A trip to Palm Springs, California, is like stepping back in time. This desert hotspot holds the largest concentration of preserved mid-century modern architecture in the world, with architects like John Lautner, who studied under Frank Lloyd Wright, and Albert Frey, who studied under Le Corbusier, adapting the attractive modernist style to the landscape (check out Frey's cool Tramway Gas Station, now the Palm Springs Visitor Center). Indoor and outdoor spaces are blended, plentiful windows bring in sunlight, and roofs are careful not to obstruct spectacular mountain views.
You can see these architectural wonders—including homes once owned by stars like Frank Sinatra, William Holden, Kirk Douglas, and Magda Gabor—during Modernism Week (February 17—27), an annual celebration of architecture and vintage fun-in-the-sun lifestyle. Take bus or walking tours, check out a classic car or fashion show, and hear lectures like Stories Untold: Black Modernists in Southern California (February 21), about the Black designers, builders, and developers that helped shape Palm Springs and Southern California. Pack sunscreen.
Root for your favorite truffle-seeking pups in Eugene, Oregon
The Westminster Kennel Club Dog Show may be postponed to later in the year, but you can still get your fill of (semi-) professional pups on February 17 at The Joriad™North American Truffle Dog Championship, part of the Oregon Truffle Festival in Eugene, Oregon. It's the height of the state's truffle season—North America's premier destination for truffles—and you'll get to watch furry friends use their snouts to scout out truffle-scented objects from bins.
All amateur dogs are welcome, so root for your favorite spaniel or corgi or chihuahua and be ready for borks and shenanigans. Bonus: it's a fun Valentine's date, if you're into that kind of thing. Just swap the chocolate truffles for fungi. Romantic!
Celebrate Black history anywhere and everywhere
Black history is American history. Connect the past to the present with a visit to one of the monuments that reflect the slow march of civil rights, from the immaculately designed African Burial Ground National Monument in NYC—thought to have once housed the remains of 15,000 slaves and freed African-Americans—to the humble house and assassination site of civil rights activist and NAACP field secretary Medgar Evers.
Or take a trip to a city instrumental in Black history that doesn't always get the spotlight. Like Kansas City, Missouri, birthplace of jazz legends like Charlie Parker, regular haunt of Count Basie, Andy Kirk, and Hot Lips Page, among others, and an epicenter of the big-band scene in the 1930s, thanks in no small part to political boss Tom Pendergast and his penchant for…ignoring Prohibition. Find this history, memorabilia, and more at the American Jazz Museum in the city's 18th & Vine District. Then stroll next door to the Negro Leagues Baseball Museum, chronicling the leagues from their origin after the Civil War to their demise in the 1960s.
Or visit Tulsa, Oklahoma. The city's Greenwood District, despite being formed by Jim Crow segregation, housed a thriving and prosperous Black community before 35 blocks were destroyed by a group of white residents in a horrific race massacre in 1921. A new museum, Greenwood Rising, is dedicated to the history of what was known as Black Wall Street and how it continues to inform the city's—and the country's—present.
Visit some dead Presidents (and other things) in South Dakota
Nah, we're not talking about a bank heist (officially). But as always, Presidents' Day lands in February. So maybe it's time to get extra presidential by firing up the RV for a jaunt to South Dakota. Once you form your opinions on Mount Rushmore, you'll have free reign of one of the least-visited states at its emptiest time. Hike a frozen waterfall, hang out on a frozen lake, or get to know the land's first people.
Or dig deep into the western part of the state: Not far from Rushmore, you can pretend you're on an alien planet in the Badlands, kick up your spurs with some ghosts in Deadwood, hop on a jackalope while stuffed with homemade donuts at Wall Drug, and gaze upon the wonders of the Corn Palace. Visit the stunning lakes and spires of Custer State Park and see where the thrilling buffalo roundup happens in September. Just give your new fuzzy friends lots of room, lest you become this guy.
Keep an eye out for flowing lava at Yosemite
One of the coolest natural spectacles happens in Yosemite National Park this month: the elusive 2,000-foot-tall Horsetail Fall, on the east face of the El Capitan monolith, turns into lava. Well, okay, not quite. From February 10 to 28, in the ten minutes before and after sunset, the upper reaches of the waterfall are hit just right by the sun to look like a cascade of fiery orange-red lava. It's called Firefall, and it's very surprising that it's not also the name of a James Bond film.
You don't need a day-use reservation to attend this year, but warm clothing is recommended, and masks are required (for this and all national parks). You'll be parking at Yosemite Falls, 1.5 miles away from the viewing area. For more details and up-to-date restrictions, visit the official park website.
Toast to the Year of the Tiger
Lunar New Year drops on February 1st this year, setting us squarely in the Year of the Tiger—a year of adventure and excitement, of risk-taking and change. So why not start small by dropping into a Chinatown and finding something new to love? Perhaps some lychee ice cream in New York or fermented rice-cured whole fish in Honolulu. Or explore the new bounty that is Las Vegas Chinatown. They (your friends and your taste buds, that is) will thank you. You can find a slew of local Chinatown guides right here.
Cheer for the second coming of Cool Runnings
This month the 2022 Winter Olympics takes place in Beijing (February 4—20), making the Chinese city the first to hold both the winter and summer Olympics, which they did in 2008. All the usual suspects will be present: ice skating, ice hockey, skiing, luge, figure skating, and more, plus these two adorable guys, with the action broadcasted across the NBC smorgasbord.
This year, we'll be keeping a close eye on the bobsled competition. For the first time ever, Jamaica, the tropical Caribbean island with just under three million people, has qualified in three Olympic bobsled events: four-man, two-man, and women's monobob. It's also the first time its four-man team has qualified since the 1988 Calgary Olympics, an event that captured the imaginations of the world and inspired the 1993 movie Cool Runnings. As their Twitter account says: "It will be fire on ice."
Get romantic. Or whatever, do you.
Valentine's Day is a time for the romantically-abled to swoon to Kenny Rogers songs and dip celery in chocolate or whatever. But everyone, partnered up or not, can enjoy a trip to an isolated Getaway cabin. Sure, with no Wi-Fi, TV, or cell service it would be beneficial to have someone to talk to (or at least make sure you don't get murdered), but it's also a great solo endeavor. We've also got cozy Airbnbs, and cabins perfect for a winter getaway.
And if your heart's not in use? February 14th is also National Organ Donor Day.
Vanita Salisbury is Thrillist's Senior Travel Writer. Maybe it's time she signed up to be an organ donor.