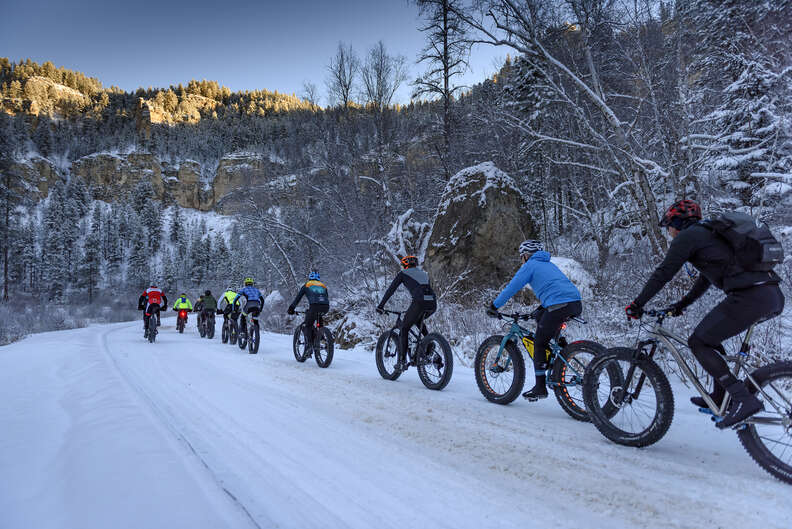 In a welcome bit of partisanship, a groundhog disagreement boiled up earlier this month. Staten Island Chuck popped up on February 2nd and—with 20 inches of snow outside his little rodent home—predicted an early spring for all. But Punxsutawney Phil and his Pennsylvania shadow said "not so fast!" and relegated us to six more weeks of winter. Connecticut brought out a hedgehog for some reason, who concurred with Mr. Phil. So who's right? Who knows?
We do know there's still a whole lot of February to get through, and though the cheap flights to warmer weather are nonexistent and the Mardi Gras beads will just be thrown onto unsuspecting pets nearby, there's still a lot that can still be done. So let's get out and enjoy the early spring—yeah, that's right, we're siding with Staten Island Chuck, whose keepers say he has the highest success rate in the country.
Get wild in America's newest national park
Last December we welcomed our 63rd National Park with West Virginia's scenic New River Gorge. (If you're still wondering how a place scores that designation, we've got you covered.) And No. 63 is brimming with beauty: There are cliffs and rocks galore along the really cool, actually-really-old river for all your adventuring needs. But the lazier among us can also enjoy eerie ghost towns and the third-highest bridge in the US for some great photo ops. Perusing Instagram shows us she's especially gorgeous in winter, making it a great time to visit right now, before the masses catch on.
Keep an eye out for flowing lava
One of the coolest natural spectacles happens in Yosemite National Park this month: the elusive 2,000-foot-tall Horsetail Fall on the east face of the El Capitan monolith turns into lava. Well okay, not quite. From February 12 to 28, for ten minutes spanning before and after sunset nightly the upper reaches of the waterfall is hit just right by the sun to look like a cascade of fiery orange-red lava. Park entrance tickets must be reserved in advance to see the Firefall, which should also definitely be the name of the next James Bond film.
Lean into Black History Month
Black history is American history, and there's always more to learn. Connect the past to the present with a visit to one of the monuments that help us reflect on our civil rights past. They include a wide array of sites, from the immaculately designed African Burial Ground National Monument in NYC—thought to have once housed the remains of 15,000 slaves and freed African Americans—to the humble house and assassination site of civil rights activist and NAACP field secretary Medgar Evers.
Perhaps you like your learning with a side of ocean dreaming. In which case dive into the story of American Beach, Florida's first Black beach resort. Or hear from a documentarian who traveled to historic sites around the US that appeared in the original Green Book.
Or just go ahead and put your money where your mouth is. We've rounded up some Black-owned businesses in Chicago, San Francisco, Atlanta, DC, Miami, Dallas, Philadelphia, and Boston that could use your support right now. Thrillist will be putting the spotlight on chefs, entrepreneurs, and communities of color all month long, so follow along right here.
Road trip through South Dakota
As always, Presidents Day lands in February. So maybe it's time to get extra presidential by firing up the RV for a jaunt to South Dakota. Once you get Mount Rushmore over with, you'll have free reign of one of the least-visited states at its emptiest time. Dig deep into the western part of the state: Not far from Rushmore, you can pretend you're on an alien planet in the Badlands, kick up your spurs with some ghosts in Deadwood, hop on a jackalope while stuffed with homemade donuts at Wall Drug, and gaze upon the wonders of the Corn Palace. Visit the stunning lakes and spires of Custer State Park to see where the thrilling buffalo roundup happens in September. Just give your new fuzzy friends lots of room, lest you become this guy.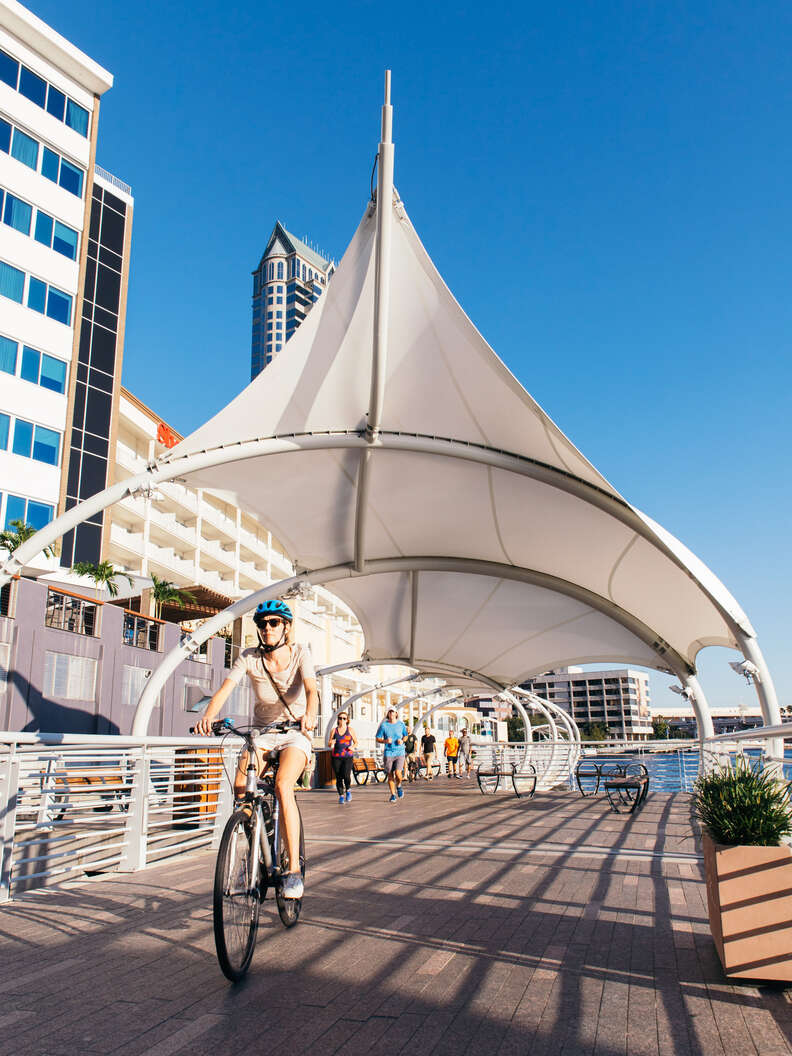 Watch the Super Bowl… and maybe get to know to Tampa
The Super Bowl is upon us, and chances are your eyes will be glued to the TV as the Kansas City Chiefs take on the Tampa Bay Buccaneers. Maybe you're in it to see how The Weeknd stacks up against years past (sorry, Abel, unless you rock a sequined bodysuit or purple guitar, there's no contest). Maybe you just need an excuse to taste test wings and be nostalgic for Mike Myers vehicles. Or maybe—just maybe!—you're a big football fan. Regardless, since your eyes are already on Tampa, maybe it's time to get there and discover this wildly misunderstood city, where manatees and paddleboarding are the norm, craft beer is great, and the sleek new Water Street District pairs imbibing with waterfront views.
Get romantic. Or whatever, do you.
Valentine's Day is a time for the romantically-abled to swoon to Kenny Rogers songs and dip celery in chocolate or whatever. But everyone, partnered up or not, can enjoy a trip to an isolated Getaway cabin. Sure, with no Wi-Fi, TV, or cell service it would be beneficial to have someone to talk to (or at least make sure you don't get murdered), but it's also a great solo endeavor.
If you can sneak to the Adirondacks, take your date outdoors to the Saranac Lake Winter Carnival (February 5-14), one of the oldest such events in America. If you're closer to New Hampshire, they have their own Ice Castles ticketed frozen attraction promising LED-lit sculptures, slides, and tunnels. Into chess? In honor of the Queen's Gambit being partially set in Lexington, Kentucky, the 21C hotel is offering a show-inspired "Harmon Room," which features a "larger-than-life chessboard installation​ suspended from the ceiling."
And if your heart's not in use? February 14th is also National Organ Donor Day.
Have a socially-distanced Mardi Gras
Mardi Gras looks a lot different this year. Gone are the parades, parties, concerts, and events that usually make up this festive time of year (and put you in very close contact with your fellow man). But that doesn't mean you have to sit at home twiddling your thumbs. We've rounded up some socially-distant ways to celebrate Carnival season. Sample all the goodies at the King Cake hub, dress your pet in Mardi Gras colors, attend a virtual event or peruse the elaborate house floats. And while you're out, don't forget to take a pic with Big Freedia.
Poke your head in on some polar bears
February 27th is International Polar Bear Day, and it just so happens that we have a couple new furballs to celebrate. The Detroit Zoo celebrated the birth of a pair of twin polar bear cubs in November after over 20 years without a little sentient cotton ball (2021 is looking up!). While you can't see them in person just yet, you can stop by the zoo and say hi to the cubs' parents, Suka and Nuka, by reservation. And if you're far away but still need a polar bear fix, the San Diego Zoo has you covered courtesy of their Polar Bear Cam.
Celebrate the Year of the Ox
It's been a turbulent year for everyone, but Chinatowns have taken an extra hit thanks to people with weirdly-shaped mouths and a penchant for spreading hate. Luckily, the power of the purse can do plenty to turn things around. Once Lunar New Year drops on February 12th, drop into a Chinatown and find something new to love. Perhaps some lychee ice-cream in New York, or fermented rice-cured whole fish in Honolulu. Or be the first to take your friends to the bounty that is Las Vegas Chinatown. They, and your taste buds, will thank you. You can find a slew of local Chinatown guides right here.
No Chinatown nearby? No worries. Asia Society Texas has over two weeks of free live streamed festivities, and on February 13th the Smithsonian offers video performances and demonstrations of traditional Chinese crafts and traditions through Eventbrite. Just like sending letters? Grab a sheet or two of the new Chien-Shiung Wu stamps commemorating the legendary Chinese-American nuclear physicist: The USPS, which could also use the support, will live stream its dedication ceremony February 11th on Facebook and Twitter.
Keep an eye on Mars
The Golden Globes aren't the only place to see stars this month: our skies are also full of sparkle and wonder. Mars and the moon rendezvous on the 18th, a little after Valentine's Day—but you know, sometimes these encounters take time. The 18th is just a good day in general to be stargazing in the direction of Mars, as Perseverance, NASA's new Mars rover, touches down on the Red Planet after seven months and 300 million miles of travel. Speaking of perseverance, now is a good time to see Orion, especially if you're a newbie to the whole constellation-spotting thing. It's got lots of stars, is really bright, and will be making an appearance all month.
Planning a trip for a different time of year? Check out our monthly travel recommendations for the best places to travel in January, March, April, May, June, July, August, September, October, November, and December.
Vanita Salisbury is Thrillist's Senior Travel Writer. You'll find her glued to the polar bear cam.