July means independence. Or, more accurately, watching people eat an inhuman amount of hot dogs before drinking and playing with fireworks to celebrate independence. All of this is great fun, but it only gets you to the fourth day of the month. After that, you've got four weeks when the weather is nicer, the pace is slower, and half of America is on vacation. So why not take some time off as well?
To help you plan your mid-summer getaway, we found places with some amazing stuff going on, from a city-wide cirque festival in Montreal to wildebeests in Kenya to the opening of the closest thing you'll ever find to a real-life Mario Kart. Here are the best places to travel this July.
Recommended Video
Top 10 Best Drinking Cities in America Right Now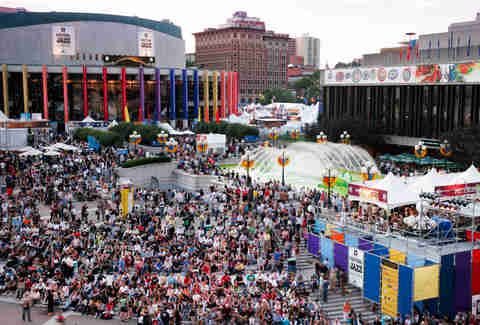 Quebec
No one crushes on summer like French Canada, and no surprise, July's the height of festival season in Montreal and Quebec City. If you're into ex-Olympian acrobats soaring overhead, the Montreal Completement Cirque is your jam, a circus festival where jaw-dropping acrobats have nightly public performances in squares and streets, like a city-wide Cirque du Soleil running from July 5-15, most of it free. Montreal also hosts the Just for Laughs Comedy Festival July 14-18, headlined this year by Kevin Hart, Trevor Noah, and Tom Green. For jazz enthusiasts, one of the biggest jazz gatherings in the world kicks off July when the Montreal International Jazz Festival runs from June 28 to July 7. For practically every non-jazz genre, head 150 miles further northeast to Quebec City for the Festival d'été de Québec, one of the most underrated parties anywhere on the continent. Just $80 (USD) covers your pass for the entire festival (July 5-15), which fills clubs, parks, and pop-up stages around the 410-year-old city's vibrant, fortress-lined Downtown with the likes of Neil Young, The Weeknd, Future, and the Foo Fighters.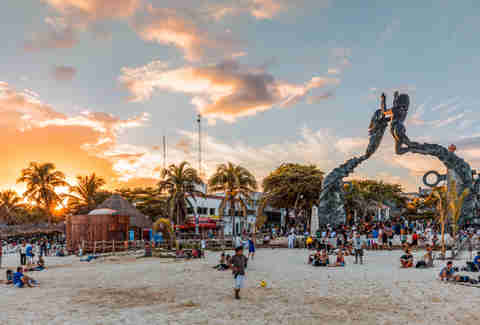 Playa del Carmen, Mexico
Yes, it might be a little warm down Mexico way this time of year. But you know what that means? One of the most popular and beautiful beaches in the world won't be nearly as packed and will cost a fraction of what it would during spring. There's also tons to do here toward the end of the month, when the Festival of the Virgin Carmen lands and parades, musical performances, and general Mexican mayhem take over the city. A few days later, the ZoukMX festival takes over the beach, a 10-day dance party on the shore that feels like a more-authentic spring break, with a far more upscale vibe.
Mackinac Island, Michigan
There may be no better place to spend a summer week than on the shores of Lake Huron, where perfect weather and calm lakes make for an idyllic summer retreat. If you've got the cash, the best place to experience it is historic Mackinac (pronounced just like Mackinaw) home to one of the country's most impressive Fourth of July fireworks displays over the lake. Cars aren't allowed on the island, and with 80% of the land protected as a state park, it's the kind of place where you'll feel completely disconnected once you cross over the largest suspension bridge in the Western Hemisphere. The highlight of the month is on July 21, when the Chicago Yacht Club Race to Mackinac arrives in town. Bringing with it all the parties, dinners, and general high society that accompanies a big-time sailing race.
Kenya
The single greatest animal migration on the planet happens this month in Kenya, when the thundering wildebeest make the move from the Serengeti to Masai Mara. It's one of the greatest shows in nature, and unlike the northern lights or a spewing volcano, you can actually plan a vacation around it. The places to see it best are at the Lamai Wedge and at the Mara River, where the wildebeest must cross treacherous, crocodile-filled waters. It's like a front row seat to Animal Planet. The Kichwa Tembo Camp, Bateleur Camp, and Sayari Mara Camp are the ideal spots to stay to catch the action. Afterward head out to the coast and some of the most underrated beaches in the world at Watamu, where you'll likely have most of the sand to yourself.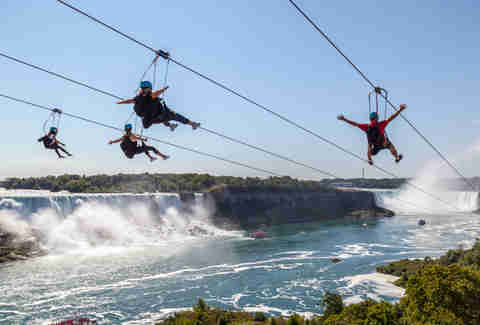 Niagara Falls, Ontario
If you haven't ever been to one of the great natural wonders of North America because you thought it was basically Pigeon Forge with a waterfall, prove yourself wrong in July. This month Niagara Falls welcomes the world's biggest elevated go-kart track at Niagara Speedway, which looks like a real-life Mario Kart set atop Clifton Hill. Also returning to the falls is the new-ish Mistrider zip line, where you'll zip past the US falls, right to the base of Horseshoe. Once you're done marveling at the power of the water flow at Journey Behind the Falls, head up the river and take a high-speed jet boat through the Niagara Gorge and its class V-VI rapids. Then sample beers you'll never find in the States along the Niagara ale trail with stops at Niagara Brewing -- right by the falls -- and Oast House, a brewery set inside a barn in the heart of Ontario wine country.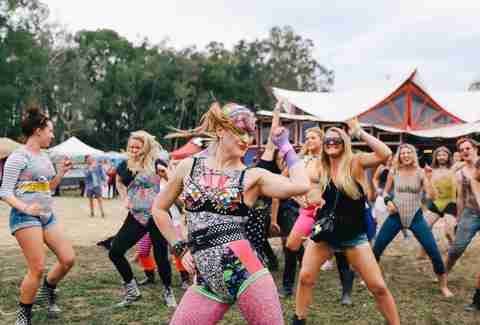 Byron Bay, Australia
Music festivals have become a summer tradition on par with road trips and T-shirt-shaped sunburns. And sure you COULD drive to your nearest Live Nation-approved festival and see names like Kendrick Lamar, Lorde, and Vampire Weekend. But wouldn't it be more fun to head to the easternmost point in Australia and see all those people plus the Wombats, MGMT, Franz Ferdinand, and dozens of other bands in the temperate winter down under? Of course it would, so go ahead and blow your 2018 festival budget on Australia's biggest festival, Splendour in the Grass, held July 20-22 in tranquil Byron Bay. Beyond the festival, Byron Bay has some of the most unheralded beaches on the continent, plus a hinterland rainforest and plenty of trails traversing it all.
Idaho
Even though it got its own dark sky preserve last year and spots like Sandpoint and Stanley are lauded as outdoor paradises, Idaho is still the undiscovered gem of the Pacific Northwest. And no time of year does it shine brighter than July, when biking through the Sawtooth Mountains, rafting the Snake River, or perusing the breweries and greenways of hipper-than-you-realize Boise can all be done under cloudless skies. On July 14, the northern resort town of Coeur d'Alene welcomes From the Ashes, sort of a mad science fair of smoked foods. More than a simple barbecue throwdown, this festival gives pitmasters from Idaho, South Carolina, Texas, and New York City (NEW YORK CITY??) custom-built equipment to test modern takes on smoked food, served alongside a bounty of local craft beers.
Turkey
This is one of those world destinations where you really have to separate the acts of the government -- currently the world leader in imprisoning journalists -- from reality of regular restaurateurs and hoteliers and tour guides who would love to welcome you. So on the assumption you still want to see one of the world's oldest, most fascinating cradles of civilization, this is not the worst time to do so (tourism isn't exactly at an all-time high). Places like Istanbul and the coastal city of Ankara won't be nearly as clogged with visitors, and considerably cheaper. To best experience the ancient ruins, natural wonders, and exotic culture of the country, Intrepid Travel offers a 12-day tour for about $1,100 that'll have you cycling along the shores of Lake Gokova before soaking in nearby thermal mud baths. You'll also tour historic World War II battlefields, kayak over sunken cities, hike through pine forests, and spend time in the town of Antalya, a waterfront gem just a few miles from the Greek Islands. Along the way, you'll probably answer a few questions from curious fellow travelers about what the hell, exactly, is going on in Washington DC these days.
St. Louis, Missouri
St. Louis is one of the great bargain American destinations, where top attractions like Forest Park, the zoo, the art museum, and the science center are all free. This month also brings the grand opening of the $380 million Gateway Arch renovation, where the city's signature landmark reopens with 11 acres of new park space, 7.5 acres of gardens, a bridge over the highway from downtown, and live music at the new amphitheater. It's also the height of baseball season, and few scenes in baseball rival that of Ballpark Village outside Busch Stadium before Cardinals games. Add in a cold, refreshing trip to the original Budweiser Brewery and you've got the best cheap US destination to hit in July.
Shanghai, China
One of the biggest logistical pains in travel is getting visas. But Shanghai is making it a little easier for you to visit now, allowing US visitors to stay in the city visa-free for up to 144 hours (six days). Shanghai has sunk millions into redeveloping its waterfront at The Bund, where you'll stroll by Gothic, Baroque, Romanesque, and Renaissance architecture with striking views of the modern skyline across the river. Want to get in your summer theme park fix? Shanghai's got its own Disneyland. Or relax in the more-classical Yuyuan Garden after a hectic day of shopping in along Nanjing Road.
New Hampshire
For outdoor-adventure types in the east, no place beats New Hampshire in July. White Mountain National Forest is more green than white this time of year, with some of the best mountain biking and off-road cycling trails in the country. Kayaking and canoeing along Squam Lake makes for a calm, serene mountain getaway. Or hit Newfound Lake in the state's Lake Region for the largest freshwater swimming beach in the state. For the extreme athlete, July 8 brings the Loon Mountain Race, where competitors climb more than 2,000 vertical feet over the course of 6.5 miles, including the Upper Boss ski run. Afterwards, relax at the RiverWalk Resort, which in addition to a massive lagoon pool also has a small winery onsite where you can nurse your sore muscles with a nice glass of rosé.
Calgary, Alberta
If you love country-western anything, there may be no better place ever than Calgary in July. That's when this Canadian prairie city hosts the annual Calgary Stampede, where more than a million people attend the 10-day festival that's as much about the parties as it is about the biggest purse in outdoor rodeo. Nightly concerts include headlines like Brad Paisley and Luke Bryan, with plenty of smaller country bands playing venues around a city that's striving to be the Austin of Canada. If live animals get old, head about 80 minutes outside of the city to the Royal Tyrrell Museum, the only solely dedicated paleontology museum in world. In July, it offers opportunities for you to join in on an actual live dig and maybe find some dino bones.
Sign up here for our daily Thrillist email and subscribe here for our YouTube channel to get your fix of the best in food/drink/fun.