The longest day of the year. The first day of summer. And, for many, the last day of school. June may not have many outstanding holidays (sorry, Father's Day) but it absolutely has the best lineup of unofficial holidays. This is when warm weather, blue skies, and blooming flowers all coincide, and when people rush outside -- or around the globe -- to enjoy it.
Sure, your hometown may be at its best in this liminal time between spring and summer. But what if you live somewhere humid? Or just don't feel like seeing all the people you'd been hiding from all winter? There are places all over America and the world that truly nail the first weeks of summertime. Here's where to get the most out of the prettiest time of the year.
Recommended Video
Please Don't Hang Up: The Best Things to See, Eat, and Do in Seattle, WA
Maine
Canada's backyard might be the most underrated beach state in America, with spots like Ogunquit, Old Orchard, and Acadia National Park boasting first-rate shorelines. June marks the beginning of the season when these beaches shine, the deep blue waters set a striking contrast to the dark green forests they abut. It's also the ideal time to hit Arcadia and climb to the top of Cadillac Mountain, when the weather is still cool and July and August crowds haven't yet arrived.
Maine also rocks one of America's coolest campgrounds, Sandy Pines, where 320 different campsites set among the woods and water include schmancy safari-style glamping tents and A-frame huts. It's also an ideal time to check out Portland, the best small city in America to spend the weekend, which welcomes Maine seafood stalwart Bob's Clam Hut with its first location outside Kittery.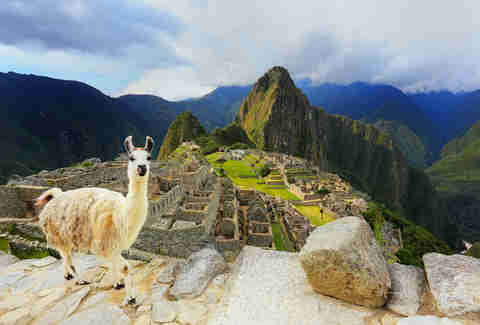 Cusco, Peru
Dry season finally lands in Peru in June, making it the ideal time to become the last Tinder user to hit up Machu Picchu. Crowds don't swell to the same numbers in July and August, and if you're one of the lucky people to arrive at the iconic citadel by trekking, you won't be nearly as beaten down by the heat with daily highs in the mid-70s. (Altitude's still a beast, though.) Once you've gotten your fill of Machu Picchu, steer over to the Sacred Valley for a more peaceful -- but no less stunning -- glimpse of Andean history.
In Cusco, you can wander the cobblestone streets of this historic city in search of a trio of June festivals. From the 17th to the 19th there's Quylllur Rit'i, the "Snow Star" festival when tens of thousands of Andeans make pilgrimage to a nearby glacier. On June 20, there's Corpus Christi, a Christian celebration celebrated throughout Peru but at its most stunning in Cusco. And on the 24th, Cusco hosts the second-largest festival in South America, Inti Raymi, also known as the Festival of the Sun. It honors the winter solstice and the Incan god of the sun, with colorful celebrations and parades held throughout the city and beyond in the ruins of Sacsayhuaman.
South Walton, Florida
A collection of 16 beach towns in northwest Florida, South Walton is home to the Underwater Museum of Art -- America's first permanent sculpture garden under the sea. The eco-friendly art exhibit installs sculptures that go on to function as artificial reefs, helping marine life thrive in what are otherwise barren sand flats. This summer, the museum will debut 12 new designs.
South Walton is also home to a unique ecosystem of coastal dune lakes, where freshwater and saltwater mix. They're only found in a handful of places on Earth: New Zealand, Australia, Madagascar, the northwest US, and South Walton, which with 15 such lakes has the largest concentration of them all. Plus, the region is also getting a brand-new direct flights this June -- on the 8th, Northwest Florida Beaches International Airport will debut non-stop weekend service to Chicago.
London
June is that odd month when London's weather is actually... nice? It's like Chicago summer times 10, when every Londoner who's been hiding inside comes out and fills Hyde Park, Regent Park, and Kensington Gardens. Every pub with a patio will be alive again, as will any business with anything resembling a rooftop.
Brits will turn out in droves for the queen's birthday (June 9) and the massive Trooping the Colour parade that comes with it. June 19-23 also welcomes the Taste of London, which once upon a time would have been a punchline about bland gruel and fish and chips but now features some of the most imaginative chefs in the world offering up their creations. June's also home to some of the city's biggest, most beloved music festivals of the year, including the very fancy Hampton Court Palace Festival.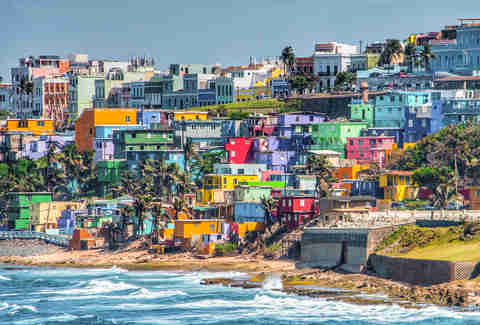 Puerto Rico
June in Puerto Rico arrives just before the rainy season kicks in, and you could not ask for more stunning beaches on which to while away your summer. The ocean is warm, the salsa dancing is prolific, and San Juan in particular has come back from 2017's Hurricane Maria stronger than ever. Gaze out at the bioluminescent bay and then, come evening, make your way across Old San Juan on a chinchorreo (bar-hopping, but better).
Head to the surf town of Rincon for some pork tenderloin at La Copa Llena, or farther south for a swim at the Gozalandia Waterfalls. And you must not leave the island without trying a whole lot of mofongo -- Azucena is a good place to start if you're in San Juan.
You can check out Thrillist's Ultimate Puerto Rico Travel Guide here.
Côte d'Azur, France
Since the mass of beautiful people haven't quite yet descended on Nice, Cannes, Eze, and all the other charming little towns along the French coastline, June is prime time to go. The neighboring Languedoc is your best bet for uncrowded beaches, as this little gem surrounded by tiny villages and vineyards hasn't been discovered by too many tourists yet.
June 21 also brings the Fête de Musique, an all-night music festival to ring in the first night of summer that will have live public performances all over France (with some international celebrations, too). Nice, though, is the place to be so you can dance your way through the French Riviera like a proper wanderlusting American. If you're game, hop on a train and check out Monaco while you're there. It's surprisingly affordable but still looks glamorous on Instagram.
Michigan
We didn't rank it the best state in the country because of the glorious winters. No, the pristine wilderness and great beer of Michigan is best experienced during summer. That means exploring the remote beauty of the Upper Peninsula, sloshing down beers at Founders or Bell's breweries, or exploring one of the least-visited national parks in America at Isle Royale. Michigan has the most coastline of any state in the lower 48 (take that, Mississippi!) and the beginning of summer is the perfect time to get out and see it.
On June 1 there's Hippie Fest in Kalamazoo, and you can scoop up a ticket for just $10. And from June 7th through the 9th, the Nor-East'r Music & Art Festival brings a mix of live music, art, and of course food to the Oscoda County Fairgrounds; 1-day passes start at $10. June 27 to June 30 brings back Electric Forest, the beloved camping music festival is known best for Sherwood Forest, a section of trees decked out in trippy lights and art installations. If you haven't gotten tickets by now though, you'll have to just bookmark it for next year.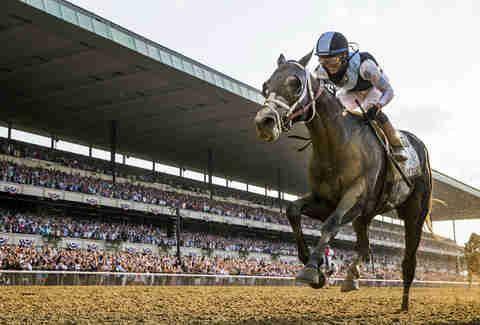 Long Island
The longest, toughest leg of horse racing's Triple Crown goes down June 8 at the 151st running of the Belmont Stakes. It's probably the least-known of the big three, but the party here is just as crazy. It's the odd weekend when New Yorkers leave the city en masse, don big hats and cocktail attire, and pack themselves into Belmont Park, despite many not knowing a trifecta from a triceratops. After the race, you can join the jockeys at the Garden City Hotel, which features two restaurants from celebrity chef David Burke. Look for golfers there, along with a slew of celebs: June 13th through 16th, the 119th US Open comes to Sinnecock Hills.
If sports aren't your thing, Long Island does have 120 miles of coastline. The beaches beyond the Hamptons -- like the ones at West Meadow and Long Beach -- are an excellent escape from the city during your New York expedition. Of course, those Hamptons beaches aren't at all shabby, either.
Uganda
Searching for mountain gorillas isn't exactly a spur-of-the-moment vacation decision, but if this is one of your big lifetime dreams, June is the best month to do it. This month is the dry season, so the weather is relatively cool and dry, and gorillas are more apt to be out and about as you trek around for them in spots like Lake Nakuru and Queen Elizabeth National Park, or the stunning Bwindi Impenetrable Forest.
This trip is best experienced by taking a 4x4 through the parks, where experienced guides can safely find the big fellas you're looking for. There are a limited number of permits available each day for people who want to see the gorillas, so this is a trip you'll probably need to book at least two months in advance.
Tasmania
June is the height of whale migration season in Tasmania, so we're already off to a good start here. This jewel of the Tasman Sea is also one of the best places in the world to spot the southern lights, and the winter solstice provides your best odds of catching them.
If it might seem a little much to travel to the other side of the globe for a light show, Tasmania also has one of the coolest festivals in the world happening in June. The annual Dark Mofo festival returns from June 7-23, combining pagan solstice rituals, modern art installations, music, and live theatre. The winter festival ancient mythology, nature, and long-lost religious traditions. If you're keen on going, Extraordinary Journeys has an Australia expedition that'll take you right to the middle of the action.
Sign up here for our daily Thrillist email and subscribe here for our YouTube channel to get your fix of the best in food/drink/fun.