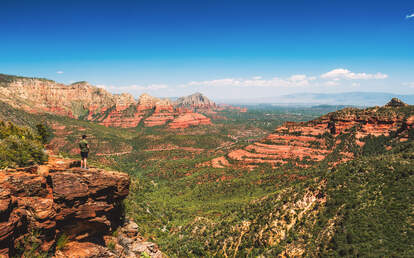 Dive Into Spring With These Unexpected March Travel Ideas
Time to rethink spring break.
We've been trained by high-school lit teachers to beware its cryptic Ides, but March is is traditionally a rager: Spring break, St. Patrick's Day, um, National Peanut Butter Day… they're all sandwiched between February and April. Alas, this is the second year in a row that we're asked to beware the everything of March. But that doesn't mean you can't still carpe the diem.
Spring break is still happening, it's just that this year it might be spent getting cozy in an Airbnb or getting trippy in the desert. St. Patrick's Day? Can't stop won't stop with virtual events. And with apologies to Julius Caesar, the Ides on March 15 really just means it's the first full moon kicking off the Roman calendar. Here are your safest bets to keep March fun.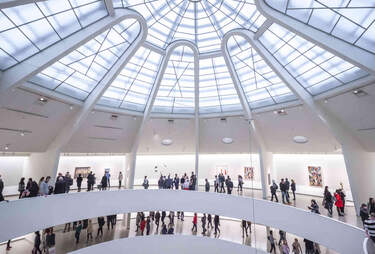 Norman Mailer said the Guggenheim "shattered the mood of the neighborhood." We all know who's still standing.

| Itzavu/Shutterstock.com
Spin right round in some circular architecture
As nerds and dessert lovers will remind you, March 14 is Pi Day. You could celebrate with Darren Aronofsky's Pi while eating local speciality pie. Or you could be less predictable and discover some circular architecture.
The most famous spiral of them all, New York's
Guggenheim Museum
, has Jackson Pollock's
Mural
on display in the city for the first time in over 20 years.
Virtually tour
the Marina City "corn cob" buildings in Chicago made famous by the cover of Wilco's
Yankee Hotel Foxtrot
album, or grab a photo op outside
LA's Capitol Records building
at Hollywood and Vine. Nearby in
Joshua Tree
you can now book a private sound bath virtually or in-person at
Integratron
: The otherworldly cupola was designed by ufologist George Van Tassel, who claimed the building was capable of time travel. You know why? Because it's a circle.
Gaze at some stars in Arizona
Stargazing is especially ethereal in desert, and there's perhaps no better place for it this month than Arizona. Sedona's monolithic red rocks and mysterious vortexes demand a visit for a little spring energy cleanse, but they're extra alluring at night in this Dark Sky city. Speaking of, Flagstaff was the first International Dark Sky city, and gets extra mystical when the area turns snowy. Saguaro National Park lets you gaze skyward while remaining extremely close to the comforts of Tucson, and for something trippier—cannabis is legal here now—head to Vermillion Cliffs and pretend you're in a Dr. Seuss book.
You can get close to a different type of star in Scottsdale. Back in the day, OG Hollywood royalty flocked to hotels like the
Hotel Valley Ho
—the location of Natalie Wood and Robert Wagner's private wedding reception—and the
Arizona Biltmore
, with a swank pool that was a favorite of Marilyn Monroe's. Currently star-spotting includes locals like
Michael Phelps, Alice Cooper
, and Frankie Muniz, who up until very recently
would have sold you some olive oil
.
Book an Airbnb getaway
One of the safest ways to travel right now is to cozy up in a secluded Airbnb.
Near New York City
you can hole up in cozy cabins and lakeside cottages, or opt for a cool glass house to sleep under the stars without actually sleeping under the stars.
If you're in LA,
you have access to desert hideaways, farmhouse cabins, and secluded log cabins big enough for all six members of your pod.
Seattle
puts you right in the thick of it all with a treehouse, a yurt nature retreat and a ski-in, ski-out holiday chalet. Stay in a converted WWII train car near
Atlanta
, a historical trolley car near
Denver
, or a condo houseboat near
DC
. We've got you covered with fantastic home stays in those cities, plus
San Francisco
,
Chicago
, and
Philadelphia
.
Have winter wonderlands to yourself
It sometimes may not feel like it when you're pummeled for weeks on end, but snow can be fun, and we've got some underrated wintery wonderlands to explore before it's time to move on to complaining about humidity.
Northwest Wisconsin
is a treasure trove of high adventure and hygge comfort with tons of trails and ice caves to explore, though you'd be forgiven for posting up in a rustic cabin with a wood-burning stove and some cheese. Over in Montana,
Big Sky
goes for accuracy with its name, with magical winter mountains for skiing plus a golf course designed by legend Arnold Palmer. Or just find a
ski town that hasn't been Aspened yet
: You can have the slopes to yourself, or just live the
apres ski life—bonus points if said town has a
sauna.
Immerse yourself in St. Pete's sunshine
But hey, you might be over the cold. And here's where sleepy St. Pete comes in. The Florida city has been quietly sprucing itself up: Last summer it unveiled a
$92 million pier
with new restaurants, art sculptures, waterfront activities—including manatee-spotting!—and tons of space for maximum outdoor play. Meanwhile, the nearby
Dalí museum
celebrates 10 years with the celebrated
Van Gogh Alive
immersive exhibit, and the iconically pink, castle-looking beachside hotel
the DonCesar
has a new look: The
definitely haunted
1928 icon recently completed a beachy resort restoration, hopefully to the approval of its resident lovelorn ghost.
Whatever you do, don't open the box.

| Courtesy of Greater Palm Springs
Wander immersive outdoor art parks
Staying within our own four walls has been severely cutting into seeing cool art. But there's a way to get around that: see some art
outside
. There are plenty of options to get your visual inspiration with a side of fresh air, from
Storm King Art Center
in New York to the outdoor installations and murals of
Palm Springs, where the Desert X festival transforms the Coachella Valley beginning March 12.
Wander the
Sydney and Walda Besthoff Sculpture Garden
in New Orleans, bask in the glow of the
Neon Museum
in Las Vegas, and stroll the
Sculpture Garden at the National Gallery of Art
in DC. And soon New York will have another sculpture extravaganza: the postponed
Yayoi Kusama exhibit
at the New York Botanical Garden doesn't open until April, but tickets go on sale in mid-March.
Go nuts
National Peanut Butter Lover's Day is March 1st, not to be confused with National Peanut Butter Day in January or straight-up National Peanut Day in September. All three, however, can be celebrated with a private visit to the George Washington Carver Interpretive Museum in Dothan, Alabama. Named for the influential scientist and inventor of many peanut products (though not, as popularly thought, peanut butter), exhibits focus on the historical contributions of African-Americans. You can also engage in a virtual event at the George Washington Carver Museum in Austin, Texas or visit George Washington Carver National Monument in Diamond, Missouri.
Cap your history and legume extravaganza at the
Charles M. Schultz museum
in
Santa Rosa
, California, dedicated to the creator of the Peanuts comic strip. If you're up in the Iron Range, Schultz is also, randomly, honored at the Hockey Hall of Fame in
Eveleth, Minnesota
for
outstanding service to the sport
.
Say an Irish hello
This St. Patrick's Day, beam in the motherland with a virtual festival (reaching "Dublin, Ireland, The World") with seven days of celebrations including a focus on Celtic music, Irish folk tales, comedy, food talks, and more. And the thing about Ireland is, for such a small country its diaspora is incredibly far flung, so if you're in vicinity, swing through the next best place: Boston. It's bumping these days, with hot dispensaries, really hot ramen, and cool nearby skiing.
For some extra credit, take a virtual tour of Connecticut's
Great Hunger Museum
, with art about and influenced by Ireland's potato famine. Or visit the Irish-American Heritage Museum in Albany, New York, now operating at 25% capacity: Sign up for their virtual
Sweat-er run
to complete a 5 or 10k on your own to benefit the museum. And don't forget to wear green.
Give it up for the ladies
Women have gotten a lot done without the right to vote or do much of anything for a large portion of American history. This W
omen's History Month, celebrate the accomplishments of the nation's most
significant spies
at the Harriet Tubman Museum And Educational Center in Cambridge, Maryland; visit the outdoor memorial at the
Rosie the Riveter WWII Home Front National Park
in Richmond, California; or the head to the
Women's Rights National Historical Park
in Seneca Falls, New York, where 300 women gathered to produce a declaration of rights for American women in 1848. Take a socially-distanced tour of
Amelia Earhart's Childhood Home
in Atchison, Kansas (and see the
Lucky Strike ad
in person that lost her a few endorsements), learn about
women in bartending
, and, most importantly, don't forget to call your mom.