May is like the Friday of months. No, you're not quite to summer yet, but already people are cutting out early, making vacation plans, and generally slowing down after a nose-to-the-grindstone winter and spring. It's the kickoff of fun season, when amusement parks open and beach town parking lots start filling up.
But it's only the cusp of summer, and you'll find many destinations are still relatively empty and affordable -- and some places really make the most of the pre-summer anticipation. So both at home and abroad, here are 11 spots you should absolutely check out for your May travels.
Recommended Video
The Best Places to Visit This February
Alabama
Before the summer crowds take over the glorious beaches of Alabama's Gulf Coast, there's this little beach concert in Gulf Shores called the Hangout Music Festival the weekend before Memorial Day. The closest thing to spring break you'll acceptably be able to attend after college, this year's festival is headlined by Kendrick Lamar, The Killers, and The Chainsmokers. Even without the music, it's an excuse to spend a weekend playing beach beer pong and partying with strangers at one of the best events of the year.
Up the road in Montgomery, the most underrated city in Alabama will open the provocative Legacy Museum in late April. Housed in an old slave warehouse, the museum chronicles the African-American experience "from slavery to mass incarceration," in the museum's words. It's a chilling look at the history of black America and is already being hailed as one of the most important museums opening this year.
Borneo
This huge island in the Java Sea is the kind of place that just sounds exotic. Like, even if you were going here for a boat insurance convention, say "I'm going to Borneo" and people will assume you're trekking up mountains to the largest caves in the world to see the migration of winged lipped bats. Which is really a thing you can do at Mulu National Park, especially nice during May -- the height of dry season. If you're into adrenaline adventure, take a four-day hike to the Pinnacles, a series of jagged rocks sticking up out of the jungle. Or take a short flight down to Mulu and see orangutans and proboscis monkeys, the latter in a park only accessible by boat.
If you're overwhelmed by the bounty of nature in Borneo and want someone to plan it all for you, Intrepid Travel launches a new tour here in May. It'll have you hiking 4,000-foot Mount Kinabalu then cycling into Turan, off-roading by a river, and kayaking around the island of Manukan. No way you're getting in all of Borneo in one trip, but this way at least you won't disappoint anyone when you come back.
Prague, Czech Republic
In addition to its jaw-dropping architecture and notorious party scene, Prague is also known for its urban gardens dotting the city. In May they shine their brightest, with flowers blooming at every turn, perfuming this fairytale city with the smell of lilac. Also adding to the energy is the annual Spring Music Festival, which runs from May 12 to June 3. The three-week celebration includes concerts from jazz, rock, and classical artists at venues from local theatres to the stately Smetana Hall.
The other thing Prague is known for: beer. It's on display in epic proportions in May during the astounding 17-day Czech Beer Festival. From May 10 to May 26, Letna Park overflows with vendors of 150 different kinds of beer, so if you tried 10 a day for the entire festival, you might get to them all. And though there are plenty of other things to do in one of the world's most beautiful cities, hey, if you wanna spend it beer-buzzed, it's your vacation.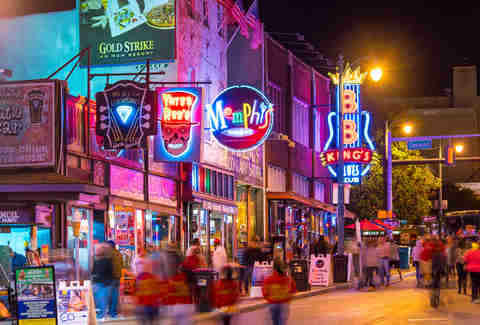 Memphis, Tennessee
This city's signature event is called Memphis in May, so it's kind of a no-brainer time to visit. Before it gets Hustle & Flow hot, and while evenings by the Mississippi are still pleasantly cool, late-spring weather in Memphis is close to perfection. That's why this month is home to its biggest festivals of the year, including the Beale Street Music Festival where Jack Black and Ludacris headline a three-day festival beside the river.
The Memphis in May festival also includes 901Fest, where streets are shut down and filled with local food and music while an air show screams overhead. But the standout of the month is, of course, the World Championship Barbecue Cooking Contest. Imagine the riverside packed with more than 230 tents, each smoking meats in one of the world's biggest barbecue competitions. If the wind is blowing right the entire city smells like barbecue, making it nearly impossible to visit without going down to the river to sample.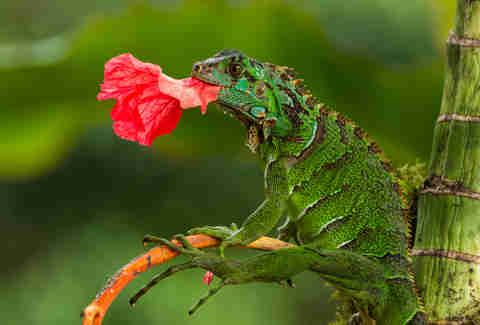 Costa Rica
May in Costa Rica is the beginning of "Green Season," a jungle euphemism for "rainy season" but one that could just as easily be called "discount season." This time of year the jungle will be thick and lush, and it's also when sea turtles come ashore to nest at Tortuguero and humpback whales migrate off the coast of the Osa Peninsula. It also means the big-money tourists who come here from December to April drop off, and you'll see hotel prices likewise shrink.
Case in point: A couple of big luxe Costa Rican resorts are offering an eight-day trip with car rental for just over $1,000. You'll stay at the thermal springs and waterfalls at Tabacon Thermal Resort for three nights, then move on to an in-room hammock on the beach at the El Mangroove for another three. Both are right near all the whitewater rafting, wildlife, and mangrove forests you expect in Costa Rica. If you're too old for hostels but not old enough to afford the Four Seasons, it makes for a nice mix of comfort and adventure.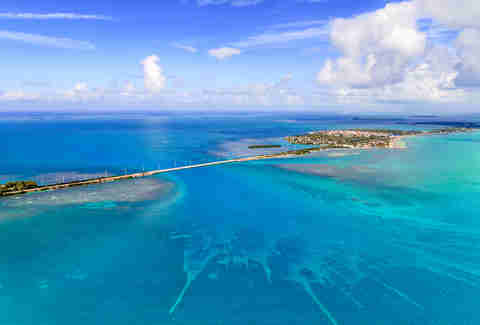 The Florida Keys
Yes, the Keys took a beating last fall. But it hardly took a month for the upper and lower Keys to spring back to normal, and if you haven't been there in a while, May's a good chance to check it out. Hurricane Irma took out a solid chunk of the vegetation along the Overseas Highway -- but what's bad for trees is good for unobstructed views of the water all the way down from Miami. The weather is still not oppressively humid, and thus there's less chance for rain, and the snowbirds have headed north leaving the islands pleasantly mild and empty.
A couple of big festivals will be going on this month as well. From May 17-20, Key Largo hosts the Key Largo Original Music Festival, where songwriters and musicians perform intimate waterfront concerts throughout the island. It's a good chance to check out one of the first new hotels that's opened after the hurricane at Dolphin Point Villas. Further down in Key West, the Key West Songwriters Festival will have artists performing original works at venues all over the city from May 9-13. If you want to save money, try the twin bed, build-your -own-room concept at the NYAH hotel. It's easily the most fun you'll even have sleeping in bunk beds after age 9.
Cayman Islands
Carnival is a big tradition on almost every Caribbean island, but the biggest and most-accessible to Americans is Batabano, the epic parade that winds through George Town on Grand Cayman. It's not calm, but if dressing in almost nothing and dancing your way down the road by Seven Mile Beach for an afternoon is your idea of a vacation, make the trip this year. Flights to Grand Cayman are cheaper than ever, and a weekend where even the most buttoned-up locals say stuff like "it happened at Batabano, so it doesn't count" is a reason to head here May 4-5.
Of course, if you feel like doing any actual relaxing, Cayman is the culinary capital of the Caribbean, with restaurants from names like Eric Ripert opening spots not far from the beach. The diving here is also among the best in the region, highlighted by Kittiwake -- a wreck made from an old submarine rescue vessel sunk just off of Seven Mile Beach.
Louisville, Kentucky
OK, it's no big secret that the only horse race most people can name happens in May. And it's also no secret the Kentucky Derby is the only thing most people can tell you about Louisville. So maybe if you're making your way to Churchill Downs on the first Saturday in May, you should also take some time to check out other stuff the city has to offer. Try some of the legendary restaurants in the city, or head to NuLu where newer spots like Galaxie and Royals Hot Chicken make it one of the best food neighborhoods in the South.
Then there's the nearby Kentucky Bourbon Trail, full of nearly a dozen distilleries with names like Jim Beam, Makers Mark, and Evan Williams. If you want to keep the drinking within city limits, you'll find plenty of fantastic bars here as well -- start at the quintessentially divey Back Door and then go for cocktails downtown at Meta, or vice versa. If you're in town for the Derby you don't even need to attend the race to have fun. This is, after all, one of the biggest party weekends in any city all year.
Barcelona, Spain
Summer hoards are trickling into Barcelona right about now, but you won't be stuck with the full-on sidewalk-clogging masses you'd find later in the summer. Though it's never a bad time to shop along La Rambla or hit the beach, this May is especially especially because the cruise port has some of the first sailings aboard Royal Caribbean's Symphony of the Seas. The biggest cruise ship in the world will begin running seven-night western Mediterranean itineraries through Mallorca, Marseilles, Rome, and Naples this spring.
The 1,200-foot behemoth boasts a water park, a bionic bar where robot arms make the drinks, ice skating and water shows featuring former Olympians, a 10-story dry slide into the mouth of an anglerfish, and loads of other stuff you never thought you'd see on a cruise ship. Being among the first to sail is the perfect reason to see Barcelona this year, and an even better reason to get out of there quick before the crowds descend.
Western Australia
It's generally the part of the country most people hit on a second or third trip down under, but for marine wildlife lovers, May makes western Australia ideal for a first trip too. The Whaleshark Festival in Exmouth celebrates the time when whale sharks congregate at the Ningaloo Reef. It's ideal for diving, as your access and proximity to these friendly sharks are unparalleled. Go from the 25th to 27th and you'll finish your day on the water with food, music, and nightly parties in town. Down the coast in Toodyay, you'll find the annual Moondyne Festival, a western colonial celebration honoring the life of an adventurous character named Moondyne Joe.
Since you've already crossed the Pacific and all, you might as well hop on a short flight out to Ayers Rock, which while not in western Australia per se is home to the annual Uluru Camel Cup. The name might scream "NASCAR race," but it is, in fact, literally a bunch of crazy Australians racing camels through the desert. On the 25th and 26th, the little town of Yulara is a giant party, where people bet on the race the night before building up to the race on Saturday. Race day has qualifying races and the main event, and there's even a "Fashions on the Field" competition to showcase the fine attire people wear to commemorate camels running.
Saint Croix, US Virgin Islands
Also a little jacked up by last year's hurricane season: The US Virgin Islands. Saint Thomas and Saint John took huge hits and are just starting to get back on their feet. Saint Croix, meanwhile, took substantially less damage, and despite some collapsed gas stations, is pretty much back to normal. Caribbean views abound here now, as Irma removed much of those pesky "trees" and "shrubbery" that blocked views from many spots on the island. So a walk through historic Christiansted on an island food tour lets you enjoy your doubles and fruit popsicles while you look at the turquoise water beyond.
Another beneficiary of Irma's "reorganization" was Buck Island. The national monument with one of the most spectacular beaches in the world got a whole new beach this fall, when Irma took out a bunch of trees along the island's northwestern corner, dumped a load of sand on it, and created a serene new remote beach. So new, even regular visitors to the island don't know about it. Taking a trip to the USVI  is also the best thing you can do to help the American Caribbean recover and way more fun than loading pallets.
Sign up here for our daily Thrillist email and subscribe here for our YouTube channel to get your fix of the best in food/drink/fun.