Get Ready for Winter With These 10 Travel Ideas
Where to go if you're feeling adventurous, and what to stream if you're already hibernating.
Daylight savings time has kicked in, and you know what that means: We're officially barreling towards the long, cold winter. But also, the holidays! There is much to celebrate this November: family, friends, the heritage of our land, and big ol' turkeys. And whether you choose to seek out warmer pastures, embrace cold weather activities, pack on the calories for winter hibernation, or pretend it's still October, everything is fair game.
Scope out the mountain towns before the ski bums come through, learn the maritime history of Maryland, or keep spooky season alive with a trip to Philadelphia. We've got new sky high attractions in New York City, and travel ideas for Native American Heritage Month. You could even go hunting for extraterrestrials, or get into shenanigans for National Pickle Day. Hey, we're just trying to stave off the darkness over here.
Climb to the top of NYC
Nothing beats New York during the holiday season. This year, there are new sky-high attractions to add to your Big Apple itinerary—like Summit One Vanderbilt, an immersive art installation located on the top floors of a 93-story skyscraper. Art installations and a trippy penthouse of mirrors by artist Kenzo Digital affords plenty of opportunities for photo ops, or just enjoy the view.
Thrill seekers should head to Hudson Yards to experience the highest outdoor observation deck in the Western Hemisphere at the Edge. Starting this November 11, they take it one step further with the opening of City Climb, where you basically scale the side of the building up to "The Cliff."
(Don't worry, there are steps, and you're hella strapped in). Then you lean out, with nothing but the city below, and your bravery is rewarded with a glass of Champagne.
Make a big dill about National Pickle Day
Do you start drooling at the thought of a crunchy cornichon? Is a sandwich not a sandwich unless it has a dill on the side? Then you should start making plans for National Pickle Day, this November 14. Or better yet, celebrate all month long. If you're anywhere near Ft. Worth, Texas, lucky you: the Best Maid Pickle Emporium is back open for business. Get your locally-made hot, sour, and spicy pickles; your dill chips, relish, and mustard; and all the pickle swag. Try beer-made pickles and sour pickle beer (which, frankly, sounds incredible). No word on whether they're doing anything for National Pickle Day, but can't hurt to swing by and see.
Stuff your face at a food festival
As long as you're scarfing down pickles, might as well make your winter weight and hit some of the other food festivals happening this November.
We've rounded up ten of the best, from a couple of nut festivals in Alabama to San Diego Beer Week. Go meatless in Miami. Learn the best way to get the arils out of a pomegranate in California (helpful!). Have bacon in all its forms—and we mean all its forms—at the Bacon Fest in Easton, Pennsylvania, or stick to fried pork skins and po-boys at the Port Barre Cracklin Festival in Louisiana. That one even crowns a festival queen.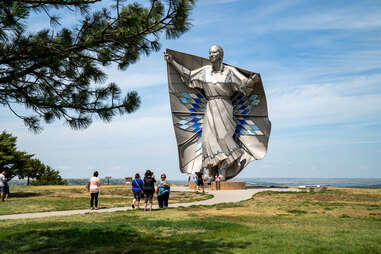 Take a trip to a Native American heritage site
November is Native American Heritage month, with plenty of ways to observe. Hit the road to one of these heritage sites; some are beautiful natural landmarks, like Devils Tower in Wyoming and Antelope Canyon in Arizona, while others are man-made tributes, like the stunning 50-foot statue of a Native woman named Dignity, in South Dakota.
You can also stream events and films all month. The official Native American Heritage Month site has online exhibitions of artifacts in the National Archives, gallery talks spotlighting artists, plus webinars and a cinema showcase. Meanwhile the virtual American Indian Film Festival runs November 5-13 and includes everything from experimental films to comedy and drama, like Brother, I Cry, by Canadian filmmaker Jessie Anthony, a Haudenosaunee woman from the Onondaga Nation, Beaver clan. It premiered at the 2020 Vancouver film festival and snagged her the award for British Columbia Emerging Filmmaker.
Find history and adventure in South Dakota
South Dakota is one of the most culturally rich places to visit for Native American Heritage Month; it's the land of the Dakota, Lakota, and Nakota, and home to nine Native American tribes. Visit Native museums and galleries like Oglala Lakota Living History Village (as with everything these days, check before visiting to make sure it's open and accepting visitors), the Journey Museum and Learning Center, and the Pathways Spiritual Sanctuary. You can stay at a bed and breakfast on a reservation, explore Bear Butte State Park on land that is sacred to several tribes, and much more. Before you go, brush up on etiquette when visiting tribal lands.
And don't forget to pack your warmest hiking boots: the state is also one of the best outdoorsy winter escapes. Explore Wild Bill Hickock and Co's gunslinging past in Deadwood, ATV through the towering Spearfish Canyon, take yourself on a bison safari on the Wildlife Loop Road in Custer State Park, or wave at mountain goats in the Black Hills.
Hit a mountain town before the ski bums do
If the idea of kicking it in a snug, scenic mountain cabin powered by a wood-fired stove with a strong likelihood of bearskin rugs is appealing to you, well, look fast. Because before you can say "apres ski," sky-high mountain towns (and mountain lake towns) are going to be overflowing with ski bums. Now's the time to experience the myriad stratospheric destinations of Colorado or Washington's surrealistically Bavarian Leavenworth before these quiet mountain retreats get rowdy.
Decide whether you're friend or fowl
Easton, Maryland, is a small town with big charms, including at least one old-fashioned soda fountain. Easton is also super into waterfowling, as the Chesapeake Bay is host to a massive bird migration every spring and fall. This November 12-14 they're throwing the Waterfowl Festival, featuring three days of bird-themed art, retriever demonstrations, goose and duck calling contests, and stre­et musicians. There are also diving dog competitions, whose rules are surprisingly involved. If you think your amateur pup has what it takes, for $10 it can enter and get two tries.
While you're there, take a self-guided downtown walking tour or explore the Chesapeake Bay Maritime Museum for some local history—including their own Waterfowl exhibit. Sip on local Lyon Rum, or hit up Old Courthouse Distilling, or take a jaunt on the Chesapeake Wine Trail. Or all of the above. We won't tell.
Seek out some alien life forms...
Just because you haven't seen a UFO… yet… doesn't mean they don't exist. Just ask folks in one of these best places to spot UFOs in America. Chat up believers in Aurora Texas, where a UFO crash-landed in 1897; inquire about alleged abductions in Lincoln, New Hampshire; or watch for unusual activity from the UFO Watchtower in Alamosa, Colorado.
Or, in the heart of Nevada, you can take a road trip down the Extraterrestrial Highway. Make a pitstop at the Alien Research Center for a shot of Alien Tequila (which comes in a very cool bottle) and swing through Rachel, the "Alien capital of the world," where you'll find the famous motel/diner/gift shop/bar, the Little A'Le'Inn. Or just stargaze and contemplate the universe in one of America's best Dark Sky parks, Great Basin National Park.
… or try to find Bigfoot
OK so maybe aliens aren't your thing, but what about hairy hominids? Earlier this month, the town of Natchez, Mississippi, honored Bigfoot with a 300th Birthday Bash to mark the anniversary of his first documented sighting. If you couldn't make the shindig, don't despair: According to the Bigfoot Field Researchers, the big guy's been in every state except Hawaii (go figure). Find out more in museums like the Bigfoot Discovery Museum in Felton, California, or the Willow Creek-China Flat Museum along California 299, also known as the Bigfoot Scenic Byway. On the East Coast there's the International Cryptozoology Museum in Portland, Maine, where you'll also find exhibits on mermaids, Abominable Snowmen, the Loch Ness monster and more. Because why just stop at one unexplained being?
Keep spooky season going in Philadelphia
Halloween may be over, but there are still murder mystery parties to attend, klown museums to visit, ghostly hotels, ghost towns, and even ghostly national parks to swing through. But the most supernatural city might be Philadelphila, where there's so many ghosts and macabre history they hold tours year-round. For that, try Grim Philly, led by historians with a flair for storytelling. Halloween Nights at Eastern State Penitentiary runs through November 13.
And though there's nothing paranormal about the Mütter Museum of the College of Physicians of Philadelphia, the skull collection (for educational purposes) and specimens of medical oddities might give you the chills if you're not ready for them.
Pro-tip: Both the daytime tours and some Grim Philly tours are included in the offerings of the Philadelphia Go City app, so make a sightseeing trip of it.
And if you're a Roaming '20s type (read: looking to work as well as play), the hotel at the Fitler Club not only has the best gym you've ever seen in a hotel, but you'll have access to private social club that comes with its own co-working space.
Vanita Salisbury is Thrillist's Senior Travel Writer. She's made it to the top of City Climb. Things look different from up there.