10 Travel Ideas to Lean into Spooky Season This Month
October is a vibe. Get into it.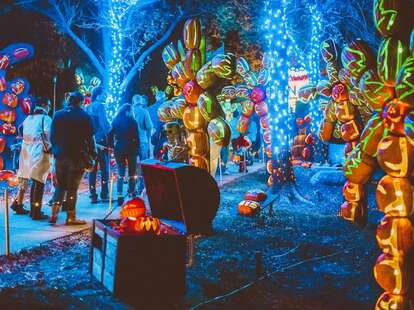 This month is a sensory explosion: the temperatures are crisp, the leaves turn gorgeous hues of orange and yellow, and the air is scented with—what is that? Ah, yes, PSL. There's no shortage of things to do this October, so dig out those chunky sweaters and get ready for fall festivals, hayrides, new wooly friends, and gourds with names like "Warty Goblin." And steel yourself: this is the season where benign homes turn terrifying, pumpkins are set ablaze for really no reason, and horror movie sets come to life. You may even see a sasquatch or two.
Cuddle up with something wooly
Fall is a time to get good and cozy, and what better way than to cuddle up to new soft friends? Head to Sun Valley, Idaho for the Trailing of the Sheep Festival (Oct 8-10), with sheep tales, sheepdog trials, and the main event: a parade of 1,500 sheep down Ketchum's Main Street (plus folk performances, historic wagons, and other stuff. But mainly, sheep). If you plan on going, the website pleads you leave your pups at home.
That same weekend is Alpaca Fest Northwest, aka Alpacapalooza, in Moses Lake, Washington, where you can meet some new pals who hopefully don't spit on you (fun fact: did you know you could rent a room on an alpaca farm on Airbnb and Vrbo?). Soon after, the New York Sheep and Wool Festival (Oct 15-17) returns to Rhinebeck, with a Sunday morning llama parade and something called a Leaping Llama Contest, which you can be sure we'll be front and center to see.
Round out music festival season
Might we interest you in a rock show by the beach? The Ohana Encore Festival (Oct 1-2) at California's Doheny State Beach is headlined by none other than Pearl Jam. Jason Isbell headlines Shoalsfest (Oct 2-3) in Florence, Alabama; St. Vincent, Haim, and Charlie XCX will play All Things Go in Columbia, Maryland (Oct 16); Jimmy Eat World and Taking Back Sunday are throwing it back at Irvine, California's Chain Fest (Oct 23); and NYC's Rolling Loud (Oct 28-30) stacks the lineup with Gucci Mane, Playboy Carti, J Cole, Travis Scott, and A$AP Ferg.
On Halloween weekend Outside Lands (Oct 29-31) in San Francisco's Golden Gate Park not only has acts like The Strokes, Tyler, The Creator, Lizzo, and Tame Impala, but plenty of spooky surprises (and also something called Cheese Lands). Dress up if you want, ideally with a costume that incorporates a mask.
Stuff yourself with oysters in Prince Edward Island
Seafood fiends, take note: Prince Edward Island is open for business and is making it very easy for you to sample their culinary bounty (do not leave without having some oysters). The Fall Flavours Festival runs through October 9, with events like food walking tours, a lobster party, deep sea fishing excursions, and a harbor feast promising hearty food with tranquil views.
And while you have this charming island to yourself during shoulder season, get out and explore: there's red sand beaches and sandstone arches to complement dramatic leaf-peeping, an Anne of Green Gables museum, and plenty of hiking trails. Hit a haunted mansion then wind down by hopping breweries and distilleries. Seems like a perfect way to spend a fall weekend.
Visit a star-studded, under-the-radar cemetery in Los Angeles
You've no doubt heard of the Hollywood Forever Cemetery in Los Angeles—it's also part of the must-experience Paramount After Dark tour, which takes you through the iconic studio lot and gets extra ghosty in October (really, get a ticket if you can, and wear comfortable shoes).
But if it's Hollywood intrigue you're after, head to the unassuming green oasis of Pierce Brothers Westwood Village Memorial Park. It was established in 1905 as a rural cemetery for regular citizens, a fact that appealed to Joe DiMaggio when he chose Westwood for the final resting place of Marilyn Monroe. Today her crypt is covered by lipstick kisses from admiring visitors. Noted Monroe stalker Hugh Hefner bought the plot next to hers in 1992 despite never having met her, and now lays at her side for all eternity. Other famous residents include Natalie Wood, Ray Bradbury, Donna Reed, Armand Hammer, Truman Capote, Eva Gabor, Don Knotts, and Bettie Page.
Gourds, gourds, gourds
Did someone say pumpkins? This month our favorite orange gourd comes to us in all forms. Find them in competition at the "Heavyweight Championship of Gargantuan Gourds" in Half Moon Bay, California (Oct 11), where massive pumpkins go head-to-head for a chance at a $9/pound prize, plus an extra $30,000 mega-purse. (For reference, the current heavyweight champion pumpkin is 2,703 pounds.)
See giant gourds fashioned into boats at the Pumpkin Regatta (Oct 16-17) in Goffstown, New Hampshire or discover them built into fantastical lands at Pumpkin Nights (Oct 23-31) in Dallas and Austin, everywhere from a Monster Mash to a Neon Reef to a Pirate's Cove, where you'll encounter 10-foot-tall pumpkin beasts, dragons, a gigantic pumpkin guitar and more. Gourds will be elaborately painted by local artists in Damariscotta, Maine (Oct 8-11) and then, of course, see them on fire in elaborate Jack-o-Lantern blazes from Rhode Island to Illinois to upstate New York. Pumpkins! They're not just for pie.
Celebrate Black food heritage in North Carolina
Charlotte, North Carolina, is a melting pot of cultures and foods. Since opening their first restaurant in 2012, two-time James Beard nominated chef Gregory Collier and his wife and partner Subrina Collier have been at the forefront of the city's culinary scene. This month they helm the first Bayhaven Food & Wine Festival (Oct 22-24) celebrating Black foodways and pioneering participants with events like the Josephine Baker Black Stork Dinner, honoring the singer and the obstacles she overcame while dining as a Black woman in the prestigious NYC Stork Club; a Chuckwagon Carnival with Black-owned food trucks; a Cotton Club Tasting Tent featuring chefs from across the US; plus mixology classes, jazz brunches, and more. Come hungry.
Embrace Pennsylvania's dark side
Speaking of Pennsylvania, those guys are all about Halloween; you kinda have to be when you've got the chocolate capital of the US in Hershey. Starting October 15, weekends at Hersheypark In the Dark will feature lights-out rides and the Reese's Candy Converter, where you bring all your trash candy and exchange them for Reese's Peanut Butter Cups.
Just about an hour away in Reading is Shocktober Fest, a full-on "Scream Park" now in its 30th year. Attractions include a zombie safari tour, escape room, mega haunted "prison," zombie laser tag, and a haunted hotel room where for $400 you can test your scare factor mettle. Make it through the night and you get half your money back.
Through November at Philadelphia's historic Eastern State Penitentiary you can scare yourself silly with 15 attractions in the former cellblocks: interactive performances, haunted houses, immersive rooms, and a historical tour narrated by Steve Buscemi.
Get spooky in San Juan, Puerto Rico
This year marks the 500th anniversary of the city of San Juan, established as a military base in 1521, making it the oldest city in the United States. And you know what that means? Some of the country's oldest ghosts.
Like Maria Dolores, the daughter of the city's executioner, who loved a thief that her father executed for stealing. Distraught, she killed herself, and today can be seen wandering around the Castillo San Cristóbal at the eastern gate of the city. At the Teatro Tapia, the oldest free-standing stage in the US, visitors have heard noises and seen a woman in all white haunting the fort of El Morro. And at the 1646 El Convento Hotel, the second-oldest cathedral in the Western Hemisphere, you might hear the swish of nun's robes or see the ghost of a former Mother Superior roaming the property, accompanied by the sounds of ghostly prayers.
Go ahead, immerse yourself in Halloween
You've got your famous spooky towns: your Salem, Massachusetts; your Sleepy Hollow, New York (pro-tip: if you visit Washington Irving's grave at the Sleepy Hollow cemetery, make sure you know what time it closes. We learned the hard way).
But did you know there was also an actual Halloweentown? Just 30 minutes outside of Portland in St. Helens, Oregon, (where the Disney movie of the same name was filmed), they throw a full month and a half-long festival with haunted houses and hotels, and of course, a lighting of a giant pumpkin. For something a little more sinister visit iconic references from John Carpenter's Halloween in his hometown of Bowling Green, Kentucky, or go full-on immersive with and rent the house from Scream, now available on Airbnb. Hey, do you like scary movies?
Vanita Salisbury is Thrillist's Senior Travel Writer. Please direct her to your favorite haunted house.