12 Travel Ideas to Get You Out and About This October
Travel inspiration for a truly terrifying Halloween season.
Even if Halloween gets "canceled" this year, there are still plenty of horrors—both too-real and imagined—that will surely make October 2020 one of the scariest months ever.
Our advice? Lean into the fright, friends, with scary movie screenings, late-night cemetery tours, and daring overnights at haunted roadside motels. Chances are you don't have to drive cross-country to find an abandoned ghost town or former psychiatric hospital near you.
With fall leaves reaching peak gorgeousness all across the US, now's the time to head outdoors for brisk hikes, chilling campfire tales, and UFO sightings (or at the very least, some incredible stargazing). When winter comes (and not in the fun fictional Game of Thrones way), you'll be glad you left your home.
Here are some of our favorite places to visit this October. Of course, there's nothing more terrifying than someone traveling without a mask, so please stay safe and socially distanced out there.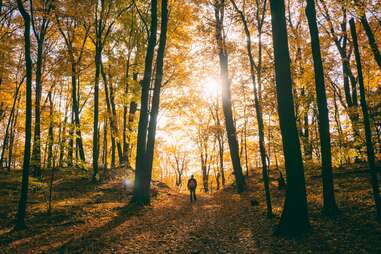 Daaang Michigan

| Aaron Burden
Peep some leaves on a scenic drive
Need a break from all that birding and bread baking? Leaf-peeping season is back, and we've got you covered on where to see fall colors in
New York
,
New England
,
Washington
,
Oregon
, and the
mid-Atlantic
. Timing is everything: Check out this
interactive fall foliage map
for the best time to leaf peep no matter where you are.
One suggestion? Road trip through Virginia's
Blue Ridge Mountains
with a stop in Shenandoah—one of those
national parks that really hit their prime in autumn
. The famous Skyline Drive has no less than 75 scenic overlooks from which to gaze upon the canopy of reds, oranges, and golds. It will be crowded, but in a "safe" vehicular kind of way.
Find out why the Midwest is America's most underrated fall destination
You already know
New England is magical in the fall
. But you might not know the lighthouses of
Minnesota's North Shore
look downright dreamy with bright leaves and Lake Superior in the background, or that Ohio's
Cuyahoga Valley National Park
positively explodes with color this time of year. From Wisconsin's
Door County
to
Iowa's very own Great Lakes
, the Midwest is perhaps the most
colorful place in the country right now
.
Catch a Halloween flick at a drive-in movie theater near you
Drive-ins have made a
staggering comeback
this year due to the pandemic, and there's a 100% chance they'll be screening scary movies this month. To wit, three installments of John Carpenter's
Halloween
franchise (including the original with JLC) are
returning to drive-in theaters
in select cities. So throw some blankets in the car and hit the road to a drive-in near you. Here are some of our favorite
drive-ins across the US
, and within driving distance of
NYC
,
Philadelphia
,
Los Angeles
,
San Diego
,
Miami
,
DC
,
Boston
, and
Atlanta
.
Visit Bowling Green for some Halloween horrors
And speaking of John Carpenter, his hometown of Bowling Green, Kentucky, is a campy destination for horror movie lovers who can take
The Reel Sites, Real Scary: John Carpenter Driving Tour
. Among the many movie-related stops, you'll see the eerie log cabin he grew up in. Or join the
downtown walking tour
through Fairview Cemetery to learn some ghastly local history about the infamous Murder Mansion on Fairview Avenue. The town's also running a two-story
haunted house
with a Krampus theme.
Sing "Autumn in New York" in autumn, in New York
With Covid under control and New Yorkers vigilantly masked across all five boroughs, now's a good opportunity to see a different side of the Big Apple without the usual tourist fuss. There's still
a lot open
, and October sees the
return of indoor dining
at 25% capacity. Hit the world-famous museums, explore Central Park with a to-go cocktail, or take the seven-minute ferry out to
Governors Island
. Chic hotels like The Crosby in SoHo are running special
staycation packages
with freebies, while
The Whitby in Midtown
is offering private city tours, sunset sailing trips, and even live Broadway shows in their screening room.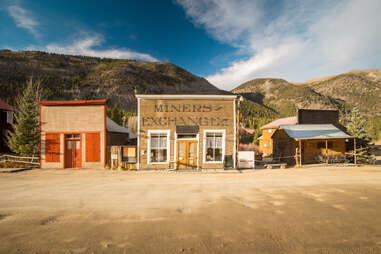 Old mining towns like St. Elmo, CO, are spooky AND Covid-safe

| Atmosphere1 / shutterstock
Visit some creepy ghost towns
The best town for social distancing is one that's been abandoned for decades. This country is absolutely packed with ghost towns—some remarkably preserved, others straight-up skeletal.
Every state has them
, and
the very best ones
offer up a dose of local lore to chill your bones.
If you prefer your ghosts more literal, there is no shortage of
places to scare the shit out of yourself
. Maybe you're into
haunted bars and hotels
, or maybe a
haunted museum with a cursed doll
on display. Wander off into the woods in the hopes of
meeting Skunk Apes
,
Boo Hags, and other mythical beasts
. Regardless, you have options. Weirdo.
Now's also a pretty good time to check out Area 51
Want to one-up your friend who keeps saying "
seriously, I'm moving to Canada?
" Get abducted by aliens! Explore intergalactic expatriation with a trip to
Area 51
, where you can hit up themed bars, "research centers," and even get a taste of the dating scene at the Alien Cathouse. Then, head someplace with
UFO sightings
and try to score a free ride outta the country. If nothing else, the
stargazing will be outstanding
.
Spend the night in a haunted Clown Motel
Come for the 2,000 clown figurines in the lobby, stay for the old crumbling graveyard directly next door. Can you imagine spending Halloween night
in this place
? You'd be a legend. On top of being very haunted, the
Clown Motel
in Tonopah, Nevada, offers a variety of horror movie-themed rooms (such as
Friday the 13th,
Exorcist
, and, of course,
It
). Since you're here, might as well make the Clown Hotel the endpoint of the
weirdest road trip in America
, with ghost towns, nuclear test sites, and glowing lakes offering a pregame to all the sinister harlequins awaiting in Tonopah.
Take to the open road on a motorcycle
Road trip season
typically ends around Labor Day, but for legit-road warriors, fall is where it's at. The colors are more vibrant. The
amateur RV drivers
have swerved their way back to Brooklyn. And if you're looking to hit the road on a motorcycle, there's no better time to safely get out there and explore. Work off your training wheels with some
tips for beginners
(start by getting certified), then find your perfect roadway. Or just listen to these seasoned bikers and
follow their favorite paths instead
.
Go camping before it gets too cold
This is hands down our favorite time of year to go camping. Nothing beats that morning campfire coffee in your favorite flannel... taking a not-too-hot, not-too-cold afternoon hike... slugging whiskey under the stars with a friend or loved one who brought all the
gear
and set everything up for you. This could be your last chance to safely gather outdoors without freezing your facemask off, so take advantage. Check out our local and regional camping guides to
the Pacific Northwest
,
San Francisco
,
LA
,
San Diego
,
Michigan
,
New England
,
New York
, and
Philadelphia
.
Get lost in space
October is a really, really good time to look up
.
Mars is closer to the Earth
than it will be for nearly 15 years. Jupiter, Saturn, and the moon are triangulating in a way that could inspire some modern constellation-making. The Orionid meteor shower is poised to peak with 20 meteors per hour. And on Halloween, we're getting a rare full moon and an extra hour to howl at it. Time to make a break to one of
America's Dark Sky sites
for maximum stargazing. But honestly, this month's so cosmic that you could stand in your
back yard
and feel like you're in a planetarium,
fancy telescope or no
. Which is to say, grab a blanket, cue the Bowie, and prepare to lift off.
Travel with your taste buds at a Latino-owned restaurant
Add some sazón to your life and support Latino-(and immigrant)-owned businesses in your community. Hispanic Heritage Month runs through October 15th—as if you needed another reason to sip a robust margarita, close your eyes, and pretend you're in a beautiful land far, far away. Here are some of our favorite Latino-owned spots in
NYC
,
LA
,
Chicago
,
San Francisco
,
Miami
,
Dallas
,
Houston
,
Denver
,
DC
, and
Atlanta
.
Keller Powell and Andy Kryza are Thrillist's travel editors. Katie Lockhart also contributed reporting to this article.