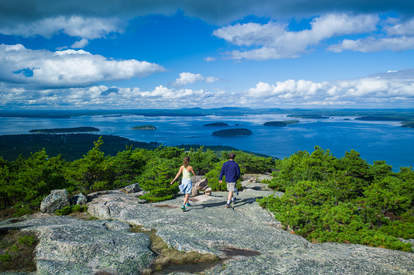 The Best Places Around the US to Close Out the Summer
Road trip-worthy travel ideas for summer's golden hour.
The weirdest summer in generations is coming to a close, and while the Summer of the Road Trip will no doubt seamlessly transition into the Autumn of the Road Trip, there's still time to squeeze out a few drops of summer fun before fall shows up. So by all means, hit the beach, float down a river, eat a lobster roll, drink an aperol spritz or eight. Head out to some of America's most treasured outdoor spaces for warm nights and brilliant stars. Pick some apples and watch the fall colors emerge. Yeah, this summer's weird, but it's still out there.
If you need inspiration for things to do this month, we've got a few ideas so you can safely sate your travel bug. Here are some of our favorite places to go this September -- all are road trip-worthy, and a few you can even do from home.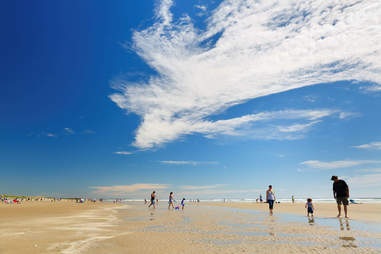 Ogunquit Beach is one of Maine's few soft sand beaches

| JAY YUAN/SHUTTERSTOCK
Take one final beach getaway
We've said it before
and we'll say it again: September is a severely underestimated month to hit the beach. In the before times, that was largely because of school being back in session (less crowds!) and post-Labor Day price drops (less money!). And despite jumping the gun on all this
pumpkin spice
"fall" nonsense, the weather out there is still *chef's kiss.* So
grab those Yetis
and high-tail it to Beach Town, USA --
here are our 20 all-time favorites
.
...Or visit a lake town, we don't discriminate
The best beaches aren't always on the ocean: Michigan, for instance, rocks 3,000 miles of pure coastal bliss on four Great Lakes. The case of the
best Michigan beach town
remains unsolved, but in Wisconsin, the obvious answer is
Door County
, where you can sail across "Death's Door" (a real place, not from
Pirates of the Caribbean
), and
explore Washington Island
-- one of the most
underrated island getaways
in the country.
Road trip along the coast of Maine
Not to throw shade at the
Pacific Coast Highway
(we hear it's great!) but U.S. Route 1, along Maine's gorgeous rocky coastline, is what summer road trip dreams are made of. No planning necessary, because we've done it all for you: Here's
what to do when you get to Portland
; here's a complete
Route 1 itinerary
; here are the best
places to eat along the way
. And if you hate lobster rolls and/or charming seaside towns, here are some
things to see further inland
. Just be sure to read up on
Maine's current COVID policies
before showing up.
The waterslide at Arizona's Slide Rock State Park runs 80 feet long

| Creative Commons / PXHERE
Skip the water parks in favor of swimming holes and river floats
Nothing better than a swimming hole on a hot day, am I right? The good people of
Austin
,
Portland
, and
Nashville
know this all too well. Across the country, a select few swimming holes are especially coveted for their
epic natural waterslides
. At spots like Slide Rock State Park near Sedona, Arizona, White Oak Canyon in Virginia's Blue Ridge Mountains, and Triangle Lake in western Oregon, you can slip and slide down natural rock slides -- usually with 0 lines and 0 entrance fees. And for the lazy-river effect,
these 18 rivers
provide an ideal venue for you and your pod to enjoy some scenic social distancing with a cooler of Claw floating betwixt you.
Explore Central California, in and beyond Yosemite
Now that school's back in session -- whatever that means -- the crowds in
national parks
should be dwindling. That should mean it's easier to get a pass into beloved Yosemite, which has been operating on a reservations-only basis to keep the usual crowds (4 million a year) at bay. But even if you miss out on El Capitan, the Cathedral Lakes, and
Yosemite's other unforgettable sights
, central California's Sierras are still a solid back-up plan.
Dubbed "Gold Country," you can bask in the waters of a mini Lake Tahoe, climb mountains, and debate the legacy of John Muir in a region that's part wine country, part time capsule, and all rugged adventure -- all of which is especially inviting as fall sets in amid the mountains, with Half Dome looming as a backdrop. Here are the best things to do on your visit.
Go apple picking
Get those picnic baskets ready: it's apple picking season! Whether you're team Honeycrisp or Red Delicious, a day trip to an apple orchard (many of which are family-run) can be a pleasant, homely escape from the trash fire of the modern world. Still, most farms are operating differently this year, so expect timed entries and socially-distanced festivities. Drink some cider. Do the corn maze. You deserve it.
The best spots for apple picking in NYC, Philly, DC, Chicago, and Portland, OR.
Hit New England for that summer-to-fall sweet spot
Apple picking is cool and all, but HOLY SHIT you guys, who's excited to peep some leaves??? While there are many
places to catch fall colors
, there's nothing quite like New England, a region that's cornered the market on that crisp, golden, late-summer, early-fall feeling.
If you're on the summer side of things, start in Massachusetts, take a dunk in a swimming hole, then take off on a quintessential New England road trip. If you're all about that foliage, check out our leaf peeping guide for the region's best drives, detours, and apple cider donuts. Earn five cool points if you go camping.
Split Rock Lighthouse

| twphotos / E+ / getty images
Fall in love with Minnesota (before it's too late)
Minnesota winters are, um, an
acquired taste
. But before those 10,000 lakes freeze over, it's one giant autumnal playground. The state that gave us "Purple Rain" is a
veritable paradise for cyclists
, with winding trails snaking through the Twin Cities, vast forests, and the shores of Lake Superior. If a 10 speed's not your speed,
the North Shore
is one of the best road trips in the Midwest. The route starts in Bob Dylan's hometown before freewheelin' along the rocky shores of Superior, complete with monolithic cliffs and lighthouses. Oh, and it's also an
unexpectedly great beer destination
.
Dive with fish the size of your refrigerator in Florida
Hundreds of Goliath Grouper, which regularly tip the 400-pound mark and can grow up to 10 feet long, are gathering off Palm Beach County right now for their annual spawning event -- essentially an underwater orgy that peaks mid-August and early September. If you're a
certified diver
, you can get up close and personal with these enormous randy fish, just like our writer Terry Ward did on her
dive off the coast of Jupiter
. If you don't dive, settle for a fried grouper sandwich and a
nice scenic drive
instead.
Attend a beer festival (from home!) championing women in beer
If this was a normal year, we'd be sending you to Denver for the Great American Beer Festival. This isn't a normal year. But just because you're not crammed in line with a bunch of
neck-bearded, pretzel-necklaced dudes
doesn't mean beer fests are totally canceled. Hop Culture is going fully digital this year with its
Beer With(out) Beards
festival, a celebration of women in brewing aimed at challenging the very stereotypes we just fell back on. Even better, they're sending out boxes of beer for festival participants to drink, so you can actually try the beers, otherwise only available in their respective regions, without having to bring a DD along. The fest isn't until October, but you should
get your festival tickets now
so the beer arrives on time.
Help Louisiana recover from Hurricane Laura
Hurricane Laura has thrown a detour into any plans for an epic
Gulf Coast road trip
. While the lovely beaches and bayous of this underexplored destination can wait, the residents recovering from the devastation can't. Here's
how to help the victims of Hurricane Laura
now so you can celebrate with them later.
Keller Powell and Andy Kryza are Thrillist's travel editors.