Marrakech, Morocco

| Artur Debat/Getty Images
Marrakech, Morocco

| Artur Debat/Getty Images
12 Places Around the World Perfect for Women Travelers
It doesn't matter if you've traveled to two countries or 20 -- inherent in the thrill of visiting a new place is a twinge of anxiety that you'll royally eff something up. That you'll draw undue attention to yourself. That you'll be duped, swindled, taken for a ride. That you'll inadvertently offend someone. That you'll misstep and take a wrong turn down the wrong street at the wrong time.
For a woman, especially a woman traveling alone, that anxious twinge can feel more like a tremor, magnified tenfold in countries where human rights, gender equality, and sexual tolerance might differ from back home. Even the world's safest cities demand a degree of vigilance from a female traveler -- at minimum, reliable instincts. A woman on the road is always aware, to some disquieting degree, that she is a woman and an outsider.
But some destinations, rather than hold you back, provide room to expand. They grant the freedom to accept an invitation from a stranger, to stray from the safety net of TripAdvisor, and to relinquish your reliance on others. These are places where you soak up stories from colorful, sagacious locals and, in turn, return home with tales of your own. And while there are undoubtedly a great many destinations that fit the bill, we polled a group of badass globe-trotting females for their most memorable, inspiring, and straight-up indulgent trips. Here are 12 for the taking.
Copenhagen, Denmark
A sophisticated capital that's most beautiful, and most rewarding, from behind handlebars
Most of what I know about Copenhagen, I learned on a bicycle. The city is laid out to dissuade any other form of transit. Bike lanes are as orderly as any formal highway, with passing and merging laws, dedicated hand signals, and the constant drone of dinging bells. You'll fly solo in Copenhagen simply because it's the correct way to get from point A to B. Whether you're wandering past the wide, quiet canals, or gunning toward an office job in the center of cycling rush hour, you are isolated in your own forward motion.
That bike is a godsend for a woman -- or anyone else who'd rather not cross uncharted territory on foot or get stranger-jostled on buses. It's your means of exploration and your exit strategy. And it does not require you to rely on anyone else. It's your prerogative to balance, to pedal, to throw up your left hand just so before making a turn, to remain focused in the sea of fair-haired creatures pedaling around you in 6-inch heels, cappuccinos in hand. (I am convinced that Danes do not sweat.)
Yes, there are cobblestone streets tangled into canals, adjoined by bridges lined with golden Danes sipping Tuborg beers in the mild Scandinavian sunshine. Yes, there is an endless tap of culinary masterminds plating truly remarkable meals at any given time, all over the city. Yes, you will fall in love with at least 19 locals from afar due to their sheer good looks. But I don't need to sell you on the city -- the city can do that on its own. -- Eliza Dumais
Marfa, Texas
A legit artists hub draws good food and good people together under wide desert skies
It's a six-hour road trip from Austin, Zen-like and therapeutic if you're partial to long stretches of highway. This West Texas town is near a whole lot of nothing, but that's sort of the point. There's that one Prada store that's actually a permanent art installation, a non-store frozen with shoes and handbags from 2005 in the window. But don't come for the Instagram opportunities alone. A little quiet and a lot weird, Marfa calls to travelers looking to invigorate the senses with its sweeping desert terrain, starry skies, energetic art scene, and good food.
A full day's drive from California landed me at the historic Hotel Paisano after the bar had technically closed -- but the bartender kindly provided refreshment and good conversation anyway. For R&R, this charming spot will do you right, with plenty of common spaces and a kidney-shaped pool for lounging, writing, drinking, thinking. If it's new friends you're after, reserve a teepee, tent, or refurbished trailer at the ever-trendy El Cosmico, which sees a lot of musicians roll through and hosts events like Cosmic Karaoke the first Saturday of every month.
Rent a bike to get around and make your way from Donald Judd's Chinati Foundation (an indoor/outdoor art installation on a former army base) to Food Shark (a Middle Eastern lunch-only food truck bus) to Ballroom Marfa (check dates/times for exhibitions, intimate concerts, and film screenings). For coffee or green juice, visit Frama at Tumbleweed Laundry and break for dinner at Stellina or Cochineal. Grab a beer and dance to a different beat at the Lost Horse Saloon, which rarely stays open past midnight. -- Allison Ramirez
Greece
Where dancing grandmas and beautiful islands epitomize living your best life
Just look at the goddess Athena or Odysseus' wife Penelope -- Greek myths are known for their portrayals of bold and tenacious lionesses. Today's Greek women continue to carry up that Olympic torch, as vivacious bon vivants who illuminate the true meaning of "work hard, play hard."
Despite Greece's debt crisis, women haven't sacrificed fashion. In Athens and Thessaloniki restaurants and bars are still booming. A summer of island-hopping, and of drinking up marble sunsets and citrusy wine, can really teach a gal about relishing life to the fullest. The Greeks gave us the word "epicurean," after all.
Elder generations set a fine example. Go to the island of Ikaria, where locals drink, chain-smoke, and dance up a storm at all-night festivals, and perhaps not coincidentally live well past 100 years old. You don't know a good time until you've seen a yiayia (Greek grandma) seductively corral a young man with her scarf to join her in a sirtaki dance, or shoot ouzo off the ground with no hands and then smash the glass. Speaking from experience, don't try to imitate. You're badass too, but it takes a real pro not to end up with booze in the eyes. -- Barbara Woolsey
Seoul, South Korea
A spa paradise for the unabashedly girly and beauty-obsessed
After almost seven years living in Seoul, my biggest regret moving away was that my best girlfriend never had the chance to visit. A next-level wonderland of pampering and cuteness, Seoul is best appreciated with a friend who's going to squeal over Hello Kitty-shaped desserts and row after row of cutting-edge beauty products.
Think: indulgent brunches, 24-hour shopping, trendy fashion, and spas that quite possibly offer the world's best bang for your buck. My favorite is the ladies-only Spa Lei. Leave your modesty at the door, because getting nekkid is essential to enjoying Korea's jjimjilbang spa culture. After a schvitz in the saunas and a hurts-so-good full-body scrub, don your matching pajamas (conveniently provided at every spa) and soak in the purifying warmth of rooms lined in charcoal logs or Himalayan pink salt bricks. If the words "BB cream" and "snail gel" make your heart flutter, high-tail it to Myeongdong, central Seoul's mecca of makeup and skin care shops. There, English-speaking saleswomen will insist you're Keira Knightley's doppelganger, especially when you wear this shade of lipstick.
With brightly lit streets packed with pedestrians at all hours, Seoul is quite safe by major global city standards. Of course, there are deeper issues related to the status of women in South Korean society (#MeToo struck a major chord there), but for visitors, a trip to Seoul is sure to leave you with visions of K-pop choreography and succulent street-food skewers dancing in your head. -- Hannah Bae
Torres del Paine in Patagonia
Exhilarating adventure for women looking for "time on" instead of "time off"
Remember in The Sound of Music when Julie Andrews is having guy problems and the wise older nun tells her to climb every mountain and ford every stream till she finds her dream? If you literally followed that advice, here are just some of the things you would find: unbelievable scenery, wildlife, space to think, new skills, liberation from having to do your hair or makeup, the proof that you're physically and psychologically tougher than you think, and some cool stories to tell at parties.
More and more women are choosing to spend their vacations learning to surf, trekking to Machu Picchu, or backpacking the Pacific Crest Trail a la Cheryl Strayed in Wild. Companies like REI, WHOA Travel, Adventure Women, and Explorer Chick run all-lady group expeditions that are awesome if you're traveling solo and want someone else to take care of the logistics. Plus they make the wilderness as safe and comfortable for women as it can possibly be.
If you'd prefer to travel independently, though, somewhere like Torres del Paine National Park in Chile is the perfect blend of well-visited (i.e., there's infrastructure and security) and remote (i.e., you're in Patagonia). During five or six days on the flagship W hiking trail, you'll pass many of the park's highlights, including lakes, glaciers, and the three jagged peaks for which the park is named. There are places along the way to eat, shower and sleep so you don't need much gear -- just a good pair of shoes and a sense of adventure, like a badass Dorothy in Oz. -- Sarah Theeboom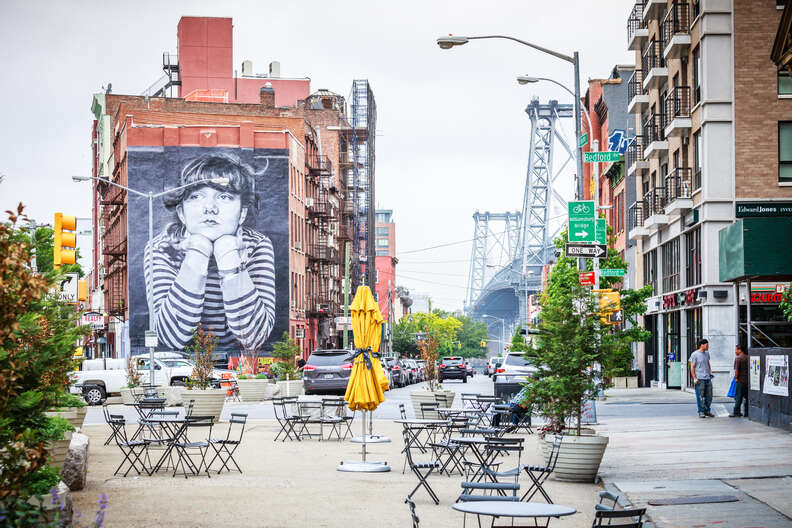 New York, New York
This city of 8 million might just be the world's greatest place to be alone
Of the great many American cities that would host a soul-searching female, NYC is neither the cheapest nor the kindest nor the most straightforward. But for those who need to disappear in the crowd for a while, New York is happy to absorb you. You're free to indulge whatever fantasy of yourself you keep buttoned up at home -- it takes a hell of a lot to surprise a New Yorker, or even catch their eye. So be ballsy, even brash if it suits you. Better yet, I'd recommend the opposite: Be nobody. Rinse yourself of yourself. Be a fly on the wall of the most unpredictable city on earth. There's no better place on earth to be wholly anonymous -- trust me, a few days of no one giving two shits about you can be weirdly rejuvenating.
In that spirit, take a walk. This city's a dream for anyone who finds comfort in white noise and treats people-watching as sport, so pick a neighborhood of interest and wander. You won't get lost (hello, Google Maps) and you won't get scared. In my four years here the only times I've felt wary is underground after 11pm. The myth of New York as a degraded, crime-ridden, rat-infested petri dish is, for old-school residents, what their wistful remember whens? are made of. Crime in New York has fallen to record lows, so walk like you own the place and enjoy the show.
The subway system sees your carefully planned itinerary and makes a condescending chortling sound. Hit a museum and a few must-dos without getting overly ambitious. Residents, despite what you've heard, aren't total assholes -- tired and anxious, yes, but we'll prove downright warm and helpful when given the opportunity. If you're feeling chatty, catch a bartender when he's not too busy, display some degree of wit, and ask him about his favorite spots. And if Manhattan's too intimidating, bed down in Brooklyn -- I'm biased, but Prospect Heights will treat you right. -- Keller Powell
Morocco
Tolerant, inclusive cities reward camera-ready travelers at every turn
While it's typically wise to view influencer posts with a skeptical eye, Morocco really is as insanely beautiful as it looks on Instagram. See for proof the stunning architectural feat that is the Hassan II Mosque in Casablanca, or the impeccably kept grounds and interiors of La Mamounia in Marrakech. Your camera will be full of material worthy of breaking the internet.
Staying at a riad, a traditional guest house, is an absolute must; the Riad El Amine in Fes is one that appears unassuming from its alleyway entrance but shatters expectations with its candlelit indoor pool and fresh rosewater scent. After a long day of exploring the colorful, winding streets, nothing beats hitting the hammam, a Moroccan bath/spa, for a super relaxing cleansing treatment.
What's most striking, however, is how open and inclusive this country is. In the medinas, women wearing tight Western-style clothing and heavy makeup can be seen shopping alongside those in burqas. The government has no interest in policing how one practices their religion, and a constitutional referendum in 2011 embraced a relatively progressive stance on gender equality and granted all citizens the freedom of artistic expression, ideas, and creation. As a young Jewish woman, I understand that the Israeli stamp in my passport limits which Arab countries I can enter, let alone be open and comfortable in my identity. I felt not only safe, but welcome in every Moroccan city I visited. On the day I wore a Star of David necklace, locals even warmly greeted me with "Shalom." -- Jenny Hart
Iceland
A wellspring of inspiration, from unearthly landscapes to female entrepreneurs
Hop in the driver's seat, tee up a good playlist, and prepare for the most introspective and rewarding road trip ever. Minimal infrastructure and a scant population make for sweeps of resplendent nothingness. Pull over to roam burbling volcanic craters and black rock-ribbed coasts, made all the more surreal and exciting when you're solo. Despite the isolation of rural taverns, when you're wrapped up in fur throws with a good book and the northern lights, you won't feel lonely. Icelanders are coolly welcoming -- "cold on the outside, warm on the inside," they like to say -- so chipping in yields amazing conversations.
A real plus of Iceland's tourism boom is that a lot of women have become business owners. You might meet a cafe hustler, cooking, baking and bidding her husband to catch cod, or the 50-year-old fulfilling her lifelong dream of running a restaurant, thanks to all the patronage of a nearby waterfall. Iceland is overflowing with inspirational female success stories, underpinned by a progressive women's rights movement that has helped it rank as the best country for gender equality nine years in a row. -- Barbara Woolsey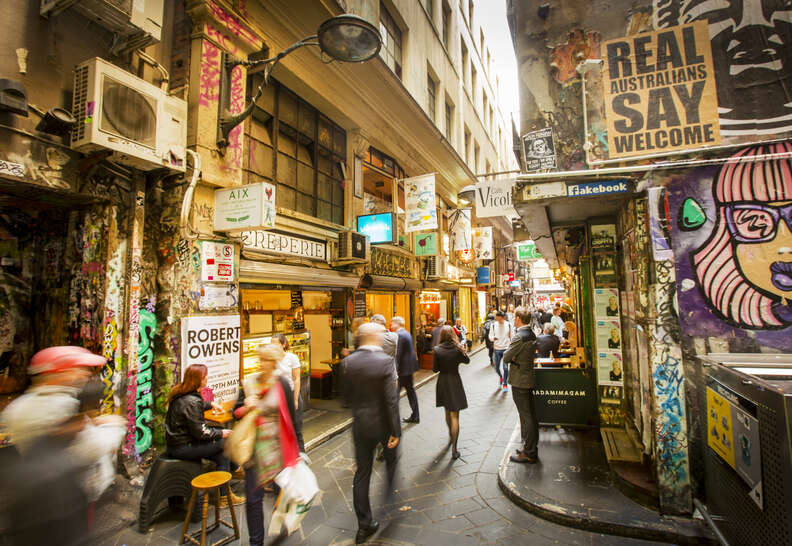 Melbourne, Australia
Where coffee is king, avocado toast is queen, and beers flow a'plenty
Fresh out of college, I got off a long-haul flight to Melbourne and navigated my way down various alleyways to my hotel. Now I don't mean the dripping, trash-strewn back alleys of film noir; in Melbourne they're called laneways, and they're literal works of art -- murals featuring anything from a nearly naked Kim Kardashian to layers upon layers of acid-neon graffiti. No menacing stranger's footsteps echoing behind you, either. Even after one too many Lady Liberty's at Madame Brussels -- a quirky bar with a garden party theme -- I'd teeter totter home to my new CBD apartment, feeling completely safe.
Melbourne's kinda like NYC, if NYC had a legit surf scene. There's a trendy cafe culture, all black e'rrythang style of dress, and wildly diverse dining that's the best in Australia. Asian food is the move here -- my lady coworkers and I would often split some bao at Rice Paper Scissors, then hold karaoke competitions in the city's vibrant Chinatown. Another local pastime: grabbing a pint or four while soaking up the Aussie sun at any number of open-air bars along the Yarra River, or in the uber-hip Fitzroy neighborhood. No wonder hangovers are not uncommon here. And no wonder the coffee is so strong. -- Katie Lockhart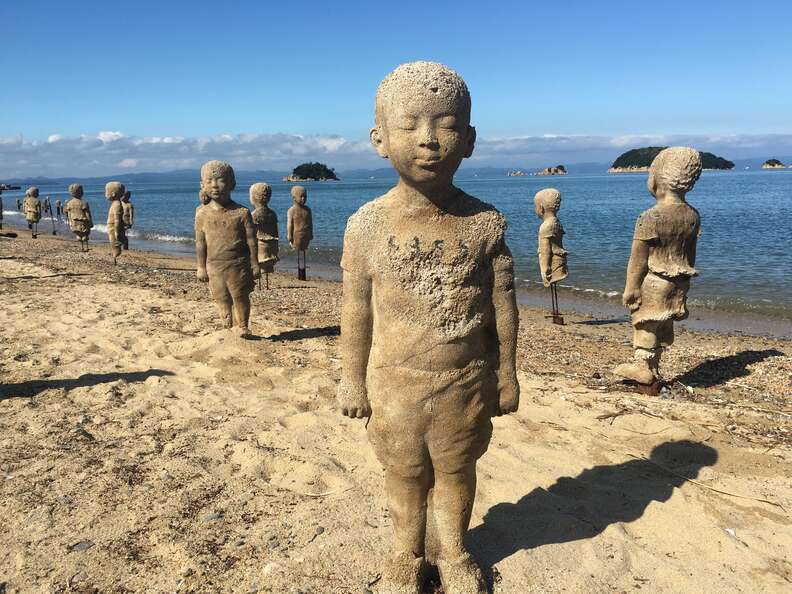 Takamatsu, Japan, and the Seto Islands
Tiny, rural islands with big-time art appeal
Leaning on the railing of the ferry as it departs from the shore in Takamatsu, Japan, it's impossible not to notice the serenity -- otherworldliness, even -- of the cluster of tiny islands dappling the glassy blue waters of the Seto Inland Sea. With each island (some lined with cherry trees, others with olive groves) maxing out at around 200 or so residents, they're also the picture of rural calm: not exactly the place you'd expect to find an international hub of site-specific contemporary art.
And yet, over the past decade, the islands have redefined themselves -- thanks in large part to the once-every-three-years Setouchi Triennale -- as a place dedicated to preserving cultural heritage by bringing in artists from across the world to make site-specific art in its island hamlets. Through extraordinarily innovative, can't-see-it-anywhere-else installations, the once almost strictly agricultural communities have found a way to keep their connection to the land as farming has declined. And for me, a female traveler who often finds herself jaunting out alone, it's a destination that's become a testament to how people -- like destinations themselves -- can continue to evolve, change and grow without losing site of home. (All while soaking up some mind-bending art, of course.) -- Sarah Baird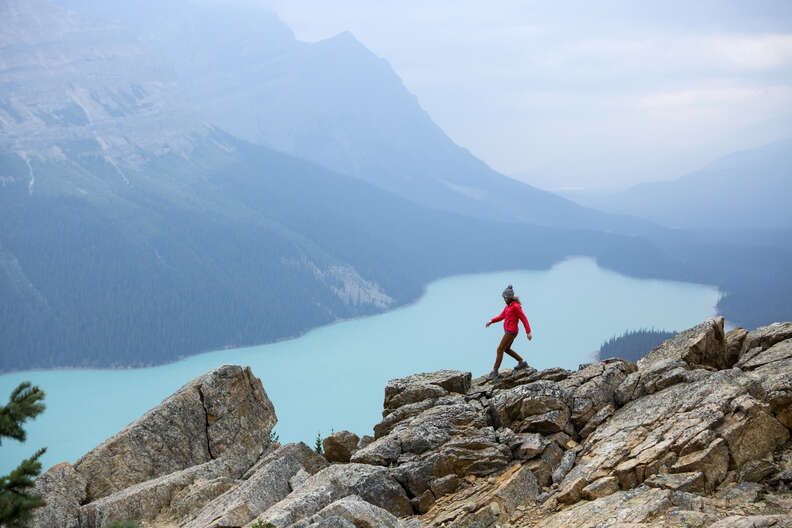 Banff & Jasper, Alberta, Canada
Step out of your comfort zone in Canada's grandest national parks
Something about those jagged Canadian Rockies makes me step out of my comfort zone. Maybe it's the crisp mountain air, or the encouraging good looks of the Discover Banff trail guide on my dogsledding tour, or the three fingers of whiskey (OK, more than that) I downed last night at High Rollers in downtown Banff. Whatever the case, I'm signing up for snowshoeing in Lake Louise at the ungodly hour of 9am in the dead of winter, and loving it.
Even in the harshest months, both Banff and Jasper, ski towns that Canadians knows and love, are well occupied by winter sport enthusiasts, such that a woman traveling by her lonesome would be hard pressed to feel, well, lonesome. Pull up a chair at the bar in the Jasper Brewing Co., order a pint of their brewed on-site ale and the duck tacos, and cheer along as the Edmonton Oilers (that's a hockey team) do whatever it is hockey teams do, then retire to the most comfortable bed in the Rockies at the Fairmont Jasper Park Lodge. If you're posting up in Banff, the lap of luxury is the stunning Fairmont Chateau Lake Louise, with the top-rated spa in the area. Book an ice climbing tour with a local outfitter like Rockaboo Mountain Adventures to meet more like-minded friends trying out a new sport, before you drive the most epic road in North America: the Icefields Parkway from Banff to Jasper. Just make sure to check for road closures, as they often do avalanche control. -- Keryn Means
Valle de Guadalupe, Baja California, Mexico
Spectacular sunsets, handsome chefs, and all the wine you can shove into your heartbroken face
A "girls' getaway" is a really lame name for a very essential kind of vacation: the kind you immediately schedule when your boyfriend breaks up with you out of the blue and then marries somebody else so fast it gives you whiplash. If, hypothetically, such a situation should ever arise, get thee to Mexico, stat, in the midst of your ugliest Claire Danes cry equipped with Kleenex and beer.
Go, specifically, to the Valle de Guadalupe wine country just east of Ensenada, about two hours' drive south of the border from San Diego. Not only does the craggy mountain desert landscape have a captivating Napa-meets-Mars thing going on, it's also home to an almost impossible number of really good restaurants, interesting wineries, and charming little B&Bs where the staff is too polite to tell you your eye makeup is running, again. My go-to is La Villa del Valle, a six-room inn that smells like lavender all the time and has an award-winning restaurant, Corazon de Tierra, that grows its own everything in the adjacent garden (it doesn't hurt that the chef has the prettiest eyes ever). There's a winery right on the property, too -- the tasting room is built, literally, inside an upside-down boat -- and if you go during the week, you'll probably have the pool and jacuzzi all to yourself. If you do run into other humans in wine country, know that most of the men you see will be vacationing with their SOs, so your getaway will be blissfully free of leering bands of bachelor-party bros on the prowl. -- Maya Kroth
Sign up here for our daily Thrillist email and subscribe here for our YouTube channel to get your fix of the best in food/drink/fun.