The 10 Most Outrageously Awesome Places to Ski in the World
If you've grown tired of the traffic and long lift lines that have become an increasingly unavoidable part of your increasingly pricey annual ski trip, stop complaining. You have options. Like skiing in Iran. Or Africa. Or... Alabama?
The most exotic such trip I've taken was snowboarding the back bowls of Vail -- not exactly crazy stuff. So I hunted down an all-star panel of experts who, in between fresh powder runs from Turkey to Tajikistan, gave me the skinny on their most memorable globetrotting ski adventures.
This esteemed panel includes: Jimmy Petterson, author of Skiing Around the World, who has spent the past 44 winters at more than 600 ski resorts across seven continents; Arnie Wilson, former Financial Times ski correspondent who set the Guinness World Record for skiing 365 consecutive days and has skied more than 700 areas worldwide; US Ski and Snowboard Hall of Fame member and international adventure traveler/entertainment attorney Charlie Sanders; and Todd Offenbacher, a world-traveling athlete who guides adventure ski trips from Antarctica to the Arctic Circle.
That's a lot of chops for one list. Here are their top 10 crazy amazing ski destinations from every corner of the globe.
Antarctica
There are no ski resorts in Antarctica, seeing as there are no cities in Antarctica and only a few thousand permanent residents living at research stations. But accessible via a hearty two-day sailing excursion, from the southern tip of Argentina's Tierra del Fuego across the Drake Passage to the northern tip of Antarctica near Wilhelmina Bay, this remote icy region is famous for its extreme weather and gorgeous open vistas -- and, for some people, skiing.
"If you get a sunny day, there's no place more spectacular on the planet," says adventure skier Charlie Sanders, who describes spectacular mountains, blue skies, and "the reflective calm of the water in the bay teeming with wildlife." Penguins curiously check out your equipment before you hike up from the ocean around 1,000 to 1,500 vertical feet and ski right down to the water. In summer you can enjoy 20 hours of sunlight, so there's plenty of time to get your runs in. (You can also bivouac on the mountainside, if you're really hardcore -- which, if you're skiing in Antarctica in the first place, you undoubtedly are.)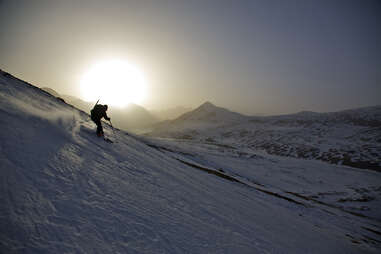 Mongolia
Mongolia has a reputation as one of the most remote destinations on Earth. Adventure skier Jimmy Petterson recommends heading to Western Mongolia, near the border of China and Russia, to experience some rugged ski touring with a local travel agency. Four-wheel-drive vehicles will take you close to the mountains; when the road ends, simply get out and ride the rest of the way by horse, with camels as pack animals. After a three-hour hike up the mountain, you can ski wherever the hell you want. Petterson says it's prime for the "sense of being out in the nature," and that anyone who skis in these sparsely populated mountains is almost certain to make tracks where no human has ever previously set foot.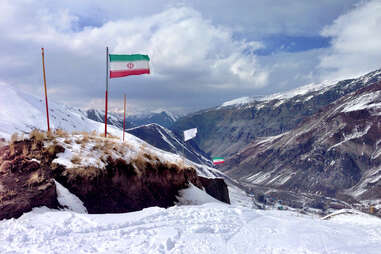 Iran
Petterson recalls some initial culture shock when he hit the slopes of Iran. There are separate ski runs for men and women, as well as gender-separated lift lines in some places, but Petterson says these rules are not strictly enforced and that the mountains (and the country as a whole) are filled with "the most friendly and hospitable people in the world."
As for the skiing, it's easy and accessible, with the lifts mostly built during the time of the Shah ("he was an avid skier") and several resorts located within a couple hours' drive north of Tehran. The Tochal ski area rises up 6,500 vertical feet directly from the outskirts of Tehran, and at the popular resort of Dizin, you can catch stunning views of Iran's highest mountain (the glorious 18,406ft inactive volcano Mount Damavand).
Uganda
Yes, Uganda is a largely tropical central African country situated along the equator. Yes, the average temperature is 78 degrees. But this doesn't mean there aren't a few mountains to be skied in the upper elevations... if you're willing to work for it. And by "work," I mean an intense six-day hike through forests and jungle to reach the permanently snow-capped peaks of the rugged Rwenzori Mountains, otherwise known as the "Mountains of the Moon."
Despite the devastating effects of climate change, a few small glaciers remain in this diverse trekking region that borders Congo and encompasses the country's highest peak: the 16,763ft Mt. Stanley. If you're lucky enough to visit the region before the fog rolls in, some of the glaciers can be skied (with the help of local porters you can hire for around $10 a day to carry your equipment). The reward may only be a short run of around 300 vertical feet down a small glacier, but there's no place like it on Earth.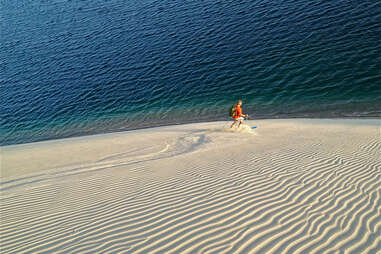 Qatar
Why ski snow when you can ski sand? That was Petterson's frame of mind when he touched down on this small Arabian Peninsula nation, whose massive oil and gas industry affords it the world's highest per capita income. Local residents "don't have to work if they don't want to," says Petterson, meaning they have plenty of free time to hang out and thrash four-wheel drive cruisers through the sandy desert.
From the capital of Doha (a glitzy modern city whose "skyline makes New York look like a third-world city"), it's a one-hour drive along the Persian Gulf coast until the road ends at the upscale Sealine Beach Resort. From there you can get dropped off near the top of the surrounding sand dunes, strap on your skis, and sand-ski in your shorts down to the water. Or, at least, that's what Petterson did. (He says he was the only one doing this.)
North Korea
Ever since South Korea was awarded the 2018 Olympics, North Korean leader Kim Jong-un has been eager to burnish his country's image as a ski destination, initiating construction of the country's only ski resort, Masikryong. Petterson describes it as modern with a nice hotel at the base, a view of the Sea of Japan from the top of the mountain, and surprisingly good rental skis, despite the slopes being "not all that high" at an elevation of around 4,500ft. Sparse crowds (most skiers were taking lessons on the bunny hill) left Petterson free to "haul ass down a long black [diamond ski run] without the worry of knocking into people."
As for getting in, it's easier than you think. All Petterson had to do was send his name and passport number to a British touring company, which delivered a visa to his hotel in China before he flew over to North Korea. As is custom with foreign visitors, Petterson was accompanied by local handlers who limited where he was able to go while he was in the country, but he says the people were friendly and he got to speak in a classroom of students, who understood English well enough to laugh at his jokes.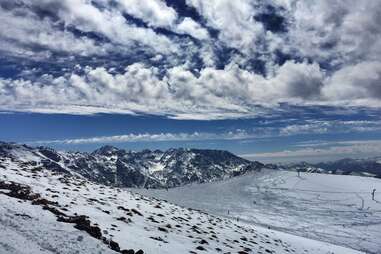 Morocco
Your Moroccan ski adventure starts in the international city of Marrakesh, where the scenic snow-capped peaks of the Atlas Mountains are visible in the background of a stunning cityscape juxtaposed with palm trees, snake charmers, and deep red sand. A couple of hours south sits the resort of Oukaimeden, a remote collection of ski runs with two ski lifts near the highest peak in north Africa: the 13,671ft Mt. Toubkal.
Here, according to Sanders, you'll find local Bedouins in full robes and traditional dress hanging around the sparsely populated slopes, unsure of what they're looking at -- many locals have never seen snow. You can also ride camels and donkeys off the main ski runs to create your own backcountry experience, or have helicopters drop you off in the open terrain. There are no on-site ski accommodations, but staying in town at exotic hotels like La Mamounia only adds to the experience.
Arctic Circle
It doesn't get much more hardcore than skiing with polar bears, and no, I'm not being facetious. Up by the North Pole, the remote Norwegian archipelago of Svalbard is one of the world's northernmost inhabited areas, accessible via sailboat cruises through Arctic fjords. Todd Offenbacher helps organize treks with Ice Axe Expeditions; trips typically last a week, with clients staying on a 62ft steel hull sailboat complete with warm beds and crew-cooked meals. Skiers are free to explore the wide-open terrain and ski for as long as they like -- though Offenbacher says some guides ski with rifles to protect clients from bear attacks. Some 3,000 polar bears live the island, and keep largely to themselves.
India
Several well-run heli-skiing operations can plop you into the wild Himalayan mountain regions of northern India. Former Financial Times ski correspondent Arnie Wilson prefers the professional expat-run operations near Manali, in India's Himachal Pradesh region. This is expert high-altitude terrain known for the sheer mammoth scale of the peaks -- several mountains rise above 20,000ft. Most helicopters can't safely operate at such extreme heights, but they'll still drop you off with plenty of elevation to spare as you make fresh tracks in the sky. Day trips are available, as are overnight stays in lodges with chef-made meals.
Alabama
If you're not thrilled to travel halfway around the globe for a crazy ski trip, look no further than the US of A. In Alabama, Cloudmont Ski & Golf Resort since 1970 has been making snow when temperatures dip below 28 degrees. Located in the Lookout Mountain region, about an hour south of Chattanooga, the area is basically a plowed field where you can ski in the morning and golf in the afternoon.
Sure, it may not be the most extreme skiing in the world. The showcase runs are two 1,000ft beginner slopes, with lifts reaching an elevation of 1,800ft for a 150ft vertical drop. But Wilson recalls a "very friendly" scene set on a placid 800-acre spread in the quiet mountain surroundings near DeSoto State Park, which you can access via one of the most underrated scenic drives in America: the 93-mile Lookout Mountain Parkway from Chattanooga to Gadsden, Alabama.
Sign up here for our daily Thrillist email, and get your fix of the best in food/drink/fun.
Jay Gentile is a Thrillist contributor and he is currently planning a ski trip to North Korea. Offer to hitch a ride with him @innerviewmag