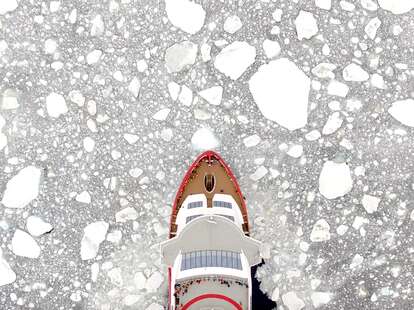 You can't get much closer to the edge of the Earth.

| Photo by Werner Kruse, courtesy of Hurtigruten
You can't get much closer to the edge of the Earth.

| Photo by Werner Kruse, courtesy of Hurtigruten
There are only two seasons in Antarctica: summer and winter—and this is not the place you want to be when winter rolls around. But in December and January, when temps are frigid in a good part of North America, it's the height of summer in Antarctica—meaning longer days (with 20-plus hours of sunlight) and balmy weather wavering in the low 30s (Fahrenheit, that is). Penguin chicks are growing rapidly, blue whales are migrating through, and seals are nestling with their pups on shore and even sea ice. As cruise ships become more affordable and accessible—not to mention more eco-friendly—there's never been a better time to invest in a trip to the South Pole. There's much more than glaciers waiting for you at the bottom of the world. Here are 10 of the most stunning sights you'll find along the way.
Punta Arenas
Punta Arenas—the gateway to Antarctica—is the capital of the southern Chilean region known as Magallanes and Antarctica Chilena. This is probably the largest city you'll see on your trip through the region—the population is around 124,000—and it serves as a bustling base camp for many Antarctica excursions. It is also a prime place to see the elusive Southern Lights while remaining planted in actual civilization.
Ushuaia
Known as the southernmost city in the world, Ushuaia, Argentina, is likely where your Antarctica trip will begin. It's a tourist destination in its own right, known for Tierra del Fuego National Park, as well as its bustling port—where ships start or end a trip to Antarctica. While part of the city's claim to fame is being at the end of the world, it's also an adventure hub, where you can pick up gear for the activity of your choosing (sailing, skiing, scuba diving) or sit back and reflect on your upcoming trip (or the one you just finished) while sipping the world's southernmost microbrew.

Drake Passage
Now that the temperatures are above freezing, the pack ice is melting enough for cruise ships to pass through Drake Passage, the main route down from South America. Named after Sir Francis Drake, the British explorer who first sailed the passage, the crossing—legendarily one of the most treacherous on the planet—extends from Cape Horn on South America's southernmost tip to Antarctica's South Shetland Islands. It's the shortest route to the continent, but since it's connecting the Pacific and Atlantic (meaning both converging oceans and temperatures), you never know what conditions will be like—which is why everyone jokes it's either the "Drake Lake" or "Drake Shake."
The South Shetland Islands
The South Shetland Islands lie 75 miles north of the Antarctic Peninsula and take up an impressive 1,424 square miles (and that includes volcanoes). In addition to being home to a number of scientific research stations (there are 16 in total, most of them huddled on King George Island), they're a popular spot for penguins and seals. The population is 600 in summer and 190 in winter, and since they're mostly covered in ice, the dozen or so islands greet more cruise ship passengers than actual residents. History buffs will love Livingston Island, home to a number of 19th-century sites hailing back to Antarctica's days as a seal-hunting hub.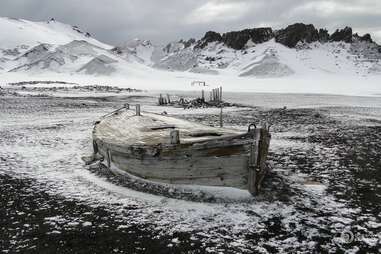 Deception Island
Speaking of volcanoes, Deception Island—a straight-up caldera—was formed by an eruption more than 10,000 years ago and is a favorite for travelers heading to Antarctica. A former whaling station, the Deception Island harbor now welcomes cruise passengers and scientists alike. It's one of the places you'll be able to leave your ship and see all those penguins from land, preferably from the comfort of a warm, natural hot tub dug into the beach. It's also a rare spot where people can swim (or skinny dip, your choice) in Antarctic waters.
Antarctic Peninsula
The northernmost stretch of mainland Antarctica—and thus the first part of the continent many visitors will see—is the mountainous Antarctic Peninsula, which extends more than 900 miles, toward South America's tip. More than 75% of the krill surrounding the continent is in this area, so keep an eye out for minke and humpback whales—and penguins, of course.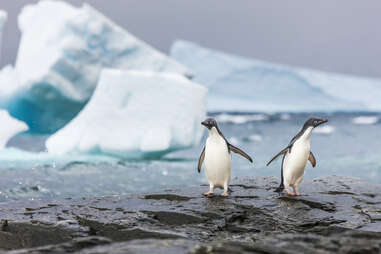 South Orkney Islands
Northeast of the tip of the Antarctic Peninsula lie the South Orkney Islands, which were discovered by American and British sealers in the 1800s, and once served as a base for seal and whale hunting (thankfully no longer the case). Today, the islands feature two research stations: one operated by Argentina, the other managed by the British Antarctic Survey. Frigid, windy, and generally inhospitable, these magnificent islands—which have "ends of the Earth landscapes," as some put it, and a total of zero residents—are home to local mosses and grasses that date back some 4,500 years, plus leopard seals (you'll see them lazing on the shore) and tons of penguins, including southern rockhoppers and chinstrap penguins.
Falkland Islands
About 250 miles south of Tierra del Fuego, the still-contested Falklands are a must-see on any Antarctica trip—especially for birdwatchers, who will find dozens of species of seabirds and five varieties of—you guessed it!—penguins roaming around the 4,700 square miles of landmass. Technically, you're still in South America here: Ushuaia may be the southernmost South American city, but this is the southernmost South American anything. In the capital of Stanley, founded in 1843, you'll find everything from British pubs to locally brewed craft beer. And, if you want to stay the night, there's a handful of coastal cottages and lodges to choose from.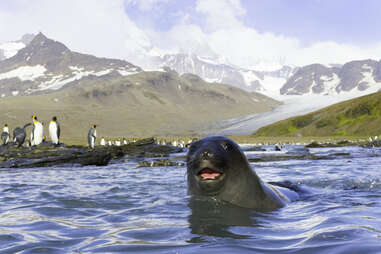 South Georgia Island
Teeming with penguins and seals, remote South Georgia—reachable only by boats—is even better known for its pristine glaciers and fjords (as well as the grave of explorer Sir Ernest Shackleton, who is buried in the now-abandoned settlement of Grytviken). It's part of the same territory as a chain of smaller, less-visited volcanic islands to the southeast, the glacier-covered South Sandwich Islands. Nicknamed the Galapagos of the Southern Ocean, South Georgia is the only place where you'll find the South Georgia Pintail and Pipit birds; it's also home to different species of elephant and fur seals, as well as gentoo, chinstrap, and Adélie penguins. If you visit in the spring, you're guaranteed tons of wildlife sightings—this is when the elephant seals are most active and the fur seals are mating.
Zavodovski Island
The South Sandwich Islands are, as a group, much less famous than South Georgia. But one of them, the uninhabited, ice-covered Zavodovski Island, is where you'll find one of the largest penguin colonies anywhere in the world—around 1 million mated pairs of chinstrap penguins, huddled against the slopes of a volcano. No wonder it's known as Penguin Island.