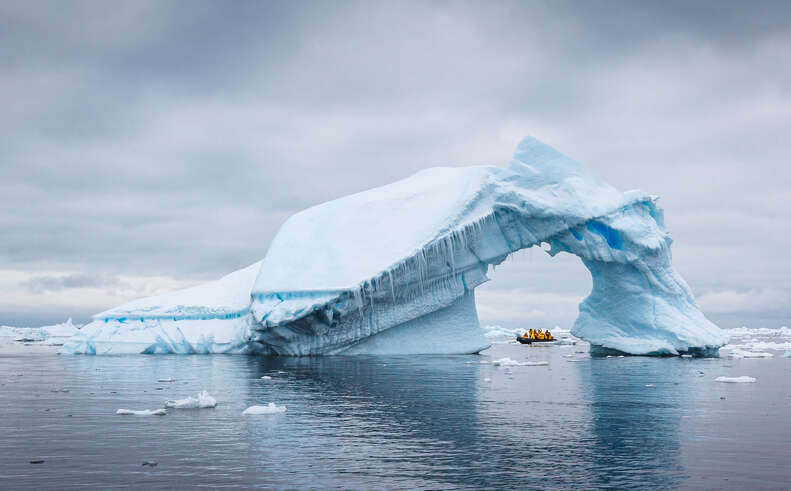 It's the beginning of summer in Antarctica. Penguin chicks are growing rapidly. Blue whales are migrating through. And while you're not likely to get near them anytime soon, Antarctica's recent tourism boom will someday reignite. When the ships start cruising again (it's not mostly a place one can explore by land), you will absolutely want to book passage. In the meantime, here are 10 of the most stunning things waiting for you at the bottom of the world, from active volcanoes and towering glaciers to millions of penguins. Consider this incentive to invest in a very nice coat.
Punta Arenas
Punta Arenas is the capital of the southern Chilean region known as Magallanes and Antarctica Chilena. This is likely the biggest city you'll see on your trip through the region—the population is around 124,000—and serves as a bustling base camp for many Antarctica excursions. It is also a prime place to see the elusive Southern Lights while remaining planted in actual civilization.
Ushuaia
Known as the southernmost city in the world, Ushuaia, Argentina is likely where your Antarctica trip will begin. It's a tourist destination in its own right, known for Tierra del Fuego National Park and an arts summit called Bienal de Arte Contemporáneo del Fin del Mundo: Biennial of Contemporary Art at the End of the World.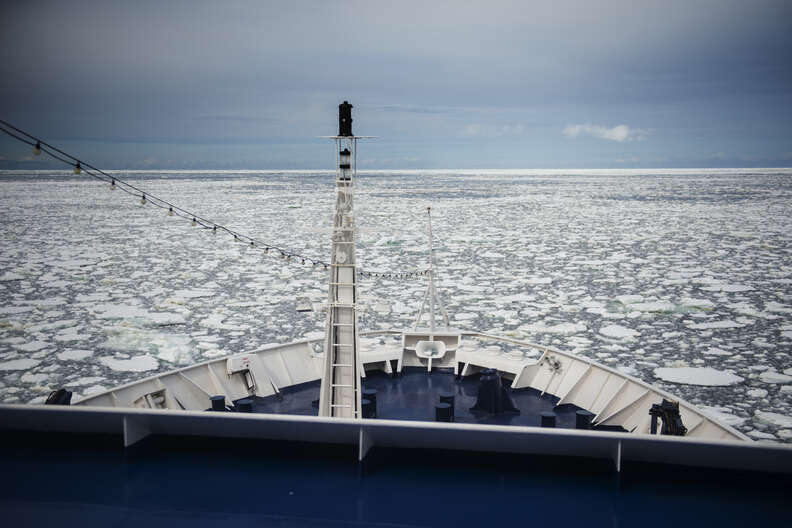 Drake Passage
Now that the temperatures are above freezing, the pack ice is melting enough for cruise ships to pass through Drake Passage, the main route down from South America. The crossing—legendarily one of the most treacherous on the planet—extends about 600 miles from the tip of Chile down to ...
The South Shetland Islands
The South Shetland Islands lie to the north of the main Antarctic Peninsula, and take up a massive 1,424 square miles of mass (including, you may be surprised to hear, some volcanoes). In addition to being home to a number of scientific research stations, they're popular among penguins, seals, and the cruise-ship passengers who enjoy viewing them. There are around a dozen islands, including ...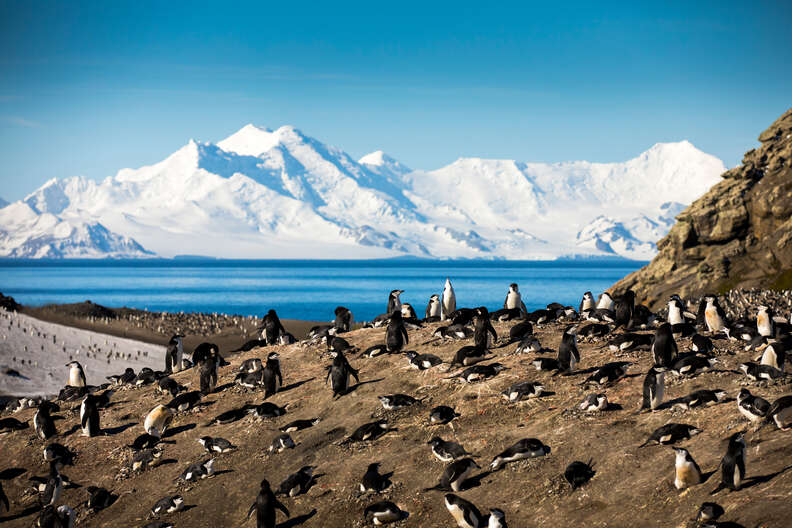 Deception Island
Speaking of volcanoes, Deception Island—a straight-up caldera—is a long-time favorite among Antarctica visitors. A former whaling station, these days the Deception Island harbor plays hosts to tourists and scientists alike -- it's one of the places you'll be able to leave your ship and see all those penguins from land, preferably from the comfort of a warm natural hot tub dug into the beach.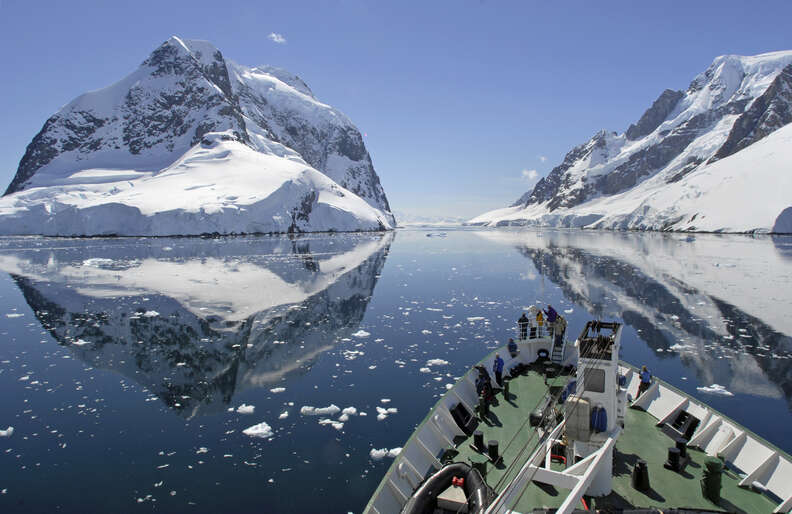 Antarctic Peninsula
The northernmost stretch of Antarctica—and thus the first part of the continent many visitors will see—is the mountainous Antarctic Peninsula. Keep an eye out for minke and humpback whales. And penguins, of course.
South Orkney Islands
Northeast of the Antarctic Peninsula lie the South Orkney Islands. Frigid, windy, and generally inhospitable, these magnificent islands are home to two research stations, plus (wait for it...) chinstrap and Adéie penguins.
Falkland Islands
About 250 miles south of Tierra del Fuego, the still-contested Falklands are a must-see on any Antarctica trip—especially for birdwatchers, who will find dozens of species of seabirds and five varieties of (yup) penguins amid their 4,700 square miles of landmass. Technically, you're still in South America here: Ushuaia may be the southernmost South American city, but this is the southernmost South American anything.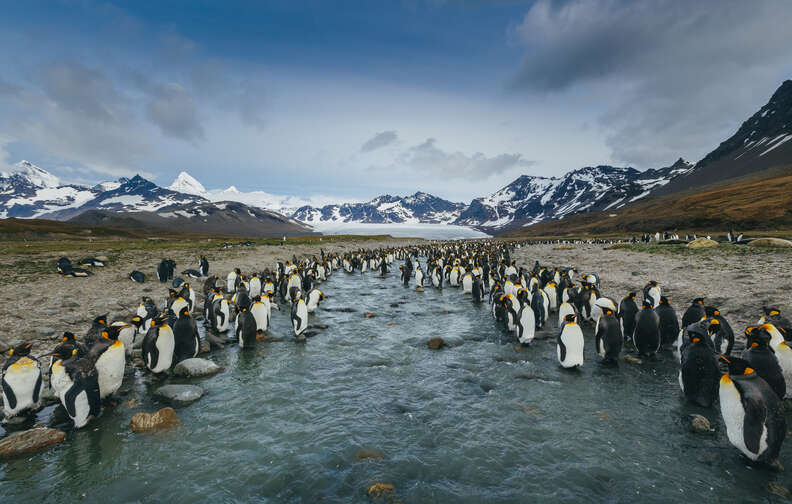 South Georgia Island
Teeming with penguins and seals (both elephant and fur), South Georgia is even better-known for its pristine glaciers and fjords. It's part of the same territory as a chain of smaller, less-trafficked islands to the southeast known as the South Sandwich Islands, which includes ...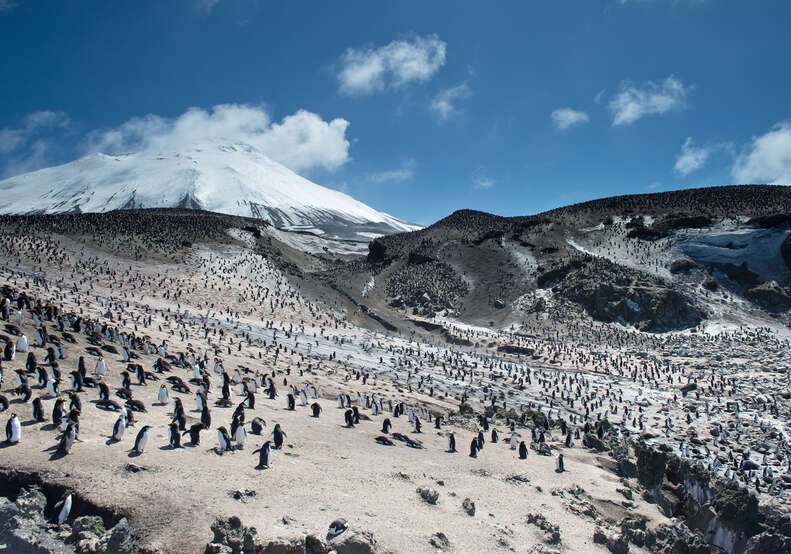 Zavodovski Island
The South Sandwich Islands are, as a group, much less famous than the ever-popular South Georgia. But one of them, the Blue Planet-famous Zavodovski Island, is where you'll find one of the largest penguin colonies anywhere in the world—around 1 million mated pairs of chinstrap penguins, huddles against the slopes of a volcano.