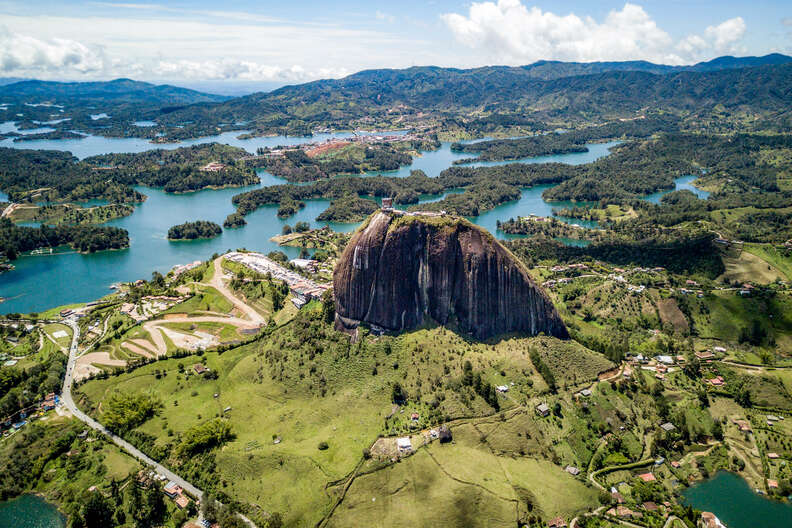 El Peñol of Guatape in Colombia.

| andresr/E+/Shutterstock
El Peñol of Guatape in Colombia.

| andresr/E+/Shutterstock
I Was So Blown Away By This South American Country, I Actually Moved There
After seeing Colombia's most beautiful sights , you might too.
Note: We know COVID-19 is impacting travel plans right now. For a little inspiration, we'll continue to share stories from our favorite places around the world so you can keep daydreaming about your next adventure.
Prior to my first visit in 2011, my perception of Colombia hadn't been great. I'd heard horror stories about cartels, kidnappings, and civil war. It wasn't a place I had contemplated visiting until I made some great Colombian friends at work in London. When my friend Johanna finished her studies, she insisted that I come visit her in Colombia. So I booked my ticket and a few months later I was off.
Touching down in Bogotá, I marveled at the contrast between the sprawling concrete metropolis and the deep-green mountains surrounding it. "The views from the mountains must be awesome," I thought. I wasn't wrong. Bogotá, a city built "2,600 meters closer to the stars," has the most spectacular urban sunsets I've ever seen, and there's no better place to see them than from the top of Mount Monserrate.
Johanna's family descends from the indigenous Wayuu tribe, so she wanted to take me to their native land in the northeastern department of La Guajira. Cabo de la Vela is undeveloped, isolated, and has a dramatic landscape of sea, desert, shrubs, and cactuses stretching as far as the eye can see. It is one of the most special places I've ever visited. After a knuckle-whitening jeep ride through the desert with jubilant vallenato music blasting from the stereo, we arrived in the sacred land of the Wayuu. Cabo de la Vela, Johanna told me, is the Wayuu people's "gateway to the afterlife." I'm not religious, but it felt like Heaven to me.
Eventually, love and friendship drew me back to Colombia again and again until I finally moved there in 2013. Now that I've traveled more extensively throughout the country, I realize they weren't exaggerating when a campaign claimed "Colombia is magical realism." Here are some of the country's most magical sights.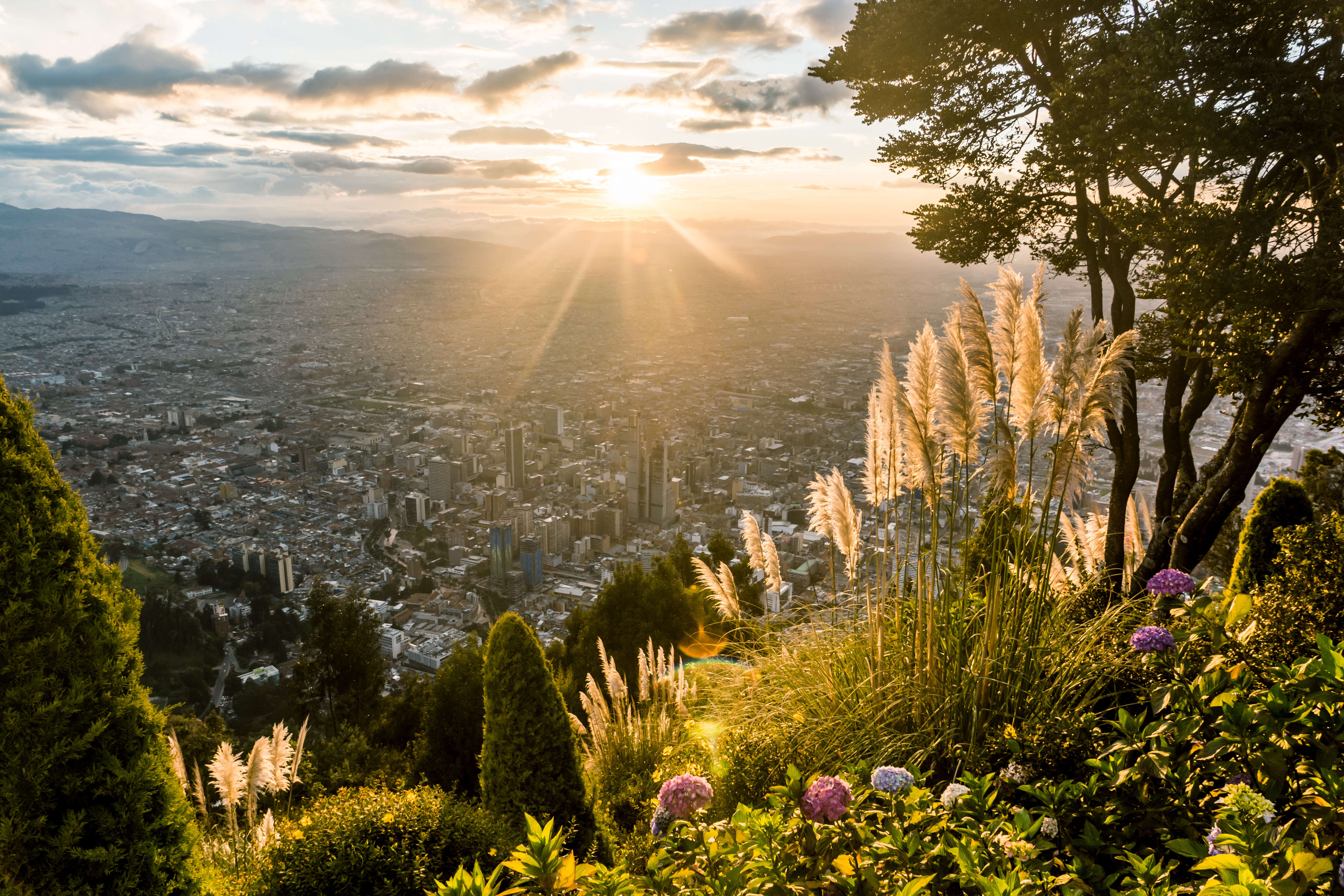 Mount Monserrate at sunset, Bogotá
Bogotá isn't exactly the definition of a beautiful city. Unregulated urban growth and high levels of pollution make for a lot of grey and and often hazy views across the city. However, when it comes to having its picture taken—as with people—Bogotá has a "good side" and a "bad side." The secret to capturing its good side is to snap it from atop Mount Monserrate at sunset through nightfall. As yellows and oranges turn to purples and indigos, punctuated by charcoal smudges of cloud, you'll experience one of the most beautiful sunset cityscapes you've ever seen.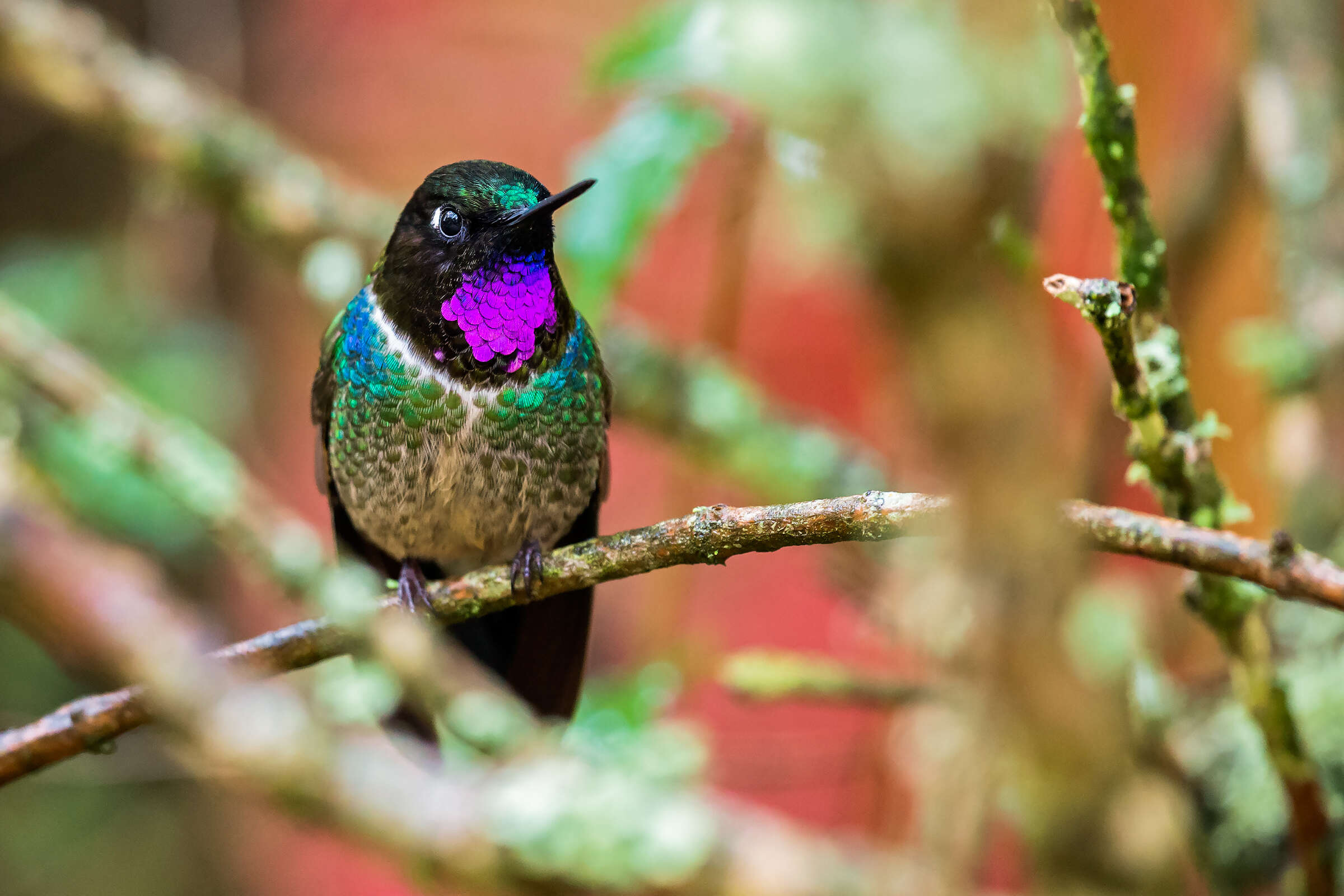 Hummingbird Observatory, Cundinamarca
Colombia is the second most biodiverse country in the world after Brazil, and is home to more than species of bird 1,900 bird. At the Hummingbird Observatory, about an hour from Bogotá, 18 different species of hummingbird have been recorded. The observatory is, in fact, a local woman's back garden. When she moved to the area and started to spot these enigmatic birds, she began planting flowers and hanging feeders to attract more. Getting up close to these birds with magical names such as the Amethyst-throated Sunangel and the Great Sapphirewing was such an incredible experience. Get there by taking a bus to La Calera and then a taxi, hire a private car or book a tour.
Chingaza National Park, Cundinamarca
If you want a challenging but rewarding hike—and can handle the altitude, which is more than 10,000ft at the lowest point—I highly recommend Chingaza National Park. The rare páramo ecosystem of the park only exists in five countries in the world -- defined as existing between the upper treeline and before the snow border, 3200 to 5000 metres above sea level -- and its high altitude and intermittent cloud cover can make the landscape seem pretty surreal. Plants, animals and humans alike need to be made of tough stuff to survive in this harsh environment. On my trip to Chingaza, we chose one of the tougher hiking routes, which made me doubt my level of fitness at times. However, in spite of the dense, sticky mud and thin air, it was all worth it when we reached the summit. The panoramic views over the lagoon in the middle of this otherworldly landscape, scattered with spikey, odd-looking frailejon plants, was like nothing I'd seen before.
Cartagena, Colombia
This UNESCO World Heritage Site greets visitors with a spectrum of bright colors, with bougainvillea hanging from the balconies of pastel-colored colonial buildings. When I'm in Cartagena, I love to stroll through the streets, explore the markets and boutiques, and drool over the gorgeous handmade Wayuu mochila bags being sold on the sidewalk. The street vendors are expecting a negotiation, so remember to bargain! My favorite way to end the day is with a cold drink at Café del Mar on top of the city wall. There's no beating those explosive sunset views.
Tayrona National Park, Santa Marta
Located on Colombia's Caribbean coast, Tayrona National Park is a stunner all but demanding to top your bucket list. Miles and miles of powdery sand fringed by lush jungle, palm trees, and giant boulders await. The sea here is generally calm, but be advised that swimming is only allowed on certain beaches, including Cabo San Juan, Tayrona's busiest beach. La Piscina beach, meanwhile, is the best for snorkeling. If like me you don't want to fight for towel space, walk along to Castilletes beach. You may just have the beach to yourself —the only downside is you won't be able to swim. Away from the shore, there are excellent opportunities for jungle hiking and wildlife watching (iguanas, monkeys and very shy jaguars), with several well-marked hiking trails.
Cabo de la Vela, La Guajira
Cabo de la Vela is the sacred land of Colombia's indigenous Wayuu tribe, and has an unbelievably chill atmosphere. It's pretty hard to get to, so you'll want to spend at least a night there, either in a hammock or a very basic beach hut. Climb the majestic Pilon de Azucar hill for sweeping views across the landscape before spending a day on the stunning beach at Playa del Pilon. The windy conditions here take the edge off the dry heat, also making it perhaps the best place in the world for kite-surfing. Sign up for a beginner's session or an entire course if you want to sail the skies—there are several schools to choose from.
Crab Cay, Providencia
The gorgeous Caribbean island of Providencia is a 20-minute small plane ride away from its more famous neighbor, San Andres Island. With a population of just 5,000 people, Providencia has a chilled out and authentic vibe. You can hire a moped and do a full circuit of the island in half an hour, then take a motorboat or kayak across the water to Crab Cay. There isn't much to do there except swim in the crystalline waters around the dock before climbing up to the highest point on the island to admire the views, but what else do you really need? You'll soon find out why they call this part of the Caribbean "the sea of seven colors."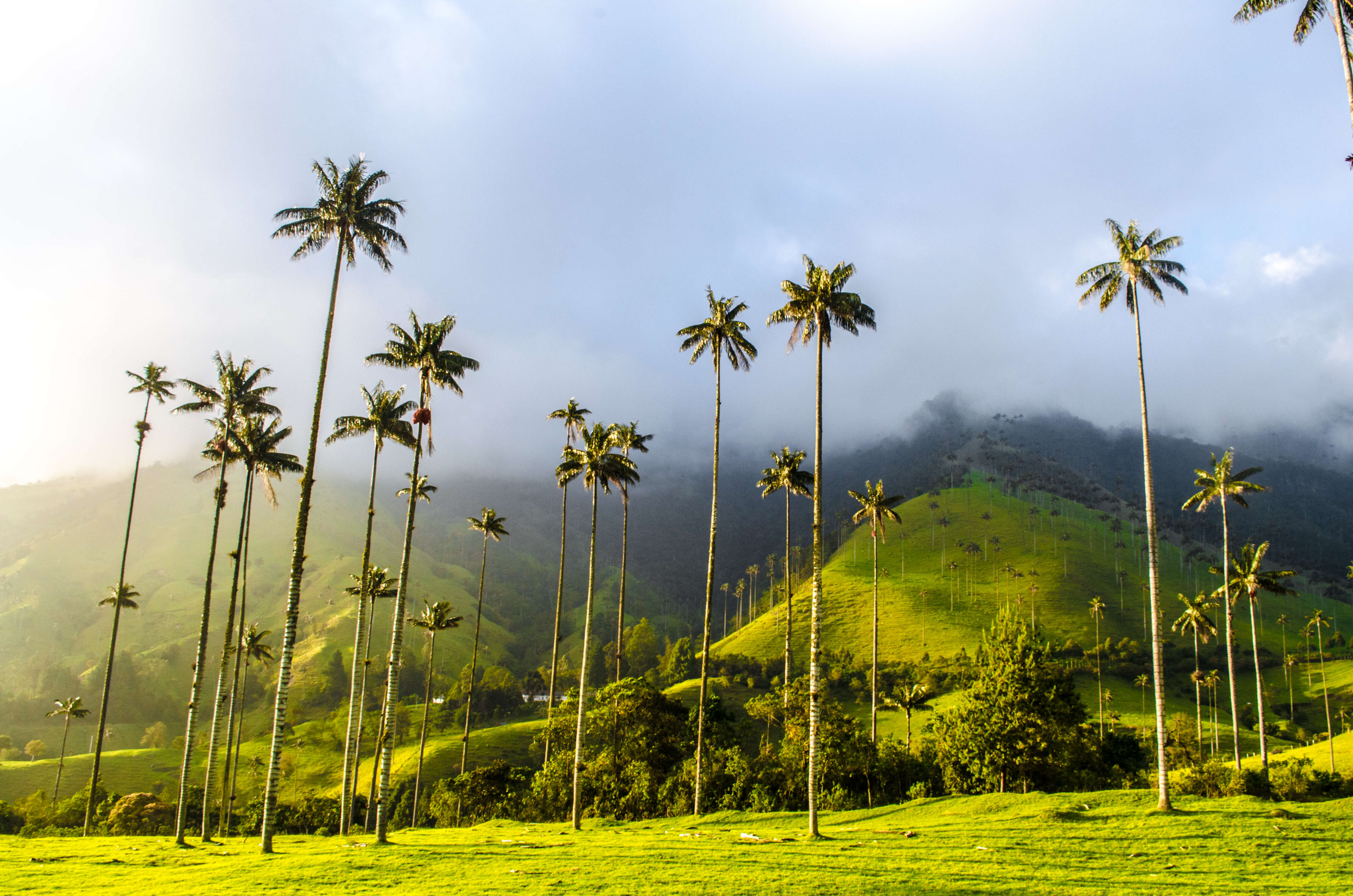 Cocora Valley, Quindio
Ever wondered where the phrase "walking among giants" originated? I believe it came from Colombia's Cocora Valley. If there's an image I won't forget in a hurry, it's that of hundreds of giant wax palm trees dotted across the fields and ravines of the Cocora Valley. The valley is a half-hour jeep ride from the pretty town of Salento, then another half-hour hike from the entrance down to the main valley. If you're feeling adventurous, I recommend leaving early for a challenging but rewarding six-hour hike of the valley.
Guatapé, Antioquia
This sweeping colonial town is just a two-hour bus ride away from Medellin's north bus terminal. Get off just before the town at "La Piedra del Peñol," a huge monolith rising more than 700 feet from the ground. Those who climb the 740 steps to the top are rewarded with spectacular 360-degree views of the beautiful lake filled with tiny islands. If you have time, hire a kayak and explore the lake and its islands. Otherwise, take a passing bus into town, where you'll be greeted with bright blocks of color and red-tiled rooftops—and so many photo opportunities. The village is decorated with dozens of pretty murals and symbols reflecting the local occupations, wildlife, and countryside. Be sure to get a photo on the multi-colored steps of the "Plazoleta de los Zócalos."
Los Llanos Orientales, Casanare
The vast tropical wetlands and plains of Casanare in eastern Colombia are the ideal place for a wildlife safari. As tourism is still a relatively new concept here, the local wildlife is pretty chill around humans and therefore easy to spot. Expect to see exotic animals such as the capybara (the largest rodent in the world), howler monkeys, giant anteaters, caiman, and even anacondas. There are fabulous opportunities for hiking through the flooded forests (don't forget your boots!), canoeing in the lagoons, jeep safaris, and horseback riding across the grasslands. As if you needed one more reason to visit: Los Llanos have some of the most dramatic sunrises and sunsets in Colombia.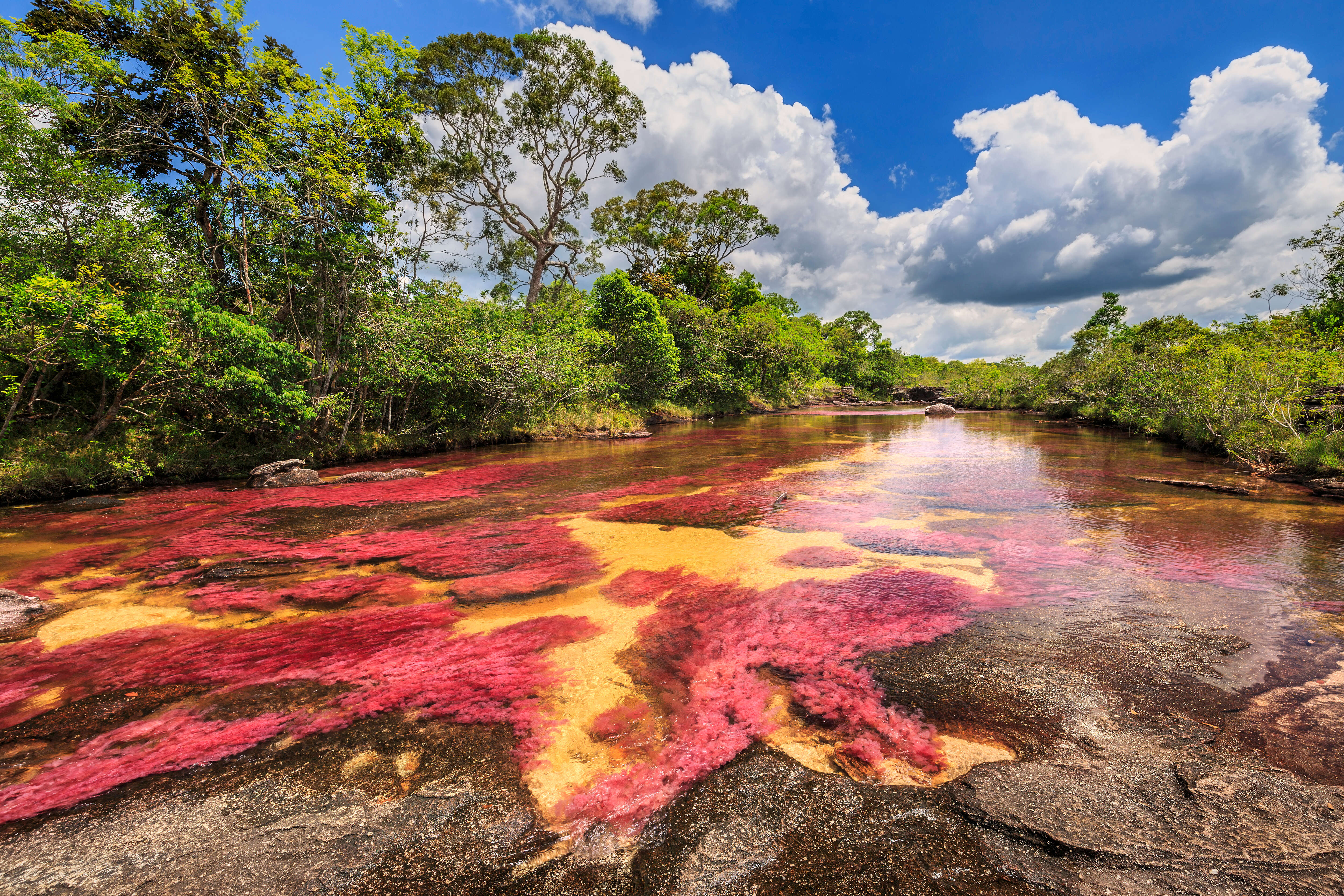 Caño Cristales, Meta
This "river of five colors" in the Serranía de La Macarena National Park is like something out of Colombian Gabriel García Márquez's novels. The aquatic plants that grow in the river give it a vibrant red color from June to November, and the colors are brightest in August and September. You can swim in the river, but you won't be allowed to use sunblock or bug spray, so be sure to cover up. The area is pretty remote and nearly impossible to access by land, so your best option is to book through a tour company.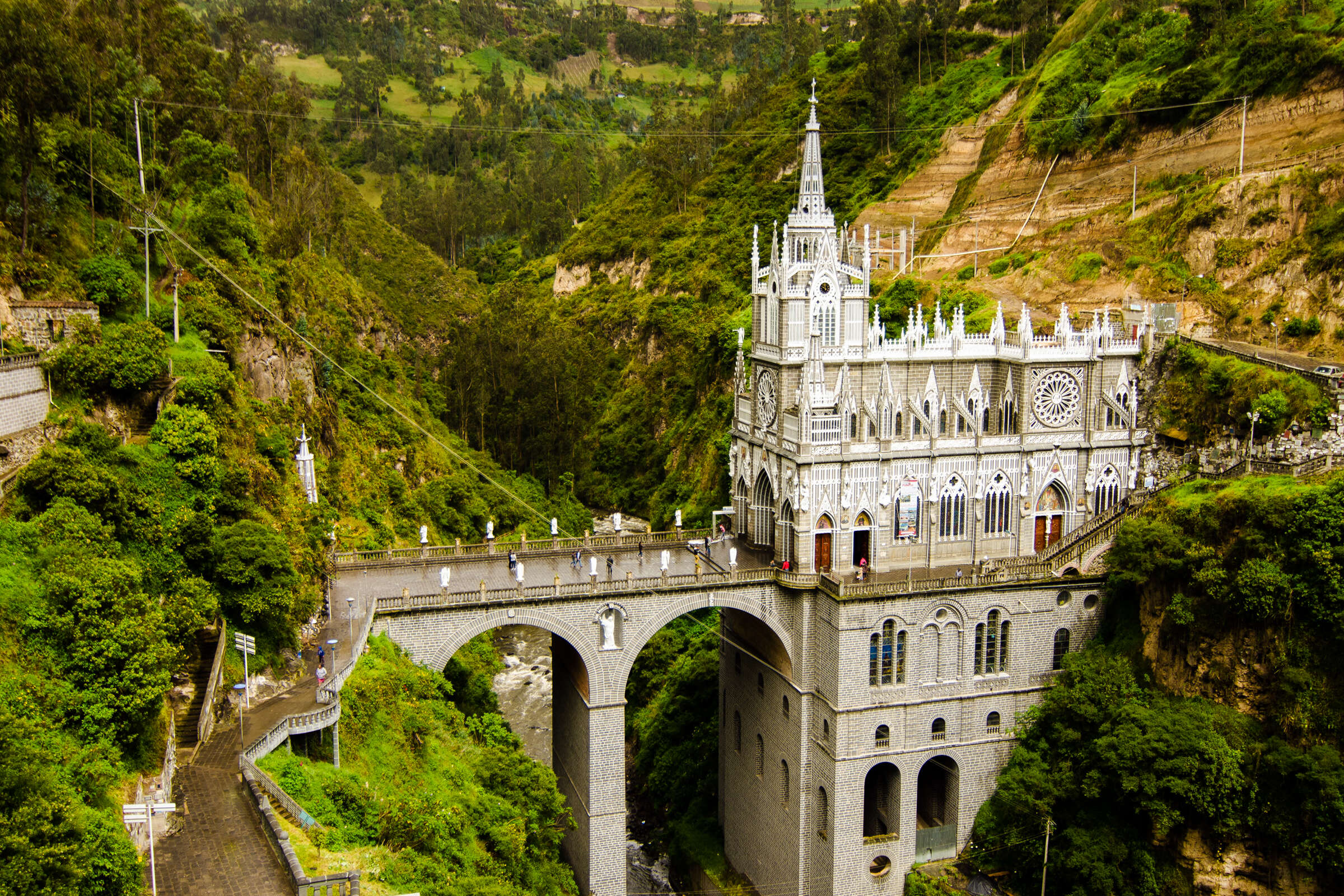 Las Lajas church, Pasto
If you're backpacking through Colombia and heading for Ecuador, a stop at Las Lajas church is a must. Las Lajas is famous for its size, its unusual neo-gothic architecture, and its positioning across the expanse of a canyon. The church was built to commemorate a sighting of the Virgin Mary on the rock face during a storm in the 18th century. What makes it so unique is that it has been built into the side of the ravine—the back wall of the church is actually the rock face itself. For the best views and photo opportunities, take a ride in one of the cable cars.
Whale-watching on the Pacific Coast
If you're looking to get far from civilization, this is the place to be. From July through early October, humpback whales congregate in the waters off Colombia's Pacific coast to breed, with the best whale-watching opportunities to be found around Nuqui, Bahia Solano, and Bahia Malaga. Accommodation in these areas is normally comfortable but basic. Expect open-air dorms and showers, no hot water and only sporadic WiFi access, if any. There are some good eco-hostels overlooking the beautiful El Almejal beach near Bahia Solano, and they can also help you book a whale-watching tour.
Naomi Dalton is a freelance writer currently living between Spain, England, and Colombia. When she's not writing or blogging at How to Bogotá, she's usually out exploring, photographing street art, or eating tapas.