The Most Beautiful Places to Visit in Colorado
Get some fresh air.
With over 100,000 square miles, Colorado is the eighth largest state in America, filled with stunning natural landscapes, Rocky Mountain views, and laid back vibes. And yes, we've also got legal marijuana and a whole lot of craft breweries. With all that, plus an average of 300 days of sunshine a year, It's really no surprise that the Centennial State is also one of the fastest growing areas in the country. As the state continues to reopen with live music and indoor dining returning statewide, there's a whole lot to explore when planning a Colorado adventure. To help narrow down the options for your next Rocky Mountain excursion, we've rounded up the must-visit destinations in this must-visit state. Just remember to mask up and follow all local social distancing guidelines. And have fun out there—we're jealous of you already.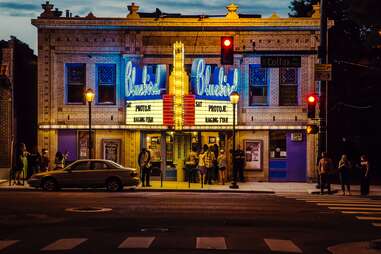 Distance from Denver: 0 miles
It's no secret that Denver is one of America's fastest-growing cities. "Cowtown" no longer, Denver has transformed into a thriving urban metropolis with all the tourist trappings one could possibly want for a ridiculously fun weekend. A by-no-means-exhaustive listing of must-visit spots in Colorado's capital city includes people-watching on the 16th Street Mall, sprawling out on a blanket under the bright Colorado sunshine in City Park, checking out the drinks and eats at Union Station, and exploring the cool art murals and hipster vibes of Denver's booming RiNo neighborhood.
Distance from Denver: 16 miles west, 30-minute drive
One of the most legendary music venues in the world, Red Rocks Amphitheatre was carved into its surroundings by ancient sandstone monoliths and typically hosts some of the biggest and best live concerts in Colorado. While music on the rocks took a timeout in 2020, we're all collectively eyeing the summer 2021 schedule and hoping to return to the epic 9,500-seat outdoor venue soon. But whether you're able to catch a show or not, Red Rocks is worth a visit. It's also a public park owned by the City and County of Denver so you can visit for free anytime on non-show days to explore the hiking trails and stand on the stage where legends have played.
Distance from Denver: 30 miles northwest, 45-minute drive
This laid-back college town (it's home to University of Colorado) nestled in the Colorado foothills is known for its laid back vibes and penchant for outdoor activities of all kinds. One glimpse at the famous Flatirons mountains that serve as the natural backdrop for the city will have you itching to get out and about as well. The best place to take in the views is the popular Chautauqua Park, although less crowded (and easier) hiking options can be had south of town at spots like Doudy Draw. Boulder's dining scene is also one of the finest in America for a mid-sized city, and downtown's Pearl Street Mall is an absolute must-stroll location for some of that "only in Boulder" local flavor.
Distance from Denver: 64 miles north, 90-minute drive
With nicknames ranging from Fort Fun to the Napa Valley of Beer, whatever you call Fort Collins, you can't call it a bad place to be. The town once made famous by the bizarre 2009 "Balloon Boy" hoax is also famously the home of craft OG New Belgium Brewing Company as well as a vibrant Old Town downtown district packed with bars and restaurants more than worthy of your patronage. For live music at another unique outdoor Colorado venue, head 30 miles west of Fort Collins to catch a show at the Mishawaka Amphitheatre, known as "The Mish" by locals.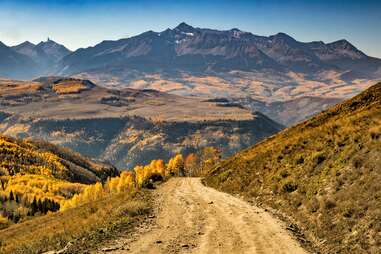 Distance from Denver: 364 miles southwest, 6.5-hour drive
One of the most stunning mountain towns in not just Colorado but the entire world, your first look at the awe-inspiring mountain backdrops that greet you in historic downtown Telluride will leave your jaw on the floor. Pick it back up and board the free ski gondola (which runs most months of the year as the only public transportation service of its kind in America) to check out the sights as you bar and restaurant hop between downtown Telluride and Mountain Village, where the world-class Telluride Ski Resort is located.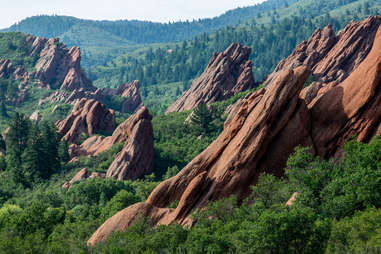 Roxborough State Park
Distance from Denver: 27.5 miles southwest, 50-minute drive
Colorado has 42 state parks, many within an easy drive from Denver. Like the famous Red Rocks Park & Amphitheatre, Roxborough boasts its own set of breathtakingly beautiful 300-million-year-old sandstone formations jetting out of the earth. It's also an under-the-radar gem making it the perfect social-distancing friendly outing near the Mile High City. The trails are ideal for beginning hikers, and you may even spot some wildlife along the way. The park is home to creatures like coyotes, red fox, deer, 145 species of birds, and even the occasional bobcat and black bear.
Rocky Mountain National Park
Distance from Denver: 66 miles northwest, 90-minute drive
With postcard-like vistas and 355 miles of hiking trails, Rocky Mountain National Park is one of the most popular National Parks in the country. Explore favorite hiking destinations like Bear Lake and Lily Lake. If you're really up for a challenge, head to the trailhead for Longs Peak, one of Colorado's 58 "14ers" (mountains with elevation over 14,000 feet). The assent is strenuous and the venture will take 10-16 hours round trip but it's all worth it when you get a glimpse of the view from the summit of the highest point in the park. If you'd rather see the views without breaking a sweat, drive Trail Ridge Road, the highest paved road in the state, which is generally open May through October. To get to the park's entrance from Denver, you'll go through the town of Estes Park where along with lots of local elk herds, you can also check out the shops and restaurants on main street and the historic Stanley Hotel (aka the real life place that inspired Stephen King's The Shining).
Garden of the Gods
Distance from Denver: 68 miles south, 90-minute drive
This National Registered Landmark in Colorado Springs is another favorite for natural red rock formations, backed by the snow capped Pikes Peak (aka the mountain that inspired "America the Beautiful"). It's free to visit, with hiking trails and a scenic drive. Be sure to look out for the famous "kissing camels" formation along the way. Horseback riding and rock climbing are other popular activities, along with a drive up the 19 mile Pikes Peak Highway which will take you to the summit of the towering mountain.
Breckenridge
Distance from Denver: 80 miles southwest, 90-minute drive
First, just call it Breck. Everyone else does. And once you're talking like a local, you can enjoy this ski town haven in the Rockies like a local. As Colorado's closest major ski resort to Denver and one of the most popular in the nation (second only to nearby Vail), Breck has everything you need for a kick-ass ski vacation. In the summer, you can hit the slopes in a whole new way, with a scenic gondola ride or a spin on the alpine slide. And be sure to pay a visit to Isak Heartstone, a 15-foot-tall wooden sculpture that resides in the woods near town. He loves visitors, but hates trash, so pack out what you pack in.
Maroon Bells
Distance from Denver: 170 miles southwest, 3.5-hour drive
When you think of Colorado, do you envision a valley with large, snow-capped peaks towering in the distance, reflecting on pristine mountain water? Yeah, that's the Maroon Bells. Maroon Peak and North Maroon Peak in the Elk Mountains (both 14ers) are the most photographed peaks in North America. You're here for the natural wonder, so don't rush through. Better yet, if you can swing a few nights camping in the area, do it.
Crystal Mill
Distance from Denver: 203 miles southwest, 4-hour drive
Another favorite for aspiring photographers, this popular hiking or four-wheeling destination is home to the ruins of an 1892 wooden powerhouse. It takes some planning and effort to get to it, but if exploring a ghost town in the middle of the wilderness is on your bucket list, there's no better place to check that off.
Great Sand Dunes National Park
Distance from Denver: 238 miles southwest, 4-hour drive
Backed by the Sangre de Cristo Mountains in Southern Colorado lies 30 square miles of sand dunes that reach 750 feet in height. The dunes were formed naturally thanks to thousands of years of wind sweeping dust across the San Luis Valley into this pocket of land. The result looks almost otherworldly. Medano Creek runs along the edge of the dune field, and in the summer, it's the perfect place to cool off after a morning hiking (then sliding, or boarding back down) the dunes. A short drive outside of the park is The Zapata Falls Recreational Area where an easy 1 mile round trip hike will lead you to the base of the 30-foot-tall waterfall.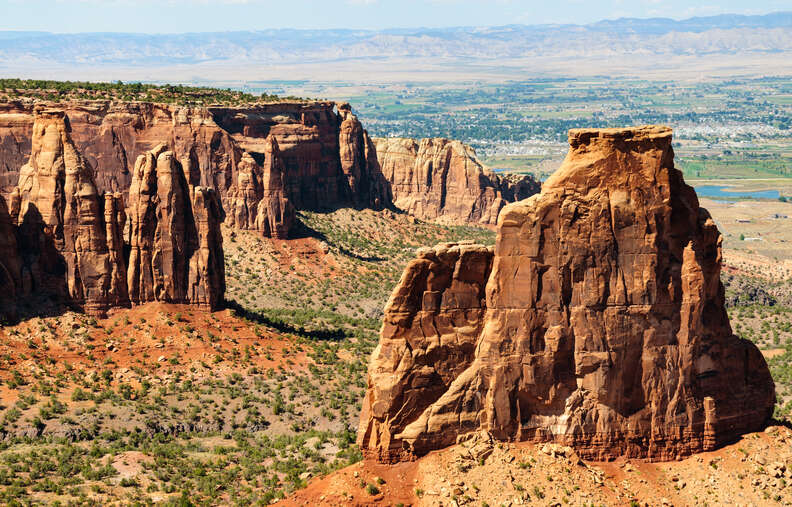 Colorado National Monument
Distance from Denver: 262 miles southwest, 4.5-hour drive
Far closer to Arches National Park in Utah than it is to Denver, this area of the state looks like the iconic Wild West. But while you might not spot any cowboys racing along the landscape these days, you can get up close and personal with the land. Hike the 5-mile Monument Canyon trail or observe the action along the iconic 23-mile Rim Rock Drive traversing the upper rim of the canyon. Watch out for eagles, bighorn sheep, and, most of all, rattlesnakes. The park also boasts some of the best camping in Colorado.
Black Canyon of the Gunnison
Distance from Denver: 251 miles southwest, 5-hour drive
The steep granite walls of Colorado's deepest canyon is a dramatic sight. But it's also somehow the state's least visited National Park -- which is great for social distancing. Carved over millions of years by the Gunnison River, the cliffs reach over 2,000 feet and are often bathed in shadow, hence the dark name. You can hike both the north and south rim, camp under the star-filled night sky, and find some of the best trout fishing in the state.
Mesa Verde National Park
Distance from Denver: 400 miles southwest, 7.5-hour drive
The Ancestral Pueblo people once called this area of the state home, and their remarkable cliff dwellings have been preserved in this protected area. This UNESCO World Heritage Site located near Colorado's Four Corners region is home to more than 5,000 archeological sites of the Ancestral Puebloan people, including 600 fascinating cliff dwellings carved into the natural landscape. Explore ancient ruins such as Cliff Palace and Balcony House before taking in the rest of the park via the 6-mile Mesa Top Loop Road.
Sign up here for our daily Denver email and be the first to get all the food/drink/fun in town.
Molly Martin is a Denver-based freelance writer who never met a mountain pass she was scared to drive. Follow her @mollydbu on Instagram and Twitter for more updates on food, fun, and life in the Mile High.