8 Overrated European Cities (and Where to Go Instead)
Bruges, Belgium

| Ale_Koziura/Shutterstock
Bruges, Belgium

| Ale_Koziura/Shutterstock
Travel can be a lot like dating. Sometimes there are pretty gratifying surprises, when you have chemistry with someone (or some place) that's totally, completely unexpected. But then there are times when you end up somewhere totally, unexpectedly awful and you think, "I wasted my time, money, and even got a full-body wax for this?"
Unfortunately, the latter happens all too often in Europe, seeing as it's a continent laden with tourist traps. Here are a few destinations we're calling out as being not always worth the hype, and suggestions of where to check out instead:
Paris, France
Ahh, the French capital -- the world's third-biggest tourist destination, and home to the Eiffel Tower, the Louvre, and Notre Dame. While Paris really does deserve a spot on your bucket list, you should also know that the City of Love also has a highly unromantic side that includes pollution, snooty waiters, and a serious rat problem. Oh, and all those annoying tourists. But that goes without saying.
Where to go instead: Lyon
After you've been to Paris a couple times (OK, once) it's time to duck out and go to Lyon. France's third-biggest city has the same metropolitan vibe (with way fewer tourists), more scenery, and even an arguably better (and certainly more affordable) gastronomy scene.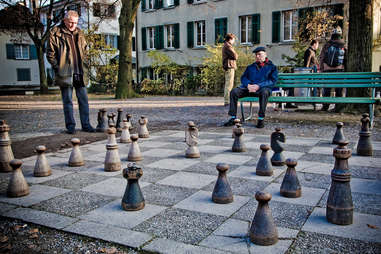 Zurich, Switzerland
Zurich attracts plenty of visitors with dazzling statistics like high quality of life and having some of the happiest citizens in the world -- and it is a perfectly pleasant city that would be a wonderful place to settle down and live in. But a good place to live is not always a good place to visit. What I'm trying to say is Zurich is boring. Zurich is boring.
Where to go instead: Lucerne
Lucerne has a lot more to keep you busy, from exploring the medieval architecture at Old Town, to the Picasso collection at the Rosengart Collection, to concerts at the renowned KKL. There's also a lot to do by way of day tripping, like nearby Lake Lucerne and other stunning natural attractions like Mount Pilatus, Mount Rigi, and the Rütli meadows.
Salzburg, Austria
Many tourists go to Salzburg with "Do-Re-Mi" and Julie Andrews as a pretense, but the truth is that Salzburg's actually alive with the sound of elderly tourists and souvenir shops selling Mozart chocolate boxes and fridge magnets. If you're passing through in search of charming old buildings and museums, the Salzburg town does deliver -- you just may not want to stay for longer than a day or two.
Where to go instead: Zell am See
For those looking for a less touristy Sound of Music experience, there's Zell am See, which is just a 90-minute drive away. During summer, it's known for its rolling hills, lush meadows, and a lake so clear it's said you can drink from it. During winter, it's a ski-and-spa town with some of Austria's most diverse slopes.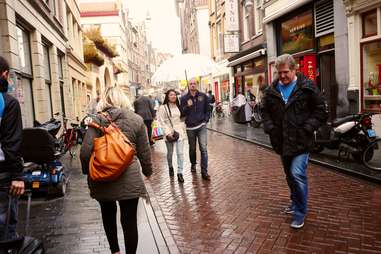 Amsterdam, Netherlands
Amsterdam's amazing -- because what's not to love about buttery pancakes, canal walks, and perfectly rolled joints -- but sometimes even a good buzz is no match for Amsterdam's torrential rainstorms, lineups everywhere, and the worst kinds of drunk tourists in the red light district.
Where to go instead: Groningen
Often called "Little Amsterdam," Groningen's also built around canals, full of interesting museums, and even has weed shops and a red light district. Being a university town, there's obviously a good nightlife scene, and one that's cheaper than its larger counterpart, with more opportunity for getting to know locals.
Frankfurt, Germany
Everybody knows Frankfurt, because 1) if you've ever been to Germany, chances are you probably touched down here, and 2) it's one of Europe's biggest financial centers. But upon leaving the airport, you'll understand what German Nobel Prize winner Günter Grass meant when he called the city a "lump of concrete."
Where to go instead: Hamburg
Skip Frankfurt's average-looking skyscrapers and suits, and head up to Hamburg. Often overlooked by tourists in favor of Berlin and Munich, this northern city also has much to offer, from boating excursions on the Elbe river to excellent boutique shopping, and local delicacies that include creamy lobster soup and lots of fresh fish.
Pisa, Italy
Being photographed pushing/kissing/drop-kicking the Leaning Tower of Pisa is not a rite of passage as a European tourist. In fact, you're better off avoiding Pisa altogether for its irritating hawkers and overpriced everything. Pisa's entire tourism scene is built around just one big attraction. Which, by the way, is actually starting to straighten out.
Where to go instead: Lucca
Lucca is a walled city in Tuscany, just like Pisa, where you'll find fewer tourists and an authentic charm that's less cheesy and more romantic. There are similar characteristics like horse-drawn carriages, historic villas, and delicious rustic dining -- just a lot fewer tourists.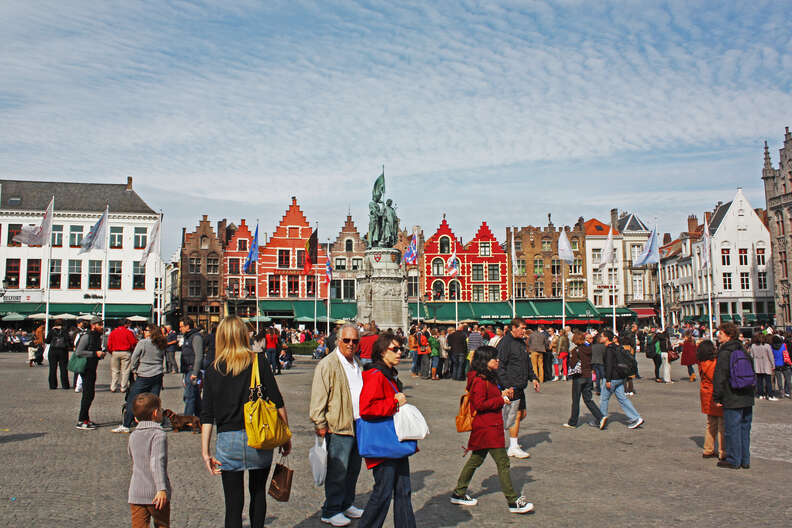 Bruges, Belgium
If you saw In Bruges, you weren't alone in putting the pretty little capital of West Flanders on ye olde bucket list (Colin Farrell does make it look awfully good). But while Bruges' cobblestone streets and architecture are indeed lovely, the city is teeming with the tour-bus crowds and the shameless tourist traps that arise wherever they go -- which is neither dignified nor charming, unlike the rest of the city.
Where to go instead: Ghent
Where Bruges gets eerily quiet after all the tour busses leave every day, Ghent strikes a more natural balance between sleepy provincial town and buzzing, modern city. Medieval architecture is mixed in between trendy boutiques and quirky beer bars for a local character that's pretty hard not to love.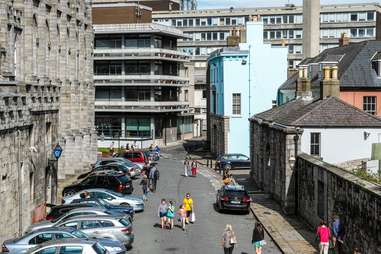 Dublin, Ireland
Dublin's an amazing city (after all, what's better than friendly folk and plentiful beer?) but it often doesn't get a fair shake by tourists who get done with the Guinness museum and complain about it not being the "real Ireland" -- rolling hills, Celtic music, or whatever it is that they're expecting.
Where to go instead: By all means, go to Dublin -- just make sure to get out and do some day trips. Let's face it, there's just no other Irish city that quite compares to Dublin in terms of hustle and bustle. And the capital is actually quite close to plenty of the countryside and small-town culture that so many people want to experience while in Ireland. Howth, a scenic fishing village on Dublin Bay, is just nine miles away for example, and there's also Glendalough ­­-- a lakeside town burrowed in the Wicklow Mountains -- just over 30 miles outside of town.
Sign up here for our daily Thrillist email, and get your fix of the best in food/drink/fun.