The thing about Florida is everyone thinks they know it like the back of Alligator Alley. But the truth is, you don't know Florida. I don't even know Florida -- well at least all of its nooks and crannies -- and I'm from here. There's just too much to know, and luckily the fun part about the Sunshine State has and always will be discovering (and re-discovering) its greatest hits and newest surprises. 
It's a state known for its natural beauty, worldly architecture, and just flat-out eccentricities in both its happenings and its residents (shout out to Florida Man for both of those). The craziest part? All these factors -- in addition to cuisine, culture, and lifestyle -- change dramatically depending where you are in Florida: Traveling only a couple counties away can often feel like you're in a different state altogether. And I may be biased, but that just makes it all the more intriguing. As such, these picks for essential Florida stops serve as my ode to the sunshine State -- spanning from the Panhandle all the way down the Southernmost Point. And don't worry, there will be plenty of gators along the way.
Recommended Video
Please Don't Hang Up: The Best BBQ & Barcade in Dog-Friendly Kansas City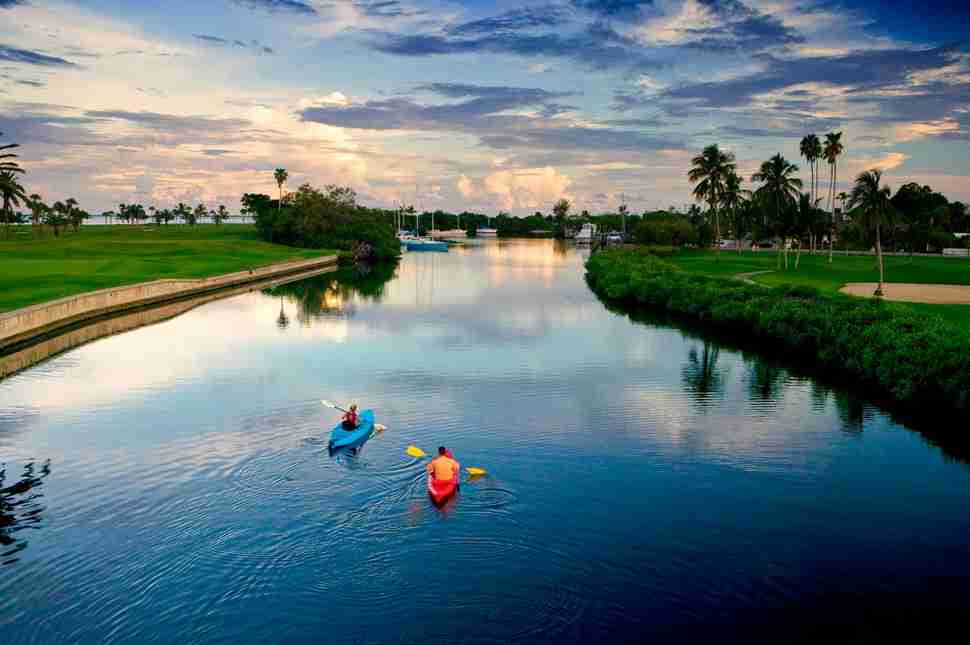 Boca Grande
I may be waxing nostalgia given I spent summers here learning how to tarpon fish, but the truth is Boca Grande (Spanish for "Big Mouth") is at the top of the list of Florida jewels for a non-personal reason: it's majestic as all get out. Not to mention riddled with folklore legends about rum-smuggling pirates, chief among them José Gaspar, who, as the story goes, set up shop on this very island and loaded it with his booty. Located on the namesake Gasparilla Island (off the Gulf Coast of Southwest Florida), that treasure remains, but it comes in the form of untouched white-sand beaches, Banyan tree-lined streets, and Nora Ephron-esque village packed with adorable shops and cafes. 
I've long referred to it as the Hamptons of Tampa; not only because it's just a 90-minute drive away from a metropolis, but because it's a popular second home for the swanky set who tend to matriculate to this sleepy town several times per year to soak in the Old Florida culture. Typically that includes cruising in their two-seater bikes through Gasparilla State Park, a jaunt to the lighthouse museum, world-class tarpon fishing at Boca Grande Pass, or just driving golf carts (there are zero traffic lights on the island) through the windy roads on the way to the famous Gasparilla Inn for cocktails.
MORE: These are the best beaches in Florida
Stuart
Likely due to its glitzy Treasure Coast neighbor Palm Beach, this Martin County town is often overlooked; I know, because I overlooked it my entire life. But once I finally visited, it became a frequent destination. Yes, the east-coast small town of Stuart is still rather "hush hush." And yeah, it's still home to an obscene amount of wealth (both Tiger Woods and Celine Dion have homes here) and lined with quintessential quaint pastel shops and restaurants. But the real allure of the "Sailfish Capital of the World" is just how much it puts its extremely vast ecosystem first. 
The refreshingly untouched portion of Atlantic Coast and its surrounding lagoons is home more than 4,000 species of plants and animals, making it the most bio-diverse lagoon ecosystem in the Northern Hemisphere, one where development restrictions have left the sands completely untouched. The hands-down crown is undoubtedly Blowing Rocks Preserve, a 73-acre protected area known for being the largest Anastasia limestone shoreline on the Atlantic Coast -- and the giant near-50-foot waves crashing against it. There's not a scrap of development to be found, making it an ideal home to sea turtles and countless other wildlife.
St. Augustine
When you grow up in Florida, you're taught certain things very young, among them how to run away from alligators (duh) and that the historical touchstone of our beloved state is St. Augustine. Hey, it is the "oldest continuously occupied European settlement in the United States" -- founded by the Spanish in 1565. But at the risk of making a terrible pun, it truly never gets old here. This is a place that takes its history very seriously: The original cobblestone streets are often marched during period reenactment parades complete with blacksmiths and military characters, and many of the establishments look like the kind of place where Ponce de Leon himself might have grabbed a drink (and who knows, maybe he did). The city is also home to some of the most breathtaking architecture in the New World, centuries-old buildings heavy on Spanish, French, and English influence standing tall against a breezy Atlantic backdrop. And sure, for every original 1700s schoolhouse there may be a tourist trap or two, but the fact remains the 144-block National Historic Landmark District is stuck out of time. Your best bet is to stay at one of the many antique-filled, multi-century-old bed and breakfasts, and don't skip the Lightner Museum or one of the renowned restaurants like Collage (there's a solid food scene here!), along with one of the tucked-away jazz bar you'll likely stumble upon on one of the many storybook-like corners of this town.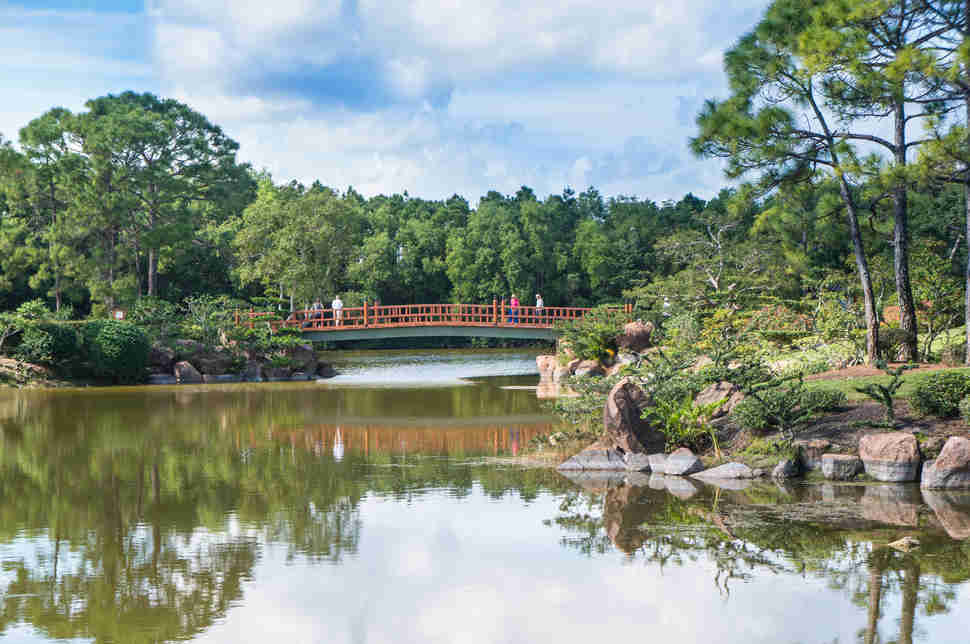 Delray Beach
I lived in Miami for nearly a decade and didn't make a jaunt up to Delray until about halfway through my tenure there. It seemed so far away (it's not), and I also assumed it would be very Palm Beach "plastic" -- a glamorous resort town full of Tommy Bahama stores (it's also not). Founded by Seminoles, the aptly nicknamed "Village by the Sea" is far more low-key and actually exudes a bohemian vibe. It's main thoroughfare, Atlantic Avenue -- lined with tall palms that are wrapped in twinkle lights year-round -- is a full-on destination in and of itself, an area that hums with energy. 
Unlike its much glitzier neighbor Palm Beach, Delray forgoes the posh high-rises and luxury cars for historic beachfront cottages and surfboards. Peppered with a slew of locally-owned boutiques, funky galleries, and sidewalk cafés, flip flop-clad passerbyers can easily stroll the strip on foot while stopping along the way to listen to a live band at one of the many picturesque, no-bullshit corner pubs. And of course there's the two-mile stretch of white sand and glimmering waters to take in. Throw in the neighboring nature trails and the endless tiki bars, and hopefully you've got enough evidence to avoid my past mistakes and get to Delray immediately.
South Pointe Park, Miami Beach
One of my favorite things to do when I lived in Miami was grab a to-go ceviche bowl, throw it in my bike basket, and cruise until I found the perfect spot to devour it in South Pointe Park. Located in the sought-after "South of Fifth" section of South Beach, this 17-acre park -- equipped with its own waterside bike paths, cafes, and sandy walkways leading to the gorgeous South Pointe Park pier overlooking the end (or point) of Miami Beach -- is truly serene. That's quite a feat considering it's also just blocks away from the bustling main strip of Ocean Drive. Whether you're taking in the glistening waters from the observation deck, trying to spot celebs on the neighboring Fisher Island, or watching the cruise ships depart Port Miami, you can quite literally take in Miami from all its stunning angles here. 
MORE: The ultimate Miami travel guide
Anna Maria Island
I swear, as soon as you hit the city limits of this cozy beach town -- the northernmost of a trio that sits on a seven-mile-long island just south of St. Petersberg-- you feel immediately relaxed. The old Florida charm abounds in the form of sun-faded architecture and beachside seafood shacks, but the best part about this place is that all you really need is a lounge chair and a smile, because its simple beauty takes care of everything else. First and foremost, the sunsets are unparalleled. And despite being a true sleepy town, outdoor adventure seekers can take advantage of the slew of paddleboarding and kayaking tours, plus snorkeling trips to nearby spots like the historic Egmont Key. Meanwhile, on land you can explore the historic Spanish-American-era fort and by sea swim through abandoned shipwrecks as well get up close and personal with stingrays, manatees, and dolphins. The "no shoes, no shirt, no dice" rule certainly does not apply in Anna Maria, as almost all of its fare like the signature grouper sandwiches are devoured from the docks of Rod & Reel Pier or in the actual sand at Sandbar.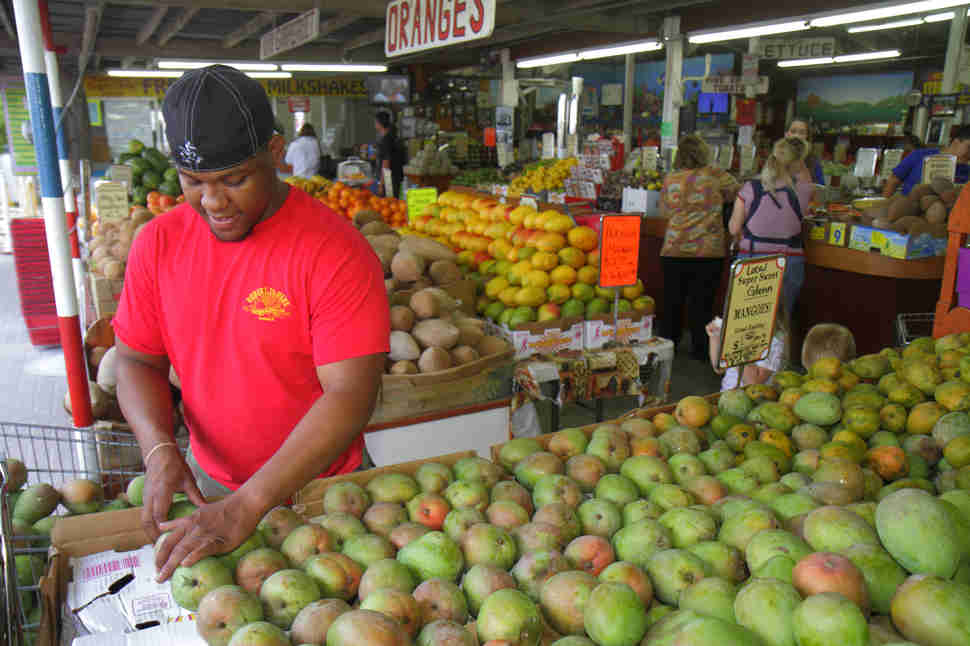 Redlands
You don't know real farm stands until you visit the Redlands, an agricultural haven located about an hour south of Miami. Honestly, Robert Is Here -- famous for the best fruit shakes in the game for a reason -- is worth the trip alone. It's also home to Knaus Berry Farm, where from November through April (it's closed the rest of the year) you'll find a visitors piling in to pick their own strawberries, mangoes, and avocados and eat the best cinnamon rolls in the entire world. Yes, it's a bold statement, but an accurate one: I once bought seven dozen of these pillows of heaven just to have them stored in my freezer. You can also take a tasting tour of Schnebly Redland's Winery, which specializes their fruit-based wines (some made with beer too); check out Homestead's NASCAR speedway; or hit up an alligator farm (duh). This is one Florida gem a lot of people overlook -- and you should not be one of them. 
Seaside
Sure, The Truman Show has some creepy overtones, what with it being about a guy who lives in an idyllic-but-manufactured life. Turns out, though, that the only thing not staged in the movie is its paradise of a town: Seaside is so cute and homey that the filmmakers didn't need to change anything to make it look utopian. The real Seaside is the epitome of quaint and adorable, to a degree that it almost looks fake. The brick-paved streets are car-free, the homes are easter-egg colored and equipped with white picket fences, the surf is serene, and there's even a lighthouse. It's hard to believe that somewhere this tranquil is plopped between two of the most popular party towns in the Panhandle (Destin and Panama City). Plus, just a quick hop down the powdery white sand is the mind-blowingly stunning Grayton Beach State Park, a 1,133-acre stretch of marble-colored dunes rolling down to the water's edge. Believe me, combining these two exquisite Emerald Coast gems will have you uncontrollably sporting a Jim Carrey-like grin.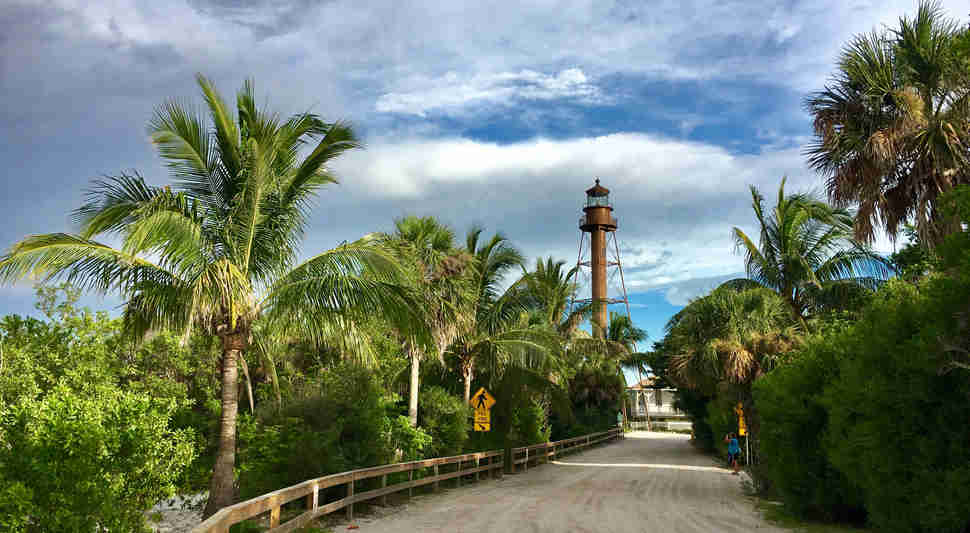 Sanibel Island
The term "barefoot and happy" could have very well been invented in Sanibel. This is Florida's ultimate leave-your-worries-at-home destination, a southwest-coast island where the only dollars anyone seems to care about are sand dollars. That goes for the development of its infrastructure as well: almost the entire northern half of the island is protected within the JN 'Ding' Darling National Wildlife Refuge. In other words, this is not your typical tourist spot. You won't find condo buildings or souvenir shops or any abundance commercial properties, for that matter. Even the public beach access is a crapshoot with only limited places to park (done intentionally to prevent overcrowding). In short, this is the place to go to if you want to avoid the riffraff. And if that seclusion isn't enough for you, hitch a ride on the ferry to Cayo Costa, a preserved, 2,500-acre state park known for its idyllic solitude and wealth of sandbars to snorkel through. It's also full of trails (both sandy and watery) that can be explored via bike or kayak to maneuver through the native mangroves.   
Pass-A-Grille
When I was growing up, St. Pete was primarily just for visiting grandparents, the occasional visit to the Salvador Dali museum, or a staycation at the Don CeSar Hotel. The metropolis has undoubtedly since had a renaissance of sorts; it's now often thought of as the "Brooklyn" of Tampa due to its swarms of millennials flocking there for galleries, craft breweries, and hip restaurants. But one thing that has never changed, and in my opinion is the crème de la crème of Pinellas County, is Pass-A-Grille: a picturesque one-block-wide beach town full of sun, surf, and an umbrella drinks. Pass-A-Grille evokes the same "end of the world" feeling as Montauk, with sand dunes, beach grass, and an actual ending point where you can watch the boats cruise in and out and view the entire stretch of St. Pete Beach if you look the other way. No matter which direction, I guarantee your selfie light will be fantastic. 
MORE: The best beaches in the Tampa Bay area
Apalachicola
Quite possibly one of the best parts about the Florida Panhandle is the fact it really encompasses the "Old South," and no town does that quite like Apalachicola. From the oak-shaded streets, historically preserved homes, and charming bookstores to the mellow Gulf Coast vibe, this village is dripping with whimsical appeal. Perhaps that's why it's so sought after for weekend getaways. Well, that and the fact it's also home to the largest of Florida's three national forests. Apalachicola National Forest occupies nearly 938 square miles of the Panhandle – that's half a million acres for you math nerds – spanning west of Tallahassee to the Apalachicola River. Think a labyrinth of lakes, trails, and lowlands packed to the brim with the east coast's version of the Redwood: old cypress trees with natural hammocks popping from the water. Then of course there's the wildlife that live within it including gray and red foxes, coyotes, bats, alligators (because, c'mon), and even the elusive Florida black bears and panthers. Honestly, this is as about as National Geographic as Florida gets.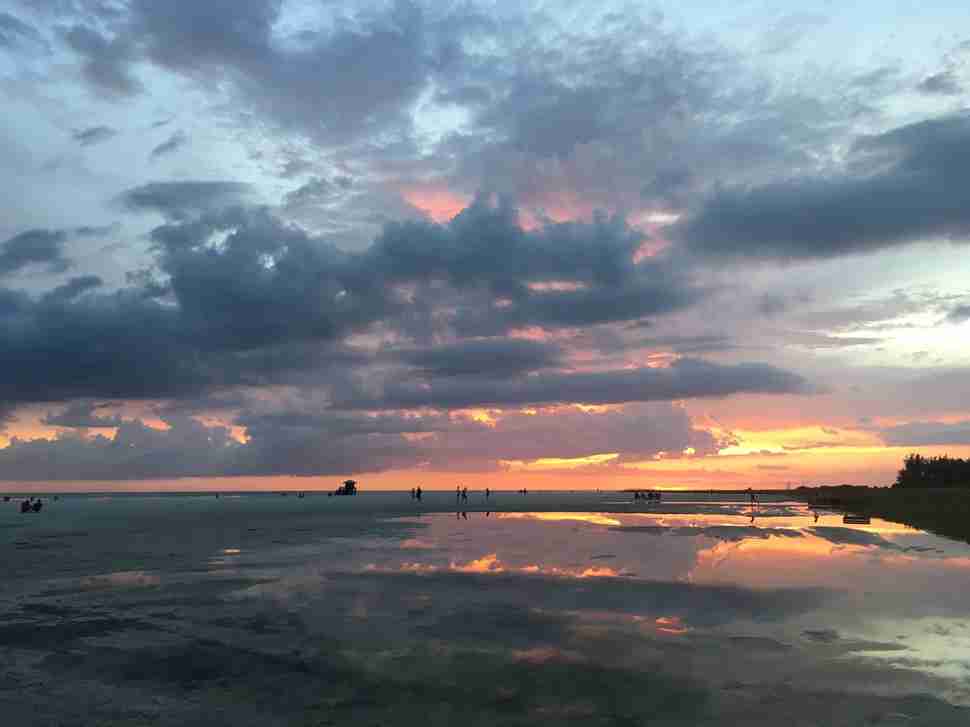 Siesta Key
Don't let the MTV reality show scare you away. From its cozy quarters (opt for one of the beachside rentals!) to watersports, the tranquil island of Siesta Key is a truly stunning 8-mile stretch of pure quartz-white sands and sapphire waters. Let's just say there's a reason this town was chosen to be the backdrop to a wealthy mogul's over-privileged teenagers' misadventures. The main draw is the main drag of Siesta Key Village, which pretty much takes you back to the '50s with its lineup of homemade ice cream parlors (I'm partial to Big Olaf) and pint-size seafood eateries where the selections of oysters, stone crab, and fish are so fresh they tend to sell out, since they only sell what's caught that day. The Siesta Key Oyster Bar will likely have a wait, but trust me when I say to post up and wait it out. Just a quick bus ride from Sarasota, this elegant barrier island is also home the Ringling Museum Complex (the winter estate of circus tycoon John Ringling) and new Ringling's Center for Asian Art.
Everglades National Park
If you go to Florida and don't see an alligator, did you even go to Florida? The answer is, unequivocally, no. Luckily, in addition from the slew golf courses where these reptiles have been known to pop up, Florida is home to the largest protected wilderness of any kind east of the Mississippi River: Everglades National Park. You'll want a guide, and the Miccosukee Tribe of Indians is one of the most sought-after when it comes to exploring it, given they not only control 33 acres of reservation land, but also 189,000 acres of Everglades wetlands. The Miccosukee, along with knowing their "backyard" better than anybody, are also deeply dedicated to preserving it. In other words, the guides at the Miccosukee Indian Village know their shit and will take you on a tour of history and culture by land (wood carving demonstrations, beadwork, and the world-famous Miccosukee fry bread and Everglades frog legs) and of course by sea. Or in this case, an airboat ride through the "river of Grass" to discover the elusive and native wildlife that makes up these muddy waters. Yes, that includes many, many gators. Consider your Florida bingo card full.
Three Sisters Springs
Florida has so many gorgeous natural springs, it's honestly hard to choose which ones are the must-stops. Tubing down Rainbow River is a close second, but Three Sister Springs takes the top slot due to the fact you get to swim among manatees. Yep, this place sits on Crystal River, which is known for attracting the dopey-faced sea cows that are impossible not to swoon over. With its turquoise waters, canopy trees, and secret coves, it's also one of the most magnificent sights in the state. Definitely make the trip in the cooler months when the manatees are most prevalent, and grab a kayak or paddleboard (you can also opt for a tour boat) to explore the labyrinth of crystal clear waters. This is quite possibly the most manatees you will ever see congregate in one area. And odds are these guys will come right up to whatever vessel you're on -- does it get more Florida than that?
Key West
Key West is just a flat-out must, a destination that's so good that if left off any best-of Florida list, you should just stop reading. It's not just because there's nowhere in Florida like it: There's nowhere on the planet like it. The last Key in the chain of islands, it's the edgiest and most intriguing of them all. Aside from being a fiercely romantic tropical oasis where the smell moonflowers fill the night skies, the former home to Ernest Hemingway is 7-square-miles of plain old quirk. On an average day in the laid-back, debaucherous Key, you will encounter Caribbean villas, art galleries, street performers in Mallory Square, breathtaking sunsets, and perhaps even S&M fetish parades (Fantasy Fest, if you ever get the chance, is pretty incredible). Oh, and obviously the best Key lime pie you've ever had at Blue Heaven. The fact is, Key West keeps it weird in the most alluring, enchanting, and ,above all, authentic way possible. And for that, among about a million other reasons, it should never be left off any Sunshine State stopover. 
MORE: The 20 best things to do in Key West