Skip Santorini: Greece's Under-the-Radar Destinations to Visit This Summer
My grandmother lives in Athens, so I've been visiting Greece off and on my whole life. When pressed for recommendations, I've generally steered people toward the islands, particularly the less-touristy ones, and recommended Athens itself only for those who are very into ancient Greek history. Those are usually the only two categories folks are interested in, but, just like there's so much more to see in France than just Paris, there's a deep bench of exquisitely beautiful travel destinations spread out over the mainland above Athens.
We've got gorgeous mountain towns with cliff-top monasteries and breezy fishing villages with their little bobbing boats. We've got sun-soaked olive groves that go on for miles and miles, and the kinds of museums that will enthrall rather than bore you. We've got ski resorts and Venetian castles and Turkish mosques and ancient amphitheatres still in use. So what are you waiting for? Put these seriously stunning spots should be on your summer to-do list, ASAP.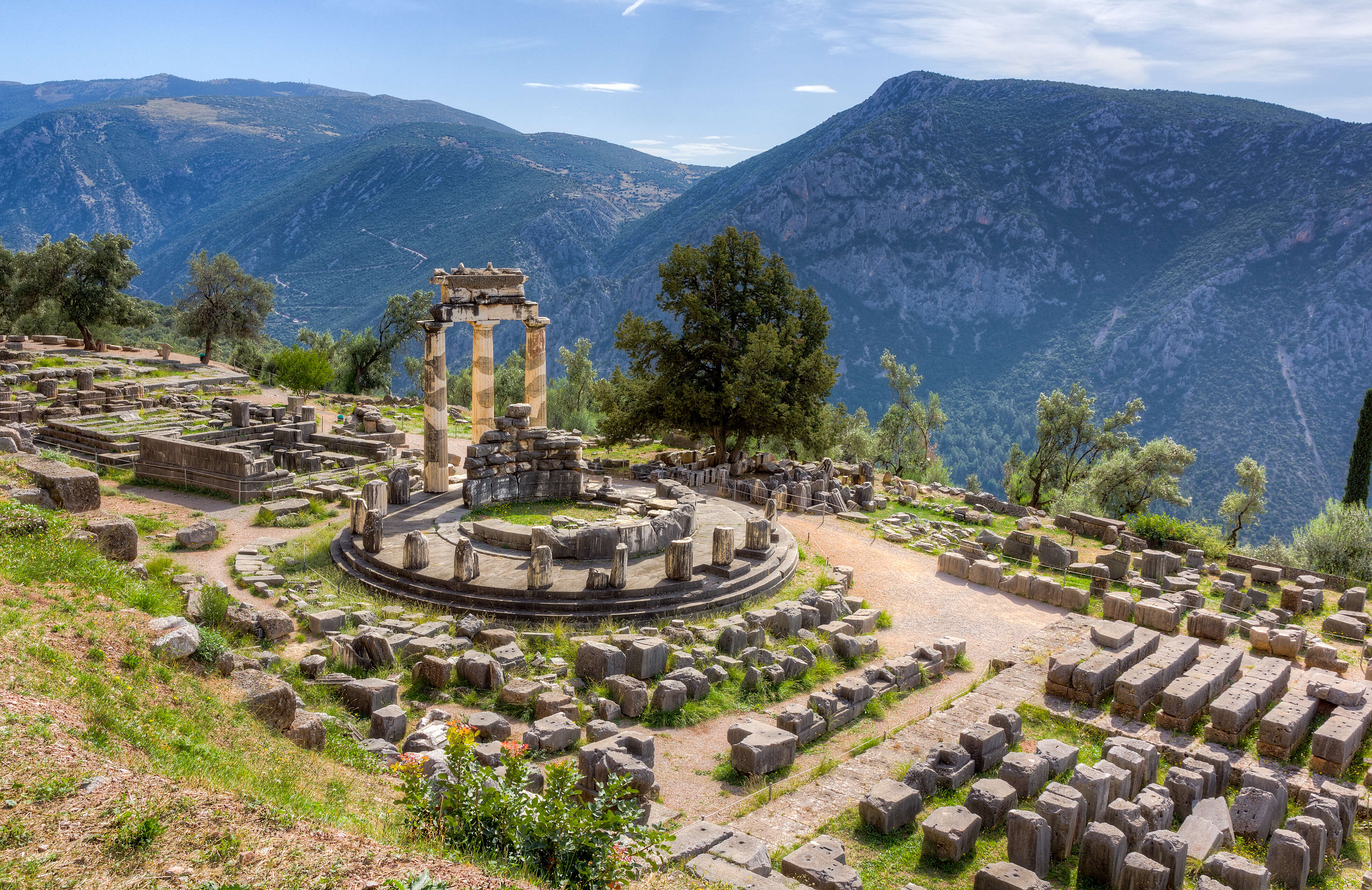 Delphi
I am partial to Delphi because this is where my name originates. Kastalia is not really any more common a name in Greece than it is in the States, but it is the name of the Delphi spring that trickles down from the mountains above and out of stone spigots you can drink from. Delphi itself is stunning, a steeply vertical town clinging to the side of Mount Parnassus. It is also 10/10 choice for anyone traveling to Greece who isn't a museum person, per se, but still wants, or perhaps feels obligated, to see something of the ancient history. The archaeological museum is unparalleled, and you can take in the statues and artifacts on the inside as well as the racetrack, amphitheatre, and temple ruins that sit on the outside, overlooking the silvery olive groves at the base of the mountain that stretch all the way to the horizon.
Sounion
The cliff top Temple of Poseidon on Cape Sounion makes for one of the most picturesque backdrops you'll ever find in your life. Dating back to the 5th century BC, the skeleton of Doric columns overlooking the Aegean is one of the most iconic images of Athens' Golden Age. Sounion made a brief cameo in the Odyssey, but it figures more heavily into the myth of Theseus and the Minotaur.
The promontory on which the Temple of Poseidon sits is where, according to Greek mythology, King Aegeus stood waiting to see whether his son Theseus had slayed the monster known as the Minotaur -- or whether he had been killed. Theseus was victorious, but forgot to change the sails of his ship from black to white when he journeyed home. Seeing the black sails approach the cape -- which were supposed to signal that his son was dead -- the King threw himself from the cliffs into the sea, which was named the Aegean Sea in his honor.
Corinth
About 50 miles west of Athens, the ancient city of Corinth -- which gave its name to the First and Second Corinthians in the New Testament -- has endured since at least 3,000 BC. Today, Corinth is known for its Temple of Apollo and especially for the breathtaking Corinth Canal, a narrow manmade passage that connects the Mediterranean and Aegean seas. Can you bungee over the Corinth Canal? Yes. Yes you can. The archaeological museum is definitely a stop that's worth your time, containing mosaics and pottery sherds and sarcophagi from local excavations that reflect Ancient's Corinth's history under Roman and Byzantine empires, too. When you're done edifying yourself the thermal springs of seaside resort town Loutraki await you just a few miles away.
Meteora
In central Greece, the towering cliffs of Meteora are home to one of the most unique collections of monasteries anywhere in the world. Six active monasteries sit perched high atop natural stone pillars, looking more like something out of Avatar than real life. They used to be accessible only via baskets that people would climb into to be hauled to the top with ropes, but these days you can visit by climbing a few hundred stairs. Those with more limited mobility might still be able to avail themselves of the Agios Stefanos monastery -- no stairs, just a hell of a view.
Nafplio
A romantic port town, Nafplio was briefly Greece's capital in the 1800s. Nafplio today is a blend of softly lit cobblestone alleys, Turkish mosques, bougainvillea trees, ancient castles, a multitude of beaches perfect for swimming, and the incredibly scenic Arvanitia Promenade, which you should set aside a morning to stroll along. Bourtzi, the town's iconic Venetian fortress, lights up at night.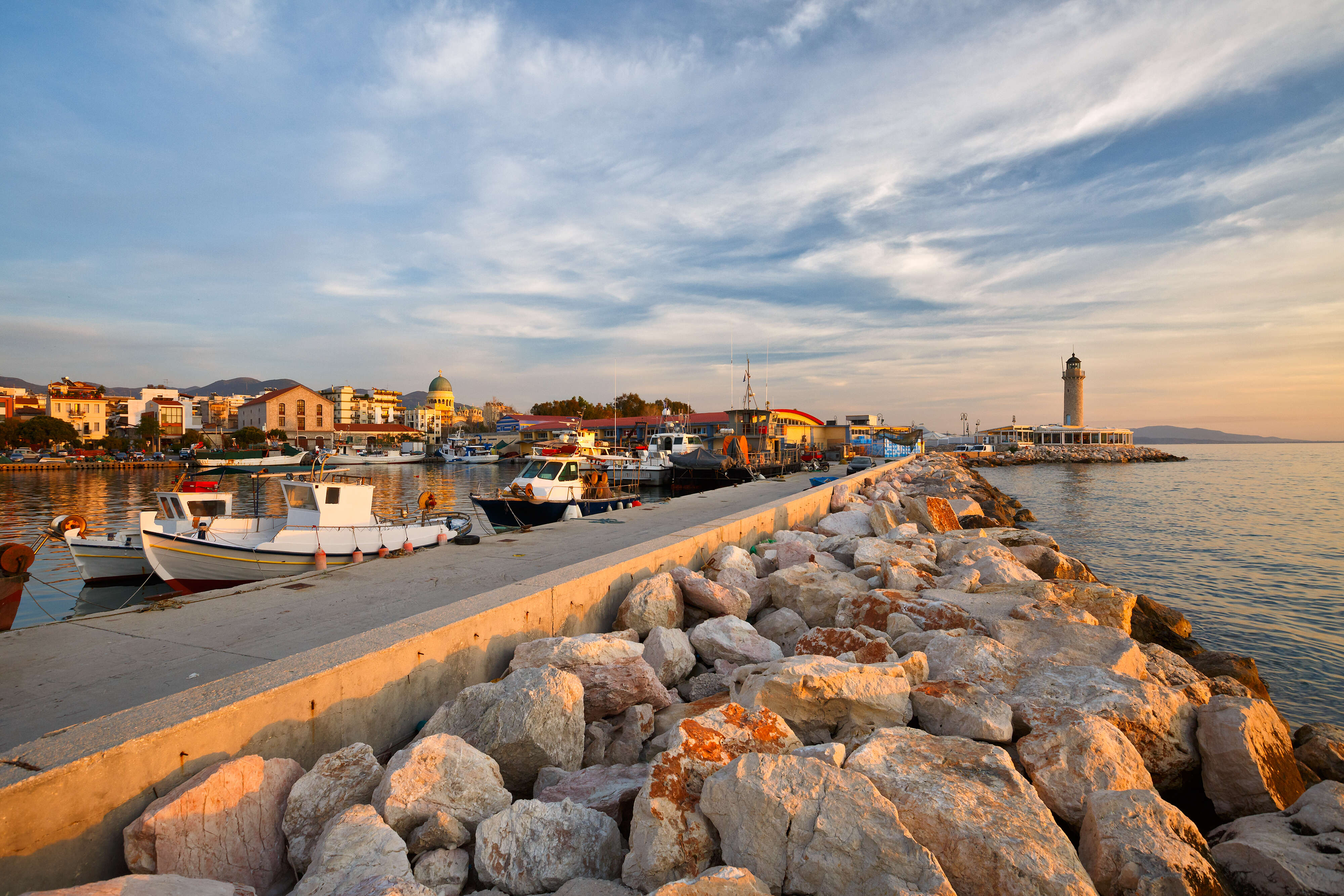 Patras
Patras is a place that truly offers range. It's a vibrant port town. It's the third-largest city in Greece. It's where you'll find Saint Andrew's Cathedral, the largest church in the country and certainly one of the most beautiful, as well as the Rio-Antirrio Bridge -- the longest fully suspended cable bridge in the world. Spend your afternoons shopping along Agiou Nikolaou, or stop by the Roman odeon, an ancient theater that's still an active live music venue today. Each summer, it hosts events for the Patras International Festival, a celebration of music, dance, visual arts.
Arachova
The modern mountain town of Arachova is perhaps known best for its ski resort, yet you'll be even more charmed by its narrow cobblestone streets red-tiled roofs and distinct ivy-covered bell tower. If you visit in the summer, it'll definitely be less crowded, but just keep in mind that not every place might be open for business. Whether or not you're there to ski Mount Parnassus, Arachova has a few signatures for you to enjoy during your stay -- namely a sweet, mild, hard cheese known as formaela, as well as the local Parnassus wine, a heavy red called Mavroudi.
Sign up here for our daily Thrillist email, and subscribe here for our YouTube channel to get your fix of the best in food/drink/fun.