I was on a four-month road trip across America when I first breached New Mexico's southern flank. Being Canadian, I knew next to nothing about the state before I arrived outside its location and its inextricable ties to alien conspiracy theories and Breaking Bad. But as I rolled over the frontier, seemingly endless desert and shrubs out my window, I felt a lightness and thirst for adventure wash over my body. Either that, or I was feeling light-headed and thirsty from a long sunny day on the road. One thing's for sure: it took me no time at all to realize New Mexico is a very different place.
Young and old have been cast under New Mexico's charming and laid-back vibe, artists Georgia O'Keeffe, George R.R. Martin, and Ken Price among them. I felt myself under the same hypnotizing allure, particularly due to the extreme other-wordly landscapes I saw on my road trip. From cave cities to strange hoodoos with hats to a city in the sky, no wonder aliens (allegedly) landed here. Add in a unique convergence of cultures -- Native American, Mexican and Anglo-American -- that have weaved a fascinating web of history that dates back thousands of years, and New Mexico reveals itself to be a singular, breathtaking destination. The green chiles help. Here are the places you need to experience.
Recommended Video
Debatable: It's Fine To Recline Your Seat On a Plane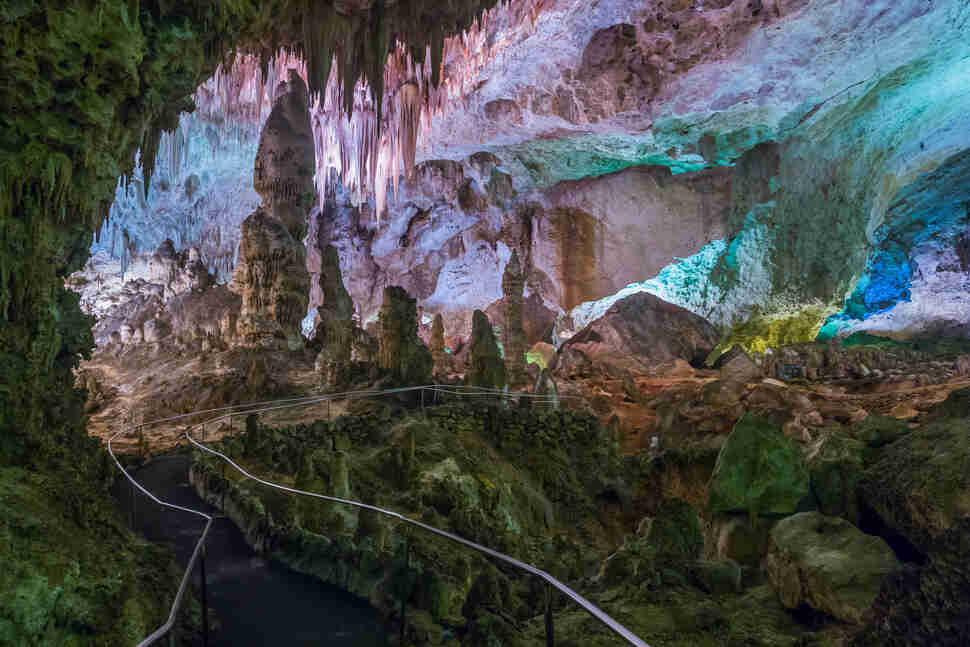 Carlsbad Caverns National Park
I did not expect that a park with 1/10 of the annual visitors to Yellowstone could become my all-time favourite national park -- but it did. Carlsbad Caverns is a 73-square-mile network of more than 100 massive caves that seem to go on forever. In the Big Room, stunning stalactites drip from the tall ceiling and fat stalagmite mounds reminiscent of Jabba the Hutt rise from the cave's floor. It's certainly worth grabbing a seat at the amphitheatre at the mouth of the cave to witness a blur of thousands of bats flood from the cave for their evening meal at 6pm or when they return to the cave between 4am and 6am.
MORE: These are the most beautiful caves in the US
Santa Fe
Seemingly risen from the sand below and cast with a spell of adorability, it's no wonder Santa Fe's adobe building-lined streets have attracted so many artists, including modernist painter Georgia O'Keeffe and writer George R.R. Martin, who wrote the books that inspired Game of Thrones. While I'd certainly felt the impact of Jon and Khaleesi, I didn't know about Martin's great contribution to his adopted city: the abandoned bowling alley he bought for a group of local artists known today as Meow Wolf. This mind-bending funhouse/museum invites all ages to solve a mystery, play in a spaceship, and so much more. It's one of those things you just have to experience to get. While in town, stop by the San Miguel Chapel built in 1610, Tia Sophia's for the first-ever place to serve breakfast burritos (or at least the first place to call it that) and The Shed to cap off the day with a prickly pear margarita. They're cornerstones of one of the best food cities in America, and further reasons that Santa Fe should be on top of any must-visit list. 
MORE: No weekend plans? Spend it visiting one of these small cities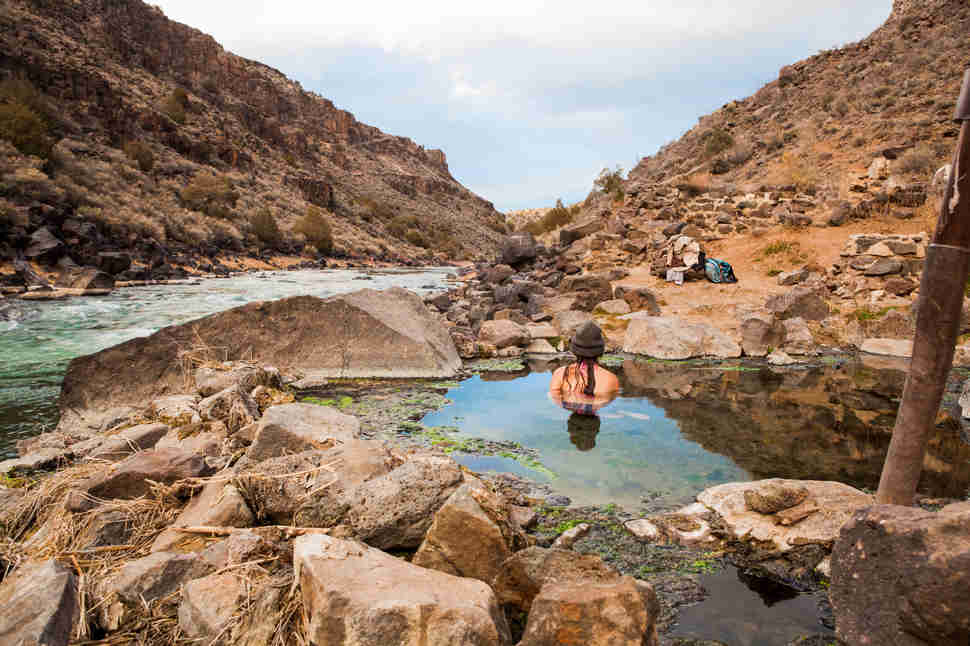 Taos
I thought I discovered a hidden gem when I arrived in this picturesque mountain town, but in reality, I was very late to the game. Tiwa Native Americans have inhabited the World Heritage-listed Taos Pueblo for a millennium, and artists have been flocking to the more modern town since at least the 1920s -- but Taos is still plenty worth visiting. Apart from the pueblo and charming village plaza with its excellent Harwood Museum of Art, check out the cold sweat-inducing Gorge Bridge perched 600 feet above the Rio Grande and the futuristic Earthship Biotecture, a sustainability project where houses are made out of recycled tires, cans, and bottles.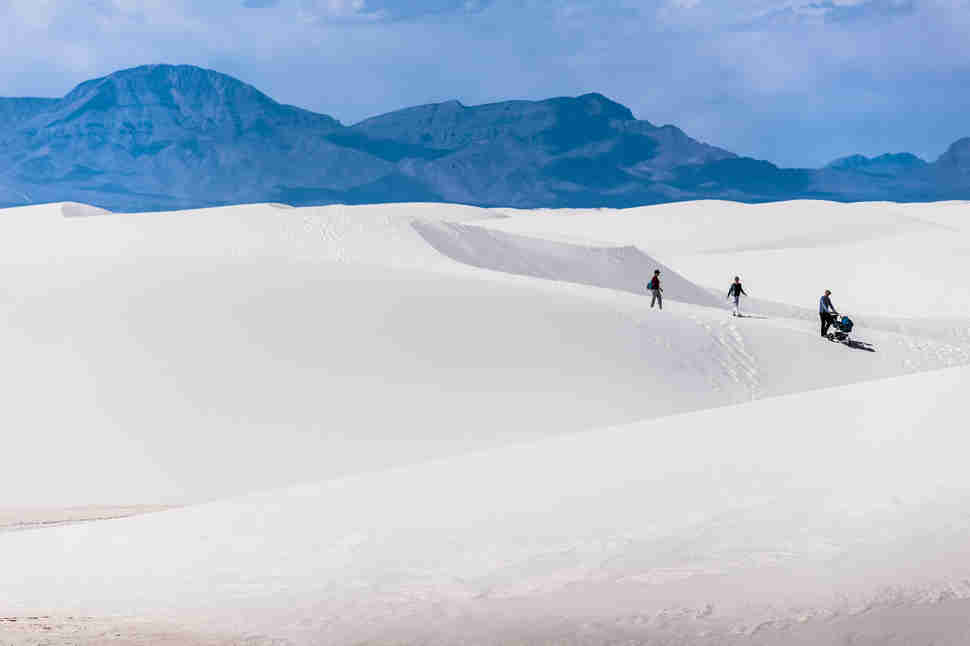 White Sands National Monument
Wind wisps ripple into the majestic white dunes at this suitably named national monument. Stretching 275 square miles, the dunes here aren't composed of your typical beach sand, but rather from gypsum crystals left behind from a nearby dried-out lake bed. The result looks more like a white-sand version of the Sahara desert than New Mexico; you half expect to see camels waltzing by. The dunes are a jarring sight so far inland, and best experienced on horseback or by zipping down the dunes in one of the plastic saucers sold at the visitor center gift shop.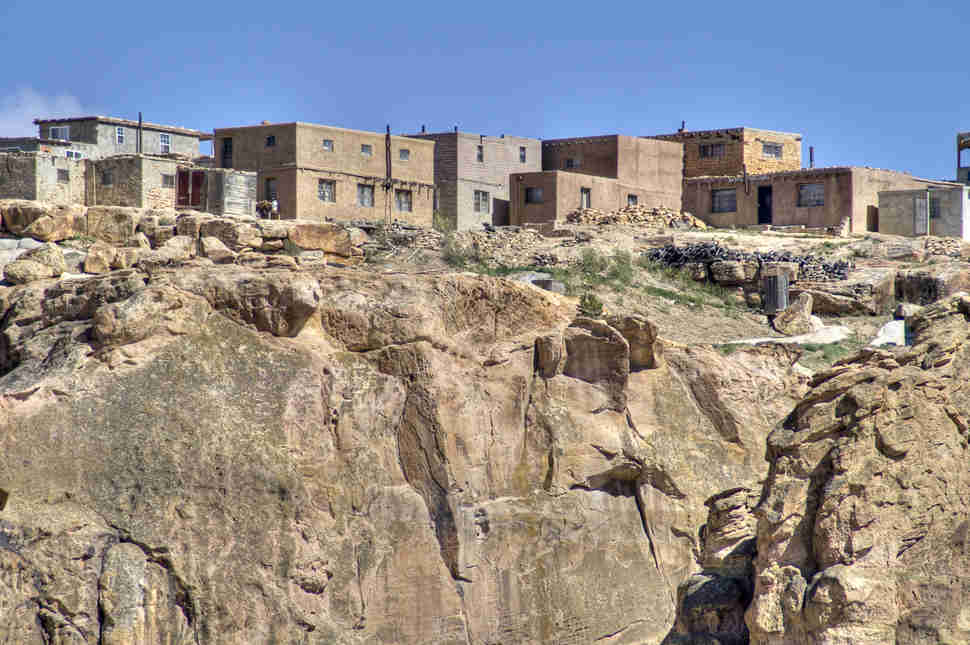 Acoma Sky City
Sixty miles west of Albuquerque, on top of a 367-foot tall golden mesa, is America's oldest continuously inhabited community and about a dozen families are still living here. Acoma Pueblo, also known as Sky City, looks and feels much as it must have hundreds of years ago – adobe bricks pad its tiny box-like homes and there's no sign of electricity or modern toilets. Residents sell gorgeous, intricate horse-hair pottery and jewellery -- I couldn't resist getting myself a mahogany obsidian arrowhead to protect me on my travels.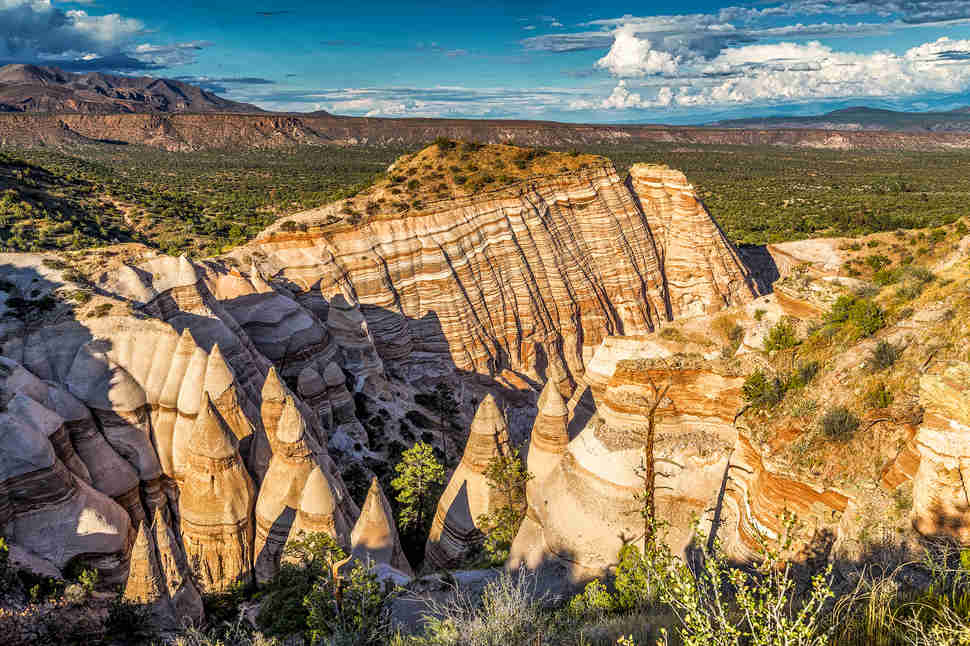 Kasha-Katuwe Tent Rocks National Monument
Volcanic eruptions that occurred six to seven million years ago have resulted in hundreds of strange-looking hoodoo spires with boulder caps that look like silly hats. When I visited, I sprinted through its quick 1.2-mile loop to take it all in (the park was also closing), though it's also possible to do a three-mile route, which includes climbing through a slot canyon. If you're walking the short loop, it shouldn't take you more than a couple of hours – longer if you're inevitably stopping every few minutes for snaps.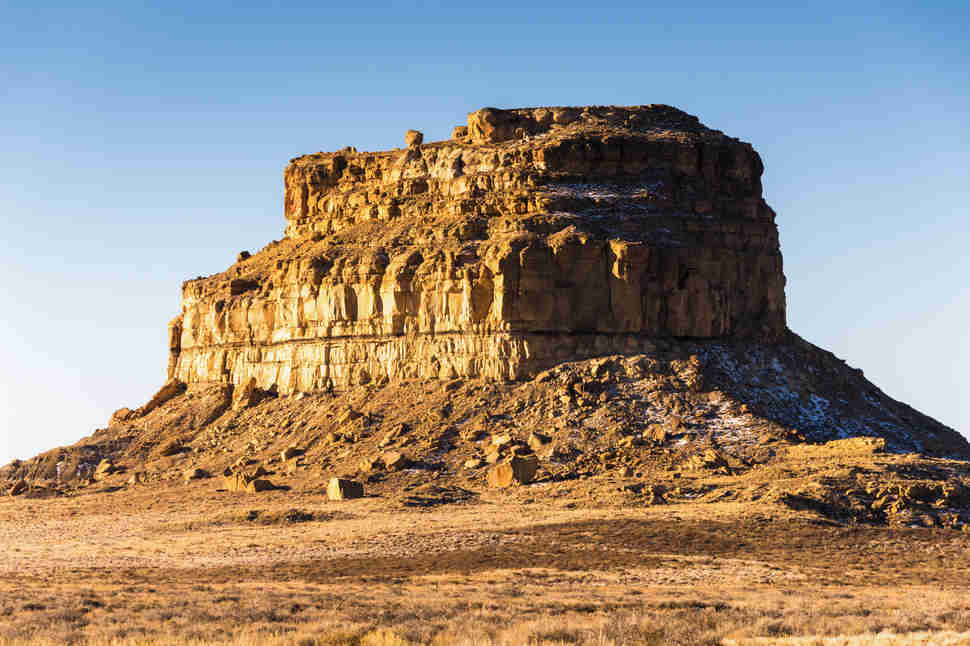 Chaco Culture National Historical Park
This ancient Puebloan metropolis was the center for Native American culture in the region at the turn of the 10th century and had huge buildings for the time; some of the largest seen anywhere on the continent for the next 900 years. The buildings are smack in the middle of an epic canyon surrounded by towering red mesas including the spiritual Fajada Butte, AKA the American Machu Picchu, which juts 440 feet up from the canyon floor. Along with the fascinating archaeology sites, Chaco is a Dark Sky Park and thus one of the best places to look up at the stars and contemplate human existence.
Bandelier National Monument
The ancestral Pueblo people called Bandelier home more than 3,000 years ago, and human activity here dates back 10,000 years. Cave dwellings carved high up in the soft tuff cliff walls remain impressively intact, and you can hop onto ladders to climb into them. There are plenty of great trails for taking in the whole area, but if you're walking off the beaten path be sure to keep an eye out for mountain lions. Nobody wants to get eaten while on vacation.
Bisti/De-Na-Zin Badlands
Roswell might get all the alien-loving attention, but little green men (and women) would feel right at home at this bizarre wilderness area. Bisti -- meaning "a large area of shale hills" among local Navajo and De-Na-Zin (Deh-nah-zin) meaning "cranes" for the birds found on cliffside petroglyphs--– is chock full of weird hoodoos, rocks balancing impossibly on edge, huge arches, and slot canyons. The area is off the beaten track and easy to get lost in because there are no established trails, so be sure to bring a GPS device and a buddy before setting out on a hike.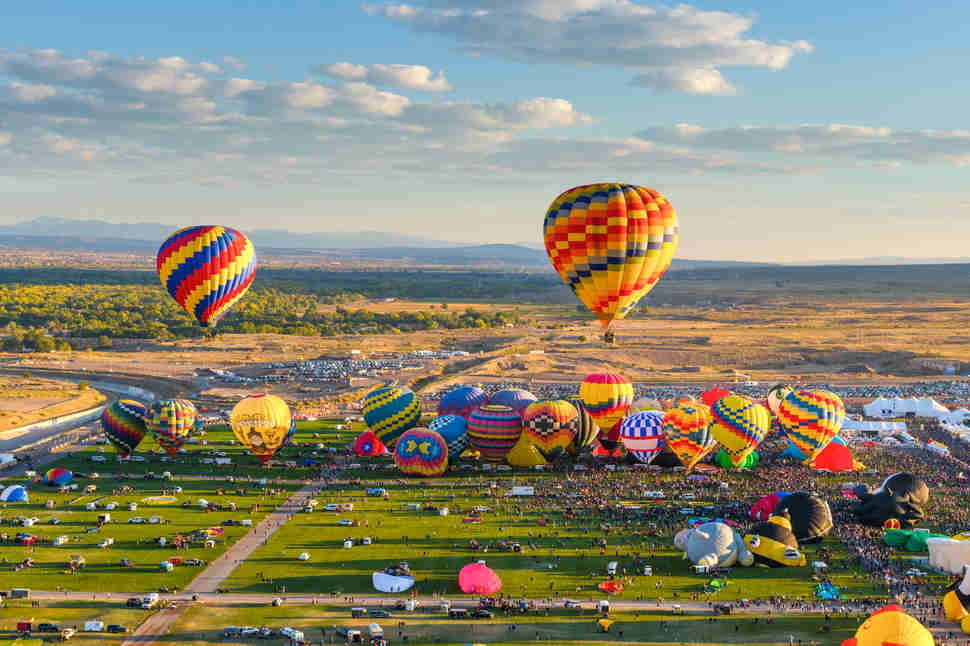 Albuquerque
Fans of Breaking Bad can retrace Walter White and Jesse Pinkman's footsteps – ideally much more safely – in New Mexico's largest city in between eating green chile-infused cuisine and drinking at the city's ample restaurants and microbreweries (don't miss Twisters, the real life chain that Los Pollos Hermanos was modeled after). In October, hundreds of brightly coloured balloons rule the skies at the Albuquerque International Balloon Fiesta, the world's largest hot air balloon festival. ABQ is one of the most misunderstood cities in the US, a cultural hub where the wealth of craft breweries, excellent restaurants, and nigh endless outdoors activities — don't skip kayaking along the Rio Grande — will leave your preconceived, Breaking Bad-based notions in the rear-view.