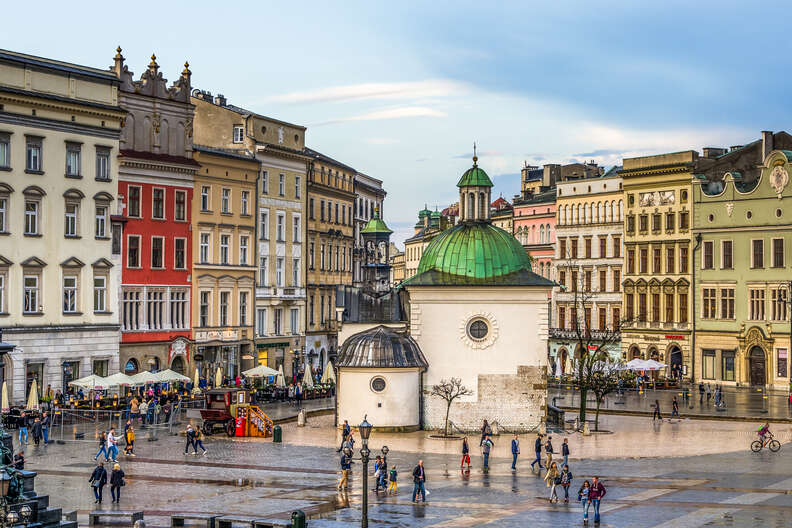 Rynek Główny, or the Main Square, serves as Kraków's center of...well everything

| traumlichtfabrik/Moment Open/Getty
Rynek Główny, or the Main Square, serves as Kraków's center of...well everything

| traumlichtfabrik/Moment Open/Getty
Poland is an Overlooked European Gem Demanding to be Explored
Given that Poland is still establishing its reputation on the international stage, its potential as a vacation destination tends to be overlooked by Europe-bound tourists, many of whom never make it further east than Berlin. But for those willing to carry on to this budget-friendly location (the złoty conversion leans heavily in favor of the dollar/pound/euro) there's plenty to experience, much which will set your Instagram gird apart from the #Paris #Rome #London circuit so many travelers favor.
Certainly, some of what you've heard is true. Yes, pierogi are plentiful and delicious, and yes, vodka is often used as social glue. However, while many believe the country exists in a visual palette of shades of gray, the reality is far more technicolor. Poland's strange natural phenomena, art, and architecture are straight-up gorgeous. While the country's beauty can't be summed up in one list, here's a few of the highlights to get you started.
Poznań
Poland's fifth largest city rarely gets much mention, which is a shame since it's the home of St. Martin Croissants (a super sweet pastry so rare, bakeries in the region need special permission just to make them); an entertainment complex created from the semi-repurposed Imperial Castle; and Tumski island, where the first Polish government was formed, and where the oldest cathedral in the country still sits. But nothing gets crowds excited in this overlooked destination quite like the daily appearance of the city's fighting goats.
Every day, shortly before noon, a crowd gathers under the clock at Poznań City Hall. The stars of the show are petulant goats, who have been locking mechanical horns since 1551. The 468-year-old battle comes with an equally charming backstory: according to legend, a chef who ruined dinner decided to replace his charred meat by stealing two goats. But the wily animals made their escape by running up the town hall tower, where they began battling it out to delight the delight of the crowds. The goats' display saved them from the stew pot, and a tradition was born.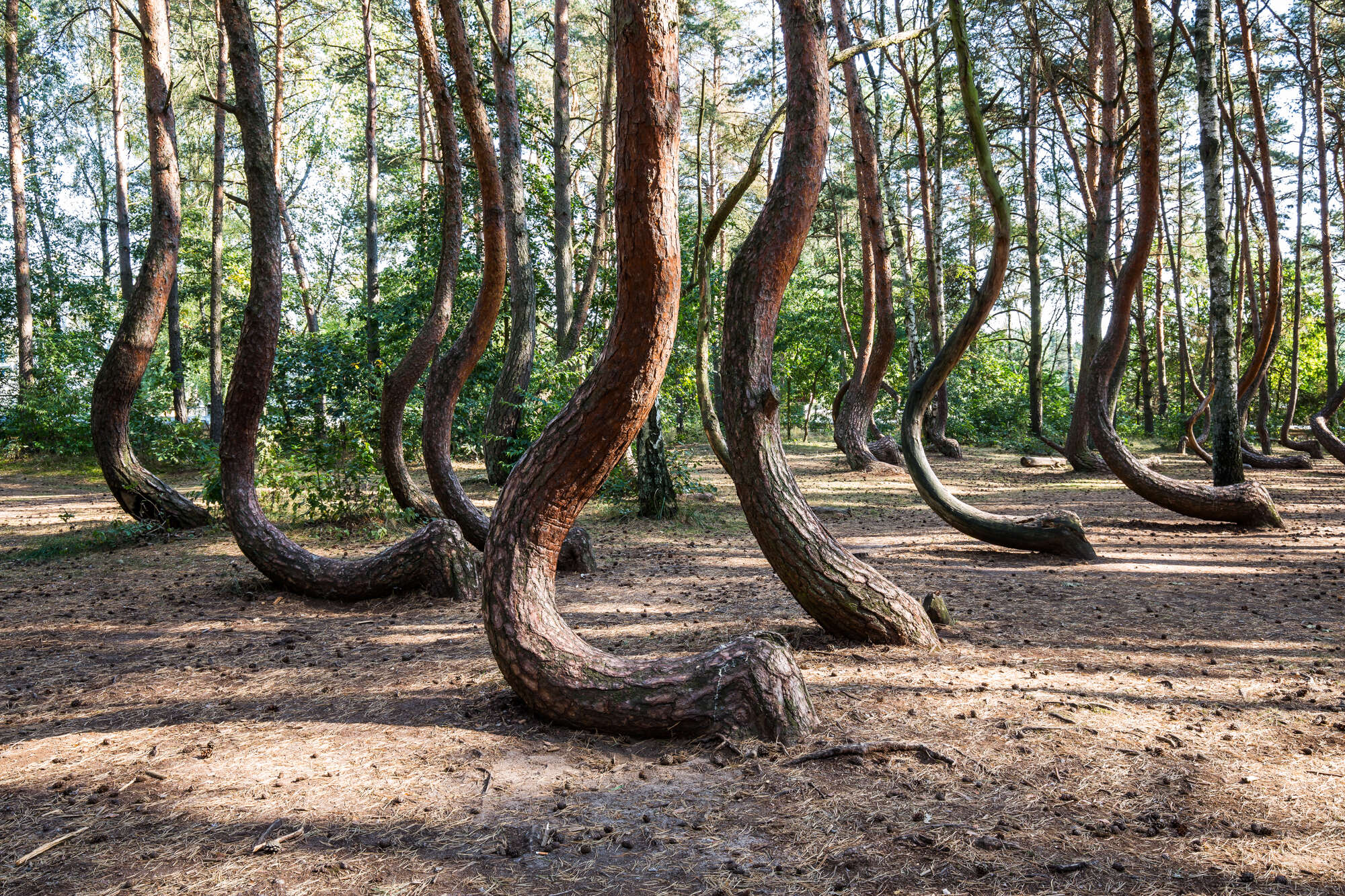 The Crooked Forest
Just outside the city of Gryfino in West Pomerania stands perhaps the world's strangest forest, where the trunk of each tree is bent into a perfect c-shape facing to the north. There are plenty of theories about the unusually uniform growth, the most likely one being that farmers in the early 1900s manipulated growth patterns to aid in furniture and ship building. Or you could choose to believe in magic. Because of its protected status, activities are kept to a minimum. However you can camp for the night in nearby grounds and spend the day wandering and wondering how the hell this happened.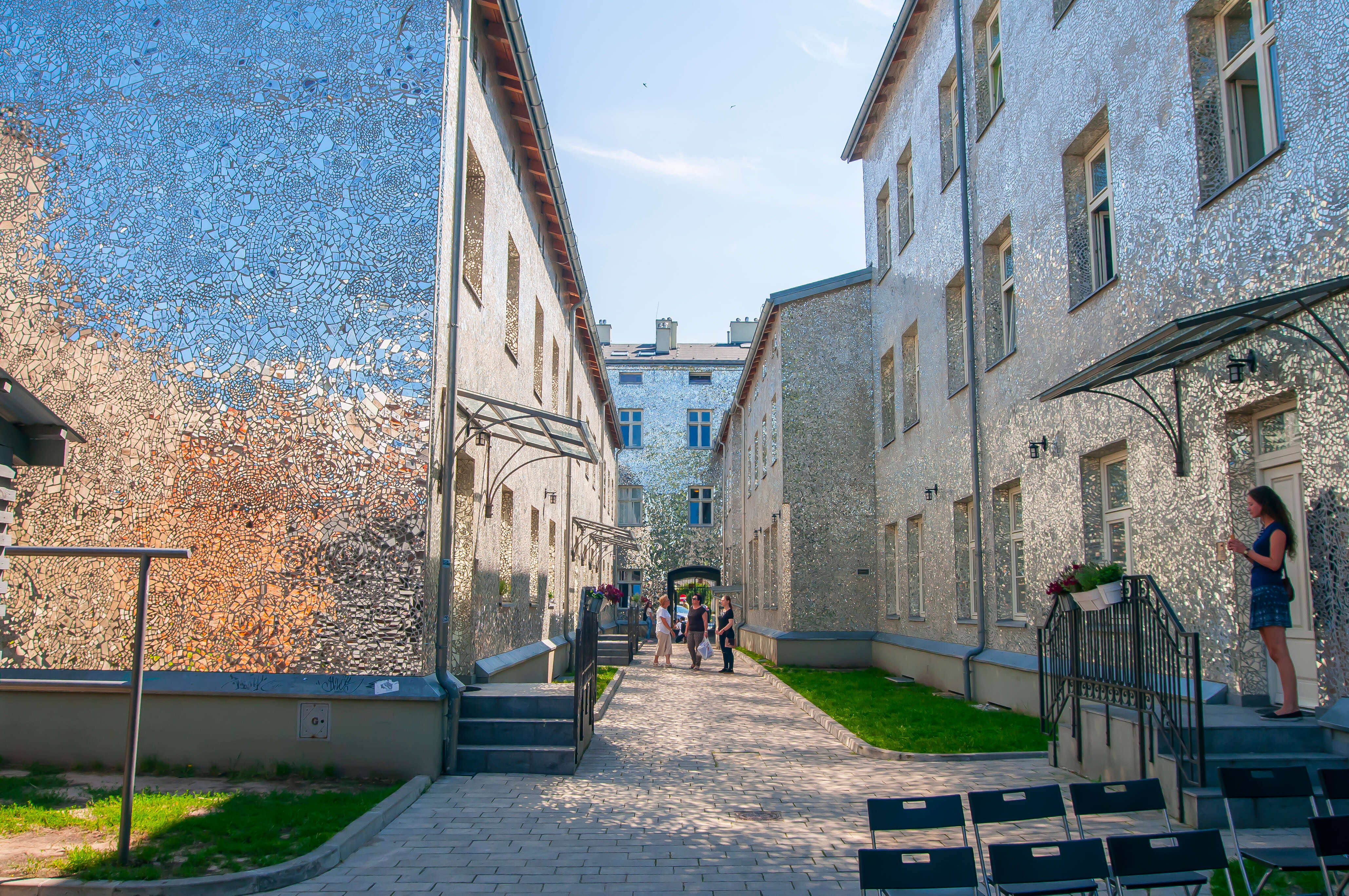 Łódź
The central Poland city Łódź is built along one street, Piotrkowska, and each alley that branches off seems to lead to a different world. Łódź has one of the first contemporary art museums, Museum Sztuki, and the ethos of avant gardism stretches to the city's reclaimed cotton factories and endless side streets. In the market for a mini-trip to Italy via a trendy wine bar, Mexican dinner, or just niche shop? You can find them all off Piotrkowska.
But in the case of Róża's Passage, the alley seems to connect to a different planet. The thoroughfare -- which looks like somebody covered the walls in mosaic forged from shattered disco balls--is the creation of Joanna Rajkowska, who began work after eye cancer left her daughter with fractured vision. Her hope is the artwork encourages others to see the world from a different point of view. After you've snagged a few selfies in the sun against the stunning backdrop, head to Warsaw check out her other major artwork, Greetings from Jerusalem Avenue, at 50-foot tall artificial palm tree/celebration of summer holidays.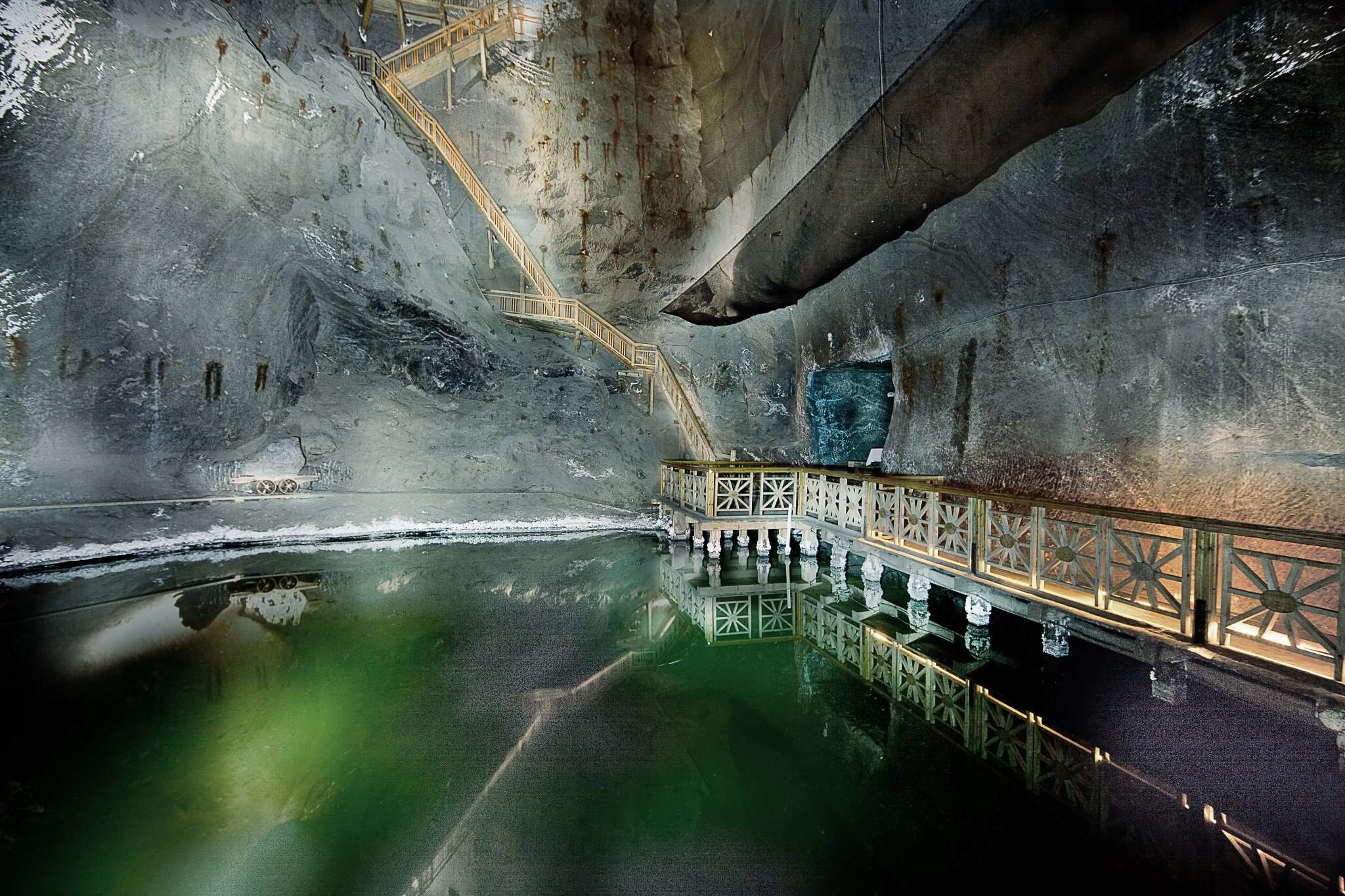 Wieliczka Salt Mine
Located outside of Kraków, the Wieliczka Salt Mine is more than just a tribute to the mineral that makes our carbs taste great. The labyrinthine underground city -- a working salt mine until 2007 -- features twisting tunnels, cerulean blue lakes, and even a cavernous chapel complete with chandlers, all etched out of salt between 1649 and 1685. Take a tour to stand in awe of its three kilometers of tunnels, many which feature elaborately carved walls. (Among its intricate etchings is Leonardo Da Vinci's "Last Supper.") Kraków's flagship electronic festival Unsound has held special performances in its depths, and given the opulent surroundings, the mine is also a regular backdrop for weddings. But whether you're there for a special occasion or just to rub shoulders with the mine's many ghosts, you'll experience an unexpected benefit: salt rooms (and mines) have been known to improve a respiratory ailments.
Kraków Market Square
Although touristy (with good reason!), the market square in Kraków is a good place to start if you're interested in seeing where Poland keeps its medieval history. The ornate, lopsided towers of St. Mary's Basilica are reportedly the work of two brothers who were tasked with building them. As the legend states, like a Polish Cain and Abel, the younger brother killed his older sibling in a jealous fit after realizing his tower was much taller. Overcome with guilt, he then killed himself with the same knife and fell to his death. If that story isn't dark enough, you can also tour the Rynek Underground just below your feet to witness the holographic resting place and bones of what many believe are 1,000-year-old vampires. It's more historical preserve than functional marketplace at this point, but if you need a souvenir amber or necklace or an upscale dinner at one of the eateries that flank the area (like local favorite Szara Gęś), this is your one-stop shop.
Lake Czorsztyn
Actually a man-made reservoir located two hours south of Kraków near the Slovokian border, the Lake Czorsztyn region features not one but two castles. It is also believed to be the former home of Slovokian highwayman Juraj Jánošík, whose habit of taking from the rich and giving to the poor was immortalized in a communist-era TV show. Even if you're not down to get your Robin Hood on, it's still a location where you can snap a shot of both Poland and Slovakia if you're daring enough to take out your phone at the top of the Pieniny mountains' Sokolica Peak; sample Oscypek, a smoky regional sheep's cheese stamped with intricate lace-like patterns; and float down the Dunajec river in a traditional boat made from tree trunks.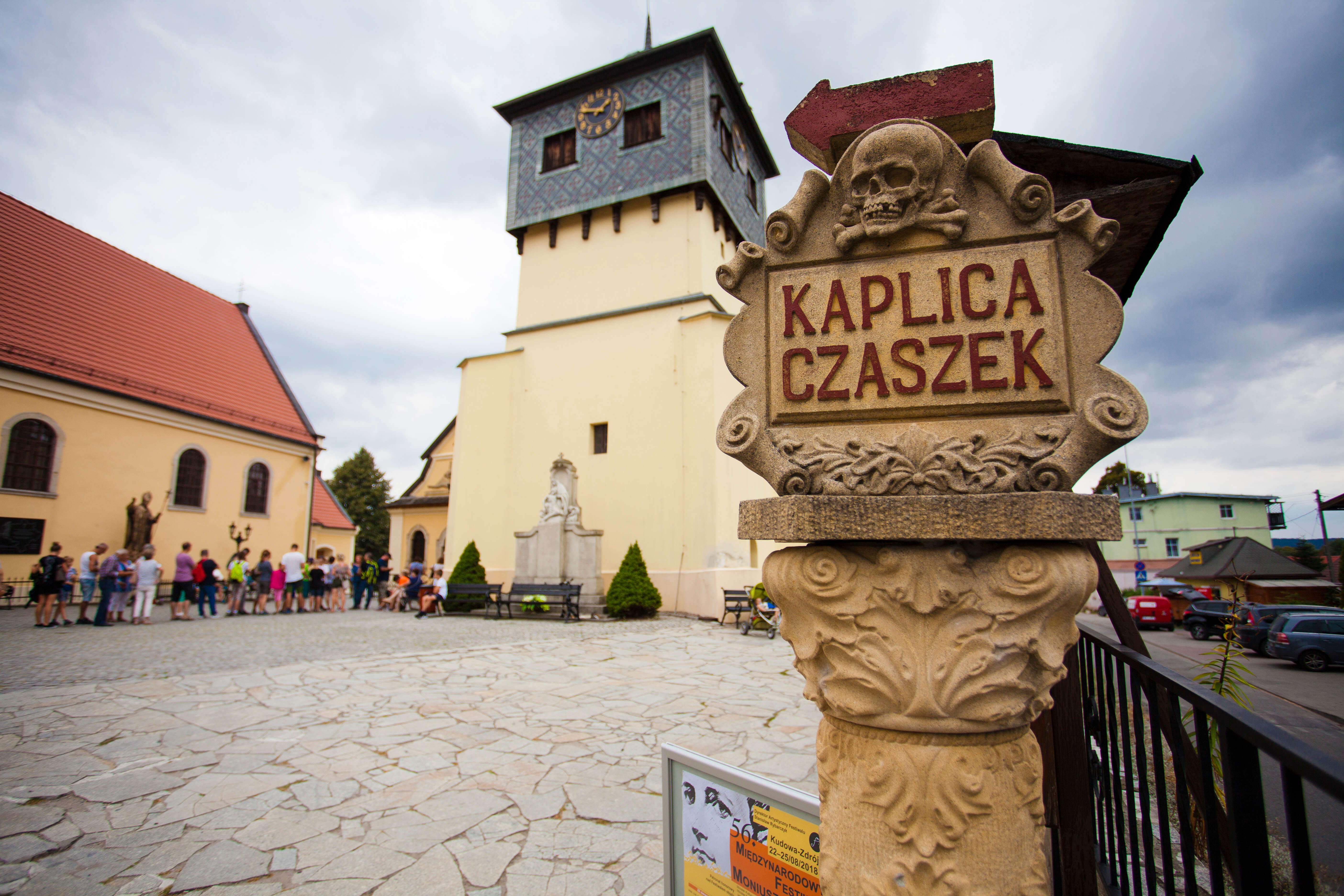 Skull Chapel
What's a fairytale without a lair custom-made for a villain? While it doesn't look like much from the outside, the interior of St. Bartholomew's Church located just outside of Kudowa Zdrój is decorated with 3,000 skulls. While this may seem like a macabre display, the room-sized alter -- with another 21,000 skulls just chilling below in the crypt -- was created between 1776 to 1794 as a sanctuary of silence and reflection. Just keep your phone in your bag, you macabre weirdo: to keep the location respectful this is a no-photo zone.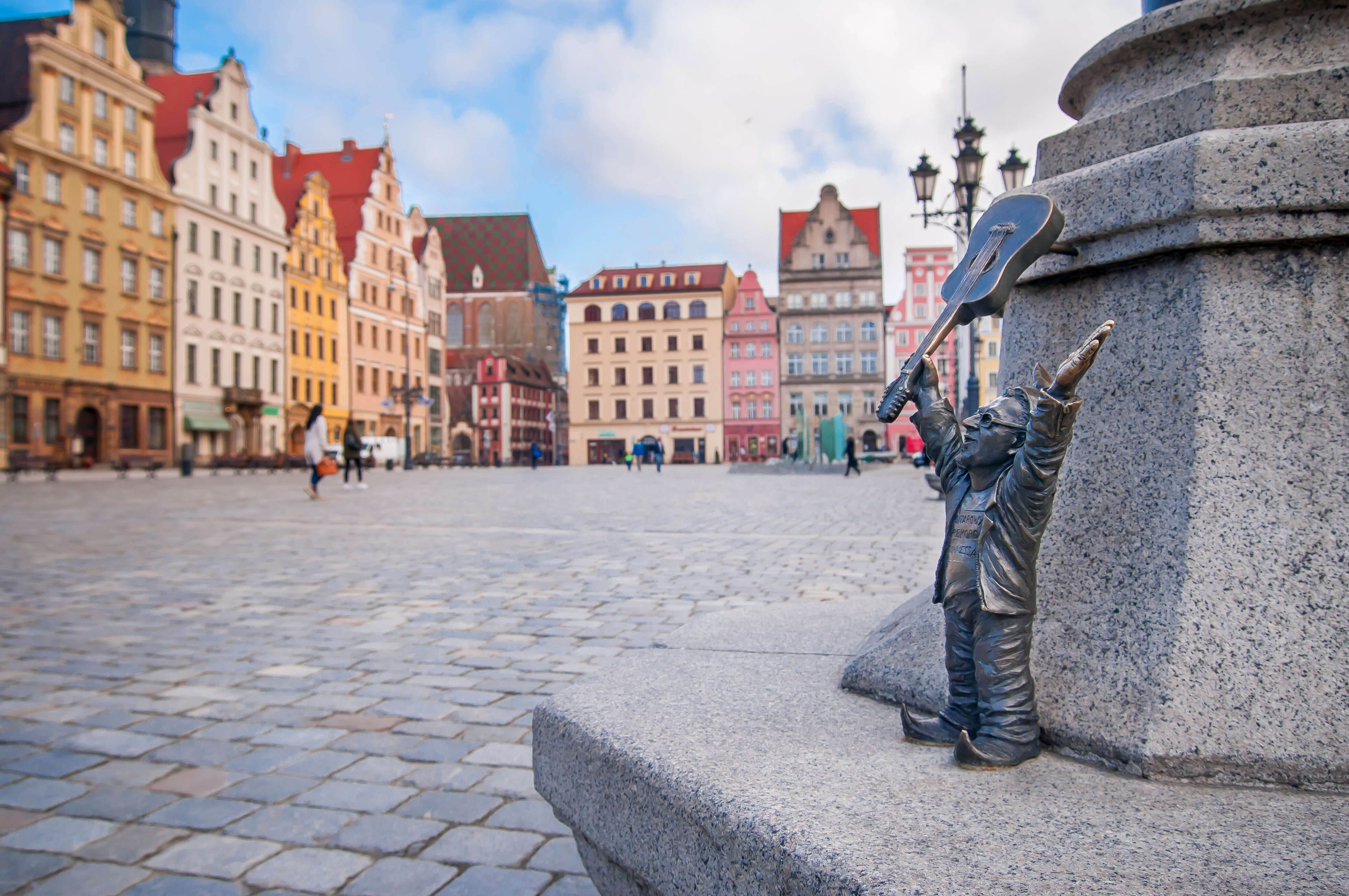 The Statues of Wrocław
It's believed that the western city Wrocław is home to at least 400 tiny gnome statues, but given that the city's smallest inhabitants are still multiplying, that number is in flux. Walk around the town on the winding Odra -- dubbed the "Venice of Poland" -- and you'll find these tiny bearded men on nearly street, simply going about their daily business, which includes enjoying the sun, making ATM withdrawals, and putting out fires. Enjoy the Snow White vibes, but keep in mind the expanding art project is actually a tribute to the 1980s Anti-Soviet resistance.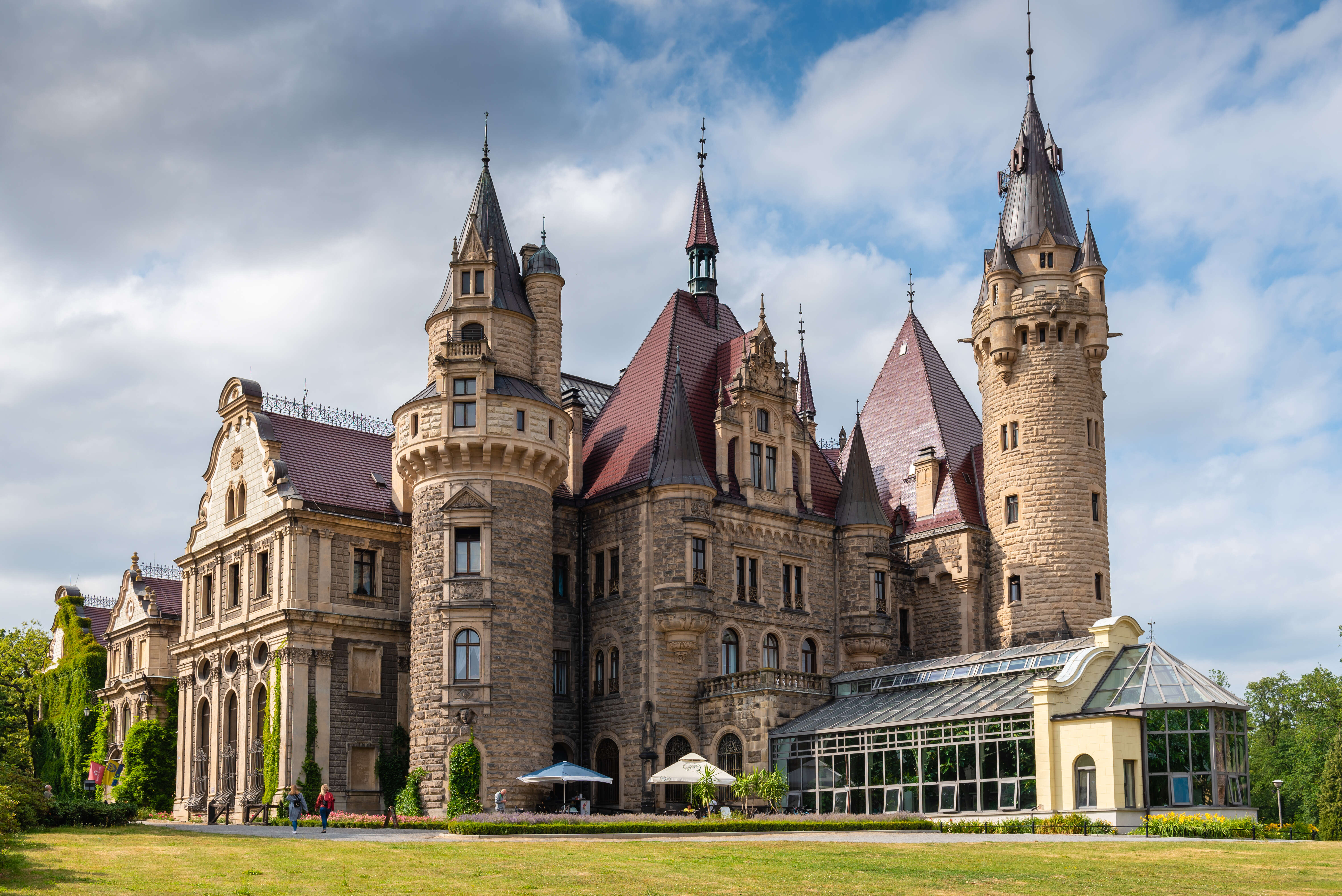 Moszna Castle
With its numerous spires, 365 rooms, and imposing neo-baroque architecture, the Moszna Castle (in the small village of Moszna) is considered to be one of the most beautiful castles in the world. The best part: It's also a hotel, with shared rooms starting as low as $19 a night (with luxury rooms running up to $300), so you can live out your royal daydreams at almost any price point. It's a destination hotel, one worth making a special trip to see if only to live out your fairytale fantasies on a budget.