Portugal's Back, Baby. Here's How to Plan a Trip ASAP
This dazzling country just reopened to non-essential travelers from the U.S.
As you (and 27.9 million other tourists) may have noticed, Portugal has seen a spike in popularity in recent years that can be described as no less than monumental. Even though the pandemic caused a brief pause in the hype, we imagine the return of travel will see both the canary yellow trams of Lisbon and the medieval walls of Porto on "best of travel" lists all over again—especially now that the country has reopened to American visitors.
With its staggering level of natural beauty (beaches!), culture (forts on beaches!), and fun (cities by rivers and beaches!), Portugal really shouldn't be overlooked on your next jaunt out to Western Europe. To help convince you, here's how to visit post-Covid, plus a few jaw-dropping places to check out while you're there.
How to visit Portugal and what's open right now
To visit Portugal, you'll at least need a negative Covid test taken no more than 72 hours before travel. The government is also expected to introduce proof of full vaccination as an acceptable entry method soon. Oh, and you'll need to fill out a Passenger Locator Card. More info here.
Once you're on the ground, you'll find that most things are returning to normal with some restrictions and curfews still in place. Restaurants, cafes, shops, and public transport are all open, as are beaches; if you want to hit the club, though, you'll have to head next door to Spain. Also keep in mind that Madeira, Porto Santo, and the Azores have their own rules and restrictions in place.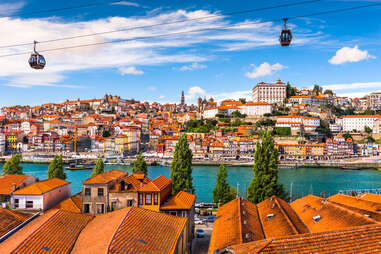 See why Lisbon and Porto are worth the hype
Let's start with the capital: Lisbon, home of hillside vistas, intricate architecture, and amazing seafood and pastries. The Praca do Comercio is where all the rich people hang out, apparently; back in the day, the largest of Lisbon's plazas was the hub for all traders and financiers funding round-the-world expeditions. Even if you couldn't care less about the bourgeoisie, it's beautiful and a must-see.
Meanwhile, the Torre de Belem is one of the most iconic landmarks in Lisbon. What was originally constructed to be a lighthouse turned into this: an intimidating (yet ridiculously ornate) tower that doubled as a fortress protecting the city.
And in the country's north, we dare you to go to Porto and not fall in love with it. It can't be done. This picturesque riverside town is basically what every postcard begs to look like.
Check out Algarve's incredible cliffs, caves, and coasts
You've seen Portugal's incredible seaside all over Instagram. Once you hit the Algarve, it's almost physically impossible not to take a billion photographs. Plan accordingly and delete some old apps so you don't run out of storage at an inopportune moment.
First and foremost, the sea caves. The Benagil Cave is the crème de la crème— swim or boat through the mouth of the cave, and you'll find a hidden beach with a natural skylight and iridescent water. Also in Algarve, Ponta da Piedade is hands-down one of the most gorgeous spots in the whole country. The shoreline is peppered with cliffs, massive rock structures, caves, and grottos, all of which jut out into a turquoise sea.
Speaking of which: let's talk beaches. There are heaps of unforgettable shores across Portugal—Praia do Camilo and Praia de Bordeira, among others—but Praia da Marinha blows them all of the crystal-clear water. Its golden stone arches, craggy cliffs, and technicolor water easily landed it a spot on our list of the world's best beaches.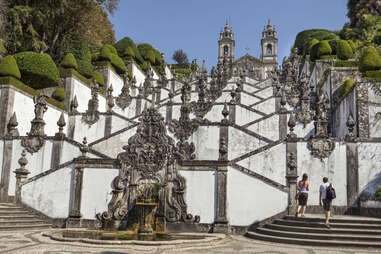 Spot ancient architectural gems
Just a 30-minute drive from Lisbon in the foothills of the Sintra Mountains, the town of Sintra is a hotspot for medieval masterpieces unlike those you'll see anywhere else. For example, the Initiation Wells—giant, castle-like towers sunken into the ground—are all connected to each other through a labyrinth of caves, and were once used for spiritual, ceremonial purposes. (There's also a spiral staircase to ascend deep into them, for those who never watched The Ring.)
Sintra's Pena National Palace is basically what every Disney princess really wanted but either couldn't afford or couldn't relocate to due to some weird spell. It was the brainchild of King Ferdinand II, who had it built expressly to be visible from any vantage point in the entire surrounding hills.
And down south in Braga, the European breathtaking-church game really comes to a head. The Baroque-style sanctuary that is Bom Jesus Church—arguably the most bomb name for a religious building ever—actually holds the title of "most photographed church" in Portugal. Fair warning: it also has, like, 600 stairs.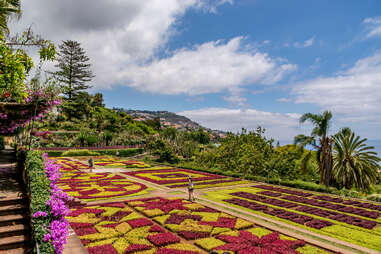 Discover what lies beyond the mainland
Just beyond the coast lies a number of islands worth getting on just one more flight or boat to see. In the Azores, the incredibly eye-pleasing Lake of Sete Cidades—the largest body of water in the region—is essentially the dopest natural hot tub ever. But it's also the most dangerous, considering it sits pretty in the crater of a volcano. Don't fret, though! It's dormant—and these days tapped mainly for all of its freshwater.
On Berlenga Island, the Fort of São João Baptista is the crown jewel. You'll probably spend more time trying to photograph the original military fort from the 17th century than actually looking at it—but you should keep your head up to avoid face-planting on the descent into the fortress.
And on Madeira—closer to the Moroccan coast, but still Portuguese territory!—the Rainforest Cafe meets its match: the centuries-old Monte Palace Tropical Garden set in a natural amphitheater has more than 70,000 square feet of exotic plants and birds from all over the planet, including black swans that aren't Natalie Portman. This island is also where you'll find some of the highest, scariest, you-could-die-here-but-what-a-way-to-go cliffs in Europe. If you're feeling extra ballsy, stand on top of the glass-bottomed skywalk that perches over a 500-meter vertical drop over the sea. And look down a lot.
And, of course, drink heartily
Don't skip a visit to the Douro Valley, the oldest demarcated wine region in the world. Douro delivers all the tingly feels, and not just because it's where port was invented back in the 1700s. (But also, yeah, because of that.) Alongside your wine glasses at places like Quinta das Carvalhas and Quinta do Crasto, you'll find spectacular vistas across rolling vineyards and the Portuguese countryside. For an even better view, you might even take a multi-day wine cruise or a scenic train through the winding hills.
Liz Newman is a contributing writer for Thrillist who hopes that by the time you read this, she'll be in Portugal. Follow her on Instagram and Twitter @lizn813.