Portugal is one of those countries you always intend to stop by, but don't, because Spain is just right there and, well, you went a little too hard in Barcelona and now you can't move. But the truth is, with its staggering level of natural beauty (beaches!) and culture (forts on beaches!), it really shouldn't be overlooked on your next jaunt out to Western Europe. To help convince you, here are 13 of the most jaw-dropping places to visit while you're over there.
Recommended Video
Please Don't Hang Up: The Best Things to See, Eat, and Do in Seattle, WA
Sea cave at Benagil Beach
Algarve region
The sea caves are just where it's at -- period. And the Benagil cave is the icing on top of all those caves. Once you swim (but really you should probably boat) through the mouth of the cave, there's a hidden beach, a hole towards the sky, and the water changes colors. Narnia… is that you?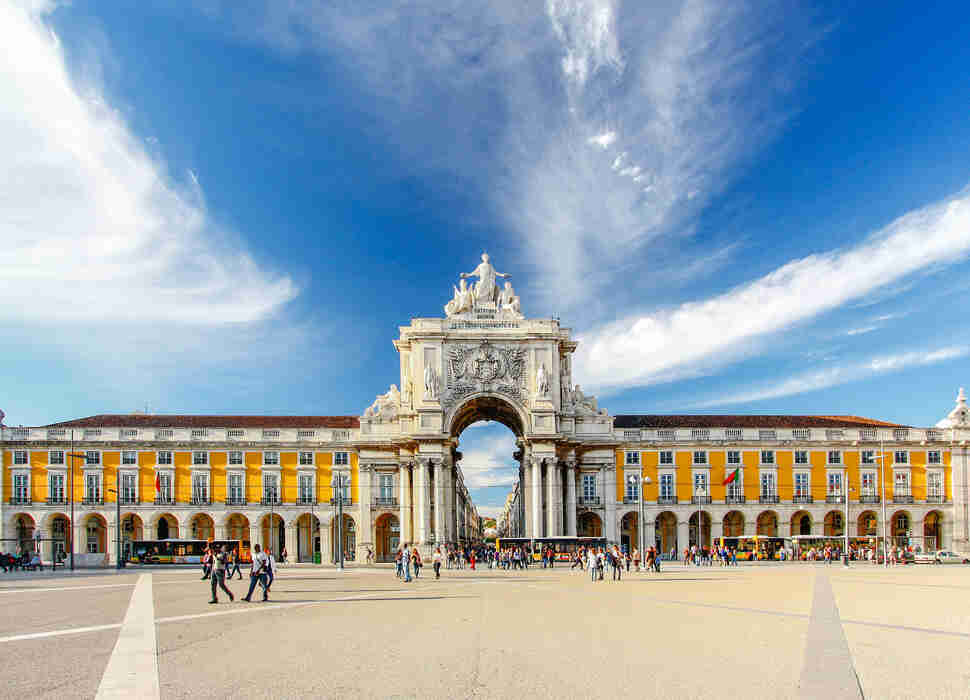 Praca do Comercio
Lisbon
This is where all the rich people hang out, apparently. Kidding! (Not really.) But the largest of Lisbon's plazas was the hub for all traders and financiers funding round-the-world expeditions back in the day. Plus, it's pretty.
Torre de Belem
Lisbon
This is it, guys -- the most iconic landmark in Lisbon, according to Wikipedia. But seriously, what was originally constructed to be a lighthouse turned into this: an intimidating (yet insanely ornate) tower that doubled as a fortress protecting the city.
Initiation Wells
Sintra
Unlike the initiation wells -- aka swirlies -- you got during hell week, these guys are actually used for more of a spiritual, ceremonial purpose, and all connect to each other through a labyrinth of caves. There's also a spiral staircase to ascend deep into them, for those who have never seen The Ring.
Ponta da Piedade
Algarve region
This is just hands-down one of the most gorgeous spots in the whole damn country, and it's all because of nature. The shoreline is peppered with cliffs that over time have been weathered into these massive rock structures, grottos, caves… and everything else beautifully rustic. Plus, they all jut out from crystal-clear turquoise water. You get it.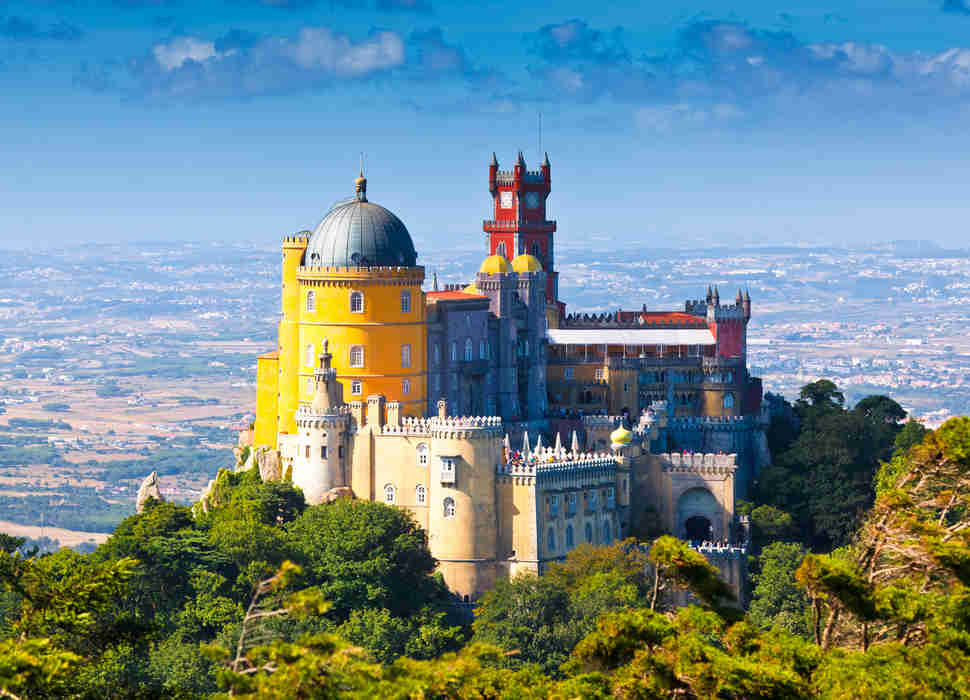 Pena National Palace
Sintra
Introducing the palace every Disney princess really wanted but either couldn't afford or couldn't relocate to due to some weird spell. This castle was the brainchild of King Ferdinand II, who had it built expressly to be visible from any vantage point in the entire surrounding hills. What a baller.
Lake of Sete Cidades
Azores
So the crazy thing about this incredibly eye-pleasing lake (which is the largest body of water in the region) is it's sorta the dopest natural hot tub ever, but also the most dangerous -- considering it sits pretty in the crater of a volcano. Don't fret! It's dormant -- and these days tapped mainly for all of its freshwater.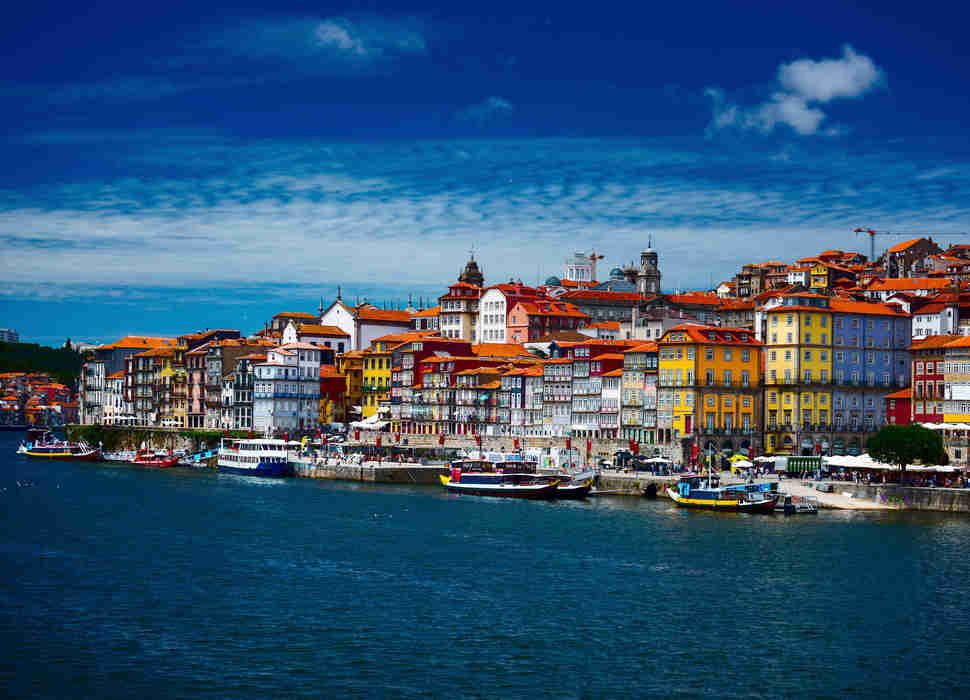 City of Porto
Porto
We dare you to go to Porto and not fall in love with it. It won't happen. And that's because this picturesque riverside town lined with multicolor roofs, winding alley roads, cathedrals, and hilltop gardens is what every postcard longs to look like.
Vineyards in the Douro Valley
Peso da Régua
This wine region in Portugal delivers all the tingly feels, and not just because it's where port was invented back in the 1700s. But also, yeah, because of that.  
Bom Jesus Church
Braga
Look, Europe has got the breathtaking-church game down. We know this. But this Baroque-style sanctuary, which, let's be honest, has the most bomb name ever, actually holds the title of "most photographed church" in Portugal. Fair warning: it also has, like, 600 stairs.
Monte Palace Tropical Garden
Funchal, Madeira Island
Move over, Rainforest Cafe. This centuries-old garden set in a natural amphitheater has more than 70,000sqft of exotic plants and birds from all over the planet -- including black swans that aren't Natalie Portman.
Fort of St John the Baptist
Berlenga Island
Berlenga Island should be visited regardless, and the Fort of São João Baptista is its crown jewel. In fact, it's possible you'll spend more time trying to Instagram the original military fort from the 17th century than actually looking at it. But you should keep your head up to avoid face-planting on the descent into the fortress.
Cabo Girao cliffs
Madeira Island
Welcome to some of the highest, scariest, you-could-die-here-but-what-a-way-to-go cliffs in Europe. If you're feeling extra ballsy, stand on top of the glass-bottomed skywalk that perches over a 500-meter vertical drop over the sea. And look down a lot.
Sign up here for our daily Thrillist email, and get your fix of the best in food/drink/fun.