These Are the Dreamiest Places in Portugal
Plan your trip around beach caves, cliffy islands, and medieval towns.
As you (and 27.9 million other tourists) may have noticed, Portugal has seen a spike in popularity in recent years that can be described as no less than monumental. Even though the pandemic caused a brief pause in the hype, the canary yellow trams of Lisbon, medieval walls of Porto, and incredible countryside are ready for your eyes once again. IRL.
With its staggering level of natural beauty (beaches!), culture (forts on beaches!), and fun (cities by rivers and beaches!), Portugal should top the list on your next jaunt out to Western Europe. To help convince you, here's what to know about traveling there now and the jaw-dropping places to plan your trip around.
How to visit Portugal and what's open right now
It's easier than ever to visit Portugal these days, though US citizens are encouraged to provide a negative COVID test (PCR taken up to 72 hours before boarding time or a Rapid Antigen test taken within 24 hours of boarding time) even if you have proof of vaccination, as the EU Digital Vaccination Certificate is the only one that's formally recognized.
For those traveling to the island of Azores, there are no restrictions if you're arriving on a domestic flight from Portugal mainland or the island of Madeira, but passengers over the age of 12 on direct international flights should have either a negative PCR test (taken within 72 hours of boarding), negative laboratory Rapid Antigen test (taken within 48 hours of boarding), or a certificate of recovery from COVID (valid for 180 days).
There are no restrictions on entry for passengers at any of the airports, ports, or marinas of Madeira.
Once you're on the ground, you'll find that most things have returned to normal and proof of vaccination is not required to eat at restaurants or visit indoor spaces, though masks are required. Cafes, shops, bars, museums, and public transport are all open, but it's encouraged to purchase tickets ahead of time for museums, exhibits, and landmarks, as most will ask you to purchase on your phone prior to entry rather than directing you to a box office.
See why Lisbon is worth the hype
Let's start with the capital: Lisbon, home of hillside vistas, intricate tile architecture, and amazing seafood and pastries. Principe Real has a history of catering to the city's elite and you'll still find 19th century mansions that nod to this past, but it's since become a popular shopping destination and hub for LGBTQ nightlife. EmbaiXada is a plaza with an assortment of shops housed in an ornate palace. There you'll find children's clothes, swimwear, jewelry, and more. Principe Real Square is just across the street, where you'll find even more local vendors and a cozy kiosk for bites and wine while you people-watch. Global hotel chain Mama Shelter just opened a tile-clad property in the neighborhood, with an eighth-story rooftop that provides one of the best views in the city.
You can't visit Lisbon without getting serenaded at a fado bar. Translating to "destiny" or "fate," fado music is thought to have originated in the port districts of Alfama, Mouraria, and Bairro Alto in the early 19th century. Today, you can climb these winding hilltops (or take a cable car) to find any number of fado bars where you can knock back shots of Ginjinha, a sour cherry liqueur, or babysit a refreshing glass of vinho verde. A couple of our favorites include A Tasquinha Canto do Fado in Mouraria and Clube de Fado in Alfama. While in the neighborhood, visit the 11th century Castle of the Moors and gothic-style Lisbon Cathedral, before capping off your education at the Fado Museum, where you're able to rent a set of headphones queued up with a range of fado songs to complement the visual elements of the exhibit. Then don't pass up the National Tile (Azulejo) Museum, which is a lovely place to see the role tiles play in Portuguese art and architecture.
Given its position off the Atlantic Ocean, seafood is a must while in Portugal. During the summer, sardines are grilled on the streets in a sort of citywide barbecue—the small fish have a lingering scent that makes them impractical to cook indoors, but balmy Mediterranean summers are perfect for these fresh-grilled, al-fresco feasts. You'll also find sardines (and other seafoods ranging from octopus to salmon) canned in oils and available everywhere from grocery stores to restaurants. For a sit-down experience that gives insight into Portugal's canning industry, try Can the Can.
Cod is the other fish of significance in this region, with Bacalhau a Bras—a traditional casserole with salt cod, shredded potatoes, eggs, and cheese—representing one of the most popular dishes. Try it at Casa do Bacalhau (House of Cod), a romantic restaurant that feels like you're dining in a medieval wine cellar. There's also Pastel de Bacalhau, a codfish cake filled with Serra cheese that you can purchase from street vendors or at national chains like Casa Portuguesa (which has a convenient location just steps from the Castle of the Moors).
Sample the best of Lisbon at the Time Out Market, a food hall featuring some of the most popular restaurants and bars in the city (and where you can meet other travelers if you're going solo). There you'll find locally sourced seafood, addictive cheese-filled Pasteis de Nata pastries, burgers, sushi, pad thai, and traditional Portuguese plates.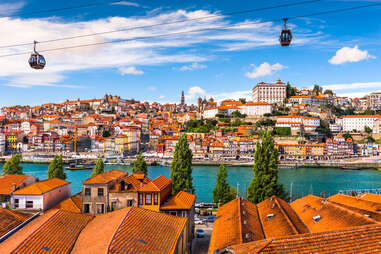 Pour it up in Porto
In the country's north, we dare you to go to Porto and not fall in love with it. It can't be done. This picturesque riverside town is basically what every postcard begs to look like. But before you sneak into a boardwalk cafe and waste away the evening hours, make sure to trek across the Luis I Bridge to check out landmarks, like the baroque-style Porto Cathedral and the Sao Bento Train Station that features intricate tilework depicting the history of Portugal. While on this side of town, make a visit to Livrario Lello, a gorgeous, neo-classical bookstore that waives the 5 euro entry fee if you make a purchase.
Now that you've seen the sights, it's time to go underground and explore Porto's port wine cellars. You'll find over 60 port houses across the Douro River in Vila Nova de Gaia, including Real Companhia Velha, the oldest wine company in the country; Sandeman Port House, which was one of the first alcohol brands to attach a logo (a mysterious cloaked figure) to its product in the 1920s; and Calem Caves, which offers a fado concert at the end of your tour. Next door to the cellar, Sandeman has an attached hostel with suites—guests enjoy a discount on the tour options.
To get your art fix, take public transportation or grab an Uber to Serralves, a complex with a modern art museum, botanical gardens, a sculpture garden, farms, an art deco mansion, cafe, and more. Give yourself at least three hours to explore the abundant grounds (and don't miss the treetop stroll with raised walkways that puts you eye-level with towering eucalyptus). Afterwards, take a short walk to Cufra, a local cafeteria-style restaurant that's one of your best options for trying Porto's signature Francescinha sandwich, a Croque Monsieur-inspired monster that places an assortment of meats between two thick slices of bread, drenches everything in a cheesy gravy sauce, and tops it with an egg.
Don't leave Porto without taking a cable car ride up to the Jardim do Morro, a garden in Vila Nova de Gaia with benches, palm tree groves, and a church.
Drink heartily in Douro Valley
If you're keen to spend more time in the Northern part of Portugal, Douro Valley is the oldest demarcated wine region in the world. Douro delivers all the tingly feels, and not just because it's where port was invented back in the 1700s. (But also, yeah, because of that.)
Alongside your wine glass at places like Quinta das Carvalhas and Quinta do Crasto, you'll find spectacular vistas across rolling vineyards and the Portuguese countryside. For an even better view, you might want to take a multi-day wine cruise or a scenic train through the winding hills.
Check out Algarve's incredible cliffs, caves, and coasts
You've seen Portugal's incredible seaside all over Instagram. Once you hit the Algarve, it's almost physically impossible not to take a billion photographs. Plan accordingly and delete some old apps so you don't run out of storage at an inopportune moment.
First and foremost, the sea caves. The Benagil Cave is the crème de la crème—swim or boat through the mouth of the cave, and you'll find a hidden beach with a natural skylight and iridescent water. Also in Algarve, Ponta da Piedade is hands-down one of the most gorgeous spots in the whole country. The shoreline is peppered with cliffs, massive rock structures, caves, and grottos, all of which jut out into a turquoise sea.
Speaking of which: let's talk beaches. There are heaps of unforgettable shores across Portugal—Praia do Camilo and Praia de Bordeira, among others—but Praia da Marinha blows them all of the crystal-clear water. Its golden stone arches, craggy cliffs, and technicolor water easily landed it a spot on our list of the world's best beaches.

Wander ancient castles in Sintra
Just a 30-minute drive from Lisbon in the foothills of the Sintra Mountains, the town of Sintra is like an ornate medieval village swallowed by a fairytale forest. Across some wooded hills in the Quinta da Regaleira castle, giant towers peak over the tops of trees and are sunk into the ground, connected to each other through a labyrinth of caves. There's even an Initiation Well of moss-covered stone that spirals down seven levels into the earth where pagan monks once held ceremonies. Bridges and paths take you over ponds and past waterfalls or fountains spread across forested grounds.
Sintra's Pena National Palace is basically what every Disney princess really wanted but either couldn't afford or couldn't relocate to due to some weird spell. It was the brainchild of King Ferdinand II, who had it built expressly to be visible from any vantage point in the entire surrounding hills. Not far from the palace grounds, there's a medieval castle that was built during the Moorish Era (8th through 12th century) that once served as a lookout point for Lisbon.
And down south in Braga, the tradition of breathtaking European churches really comes to a head. The Baroque-style sanctuary that is Bom Jesus Church—arguably the most bomb name for a religious building ever—actually holds the title of "most photographed church" in Portugal. Fair warning: it also has, like, 600 stairs.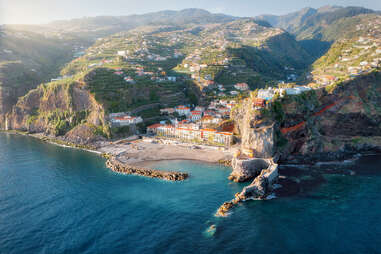 Discover what lies beyond the mainland
Just beyond the coast lies a number of islands worth getting on just one more flight or boat to see. On Madeira—closer to the Moroccan coast, but still Portuguese territory—you can climb mountains that peak above the clouds, rappel down waterfalls, cliff jump into the ocean, or restaurant hop in the trendy city of Funchal. This island is where you'll find some of the highest, scariest, you-could-die-here-but-what-a-way-to-go cliffs in Europe. If you're feeling extra ballsy, stand on top of the glass-bottomed skywalk that perches over a 500-meter vertical drop over the sea. And look down a lot.

In the Azores, the incredibly eye-pleasing Lake of Sete Cidades—the largest body of water in the region—is essentially the dopest natural hot tub ever. But it's also the most dangerous, considering it sits pretty in the crater of a volcano. Don't fret, though! It's dormant—and these days tapped mainly for all of its freshwater.
And on Berlenga Island, the Fort of São João Baptista is the crown jewel. You'll probably spend more time trying to photograph the original military fort from the 17th century than actually looking at it—but you should keep your head up to avoid face-planting on the descent into the fortress.
Liz Newman is a contributing writer for Thrillist who hopes that by the time you read this, she'll be in Portugal. Follow her on Instagram and Twitter@lizn813.

Danielle Dorsey is the Los Angeles Editor at Thrillist.